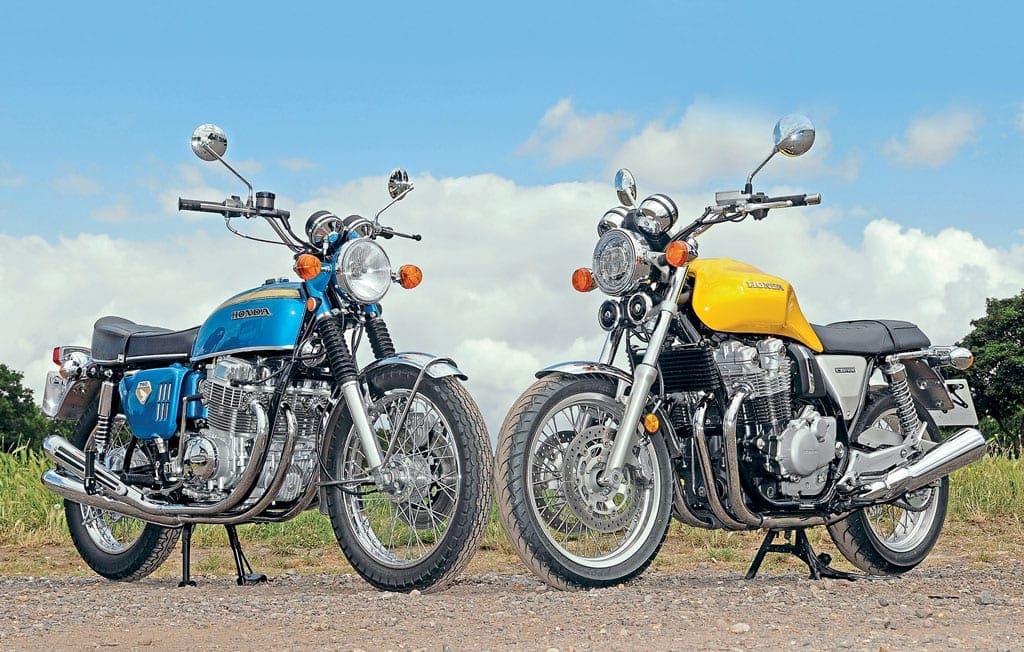 The CB750 is an icon, and trying to mimic it is a big ask. The closest you can get with a modern bike is the CB1100 EX.
Ah yes, things were better in the old days. Or maybe they weren't. Nobody knows. Some say that Roger Federer is the greatest tennis player of all time. That might well be true, but we'll never find out because we'll never see him playing Rod Laver in his pomp, both of them using the same bat.
Comparing bikes across the ages is hard, too. Dynamically, a 60bhp, 217kg square-case Ducati 900SS from the 1970s isn't a patch on today's much lighter and much more powerful Ducati 900SS. You still would, mind. Well, I would anyway. Moto Guzzi never got modern in the first place, a non-move which now looks clever, but it's not so easy for the Japanese manufacturers to reconnect us to times gone by because there's such a huge gulf between what they gave us 50 years ago and what they're selling now.
Walking the line between true retro and what modern motorcyclists expect today is a tough ask for them, especially now that everyone knows their rights and will sue at the drop of a helmet if they can put any of the blame down to old design and/or materials.
Setting that legal nonsense aside, you need to be as faithful as possible to the original or else there's no point. Take Kawasaki's Z1-aping Z900RS. Cosmetically, it was a brilliant homage, but the motor was water-cooled. That made it more efficient, more powerful, and more emissions-friendly. All good stuff, but in engineering terms at least it was less accurate as a retro throwback than the bike you're looking at here: Honda's CB1100 EX.
Where did they come from?
Launched in 2017, the EX quietly set out its stall as a 21st century version of the CB750 Four that had kickstarted the whole multi-cylinder superbike genre 47 years earlier. It had a 'correct' air-cooled engine with (so the story goes) cooling fin thicknesses that had been specially engineered for engine ticking on cooldown, just like in the old days.
That may be an urban myth, but the old-school no-seam welded-lips fuel tank is real enough. The jury stayed out on the yellow paint, but you could always get it in red. Either way, that tank makes the engine the star, which is very much how it was when the CB750 Four came out in 1970.
For them as don't know, the CB750 was reputedly inspired by American Honda's service manager Bob Hansen. He reckoned that sporting glory (and strong sales) lay in wait for a revolutionary 'king of motorcycles' that would challenge the rules-favoured Harley Davidson and Triumph twins on US racetracks.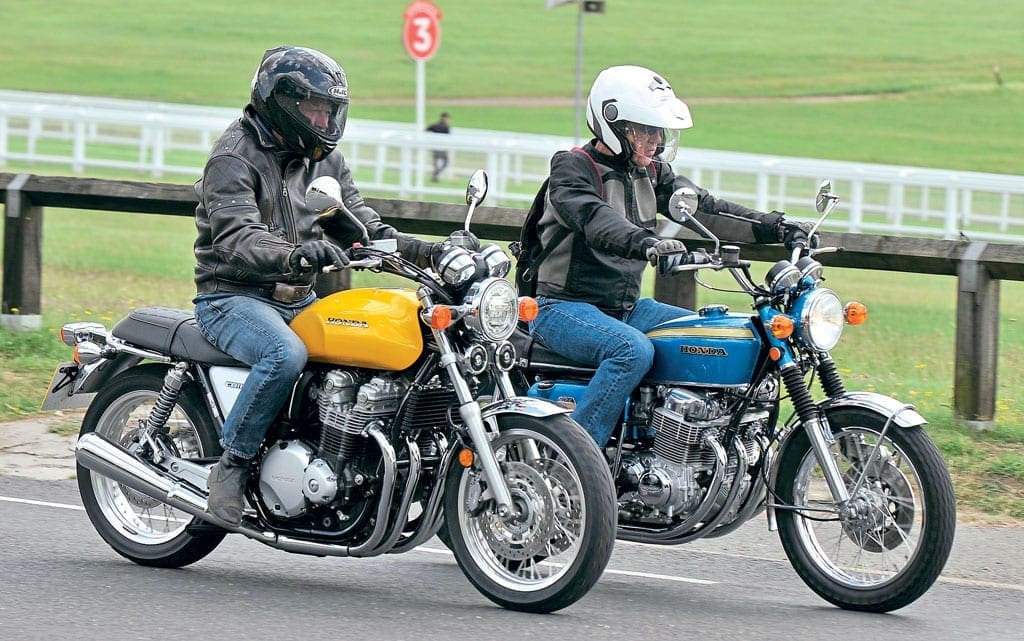 For Soichiro Honda, who had fielded 1.5-litre V12s in the 1964 Formula 1 championship, the answer was obvious: more cylinders. At the end of 1968 the four-pot CB750 appeared at the Tokyo Show. It was a seismic event, and a double whammy too, because everyone had been expecting a 500. The production CB750 Four went on sale in 1969.
Honda's attempt to make a killer impact at the 1970 Isle of Man TT races spluttered out somewhat, their contracted riders being grateful to get off their ill handling machines in one piece, but a racing version piloted by Dick Mann won the Daytona 200 in that year. The legend was born.
The 750 Four weighed 220kg, produced 67bhp at an unheard of 8000rpm, and ran 13-second quarter miles all day long. Cycle magazine immediately dubbed it the ultimate bike. 'Truly the motorcycle for the person who wants big bike road stability and the smoothness that only a four-cylinder machine can give,' they purred. 'It handles like a road racer, is comfortable and has fantastic brakes.'
Down the memory lane
Annoyingly, I'm old enough to remember those early 750 Fours. A bloke on my council estate had one. It was the most expensive vehicle on the estate. Awestruck onlookers were practically strewing rose petals in front of him every time he whipped it out.
Slightly off topic, but I once got a lift back from school on the back of a mate's metallic gold 500 Four, the little brother of the 750. My powers of recollection are about as strong as a goldfish's, but I'll never forget that experience.
It was bordering on surreal, about as exotic as Wigan got, and the final catalyst that shunted me into motorcycling, my taste buds having been tickled a couple of years earlier by my brother's reeking two-stroke Lambretta.
A ride on the 750 back then would most likely have blown my tiny mind. Anyway, back to the story. There weren't so many of those first Honda 750s, mainly because Honda wasn't sure whether anybody would buy them, so the engine parts were made from moulds rather than through the die-casting method normally used in mass production.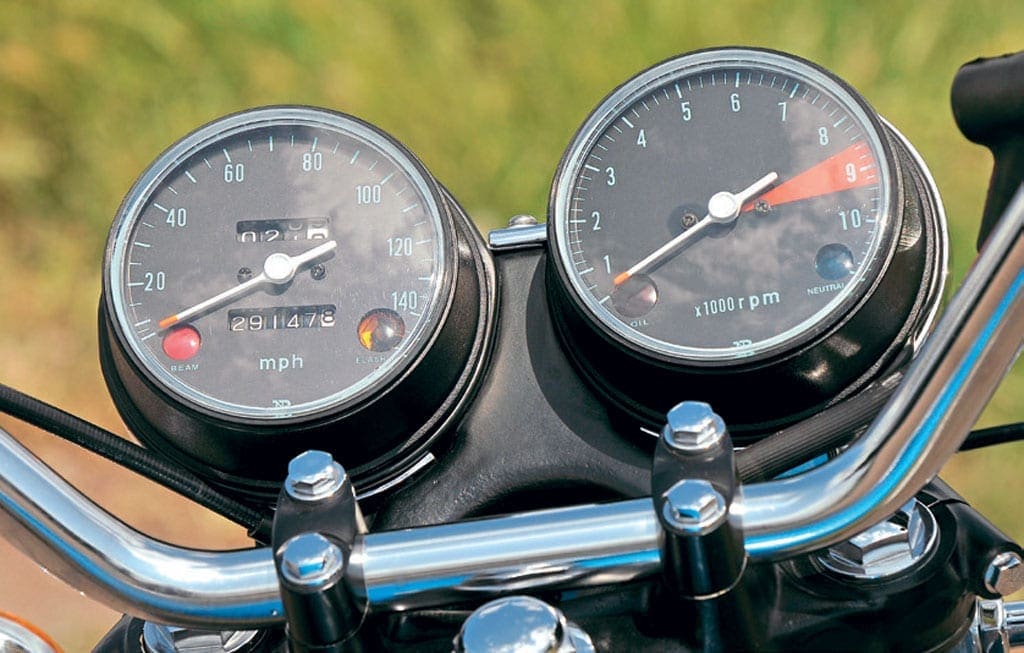 These so-called 'sandcast' bikes are dizzyingly expensive now: £25k for an unrestored one needing work, and £35k or more for a decent one. Against that, a superb example of a diecast K0 – the transitional model between the first CB750 and the CB750K1 – represents good value at around £20k, which is the estimated worth of our test bike.
Let's get back to the 1100 EX for a minute. It's a clever amalgam of old design and new ways of doing things. The light assemblies front and rear are old-school in design, but they use modern LEDs. The 18-inch wheels have stainless steel spokes, but they hang from modern Showa suspension. The four cylinder engine breathes softly through revised inlet and exhaust systems, but the transmission has an up-to date slipper clutch.
How good an homage to the CB750 is the 1100 EX though? We need to see how similar, or not, they are to ride. To do that properly, we'd need to find a CB750 that's as showroom fresh as the 1100 you've just borrowed from Honda UK – and that's not something you'll find on every street corner. But that's exactly what we've got here in Patrick Bullimore's gobsmackingly original and eye-popping CB750 K0.
The result of a painstaking two-year restoration Patrick completed earlier this year, this incredible machine has already won several awards. It's bang-on correct, right down to the Dunlop Gold Seal tyres that put the fear of God into bike testers of the 1970s.
Let's go!
So, we've got our Federer-Laver thing set up. How do they compare? The CB1100 EX is a big bike, but it isn't about big power. It's about big docility. As noted earlier, its engine runs modern fuel injection and is in a soft state of tune. Really soft.
Anyone getting off a Blackbird and on to an EX – as I did – will wonder where all the power went. But anyone getting off a early 1970s CB750 and on to an EX – as I also did – will marvel at the refinement and easy delivery that 50 years have brought.
Soft power isn't necessarily a bad thing. Twirl a Blackbird throttle hard in any gear and you'd better be ready for what happens next. Do the same on an EX and you'll feel like a hero because it's not scary in any way. Plus, once you realise that this is a high-geared cruiser and that there's nothing to be gained from revving the boobies off it, you can score some crazy-good fuel consumption figures, like 60mpg.
Let's fire up the 750. Wow. I don't remember that hearty rasp from the four-into-four. It's good though. Britbike defenders criticised the CB750's bulk at launch, but at 220kg it's quite a bit lighter than the 255kg 1100.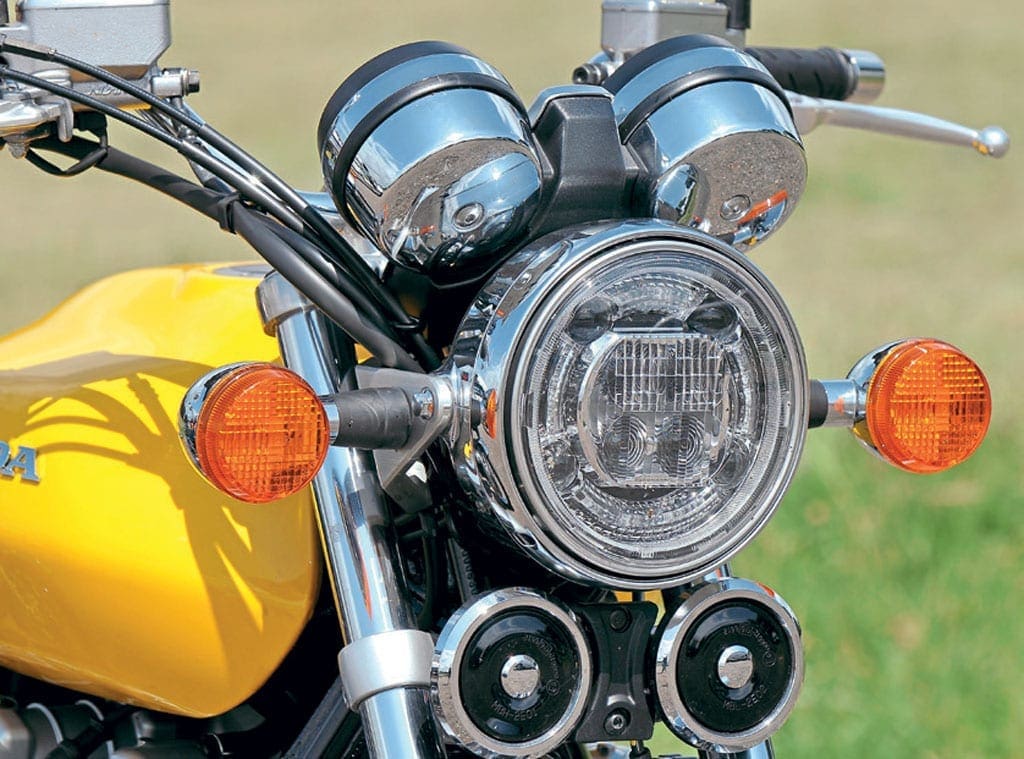 You can feel the 750's relative lightness as soon as you're on the move, but the 1100, though dense, carries its weight well and is a pussycat at the sort of licence-preserved speeds to which (you'd expect) most EX riders would stick.
The 31-inch seat height of either bike means that even a shorty can paddle them along or heave them out of the garage with the engine switched off. The EX seat looks flat, but it's actually very comfortable. It looked short to my missis too, but she liked it. "It's nice to go slowly for a change," she said through slightly gritted teeth, which I think might have been a dig at my beloved Blackbird.
Half a century apart
The only thing you've got to watch out for when you're legging the 1100 around on loose surfaces is the superpowerful (by 750 standards anyway) front brake. This is one area in which big progress has been made since 1970, when the 750's single disc up front generated almost as much disbelief as its transversely-mounted four-cylinder engine.
If you're planning on using all of the 750's performance and would prefer to stop before a roundabout rather than when you're halfway round it, you'd be well advised to put in a few hours with one of those grip strengtheners you used to be able to order from the small ads in the back of boys' comics.
Ah yes, grip, that's another big difference. I spent most of the week prior to the photoshoot praying for dry weather, as all my memories of Dunlop Gold Seal tyres were bad ones. Luckily, my prayers were answered, and even though my lean angle on someone else's pride and joy is in reverse proportion to its monetary value and to the amount of time and effort the owner has put into it, which meant I was practically upright on Pat's 750, but I had no nasty moments.
Here's another area where things have moved on. Suspension. On the 750, any Tarmac waves or washboardiness will set up a light, but noticeable pattering that simply doesn't come through the EX's 41mm Showa Dual Bending Valve front end. Showa could maybe have come up with a less wrongsounding name for that, and you'll have to go on to their website if you want to know how it works because I can't be bothered to explain it here, but just know that it does work.
In combination with that slipper clutch, another handy modern device that turns even the clumsiest non-rev-synched downshift into a professional, honey-smooth delight, the SDBV fork takes all the stress out of low speed cornerning.
The gearing is very different, too. At 70mph the six-speed 1100 is ambling along at around 2500rpm in top. The five-speed 750 needs around 4500 revs to reach the same speed. One US magazine at the time reckoned they saw 131mph flat out which, if true and not just an optimistic speedo reading, would have meant running well past the 8500rpm start of the red zone and not far short of 9000rpm.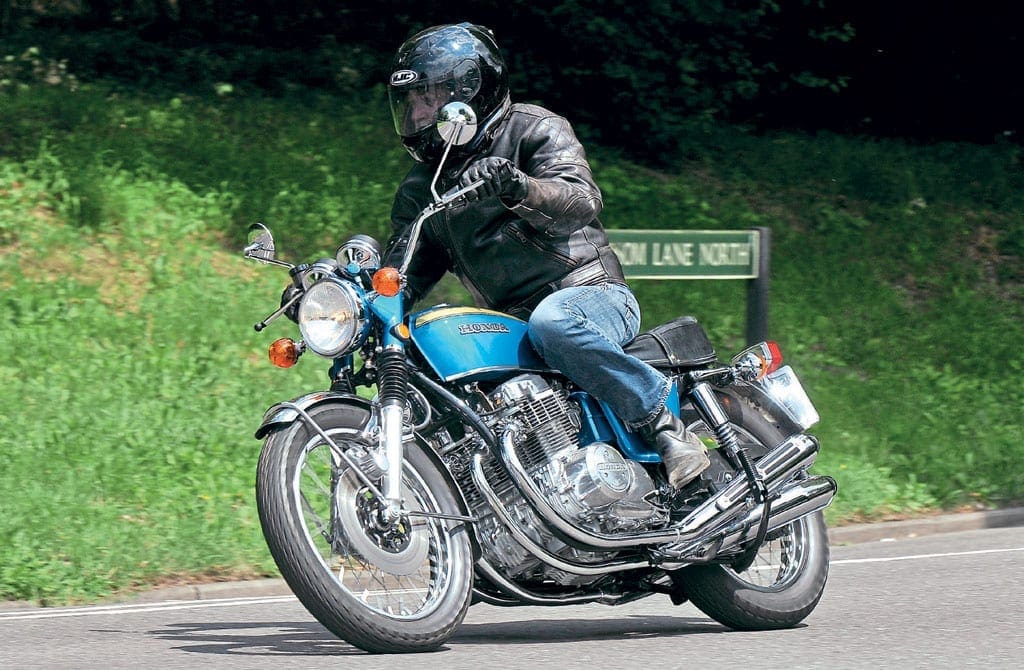 Away from the test track and/or handy repair facilities, the CB750's practical top speed would have been nearer to 120mph, exciting enough now, but maniacally quick in them days. The CB750's slick gearchange (and a lot of other stuff besides) shows you what can be achieved with old bikes if you're prepared to put in the time and effort setting everything up right.
Some might say that the EX is not 100% pukka. It does have an oil cooler and it does have fuel injection, but to me that's fair enough. Historical accuracy is one thing, making life needlessly difficult for yourself is another.
So, what's the real difference?
Was the original CB750 every bit as good as we thought it was at the time, or has Honda simply done a brilliant job of 'de-sporting' the EX to create such a well judged pastiche? Well, it's a bit of both really.
These two bikes are separated in time by nearly half a century, but you'd never know it from riding them. You could happily use either as an everyday bike. The CB750 has more than enough power even now, the 1100 likewise.
Both handle securely. Both have 12-volt electrics. Riding the older bike in stop start traffic will imprint the edges of the squared-off side panels on to the insides of your thighs, but once you're rolling it ceases to be an issue.
The newer bike is no nimbler than the old one, and is maybe even less so at low speeds, plus its horn and winker buttons are in the wrong places, but it is incredibly easy and pleasant to ride and it will cost you half the price of the classic.
Crucially, however, it will depreciate while the 750 goes the other way. That might decide it for the canny buyer. Maybe the smart solution is to buy a £10k CB750 and do a Pat Bullimore on it. You'll enjoy it.