GET FASTER – In just half a day
Ron Haslam Race School's half-day Premier Experience adds speed, style and safety to anyone's riding.
When I approached Donington Park for my Ron Haslam Race School Premier Experience, I wasn't feeling fast, confident or even particularly excited. I had just battled the hellishly busy M1, and I was simply happy to have put an end to the miles of filtering.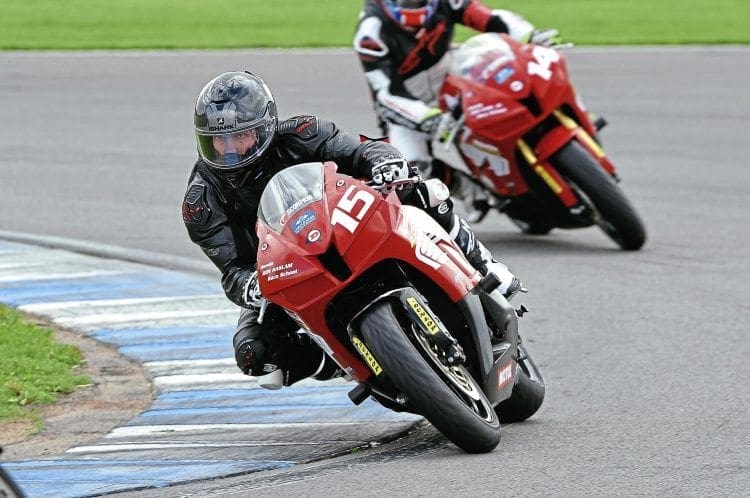 Luckily things started to brighten up as soon as I got in the vicinity of the race school: there was a line of sparkling new Honda CBR600RRs being fuelled up for the day, and the sun was out.
I can't think of many places as well equipped to turn someone from a sluggish Sunday rider into a knee-scraping track-missile than the Ron Haslam Race School. The school is based at Donington Park Circuit, one of the finest tracks in the UK, and it doesn't use the Haslam name in vain — the man himself is very much present at the school, riding with the learners. You can often spot other racers at the school too, such as Ron's son and British Superbike Championship rider Leon Haslam.
WHAT ARE THE OPTIONS?
There are three different types of half-day courses, or 'experiences', to choose from: On-Track, Premier and Elite. Regardless of which one you choose, the day starts with registration and getting your kit sorted. The great thing about the race school is that you can just show up in your normal clothes as the hire of all the riding kit is included in the price. You can, of course, use your own leathers, helmet and so on, but the option is there. The Honda-sponsored school also provides the bikes for all courses.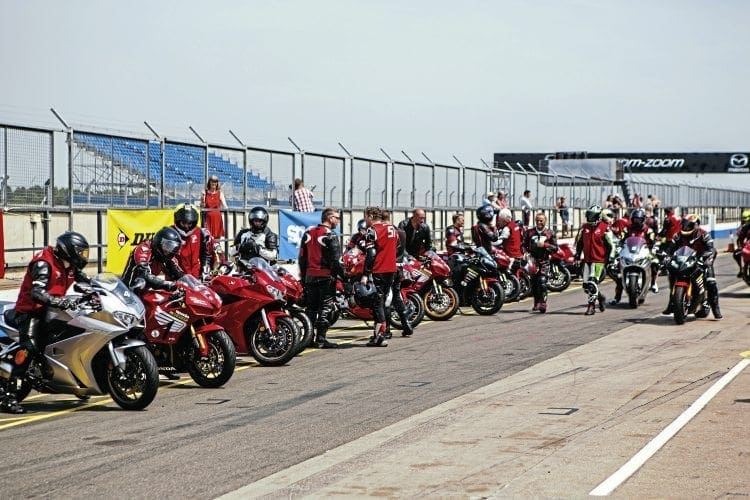 Having already done the On-Track Experience (which combines track riding and bike control exercises), I opted for the Premier Experience, which is more intensive, and includes more track time. It's done on the lovely Honda CBR600RRs. The day starts with a briefing, after which the riders move onto the track for three riding sessions. There's one track coach for every two learners, so it's easy to get feedback and advice. In between the riding sessions, the coaches advise on how to improve your riding from throttle control to body position and gear changes to race lines. The day ends with a final debrief and a certificate.
There's also the Elite Experience: a chance to get some one-to-one time with a coach and a Honda CBR1000RR Fireblade. The 600cc bike was plenty for me, but I'm tempted to go for the Elite training in near future.
READY, GET SET, GO!
At any given time there are various groups of riders attending different courses milling about at the race school, but the whole operation is run smoothly and effectively. Everyone knows where they're going (usually to the paddocks for a track session, the classrooms for a debrief, or the loos for… well, you get the picture).
Once I got signed in and kilted up (they even have waterproofs for rainy days), I had a moment to spare and had a cup of coffee and tried to mentally adjust to going quite fast, on a fiery sportsbike. Everyone who was heading off the track had big smiles on their faces so it can't have been too bad.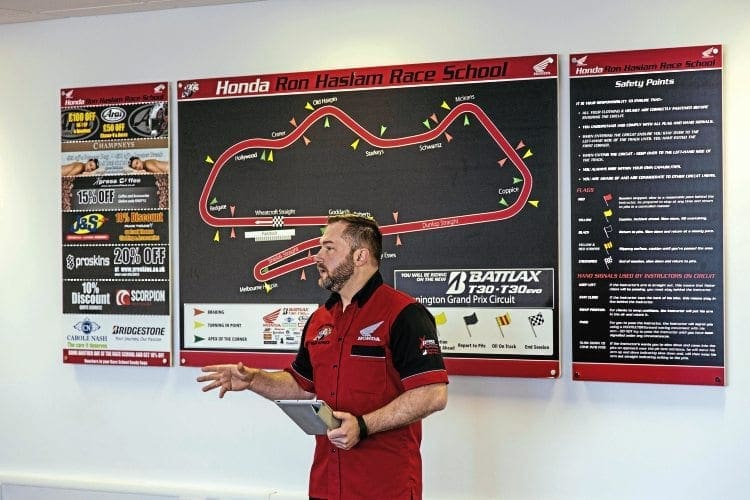 Soon enough we were called in for the initial briefing. This covered the different flags used to communicate any messages to the riders, general track etiquette, and advice on how best to navigate the circuit. This was all interesting and well presented, but I was just itching to get out on the track.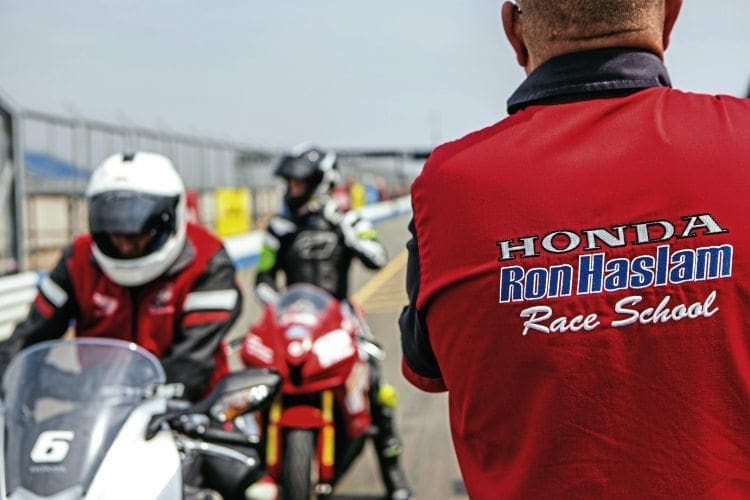 From the classroom it was just a short walk to the paddocks, where we got paired with our riding partners and track coaches. I was paired up with another learner who was roughly the same ability as me based on our responses to the questions about riding experience that we were asked when we booked the course. Our coach, Matt, quickly talked us through what we had in store for the rest of the day, which was pretty much as expected: three sessions, starting nice and steady, and building the speed up as we improved our riding technique. "Treat the first few laps as sighting laps. Let's take it easy to begin with:' was the message. That sounded good to me. I had no desire to go sliding off the track after over-stretching my limited abilities.
ON THE RIGHT TRACK
Without too much standing around we were on our designated bikes and following our Matt around the track at a nice easy starting pace. The whole group consisted of 16 people and we were all on track at the same time, each pair of learners following their coach. There were also a few people taking the Elite course at the same time, and every now and again Matt would signal to us to go slightly off the racing line to let faster riders pass us. The track didn't feel busy though, and the amount of overtaking was pretty minimal. Most of the time you could just concentrate on your lines, body positioning and turning points.
Our first track session was a great introduction to the Donington Park circuit and it gave me confidence in slowly building up speed.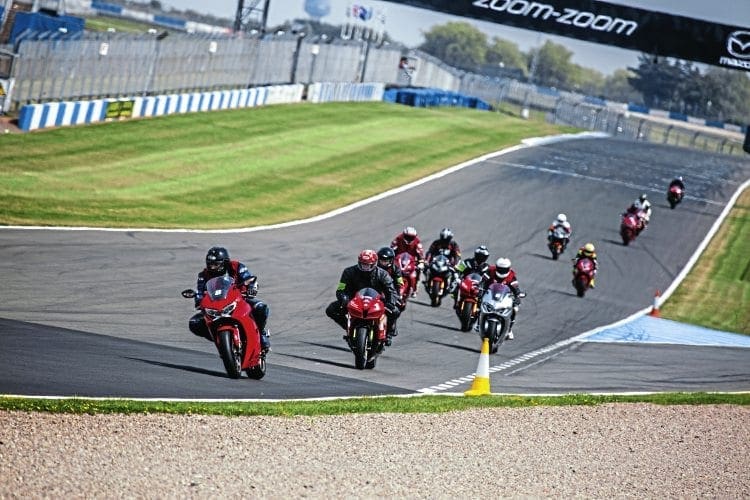 After the first session we did a bit of work on body positioning on a stationary bike at the paddocks. This was something that I really wanted to work on as it is the one element of track riding that I feel least comfortable about. Matt demonstrated how to move on the bike and then we had a go. But it's one thing to do it at zero miles per hour and a whole other to do it hurtling through a fast bend, so it was time to head back to the track to practise.
Session two helped to further build up the confidence — and therefore the speed. In fact, our speeds were building up nicely as we got more comfortable with the track, the bikes and our newly acquired skills. Leaning off the bike like Matt had advised seemed surprisingly natural after a while. I wouldn't say that I was quite relaxed on the bike yet, but certainly making progress.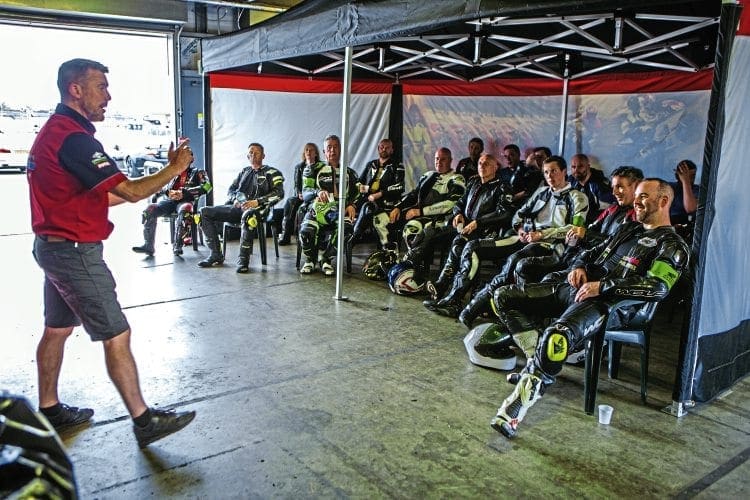 After another debrief, we headed out for the last session of the day. It felt like we were flying compared to the speeds we had started the day with. There were still people on the track that were much faster than us (there always are!), but to me this felt amazing.
BACK TO THE PADDOCKS
It's incredible how much of a difference half a day can make. From a nervous start it's easy to build up the skills and confidence to increase the pace safely. Any questions can be quickly answered by the coaches and having time on a track like Donington Park is just priceless. It's a friendly and effective environment to learn in.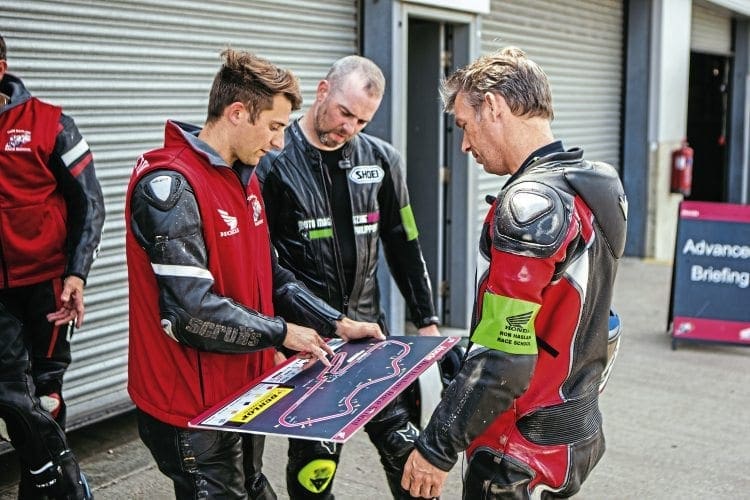 The school is very professionally run by Ron, wife Ann and their friendly team. Everything from the sign-in to the kit hire and briefings to the actual training is well organised. The trainers clearly enjoy passing on their track skills, making learning easy and fun.
I DID IT: Tom Lynch
Why did you attend the Race School?
I was keen to learn more about the dynamics of a bike in a safe environment away from road traffic. I also know Donington fairly well from track days in the car, so it meant I could focus on the bike more.
What were your expectations?
I really didn't know what to expect. I was actually quite nervous at first, but I was hoping to come away with more confidence in cornering quickly on a bike and generally a better grasp of bike handling.
What did you learn?
Loads! That the bike has far more grip than I thought. That you can actually get around a corner just using weight transfer of yourself on the bike without touching the handlebars. It was also brilliant learning about just how hard you can lean on the front brake. We even managed to do a controlled stoppie at the end! All of it just gave me so much more confidence in the bike and what it is capable of when I was working with it.
How did your riding improve?
I think I'll be smoother on the road now, and work better with the bike when cornering, now I understand better about weight transfer. The braking exercises I think have really improved my ability to stop faster on the bike should the unexpected happen, something I've always been a little nervous about until now.
For further information: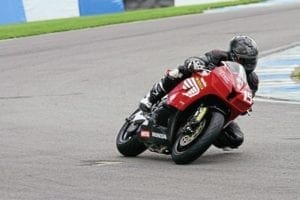 Email: [email protected]
Tel: 01332 883323
Words: Mikko Nieminen
Photography: Gary Chapman & Thrill Pic Media