In the February 2017 issue of Motorcycle Sport & Leisure magazine, Steve Rose and Julie Brown completed their self-guided adventure in the United States of America…
Day 4
[googlemaps https://www.google.com/maps/embed?pb=!1m24!1m8!1m3!1d818644.7620725234!2d-122.3169184!3d36.7266174!3m2!1i1024!2i768!4f13.1!4m13!3e0!4m5!1s0x8085809cbb75a565%3A0xb35283096b39352c!2sHoliday+Inn+San+Francisco-Civic+Center%2C+8th+Street%2C+San+Francisco%2C+CA%2C+United+States!3m2!1d37.777598399999995!2d-122.4142973!4m5!1s0x80ed34b1e68e9b69%3A0x1acae879f4dfcf06!2sSan+Simeon%2C+CA+93452%2C+USA!3m2!1d35.644014299999995!2d-121.1893211!5e0!3m2!1sen!2suk!4v1481046971962&w=600&h=450]
Day 5
[googlemaps https://www.google.com/maps/embed?pb=!1m24!1m8!1m3!1d826335.1946408706!2d-118.7823267!3d35.9989976!3m2!1i1024!2i768!4f13.1!4m13!3e0!4m5!1s0x80ed34b1e68e9b69%3A0x1acae879f4dfcf06!2sSan+Simeon%2C+CA%2C+USA!3m2!1d35.644014299999995!2d-121.1893211!4m5!1s0x80be2d9c13f20653%3A0x4f8616360028f78!2sLone+Pine%2C+CA%2C+USA!3m2!1d36.6060444!2d-118.06286539999999!5e0!3m2!1sen!2suk!4v1481047010256&w=600&h=450]
Day 6
[googlemaps https://www.google.com/maps/embed?pb=!1m24!1m8!1m3!1d1645422.2646102996!2d-117.144788!3d36.3434478!3m2!1i1024!2i768!4f13.1!4m13!3e0!4m5!1s0x80be2d9c13f20653%3A0x4f8616360028f78!2sLone+Pine%2C+CA%2C+USA!3m2!1d36.6060444!2d-118.06286539999999!4m5!1s0x80c8c3a1c94f9a33%3A0x2010e5b6b996618b!2sGolden+Nugget+Hotel+%26+Casino%2C+129+Fremont+Street+Experience%2C+Las+Vegas%2C+NV+89101%2C+USA!3m2!1d36.170268199999995!2d-115.14491269999999!5e0!3m2!1sen!2suk!4v1481047496597&w=600&h=450]
https://www.google.co.uk/maps/dir/Lone+Pine,+CA,+USA/Golden+Nugget+Hotel+%26+Casino,+129+Fremont+Street+Experience,+Las+Vegas,+NV+89101,+USA/@36.3434478,-117.144788,8z/data=!4m24!4m23!1m15!1m1!1s0x80be2d9c13f20653:0x4f8616360028f78!2m2!1d-118.0628654!2d36.6060444!3m4!1m2!1d-116.6493618!2d36.358962!3s0x80c71a7f7d45ae3b:0x340dd8d8bf87ade!3m4!1m2!1d-116.301943!2d36.347743!3s0x80c7ac13346a5551:0x9d14d6d630435a5b!1m5!1m1!1s0x80c8c3a1c94f9a33:0x2010e5b6b996618b!2m2!1d-115.1449127!2d36.1702682!3e0?hl=en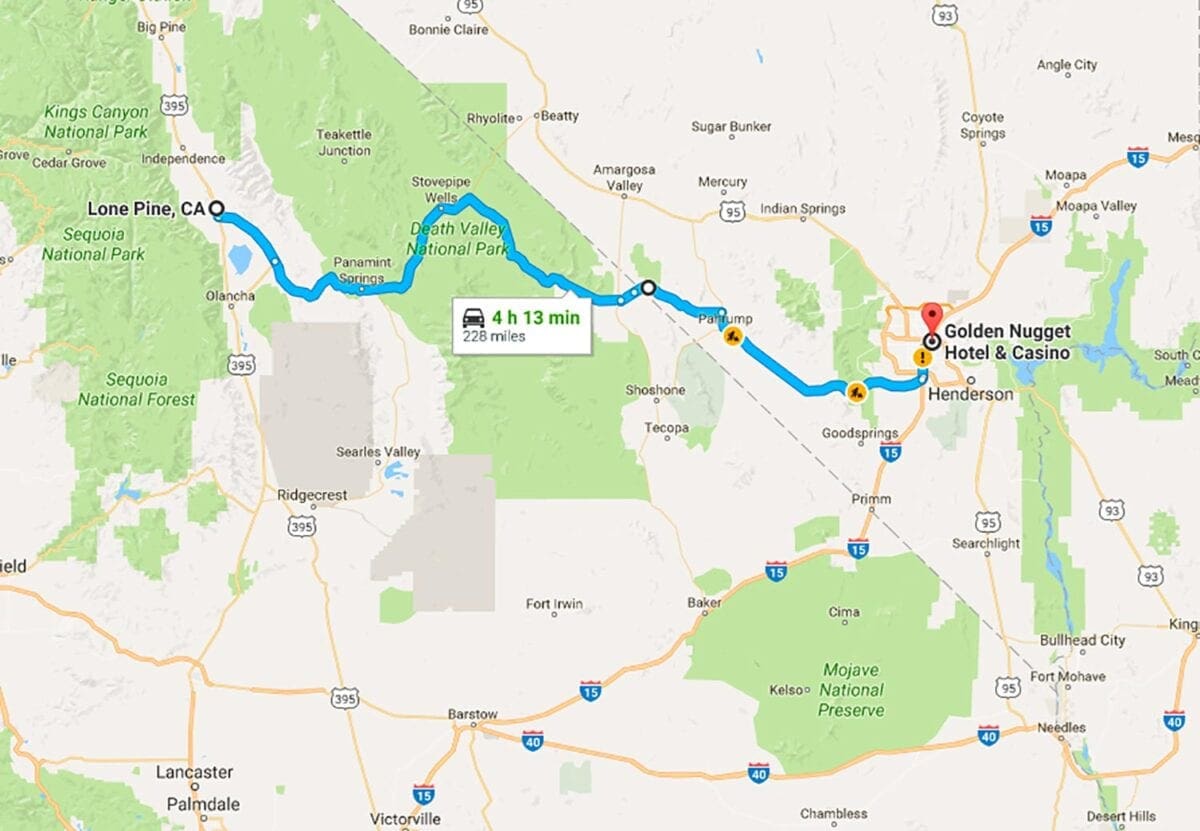 Article continues below...
Advert
Get days one to three here: www.mslmagazine.co.uk/self-guided-touring-of-america-part-1-free-route-downloads
Motorcycle Sport & Leisure magazine is the original and best bike mag. Established in 1962, you can pick up a copy in all good newsagents & supermarkets, or online…
Buy a digital or print edition  Subscribe to MSL

Enjoy more MSL reading in the monthly magazine.
Click here
to subscribe.
Article continues below...
Advert