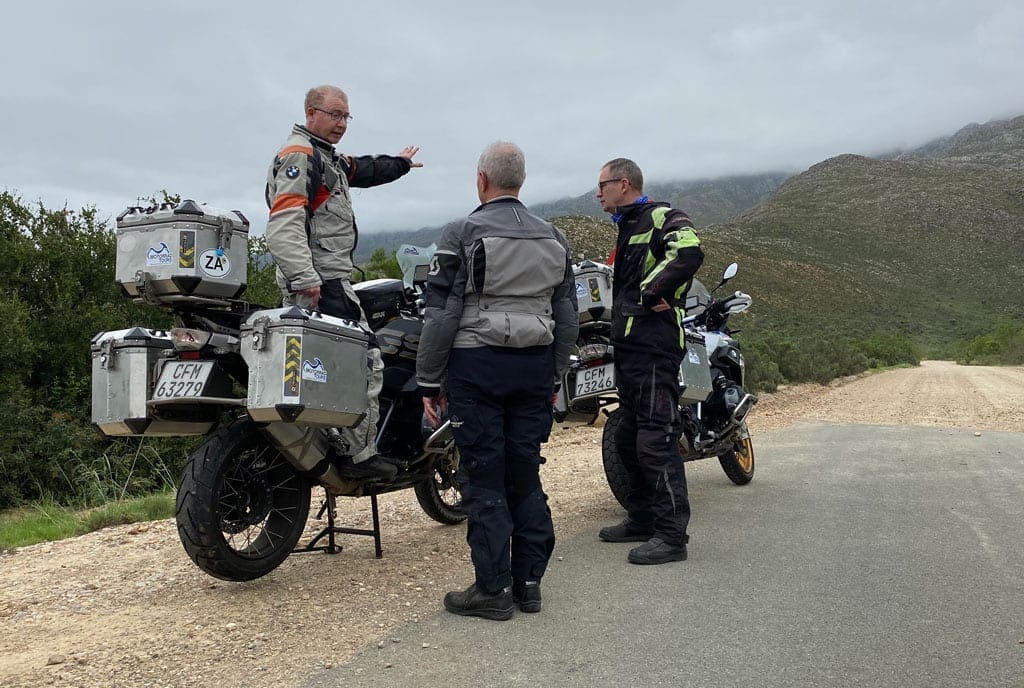 Words & photographs: Mikko Nieminen, Motorcycle Sport & Leisure editor
This was always going to be a day of fun. We started with a visit to an ostrich farm, and then took on a circular route on the bikes covering both tarmac and dirt mountain passes, and ending up exactly where we had started from, Oudtshoorn.
Today, our riding group was slightly smaller than usual. Given that a good chunk of the route was on gravel roads, Graham and Bernadette had opted to go and do their own thing, Daniel's pillion Melanie swapped the GS's passenger perch to a ride in the support van, and she was joined by Christine whose F750GS had been taken to the local garage to get a new rear shock put in (that old unit would really have been worth its name and given her a shock on the bumpy gravel section).
So the tour leader Nigel was leading Daniel, Mark and myself as single riders, and the only ones to brave the route two-up, Terry and Nikki. Hats off to Terry for that, he made it look easy. But I'm getting ahead of myself, before all that we went to see our feathery friends.
I never knew there was so much to learn about ostriches. I won't bore you with the detail as I presume you're reading this because you're into touring on bikes rather than large flightless birds. But let me tell you, I thought it was a slightly odd activity to include in a bike tour, but I thoroughly enjoyed learning about the different types of ostriches, how their young develop and how absolutely everything on the bird, from head to toe, is used for something useful.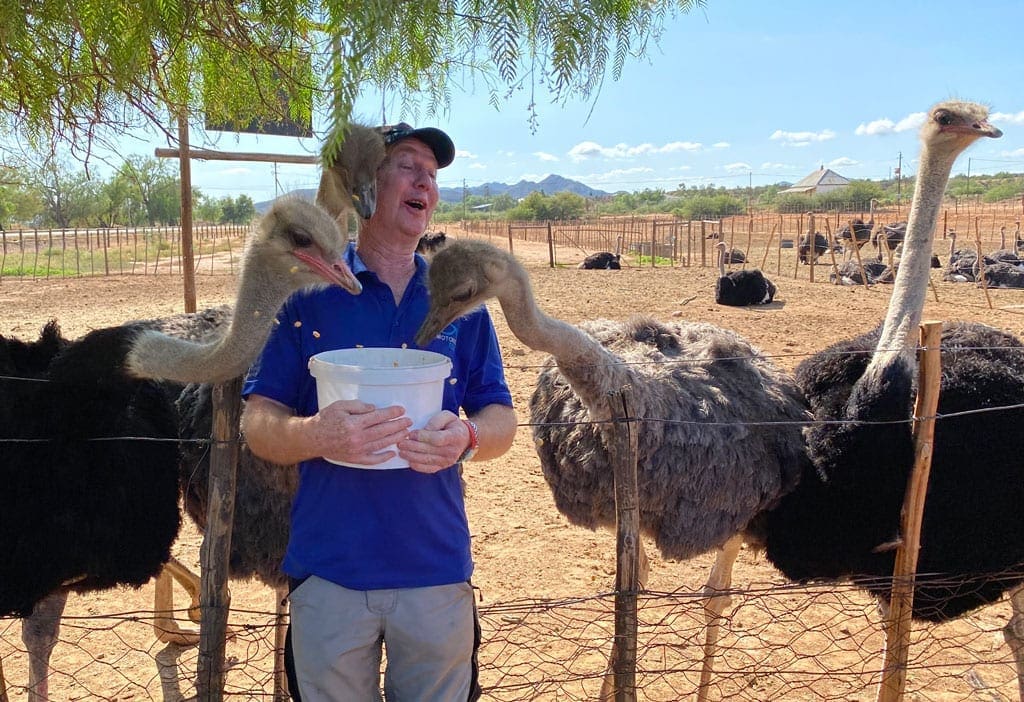 Having become experts on big birds, we jumped on the bikes and headed for the hills. Or the Swartberg Mountains to be precise. These mountains separate the Little Karoo from the Great Karoo, so we were about to cross from the smaller semi-desert to the bigger one – out of the frying pan into the fire, as it were.
So far the mountains sticking out of the flatlands had been craggy, rocky lumps, with very little vegetation. Today, however, we climbed up in rich greenery with fields, pastures, woods and shrubs lining the roads all the way to 1000 metres elevation. From there we were back in the familiar landscape of yellow and red rocks, blue sky and white fluffy clouds. It's not the sort of scenery you get bored of very quickly.
At around the same point, the road changed rather drastically too. The beginning of our day had been spent on probably the finest tarmac of the trip so far, but now the black stuff ended and we had a dirt road in front of us. It was a perfectly good road – one of the main routes to cross the mountains – but it was gravel, and that meant slowly and tentatively entering offroad mode. Or that was the case for me.
For the bike, it was a simple matter of engaging Enduro Pro mode that allows the big Beemer a bit more spin and slide with a gentler power output. It took just over a second for the bike, while I'm still calibrating my brain…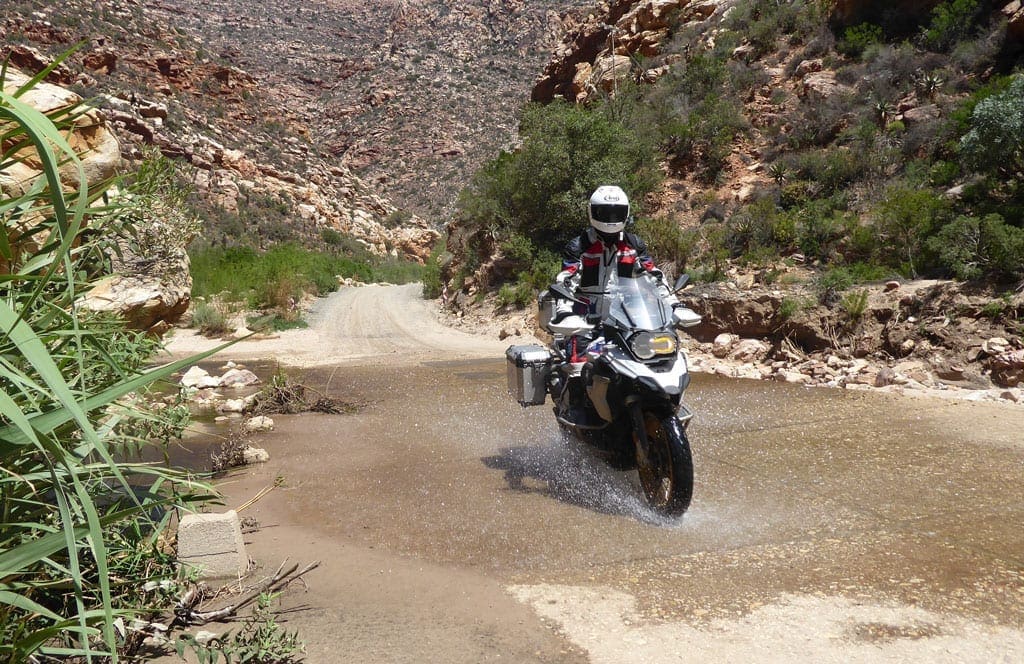 It never ceases to amaze me how good some of these big adventure bikes are in this kind of environment. No matter how bumpy the road gets, or how slow you have to go round blind corners with a sheer drop to your rocky grave on one side if you get it wrong, they just plod on obediently with agility and poise that machines this big have no right to possess. But somehow it all just works, like magic – maybe it is just that!
As soon as I has stopped admiring the bike's capabilities, it was time to turn my attention to the scenery. And it was not too shabby. Not at all! Riding on dirt roads in bright sunshine, which is occasionally interrupted when you ride through clouds is great fun, and the view around you seems to confirm that you are on top of the world.
But what goes up, must come down. So was it with us crossing the Swartberg Pass. Coming down the other side of the mountain was a little trickier than going up, with loose gravel making it more difficult to slow down for the sharp corners. But it all worked out in the end, and before we knew it, we were in the Prince Albert having lunch.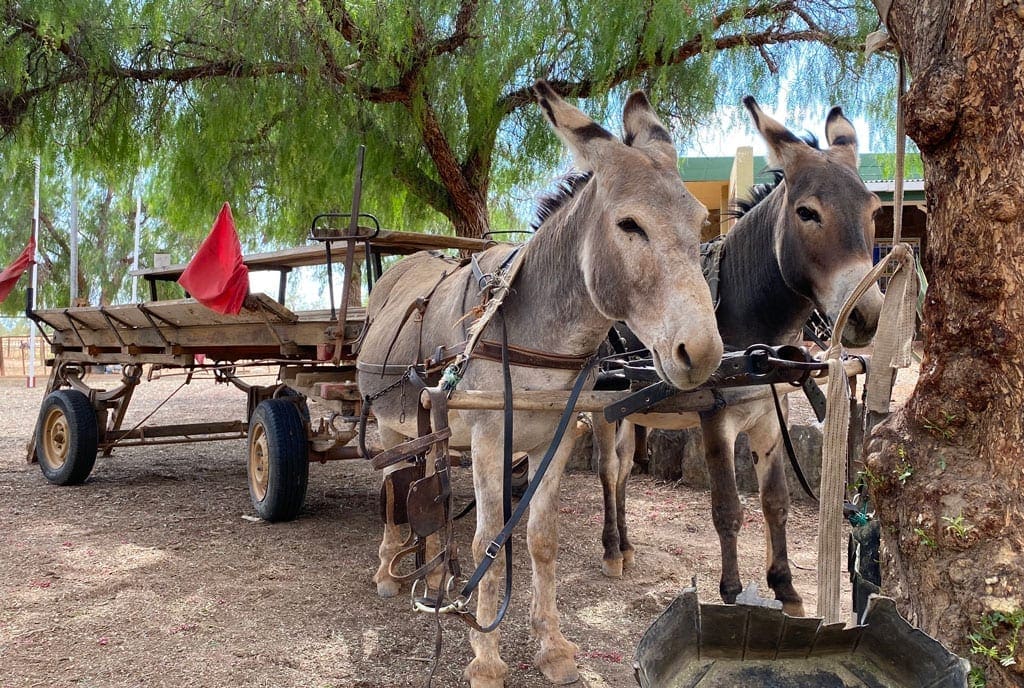 From there we took the tarmac route that swings by a waterfall on the way. The road seemed incredibly fast after slipping and sliding on the gravel, but it meant that we covered distance sharpish. As we progressed, the long straight road with punishing side-winds blowing us about turned into a winding canyon. We rode along the bottom of the canyon with huge walls of stone rising up to the sky on both sides.
It was here that we found the waterfall, and had a chance to cool down in a natural pool (only one of the group actually dared to go in, but I thought that just the nearness of the water helped). Then it was just a matter of heading back to base, filling up the bikes, and starting to prepare for the next long day of riding.