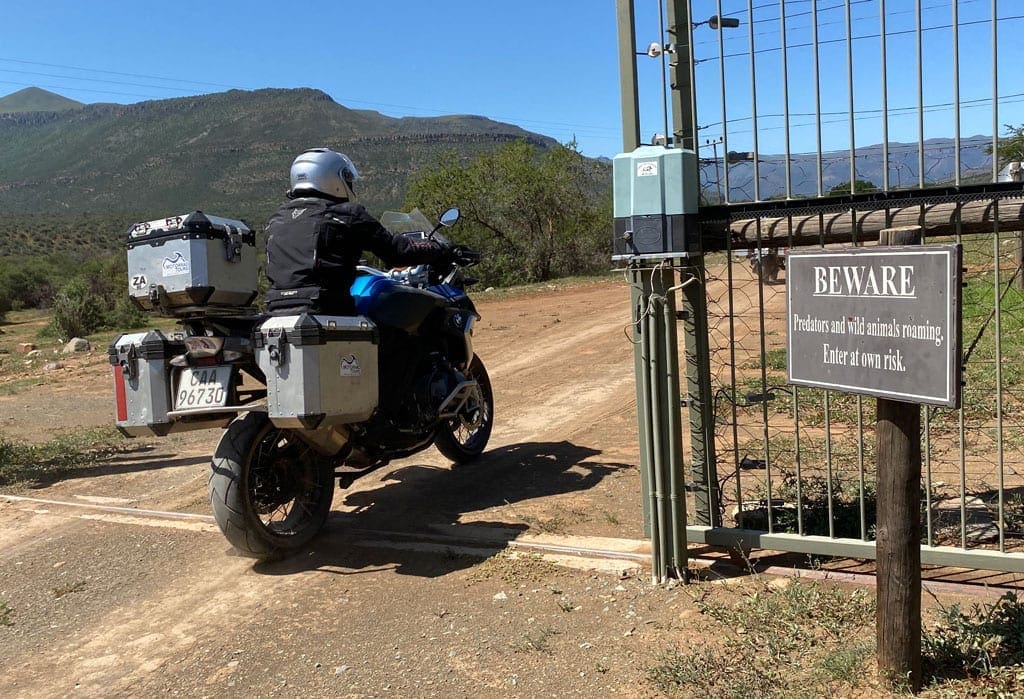 Words & photographs: Mikko Nieminen, Motorcycle Sport & Leisure editor
This was not a long day in the saddle, but it was a significant one: Today our progress to the East came to an end, and we started make our ziggedy zaggedy way back to Cape Town.
After a relaxed safari day, it was good to be on the bike again. The day was nice and cool, low 20s and cloudy – perfect for riding. At one point I even considered closing some of the many vents on my jacket, but it never quite came to that. I was, however, glad that I had the wind protection of the GS. On the hotter days I would have paid good money for a naked bike and the free flow of air, but today it was all spot on.
The scenery between Addo and Graag-Reinet was quite different from what we'd had on previous days. Especially during the first half of our ride the flatlands and mountains were replaced by rolling green hills.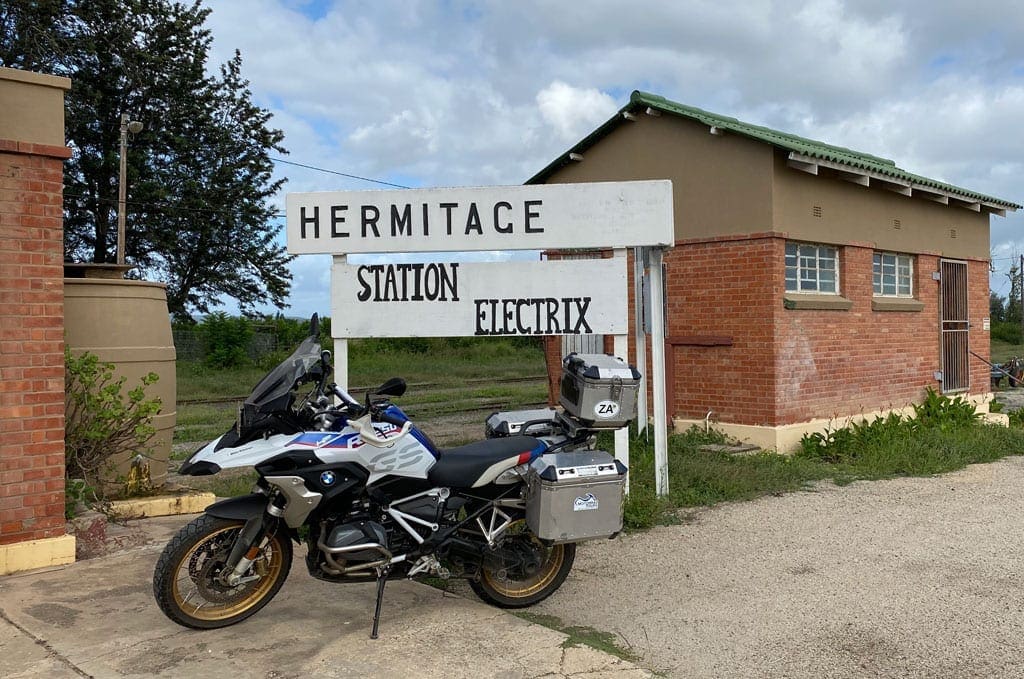 It wasn't quite like the Peak District back home, this was on a much bigger scale, but it was a stark change from the arid landscapes of the Little Karoo. I later found out that these areas had been very dry and barren until quite recently when the rains had come – it is fascinating how quickly and how completely weather can change the landscape!
I don't know whether it was because it was a Sunday, or whether it was because we were in a more remote area, but there seemed to be very little traffic on the roads even by South African standards. At one point we rode the best part of an hour spotting only about a dozen other vehicles on the roads. And even on those rare occasions that you found one of the massive articulated lorries in front of you, the chances were that as soon as the driver saw you in his mirrors, he would move over to the wide hard shoulder and let you pass – much like they do in Ireland.
Before the trip I had wondered what driving and riding is like in South Africa. And now, after a week on the road, I had come to the conclusion that it was all rather more civilised than what I had anticipated.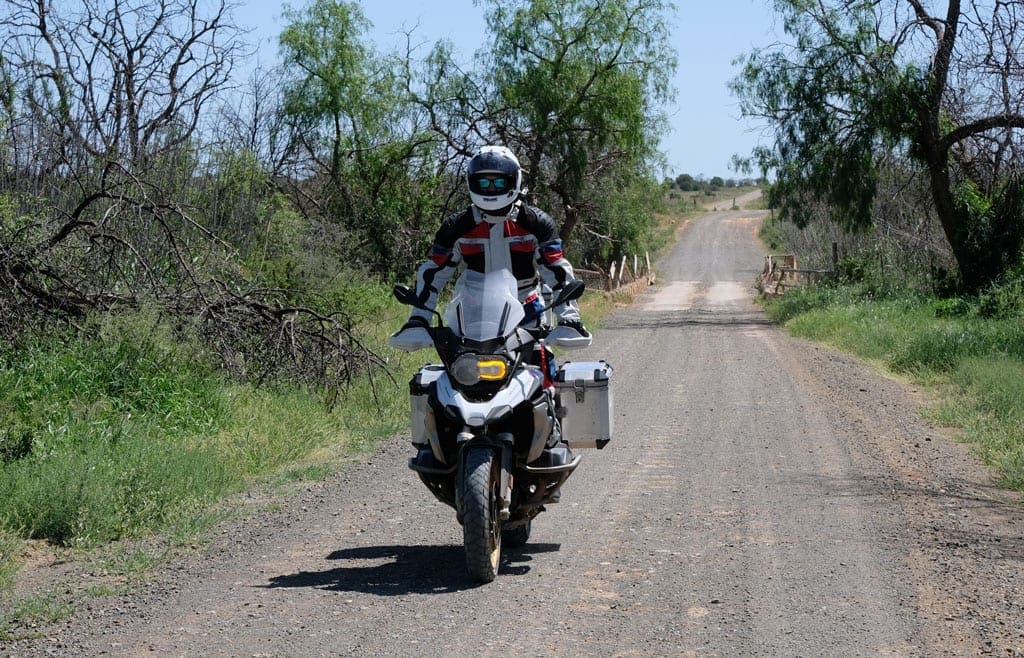 There wasn't any hint of the Indian-style chaos of everyone seemingly possessing individual road rules that only applied to them. There was none of the aggression that you see in Europe where people will go out of their way to make things difficult for others. And, crucially, there wasn't that much traffic in the first place, which probably explains why it was all so good-natured.
There were a few curiosities worth mentioning though. The first one that baffled me was crossroads, where everyone faced a stop sign. Four roads come in, and nobody has the right of way. Everyone stops. Even if you can see the side roads are clear, people still slow down (although rarely stop) for these.
I can't get my head around them. I presume the principle is similar to a roundabout, but they seem to be more an instrument of traffic calming than keeping the traffic on the move. I'm not convinced they are the future.
Another interesting part of South African traffic is something you often see when people are trying to figure out who can go first at these four-way-stop-signed crossroads. You see a driver lift one or two fingers and waggle them side to side. He's not telling you off, but indicating that you can go first.
One final thing to mention is that the written signs painted on the road, such as 'Slow' and 'Stop' are sometimes in English, sometimes in Afrikaans, and sometimes in both. You can often figure out the meaning even without full command of the language, but other times they can confuse you.
The one that got me was the word 'Robot' written on the tarmac in front of me. Robot? Eh?! Apparently that's the Afrikaans word for traffic lights. So there you go, wait for the robots to go green!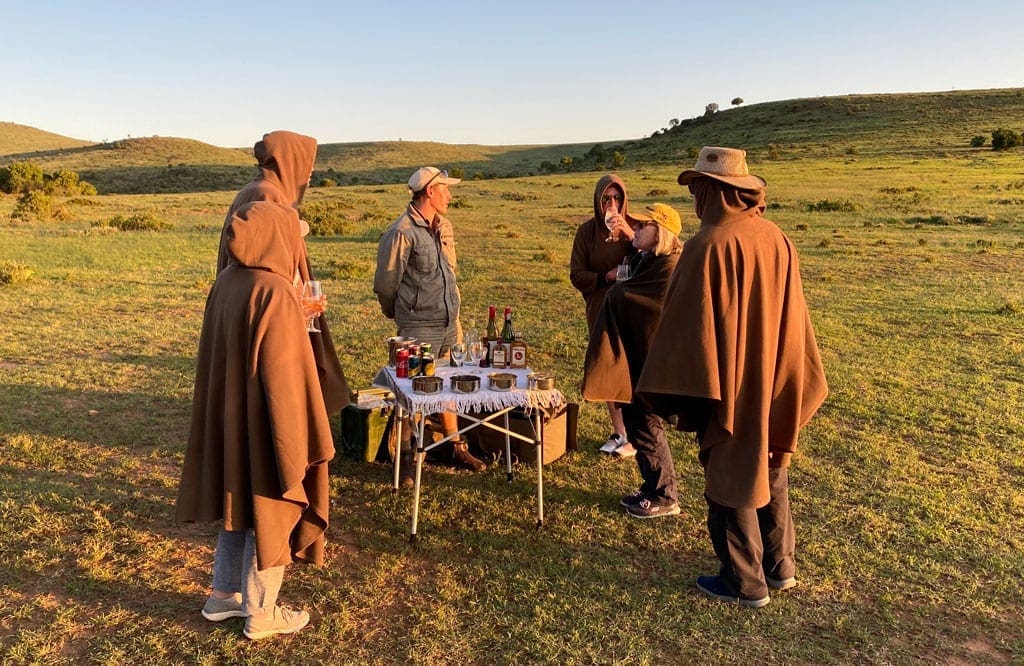 Other than that everything seems to run pretty much the same as back home. People drive on the left, and generally obey the road rules. It's not too alien at all.
Anyway, back to the day at hand… Our destination was Mount Camdeboo Game Reserve. A privately owned piece of land in a stunning location with a selection of wild animals roaming about. The location was, as you can appreciate, fairly remote, so the last 25km of riding was done on a dirt road. It made a nice change from riding on tarmac, and this time there were no mountain hairpins to negotiate so the BMW made easy work of covering the distance in comfort.
The location of the game reserve really was stunning. An old manor house and a few other buildings surrounding it provided a luxurious olde-worlde setting, complete with high tea being served just as we arrived. I felt more than a little out of place in my dusty riding kit, chomping on a scone in this beautiful old colonial-style house, but nobody batted an eyelid.
With our bellies full it was time to go for another game drive. The animals we spotted today were giraffes, white rhinos, antelopes, elephants, leopard turtles and warthogs. After yesterday's game drive it was the giraffes and rhinos that I found most fascinating, having not seen them in the previous reserve.
In addition to the animals, it was wonderful to have a drive in this beautiful part of the world. The reserve is situated in a valley with big mountains on either side. Given the recent rainfall, everything was green with grass, bushes and trees. As far as you can see there is no sign of human life, only animals in their natural habitat. It's breath-taking.
To top off the experience, we stopped at the top of the mountain for a G&T. Sipping your drink, watching the sun set over the seemingly never-ending greenery made it easy to imagine that you were on top of the world. Time and space seemed to get themselves in a complete muddle and you wouldn't want to put money on what century it was. Or maybe that was just the gin…