Getting your downpipes gleaming is no mean feat. But this much-lauded British-made cleaner and a bit of elbow grease will see your bike's pipes sparkling like they're fresh from the showroom
WORDS: Bob Pickett
Like many great ideas and products, Necessity was the Mother of Invention for DrDownpipe. The starting point for the business came from long years of professional experience valeting used bikes Martin Cloke bought in for supply to the trade.
Increasingly dissatisfied with many of the cleaning solutions available and keenly aware some household items in regular use most definitely weren't motorcycle friendly nor safe to use on motorcycles – many of these would cause damage to other components – Martin set out to develop the answer to the problem of filthy downpipes, one that wouldn't damage chrome and adjacent paintwork, and was equally effective on polished stainless steel. After extensive testing and establishing regulatory compliance, the result was a biodegradable formulation branded DrDownpipe – The Exhaust Remedy.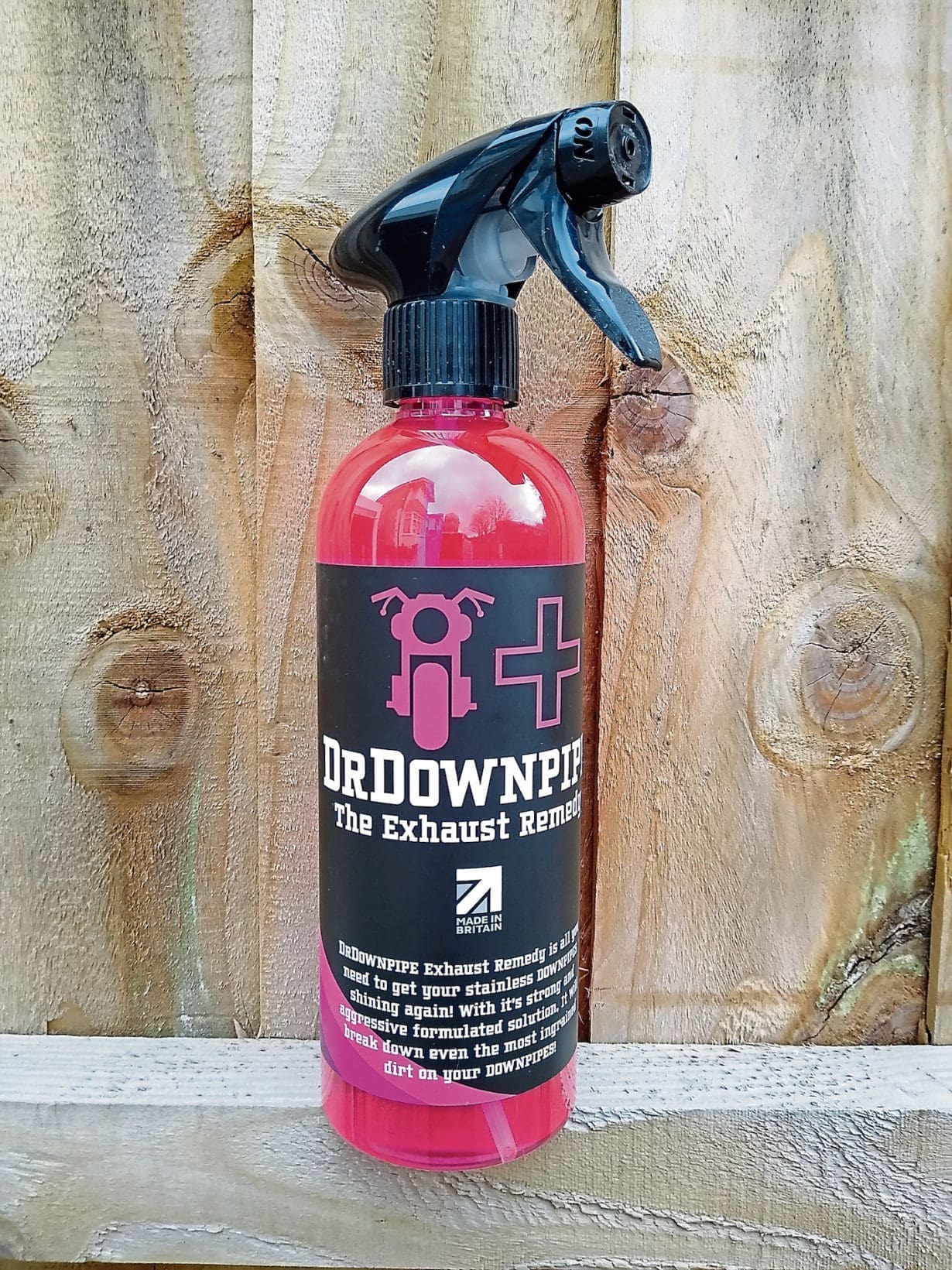 The British-made product works by spraying on to cold downpipes and agitating with a lightweight scouring pad, repeating the process until the desired result is achieved, then thoroughly washing the downpipes. So what's in it? "We cannot reveal the formulation, but it is fully trademarked in the UK and fully biodegradable," said Martin.
The need for an effective downpipe cleaner was evident. When DrDownpipe launched, it sold in a handful of local shops but demand rapidly outweighed supply and the company grew quickly, now serving many motorcycle shops in the UK and Ireland, J&S Accessories, Halfords Online and Amazon Prime. Now it is being distributed in Australia and last year over 10,000 units of the downpipe cleaner were sold worldwide.
And the company gives back, donating a percentage of sales from its matt paint cleaner to the British Biker Relief fund. The company also donates 10% of eBay sales to the Make-A-Wish foundation.
As Martin said: "It's something that we like to do here at DrDownpipe because we represent the motorcycle industry and it's only right to give back and make a positive contribution."
The support and feedback from the motorcycle community has been a prime driver in DrDownpipe expanding from one cleaner to a whole range. Martin and the team at DrDownpipe would like to publicly thank the support of bikers in the UK for making this product such a success, adding: "Without bikers our brand and products are nothing and that's speaking from the heart. We have not increased any of our prices even though many around us have. We are happy to keep our margins small to give great value to our biker community. We are bikers and we are all about bikers."
DrDownpipe now works alongside Ride DMC Motorcycles in Maidstone, a premier used motorcycle dealer. Moving its distribution there has enabled DrDownpipe to be at the heart of the motorcycle community. Ride DMC carries a large amount of used stock and if you are local to Maidstone it's well worth a visit.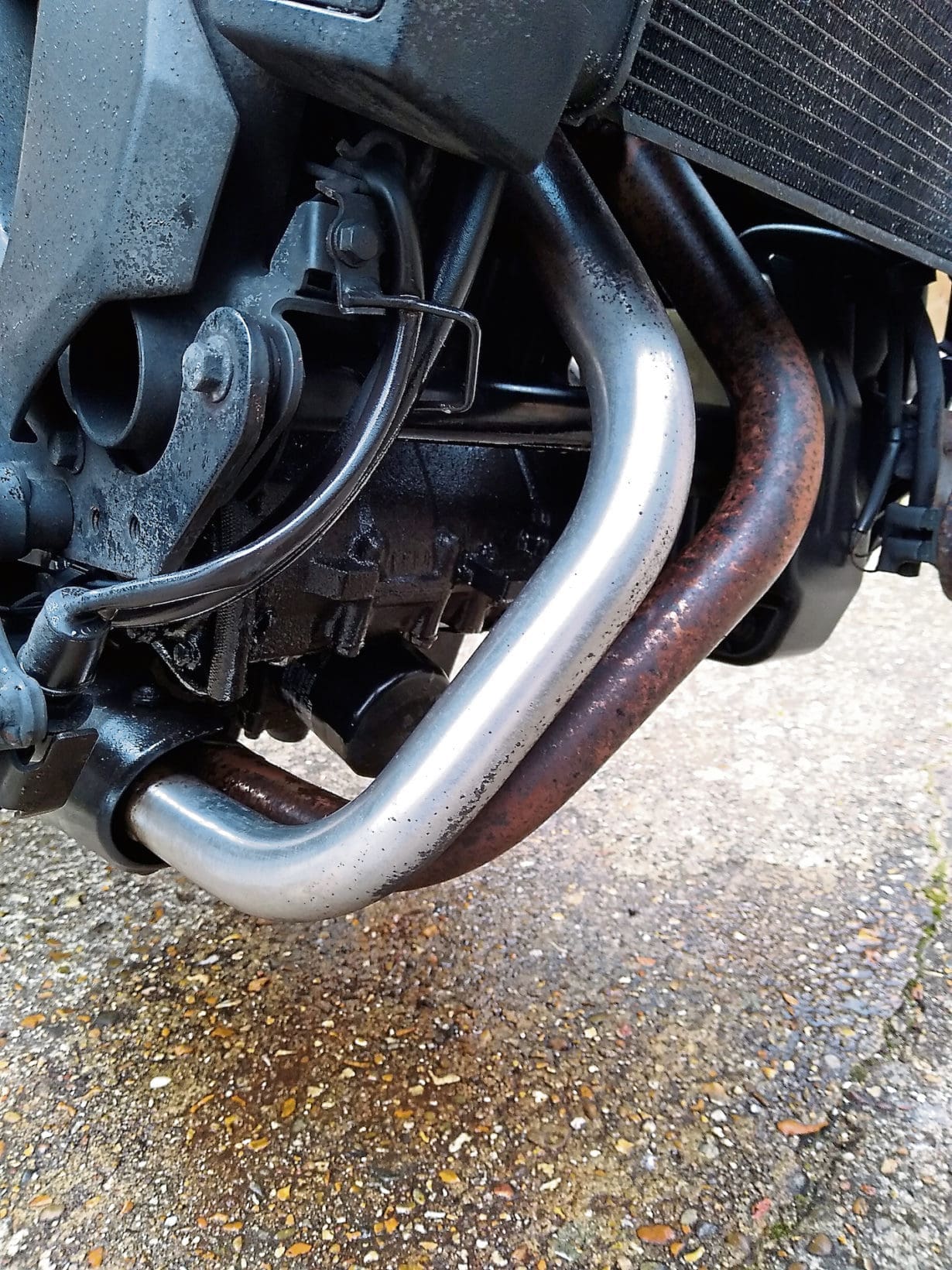 What does it cost?
The DrDownpipe Exhaust Pipe Cleaner is £16.99 for a 500ml bottle and cleaning pads. The company also makes a range of other bike cleaning products, waxes, polishes and lubes. The latest edition to the range is a specialist Electric Bike cleaner (£13.99 for 500ml) which is completely acid-free and will not harm or corrode electrical components.
Tried & Tested
My Kawasaki Vulcan S is seven years old. It is cleaned on a regular basis but aside from a wipe over with the same (admittedly excellent) cleaning products I use on the rest of the bike, the downpipes have never been treated to a decent, deep-level clean.
And it shows. Their appearance badly lets down an otherwise tidy bike. So I was keen to try the DrDownpipe exhaust cleaner to see what it could do to rectify seven years of oversight.
As per the instructions, I sprayed the cleaner on the pipes and waited a minute before agitating with the cleaning pad provided.
Where the pipe joins the end can, it cleaned up very quickly. But the rest of the pipe needed a lot more work.
Multiple reapplications, a couple of pads, a massive amount of elbow grease (my hands hurt) and around an hour later, you can see the result. Seven years of hard-baked dirt, grease and who knows what lifted away, revealing a shiny silver downpipe.
Think about how hot downpipes get during a ride, baking solid crust upon crust of dirt. And this bike has been ridden most days, year in and year out, for seven years, accumulating layer upon layer of detritus. Yet, with a lot of hard work, DrDownpipe did what it says on the label. That's very, very impressive.
By adopting a regular cleaning regime, those pipes should stay shiny.
For more information, visit www.drdownpipe.com
#morebikesyoulike #motorcycles #readersrides #motorcycle #ukbikers #bikelife #bikers #motorcyclists #morebikes #morenews #motorcyclenews #motorcyclegear