Built like a gun? Maybe, and from £4279 the new Classic 350 may have hit the target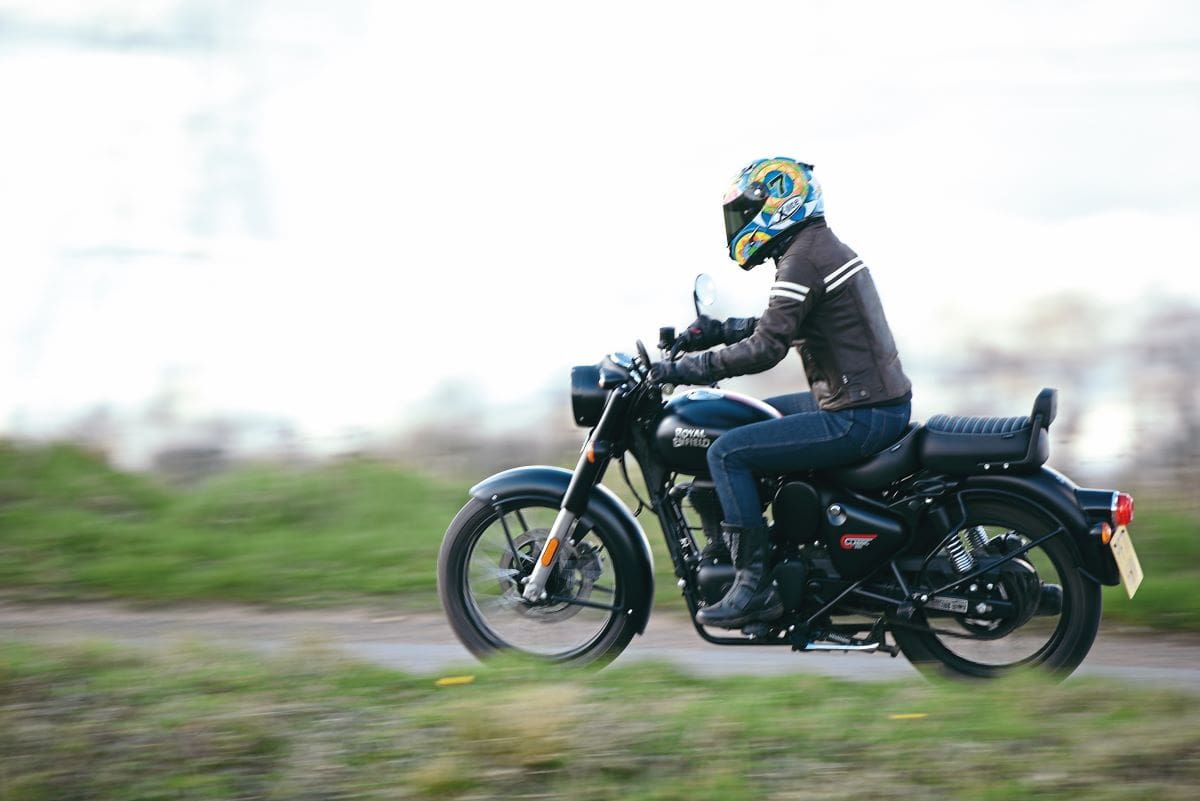 WORDS: Maria Hull PHOTOGRAPHY: Moto Classic
I get it – the popularity of modern classics. They give you the notion of wind in your hair, riding for no particular reason, and give you the 'cool' feel that a classic bike has. It's about the journey, as a lazy marketing man would say. Then, once off the bike outside your local haunt, you can enjoy approving nods as you turn up dressed in a leather jacket and jeans (perhaps even a white silk scarf, for full effect). Hell, hide your helmet, and no one would know how you turned up.
Modern classics are so much easier to live with than a true classic. An old bike involves a lot more than just riding; you have to learn it inside out, how it works.
I normally ride a 650 Tribsa; a BSA A10 frame and gearbox from the 50s, fitted with a 650cc Triumph Thunderbird engine; a common marriage back in the day. I love it, lust after riding it and am happy to put up with the shortfalls, of which there are many: lights are not fit for purpose; the stand acts like a renegade union worker, when it wants to. And then there is starting: jump on, having got completely dressed first (because you'll be balancing the throttle once it has started); fuel taps on (two of them); choke if cold; tickle the carb (ask your father); ignition on (a modern touch); find just after top dead centre (ask your dad again); and jump on the kickstarter, while all the time balancing on this moving lever who's mission in life is to fire the bike, but who's hobby is bruising shins. The crescendo is at the bottom of the stroke (there can be many), hoping you hear the gorgeous blat from the open exhaust. On a modern retro bike? Jump on, turn key, hit button.
Old bikes are a lifestyle choice. You choose to spend hours working on your bike; hours cleaning muck from under your fingernails; hours waiting to fix a problem at the side of the road; or looking in the hedge for parts that have tried to make a run for it. So, I completely get walking into a bike shop, having a haggle, and the trickiest part being picking the colour. You then get all the looks of an old bike, the feel of riding something really cool, and then parking up, safe in the knowledge it will start again.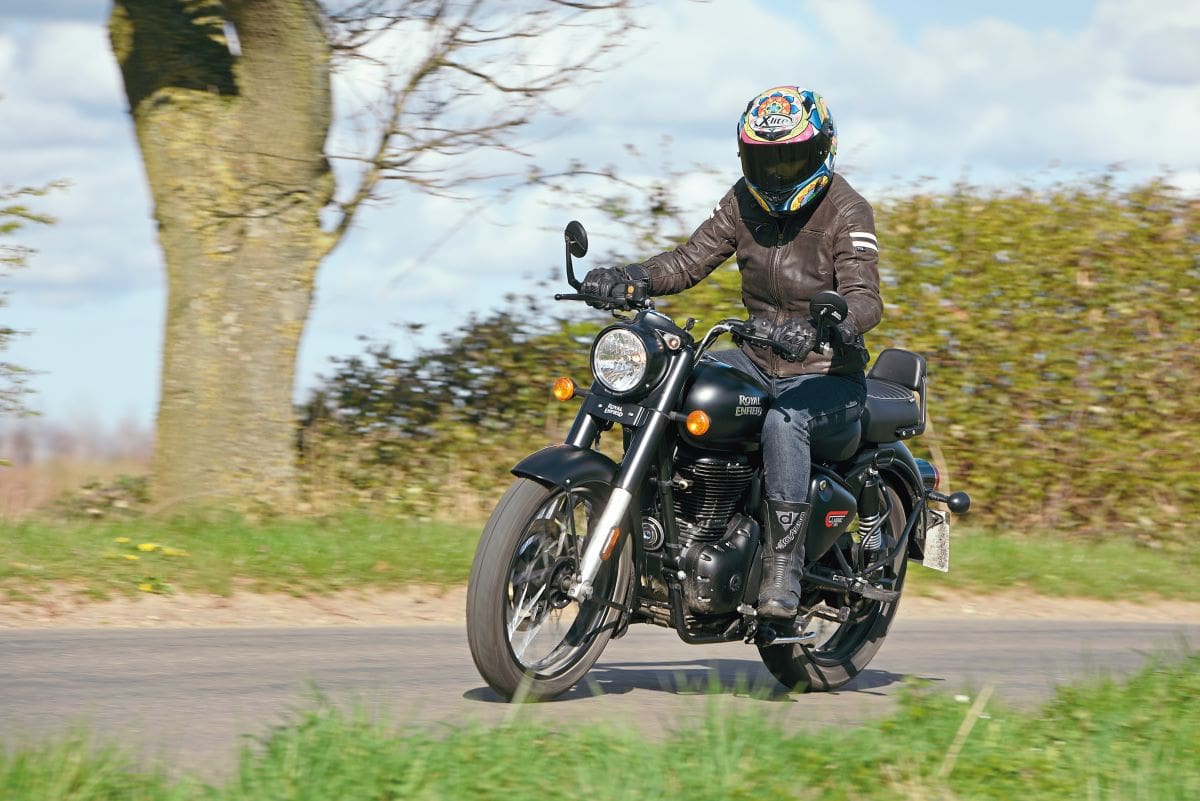 What is it?
Royal Enfield has been around since old bikes were new. They, more than most manufacturers, are legitimate in bringing us the easy-to-live-with classic look. The Interceptor and Continental 650 twins have been so successful they've caused a real headache for other makes, with their price being unheard of. A Royal Enfield twin for less than six grand, a Triumph for eight-and-a-half, or a Moto Guzzi for even more?
Then last year the Meteor 350 appeared. A 20bhp, 350cc in an unthreatening package that looked a little like a Harley-Davidson Sportster if you looked at it through a jam jar. It, too, has been a success, so here is the Classic incarnation.
The Classic 350 uses the Meteor engine, frame, suspension and most of its parts, wrapped up in an olde-worlde look, mimicking the infamous Bullet model, made from before the dawn of time until just a few years ago, when the aging long-stroke unit motor couldn't get through regs any longer.
Differences seem minor but change the ride completely. The rear wheel is enlarged to 18in, with the front staying at 19in. The satnav and modern speedo have gone, making way for the traditional Enfield nacelle holding a classic-looking speedo, which hides two useful trip meters, a service and amusing 'ECO' sign, which comes up when you're not hard on the throttle (oh wow, thanks for that, I wasn't sure how much I'd twisted the throttle). Mudguards are larger, deeper and therefore more classic in look, but also do a damn fine job of keep you and the bike clean. The side panels have been changed; still do the same job hiding electrics and holding a decent toolkit, but on the Classic they mimic the triangular ones of days past. Oh, and the exhaust is slightly different. The large changes are the lower handlebars, the higher, two-piece seat and the footrests further back, giving a more traditional riding position. At 805mm, the seat is low enough for most, and boy, is it comfortable. Triumph, take note how to make a comfortable seat.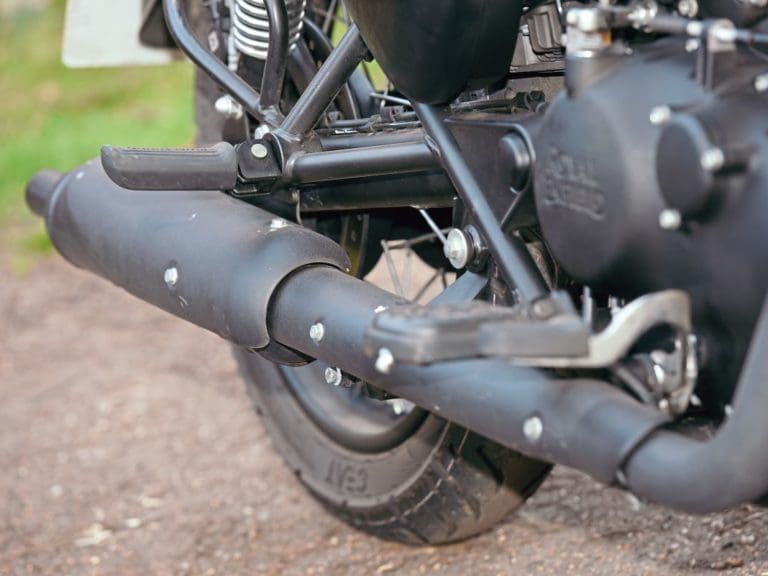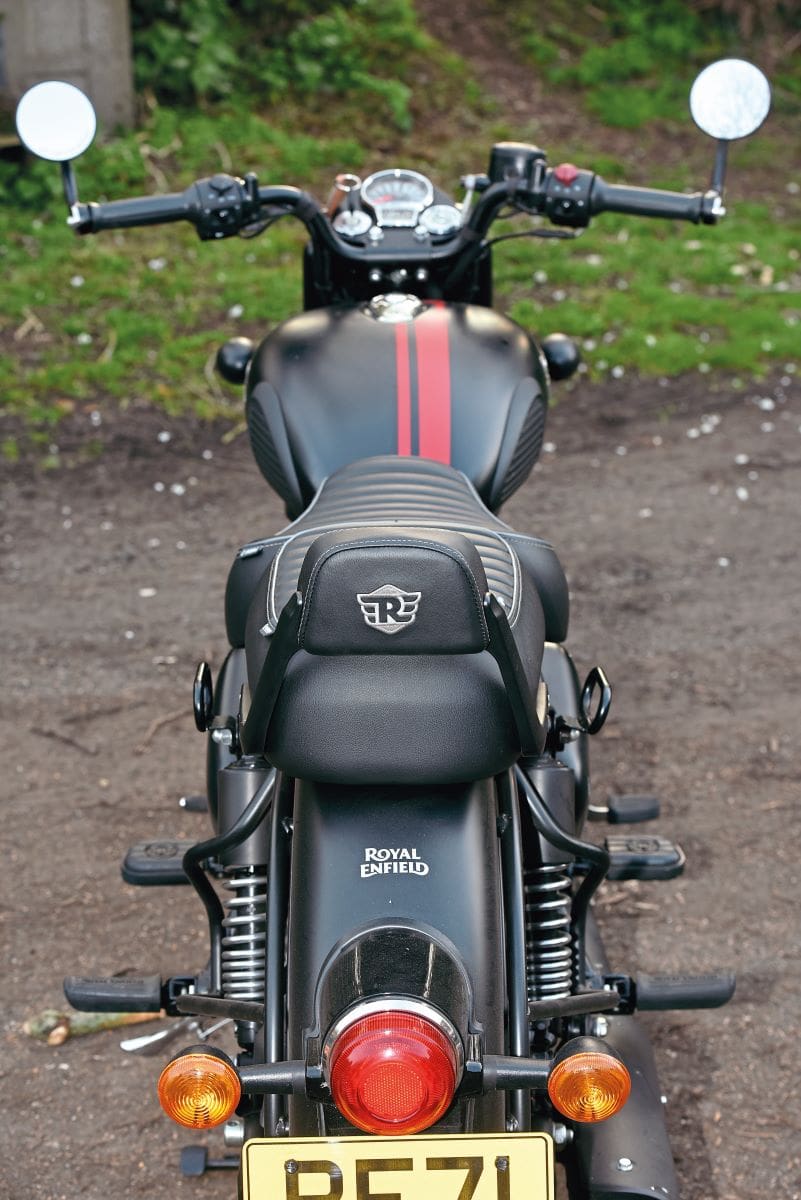 Riding impressions
On first impressions this is a smart-looking bike, the matte black with red stripes over the tank automatically giving that retro feel (there are two other versions with different amounts of chrome). There is a big, comfy-looking, classic-style seat for both rider and pillion (websites show the single seat foreign version – UK bikes have pillion seat, though back rest is optional). It's a bike you're proud walking back to. At 5'4" I was slightly more than tiptoes on the floor, so height may be an issue for those who are shorter – the Meteor is lower. It's a bit of a heave to get it off the side stand, you can feel the weight, but you don't notice once you are on the way.
At 350cc I was concerned it wouldn't be able to keep up with the 1200cc, 650cc and 500cc bikes I ride with, but I needn't have worried. The 350 Classic is no sportsbike, but is more than capable of keeping up with the B-road traffic and other bikes on a ride. You do have to think twice about overtakes but it is fun to wind up to speed – when did you last hold a bike on full throttle for long?
It has a lovely exhaust note, that long-stroke engine sounding beefy, but not obnoxious. No offending here, unlike my Tribsa! The comfort of the Classic 350 is outstanding; no sore hands from too narrow grips and no numb bum after 20 miles. It really is a very comfortable bike to ride.
The bar-end mirrors are the best I have ever seen on a bike. They don't wobble or vibrate at all, you can see everything and are perfectly positioned.
She is very happy to smoothly dive predictably into a corner, stays where you put her and comes out where you expect. Royal Enfield has done a cracking job at making a small bike feel like a big bike; I didn't feel intimidated by other road users and the Classic 350 has plenty of road presence so you won't be bullied due to it being small.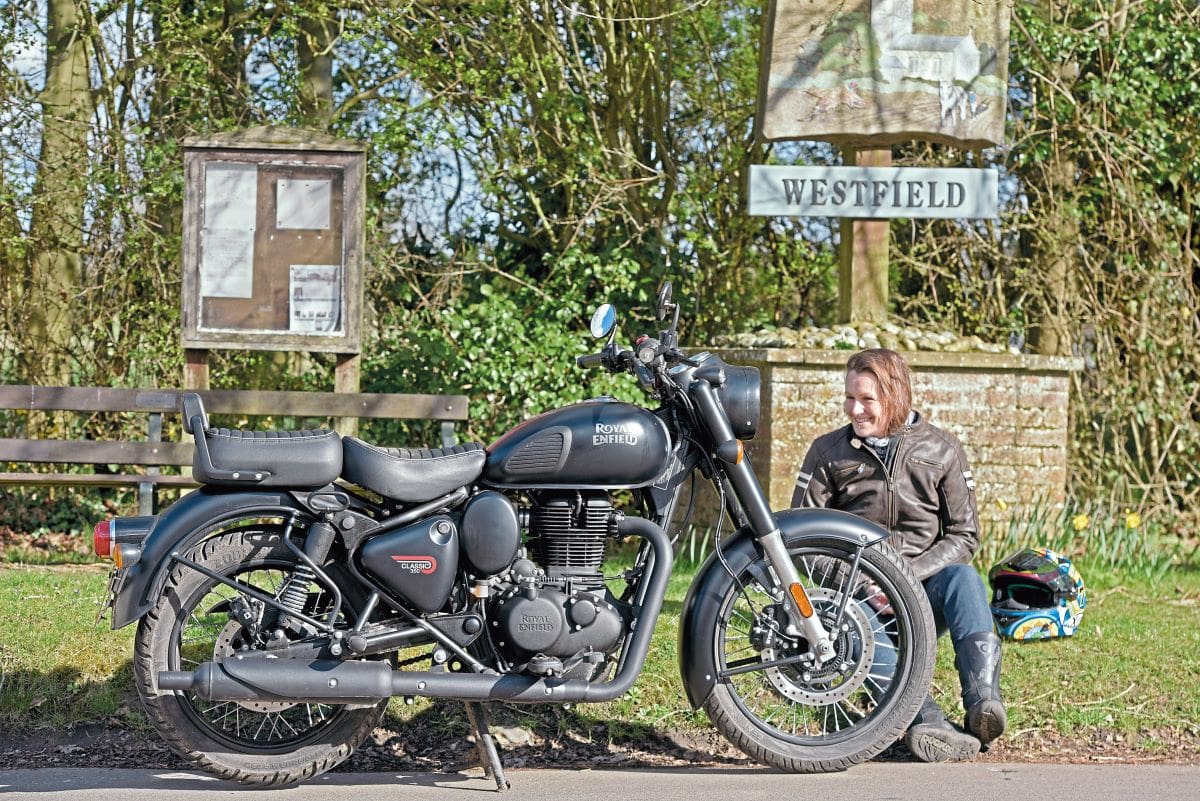 Acceleration is as you would expect from a 350cc: you need to use all the revs before changing up, but it does so with ease and comfort (and a nice burble from the exhaust). Manoeuvring is very easy, possibly due to the tight turning circle and light controls it has. I managed U-turns with no problem and no hint of needing to put a foot down.
I found the back brake and gear pedals, er, interesting. The version I have has optional wide foot pegs and they are wide and flat. This means the rear brake is right underneath your foot and sticks out quite far. I only have small feet, so I don't think I was pressing the brake unless I meant to, but I'm not sure. Was my light on? Those with bigger feet and these foot pegs may find they are riding with the back brake on. The gear lever has a similar issue with more tricky consequences. It is so close to the foot peg that you can't easily get your toes underneath it to change gear. I tried four pairs of boots before having to opt for my smallest summer shorty Alpinestars boots to be able to ride comfortably. The issue is that the gear lever is too short, and the brake lever sticks out too far. However, when I spoke to a friend a couple of days later after he had ridden it, he said he hadn't even noticed that, and he had great big steel toe caps on – but he rides a lot of different bikes all the time, compared to me. Once you have got the hang of where the rear brake and gear lever are, it shouldn't affect the riding and if it does, your dealer could loosen the footrests, put the gear lever up a spline and put it all back together.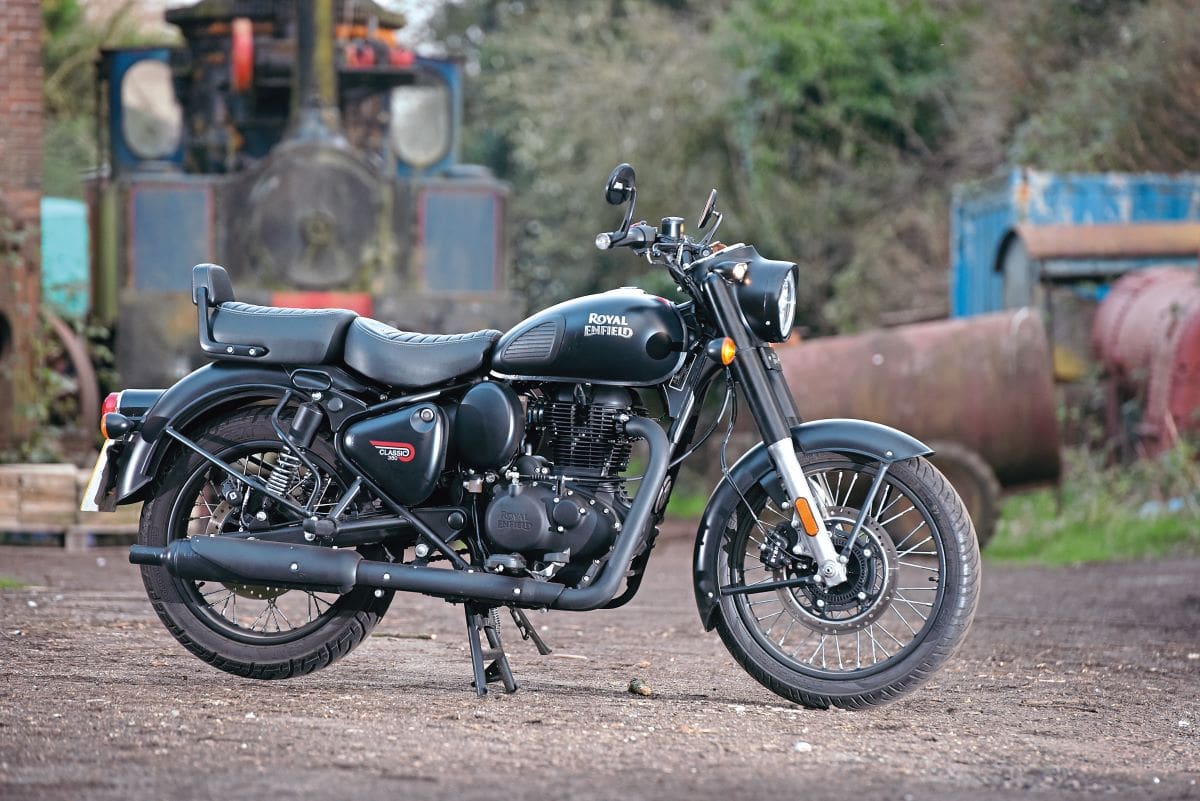 Braking is less forgiving. With my Tribsa I am used to mediocre braking at best, and the Enfield wasn't a lot better. The front brake feels like it has slightly better wooden pads in, maybe teak, than the back, but not a lot. ABS or not, I wouldn't like to have to do an emergency stop. The fact that after riding a 65-year-old bike I didn't notice the brakes on the Enfield says a lot, when other modern bikes usually end up with me braking too hard and feeling like I'm lifting the back wheel.
The instrument cluster is simple and easy. Royal Enfield has integrated the start button into the kill switch which I think is a nice touch. Also, the switches are all-round toggle-type switches and all feel substantial. Nothing feels flimsy or cheap on the 350, it feels very well made and well-thought-out. I have heard it is built in a new factory erected for the forthcoming electric bikes, which may explain the better finish than even the 650s. The headlight looks fab with its enclosed surround (nacelle) and it's a nice view out.
Seat
Many photos you see show a single seat – UK versions have a double seat, and this one is fitted with optional Touring seat – for £75 buy it, though it is around one inch higher. Back rest is superb for young or inexperienced pillions, though single seat is good for those who struggle to lift their leg too high.
Engine
Feels unburstable, though no real powerband. Sounds good. Clutch is light. Fifth gear is over-geared, giving good cruising, but needs fourth to keep speed up against wind or up a hill.
Brakes and tyres
Rear as expected, but front is rubbish. Bybre callipers used by many and are good, so hopefully it's just cheap pads. CEAT tyres feel fine.
Stands
Side stand goes over slightly too far, but centre stand is solid and well balanced to use.
Tank
Fuel tank is steel, so great for a tankbag. Fuel economy, considering throttle usage needed, is still more than 70mpg.
Foot controls
Gear lever is too short and rear brake lever sticks out too far, meaning gearchanges can be uncomfortable for some, and right foot needs to be moved to prevent resting on the brake. Easily changed.
Would I buy one?
An unfair question, as it isn't designed to do what I want from a bike. It gave me fun, but not excitement. There're better small bikes and better retro bikes, but not better small retro bikes, especially for £4359 (this model). And cheap running costs. And if you don't use it for a month, you shouldn't feel guilty. It's a great, good-looking, well-made way to get around, to enjoy back lanes and to enter into the world of retro bikes if you don't have the need for speed or are surrounded by busy main roads. Or if you are looking for a reasonably-priced second bike, perhaps.
Specification
Royal Enfield Classic 350
Engine: 350cc single cylinder, air-oil cooled
Power: 20bhp (15kW)
Torque: 20lb-ft (27Nm)
Transmission: 5-speed, chain final drive
Fuel tank: Steel, 13 litres
Fuel consumption: approx. 70-80mpg
Seat height: 805mm (optional seat shown 10mm higher)
Wet weight: 197kg
Warranty: Three years
Service intervals: 3000 miles. Example cost: Minor £170, Major £220
Tyres: CEAT tyres, (F) 100/90 19, (R) 120/80 18
Contact: www.royalenfield.com/uk