Based on the exciting new GSX-S1000 platform, the new GSX-S1000GT aims to blend the high level of performance from its superbike-derived 999cc engine and agile, lightweight chassis with the comfort, functionality, and luxury associated with a true sports tourer.
Suzuki says the product concept for the GSX-S1000GT is 'GT riding pleasure personified'. It lines up as a true sports tourer, combining the perfect blend of performance, agility, stability, comfort, control, connectivity, and style to deliver a premium experience worthy of the GT tag.
Engine features
– High performance 999cc four-stroke, liquid-cooled DOHC inline-four cylinder engine that delivers smooth, consistent power throughout the rev range. This enhances the riding experience in the low-to-midrange engine speeds more commonly used in everyday riding, all the way to the higher rev range used on long motorway journeys and sporty riding.
– The engine features a broad, smooth torque curve and a power delivery that reduces fatigue when touring at motorway speeds, allied to an electronics package that enables sportsbike levels of performance and acceleration.
– A compact 4-2-1 exhaust system positions the Suzuki Exhaust Tuning (SET) system behind the collector, along with catalytic converters and stylish exhaust that not only meets Euro 5 emissions standards, but also delivers an exciting exhaust note.
– Electronic throttle bodies help achieve a fine balance between idling speed control and power output characteristics, while also contributing to Euro 5 compliance.
– Exhaust and intake cam profiles help reduce emissions while achieving a balance of performance and controllability.
– Suzuki Clutch Assist System (SCAS) gives a light clutch lever operation, reducing rider fatigue especially when negotiating busy traffic. It also mitigates aggressive downshifts from sportier riding styles, too.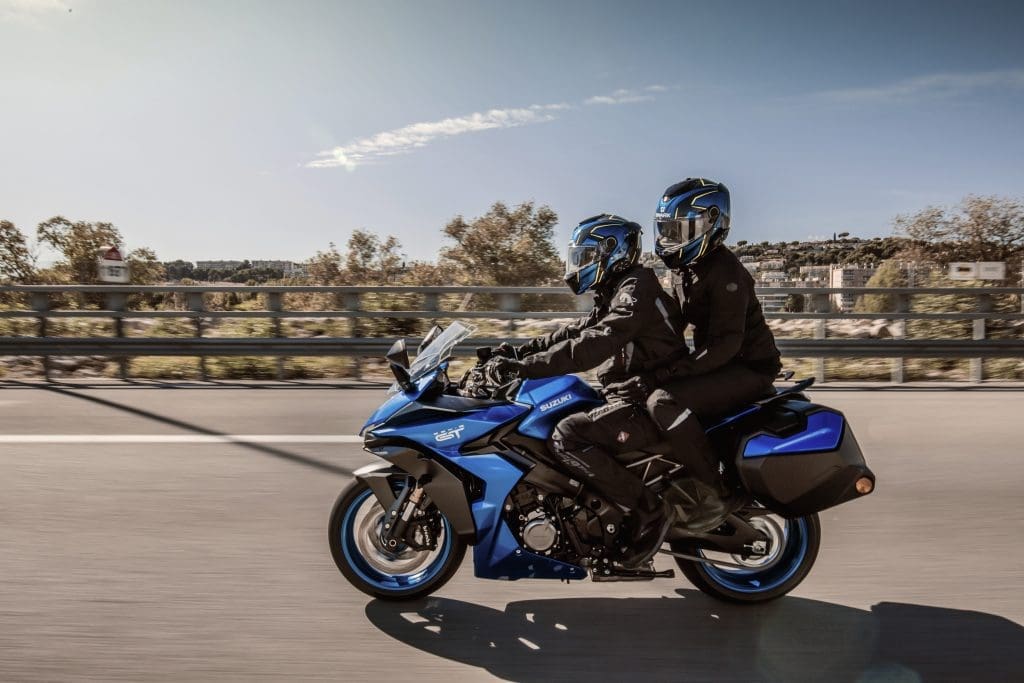 Our pick of the rest of the long list of features
– Suzuki Drive Mode Selector (SDMS) offers a selection of three different power output modes to better support the rider in differing conditions or to suit their personal preference.
– Suzuki Traction Control System (STCS) comes with five modes (plus the option to turn it off) instilling greater confidence in the rider.
– A ride-by-wire electronic throttle more finely controls the relationship between throttle action and engine output
– A bi-directional quickshifter and autoblipper (that can be turned off) provides quicker, smoother upshifts and downshifts, without the need to operate the clutch lever
– Cruise control
– 19 litre fuel tank, should deliver close to 200 miles on a tank
– Two four-piston Brembo monobloc front brake calipers
– 6.5-inch, full-colour TFT multi-function display that also features a scratch resistant surface and anti-reflective coating, and supports smartphone app content.
The new GSX-S1000GT will be available in Suzuki dealerships in November 2021, with an RRP of £11,599.