Making a bike your own is all part of the adventure. Motorcycle traveller Nathan Millward takes a stock Suzuki V-Strom 1000XT and adds the bits to make it that bit readier for adventure.
Footpegs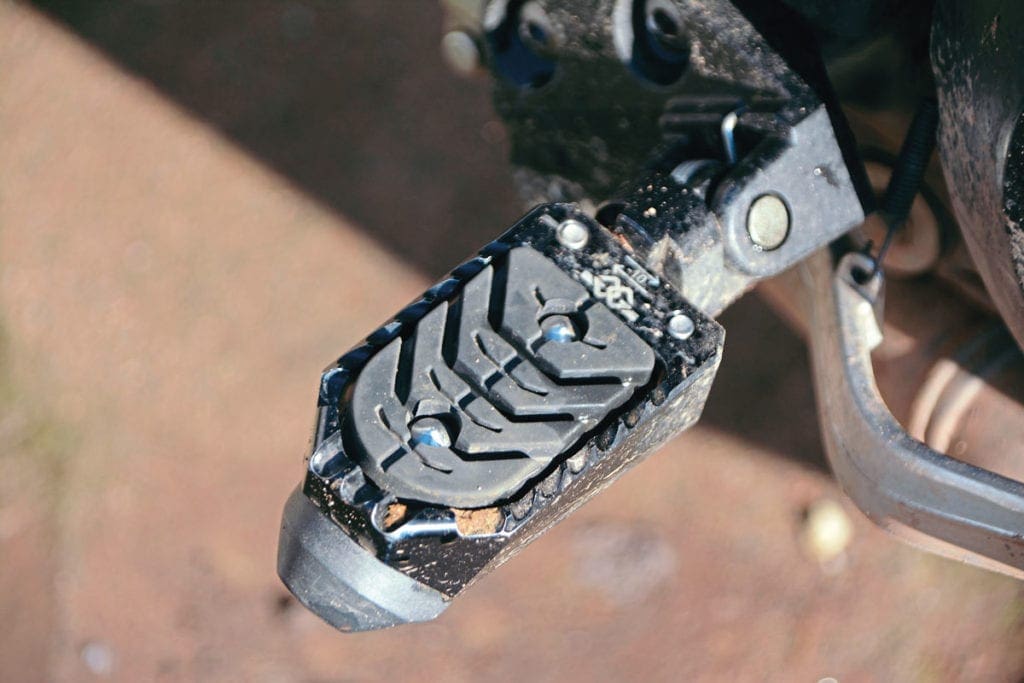 Footpegs are arguably the most important contact point of the bike, especially when riding off-road and you're in the standing position.
What you're looking for is a nice broad pad, wide enough to accommodate the full width of your boot, with serrated teeth to stop your boot from slipping off. It's surprising how many manufactures get it wrong; with standard pegs often too slender or short for sustained off-road use.
It's common for adventure bikes to come with removable rubbers inserts, revealing the grippier metal pad beneath – this is a good feature to have. Sadly, the V-Strom 1000 is fitted with squidgy rubber pegs from a road touring bike, which causes foot fatigue when standing, not to mention no grip from a muddy boot.
From their accessory catalogue they do a £240 fully adjustable peg with a spring-loaded rubber insert that compresses when standing. It's an effective, albeit costly solution that immediately gives you more control when standing.
Many pegs are interchangeable with other bikes, which can sometimes work out cheaper, especially with some of the cheap pegs coming out of China these days.
Online owners' forums are good resources for finding out what's interchangeable between different bikes.
Also look out for the snippets of sage advice; the footpeg bracket on the V-Strom 1000, for example, is cast metal, whereas those on the V-Strom 650 – which bolt straight on to the 1000 – are plated and welded, meaning they'll bend rather than snap in the event of a fall.
Tyres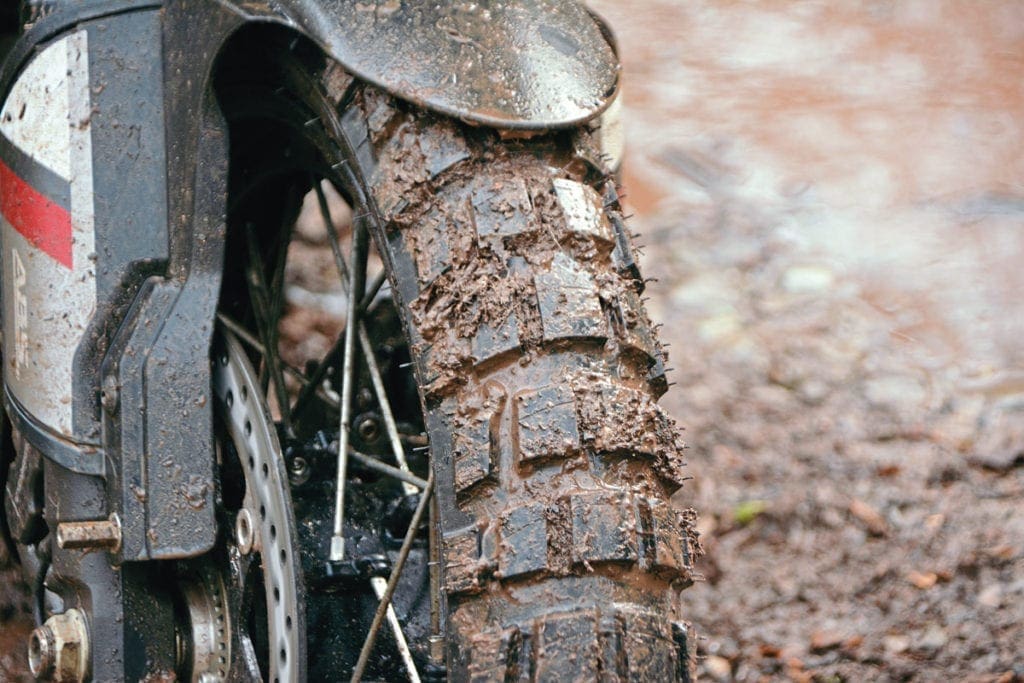 Tyre choice, especially on an adventure bike, often ties people up in knots. How much off-roading will you be doing, what mileage do you need to get from them, what size rims does your bike have, and ultimately what's your budget?
Road biased tyres such as Michelin Pilot Road 4 Trail or Continental Trail Attack 3 offer minimal off-road traction, but maximum on-road performance and longevity. At the other end of the scale, tyres like the Michelin Anakee Wild (as fitted to the V-Strom) or Continental's TKC80 are pitched as 50/50 tyres, with compromises to tyre wear and on-road refinement, but with much better off-road traction. In the middle are tyres such as the new Michelin Anakee Adventure and Continental TKC70, often rated as 80/20 tyres, meaning that they're far more road-biased, but still with some off-road ability.
The main thing with tyres is to be realistic as to where you're going and what type of riding you're going to be doing. As with everything it's a compromise; you're never going to have the perfect tyre for all conditions. Personally, on a long trip, tyre life and the tyre lasting the duration of the trip is more important than outright grip, because generally on a longer trip you won't be riding on the limit.
The knobbly Michelin Anakee Wilds certainly help the V-Strom perform better on dirt trails than most tyres, but that broad 19-inch front tyre is always going to struggle for traction on cambered mud, and so realistically, realising the bike's limitations and sticking with an intermediate tyre such as the Anakee Adventure may have been a better bet.
Check out the FULL in-depth guide on how to adventurise your bike in the latest December issue of Motorcycle Sport & Leisure – on sale now.