American bikes are big, brash and bathed in bling, right? Not this one. The new FTR1200 from Indian Motorcycle is sleek, stylish and, well, rather European-looking. Naturally, that's no coincidence.
The FTR is a considered move from Indian. It's an essential part of the company's desire to transform itself from an American motorcycle manufacturer to a global player. For that to happen, the existing line-up of big cruisers and baggers needs spicing up with a bike that appeals to a global market – and that's where the FTR comes in.
This bike, however, is just the sharp end of the wedge: Indian has confirmed that the same new 1200cc V-twin engine designed for the FTR will power a whole platform of new models in years to come. If everything goes to plan, we could be looking at a new major global manufacturer here.
Article continues below…
Advert
---
Enjoy everything MSL by reading the monthly magazine, Subscribe here.
---
But global aspirations are only one side of the story behind the FTR. The other is Indian's FTR750 flat track racer that has dominated American race series for the last two years. The FTR1200 is inspired by the racer and has similar looks, but shares virtually no components with its fire-breathing sibling (race engines are all about performance, not longevity, and most people like their street bikes to run longer than just the weekend).
To what degree you want to see the new bike as a homage to Indian's rich history of racing or a calculated business decision to secure a foothold in new markets depends on your personal level of cynicism. No doubt both motives are at play here.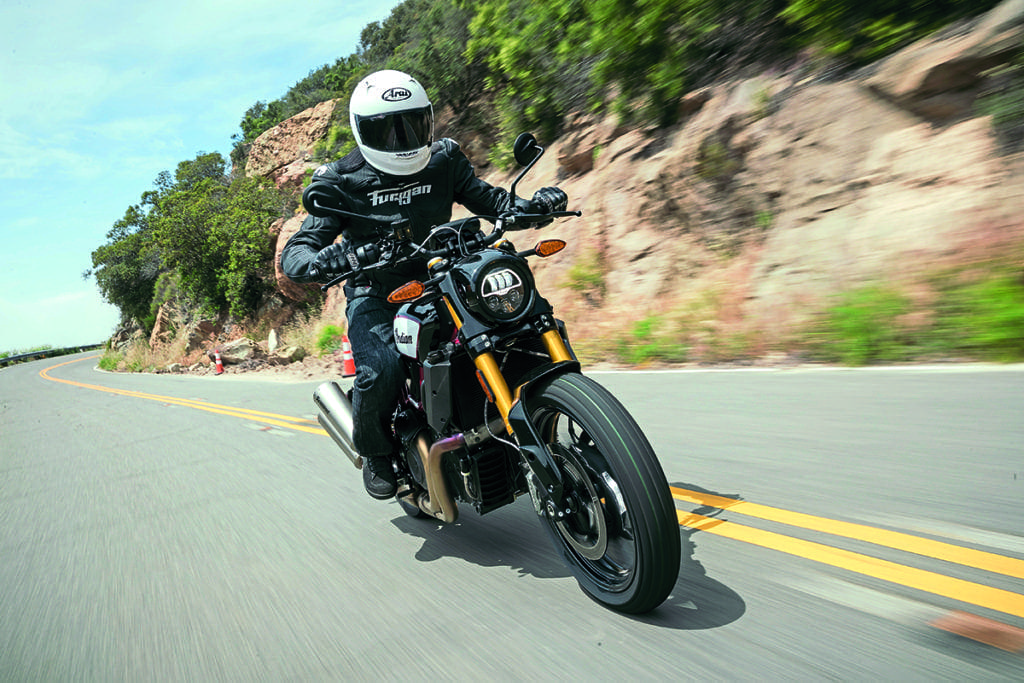 Two flavours
Article continues below…
Advert
Like many top-level bikes, the FTR1200 comes in two different guises: the standard and the S. The engine, chassis and the majority of all components are shared between the bikes, but there are a few key differences.
The 1203cc 60° V-twin engine is brand new for this bike, and shares only a handful of parts with existing Indian powertrains. It boasts a 12.5:1 compression ratio, four valves per cylinder, high-flow cylinder heads, dual throttle bodies, magnesium engine covers and a low-inertia crankshaft. All that makes the engine powerful (121bhp), grunty (87lb-ft) and quick revving.
Drawing immediate comparisons with the Ducati Monster, the tubular steel trellis main frame and aluminium subframe have been designed as separate parts, giving the bike distinct looks and leaving the door open for further developments that could give the package a whole new appearance.
Article continues below…
Advert
Brembo brakes provide high-quality stopping power front and rear, while the lightweight cast aluminium wheels (19in front/18in rear) and the Dunlop DT3-R tyres (exclusively designed for the FTR) keep the bike's looks true to the FTR750 racer.
Read the FULL feature in the brand new July issue of MSL! Click here to get started!