Words & Photography: Mikko Nieminen
I have found a great way to get into adventure riding. No pressure, no hardship, no drama – just a lovely, gentle and well-planned introduction to off-road fun.
As I was plodding along gentle trails, past rolling green hills, grazing cows and impeccable stately homes, I couldn't help smiling. This was my idea of perfect off-roading – no speed demons whizzing past or impossibly difficult terrain to contend with, just the simple enjoyment of riding in the (relative) wild.
Article continues below…
Advert
---
Enjoy everything MSL by reading the monthly magazine, Subscribe here.
---
To be exact, I was riding in the lush surroundings of Trailquest's 1200-acre training ground near Ledbury, Herefordshire. In the process, I was getting my first taste of the Royal Enfield Himalayan. The 411cc single-cylinder adventure bike is one of the most interesting recent entries into the market, and I was curious to see how it fared on UK trails.
As it turned out, the first five minutes would have been enough to get the feel for this easy-to-ride bike, but I didn't tell the Trailquest boss Richard that in the fear that he might send me home early – I was having so much fun on the bike, I wanted a full day of plodding along Trailquest's tracks and fields.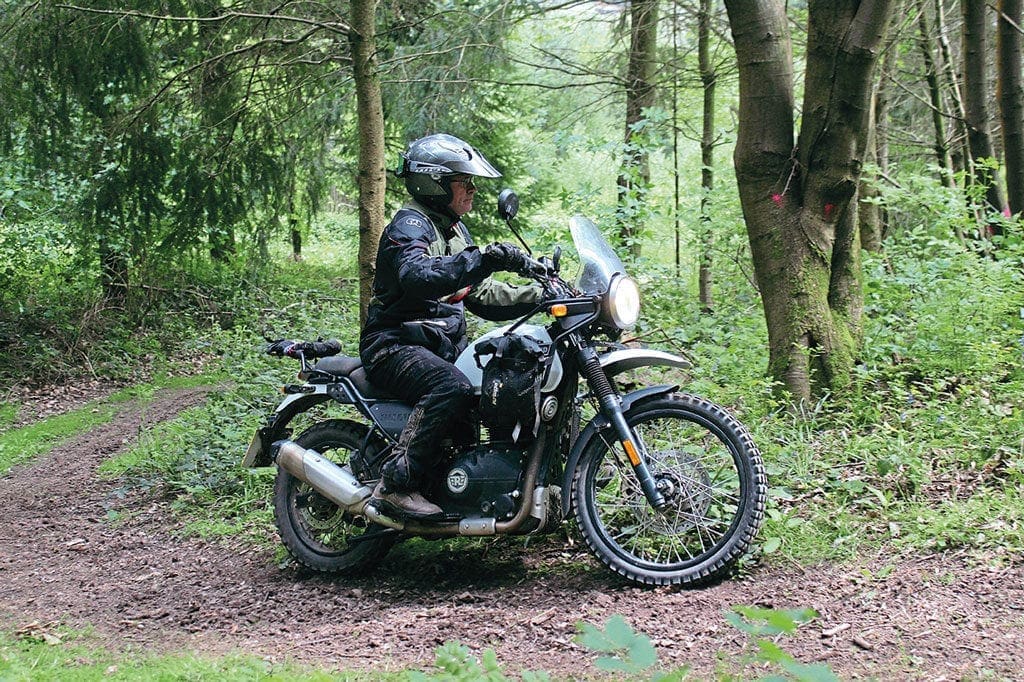 Getting started
We started with a short road ride to get into the swing of things, then headed for a large grass field where we worked on the principles of riding off-road.
Article continues below…
Advert
Even on a dry and sunny day it was surprising to find the grass wet and slippery – it was a perfect surface for learning how to accelerate, brake and turn when you're away from the grippy comfort of Tarmac.
Read the full feature in the brand new October issue of Motorcycle Sport & Leisure magazine – on sale now.