This island paradise offers great riding, delicious food and intriguing history. It's well worth a visit on two wheels.
I'd like to add an enticing possibility to your list of considered touring destinations: Sardinia. Scoot across France, and either hop on a ferry straight to the island, or catch one to Corsica and then head south down the mountainous twisties.
It's a trip that will give you a mix of the best riding you could hope for. Drop-dead gorgeous scenery, fascinating history, and food that'll have you wishing dinner time was closer! That will just be the warm-up act for Sardinia itself, the second largest island in the Med. The island is full of fascinating possibilities for us motorcyclists.
Article continues below…
Advert
---
Enjoy everything MSL by reading the monthly magazine, Subscribe here.
---
The departure point you'll aim for in the south of Corsica is the port of Bonifacio. The port and the mediaeval citadel that tower above it make an excellent full stop to the joys of this French island. The brief crossing allows your mind to clear for a new set of experiences and challenges. Though a close neighbour to Corsica, Sardinia is far from being an identical twin. They do have motorcycle magic in common, though.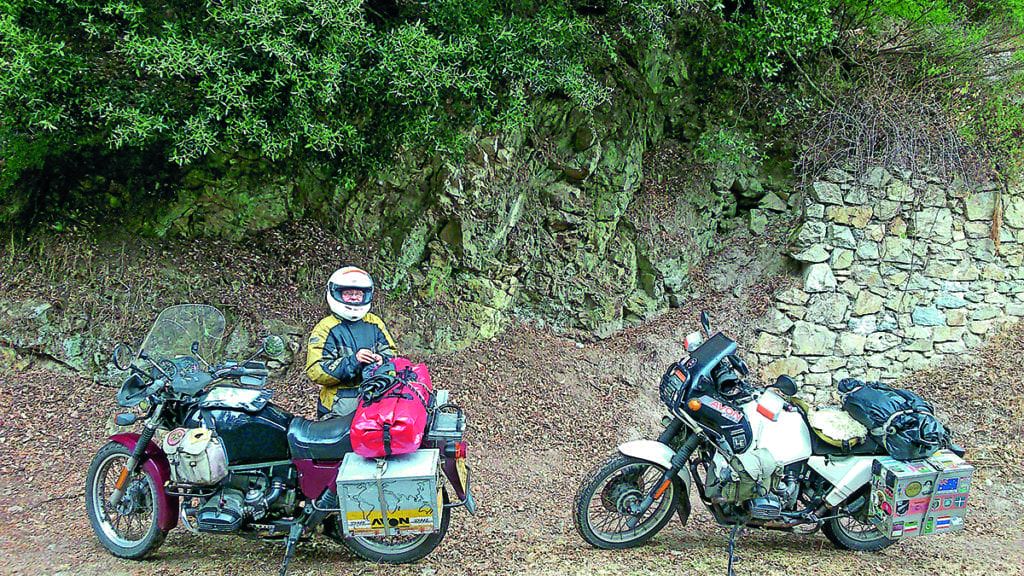 On a rough day the ferry crossing from Bonifacio can take 90 minutes, but you'll be pleased to know that rough isn't the norm. Fifty minutes gliding across the sea's turquoises and blues will do it. The ferries are relatively small, though this lifeline route carries people, motorcycles, cars and large trucks. The ferry docks in the port of Santa Teresa di Gallura, which is nearly at the top of the 162-mile long island. For a significant percentage of people this is the doorway to an island where most of life revolves around its coast.
Sardinia has a sparsely inhabited and largely inaccessible limestone and granite interior, with steep gorges and dramatic volcanic scenery. In contrast to mountainous Corsica, the highest peak is just 1,834m. One of the major differences between Corsica and Sardinia is that the latter has significantly more beaches. It has just over 1,240 miles of coastline, which gifts you huge sand dunes, and beaches in pink, white, orange, yellow and slightly reddish colours. If you think that no gear at all is the best option, supposedly many of the bays never see a soul.
Article continues below…
Advert
I like quirky facts and these three fit the bill. Because of the rugged interior, it boasts the highest number of horse herds in Italy. Many of the locals speak Sardo, which is closer to Latin than Italian. The language, because of the centuries of invaders, includes bits of Arabic, Portuguese, Catalán and Spanish.
And, large parts of the island are so rugged and pristine that Spaghetti Westerns were filmed here. As a bonus, here's another quirky fact. One of the islands just offshore has blue-eyed albino midget donkeys as inhabitants!
Want to see more? Read the FULL feature in the brand new July issue of MSL! Click here to get started!
Article continues below…
Advert