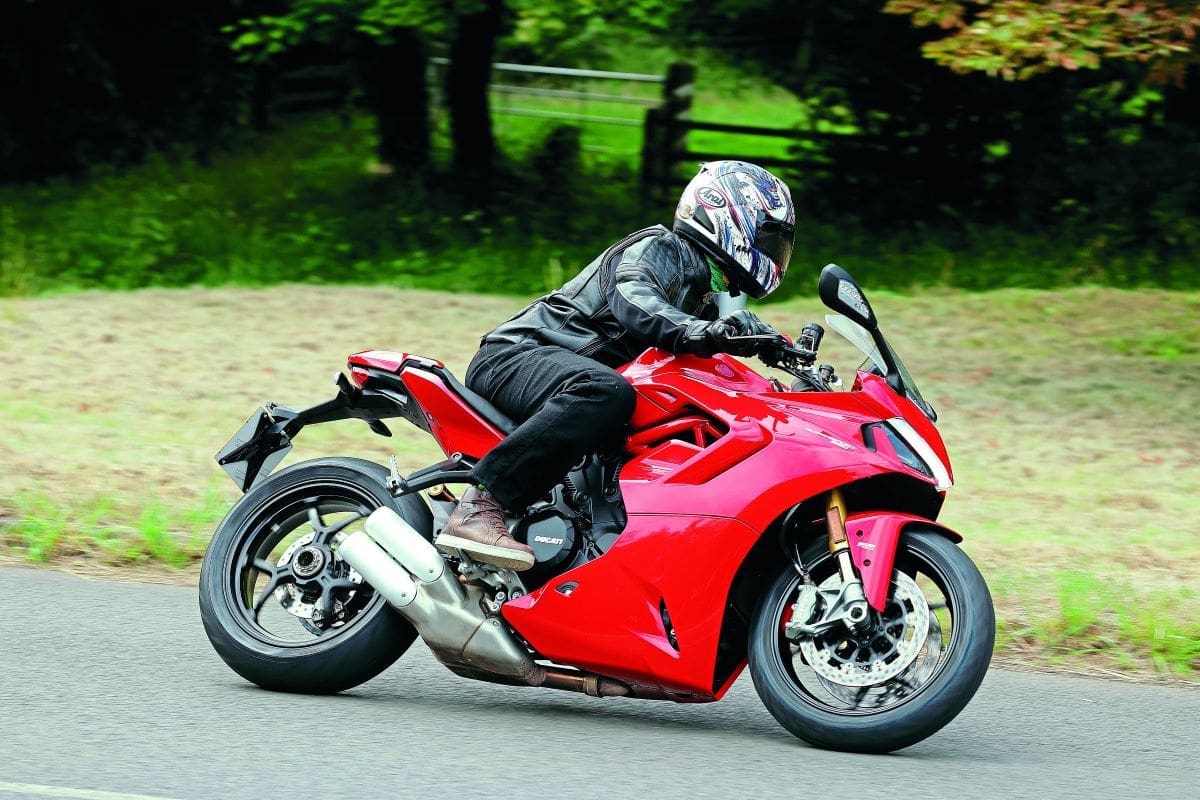 As a Ducati-mad teenager years ago, inspired by Mike Hailwood's TT heroics, I had a strange motorcycling ambition. There was a temptingly smooth and wide S-bend on the A41 a few miles from my Hertfordshire home, and I dreamt about riding through it at 100mph on a Ducati 900 SuperSport, the most raw and racy superbike of its day.
I never got close to owning a 900SS, let alone cranking it through those sweepers at a ton. But decades later I suddenly find myself aboard a bright red SuperSport 950, heading down the A41 and looking for an opportunity to put Ducati's current bearer of that famous name to the test. Could this finally be my chance?
The SuperSport would certainly be up for the challenge, even if today's sleek scarlet bearer of the name is intended to be practical as well as fast. Its Testastretta 11º might make a relatively modest 108bhp but that means the SuperSport is about 30bhp more powerful than the old 900SS, and it's very much a sports bike.
Ducati has done a good job of giving it a Panigale-like look, including a single-sided swing-arm. Rather than using an aluminium frame it sticks to tradition with a trellis of steel tubes, some of which are visible behind the swoopy bodywork that joins fairing and fuel tank. Fit and finish is to Ducati's normal high standard.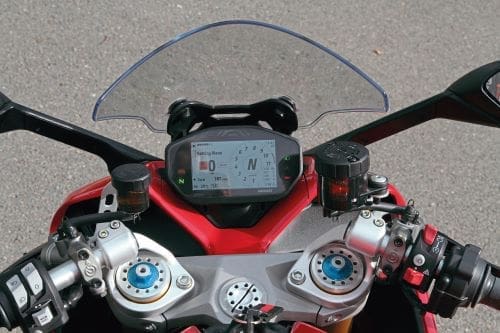 The SuperSport actually makes a fraction less peak power than the Monster, and with its fairing and heavier frame it weighs 22kg more, at 210kg with fuel. But despite that and the fact that its clip-on bars are set fairly high, above the top yoke, it still felt infinitely more aggressive as I threw a leg over the seat, which is softer and more supportive than that of the previous model.
The view is unique, incorporating a windscreen that can be quickly manually adjusted to give a few centimetres of extra height, and a swish of fairing that runs around the colourful TFT instrument panel. In Ducati fashion the three riding modes allow rapid fine-tuning of traction control and anti-wheelie as well as power delivery.
After stepping straight from the Monster, I was surprised by just how different the SuperSport felt. Its sound was more aggressive; a louder, almost Panigale-like bark, whereas the naked bike had been relatively quiet except under acceleration. The riding position was quite relaxed by sports-bike standards, but after some low-speed bimbling through Northamptonshire villages I was aware of weight on my wrists.
At least that seat was comfortable, and the footrests weren't radically high or rearset. And the sports bike's ergonomics showed their worth as soon as I reached the open road, and its shark-like fairing could slice through the atmosphere. Whereas the Monster had felt quite quick at a legal-ish A-road pace, and had started running out of breath at much above 100mph, the SuperSport had much more need for speed.
Its windscreen contributed by being usefully protective, especially in its higher position. Acceleration wasn't dramatic by open-class standards but the V-twin's midrange grunt and flawless quickshifter helped make it easy to ride quickly, and it felt smooth although the wide-set mirrors blurred slightly at most revs. It was utterly unstressed at an indicated 90mph, and at our secret Hertfordshire test facility it quickly hit 140mph, clocking 150mph on a short downhill section.
On reaching that favourite old S-bend on the A41, I soon realised that I wasn't even going to get close to fulfilling my teenage ton-up fantasy. That section of road is now a 40mph limit, busy with buildings and traffic. I cruised through dutifully slowly, then turned off in search of roundabouts and back-road bends where the SuperSport again did a good job of living up to its name.
The 950 S differs from the standard model by having Öhlins suspension (instead of Marzocchi/Sachs) and the option of white paint. On standard Swedish settings the test bike felt like a traditional sporty Ducati, with fairly light and admirably neutral steering. It was sportily firm and very well damped, feeling taut in fast curves and narrow country lanes alike.
Inevitably, even the Öhlins units couldn't match a semi-active system's ability to soften the ride when appropriate, so the bike felt slightly harsh over back-road bumps. But for hard riding the SuperSport was notably more composed than the softer and more simply suspended Monster, especially when I touched its front brake lever to shed speed into a turn.
The suspension is easily tweakable at the rear, via knobs on the shock; the forks require an Allen key from the under-seat toolkit. For bumpy Midlands back-roads I backed off the fork damping by a few clicks, with no noticeable loss of control. The rest of the chassis was well up to standard, featuring Brembo radial monobloc front brake callipers biting 320mm discs (with cornering ABS if needed), and grippy Pirelli Diablo Rosso III rubber.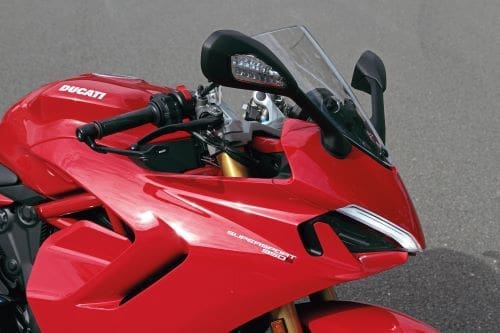 I got back to Ducati's Silverstone base wishing I could ride straight on to the track to push the SuperSport a bit harder, and I'm sure it would have acquitted itself just fine. But also I would have been happy to head back off towards the A41, making the most of the 16-litre tank's realistic 130-mile range (at roughly 45mpg) and the bike's ability to cover distance quickly and in reasonable comfort.
Ducati says the SuperSport is 'for younger customers looking for their first sports bike' but they'll have to be pretty well off, because it costs £14,095 for the base model and £15,995 for the S.
Young riders with that sort of loot might be tempted to spend another £800 on the Panigale V2, which makes over 150bhp, has a 50 per cent higher power-to-weight ratio and works best when being thrashed around a racetrack.
But the SuperSport has a definite advantage for less experienced or committed riders, and simply those who prefer to get their kicks on the street. It offers the looks and glamour of a Panigale with more than a hint of practicality, and with sufficient performance to keep most riders happy. If a Ducati sports bike could ever be said to be sensible, this is surely the one.