We took two very different bikes out to the Peak District to see if size matters – one way or another…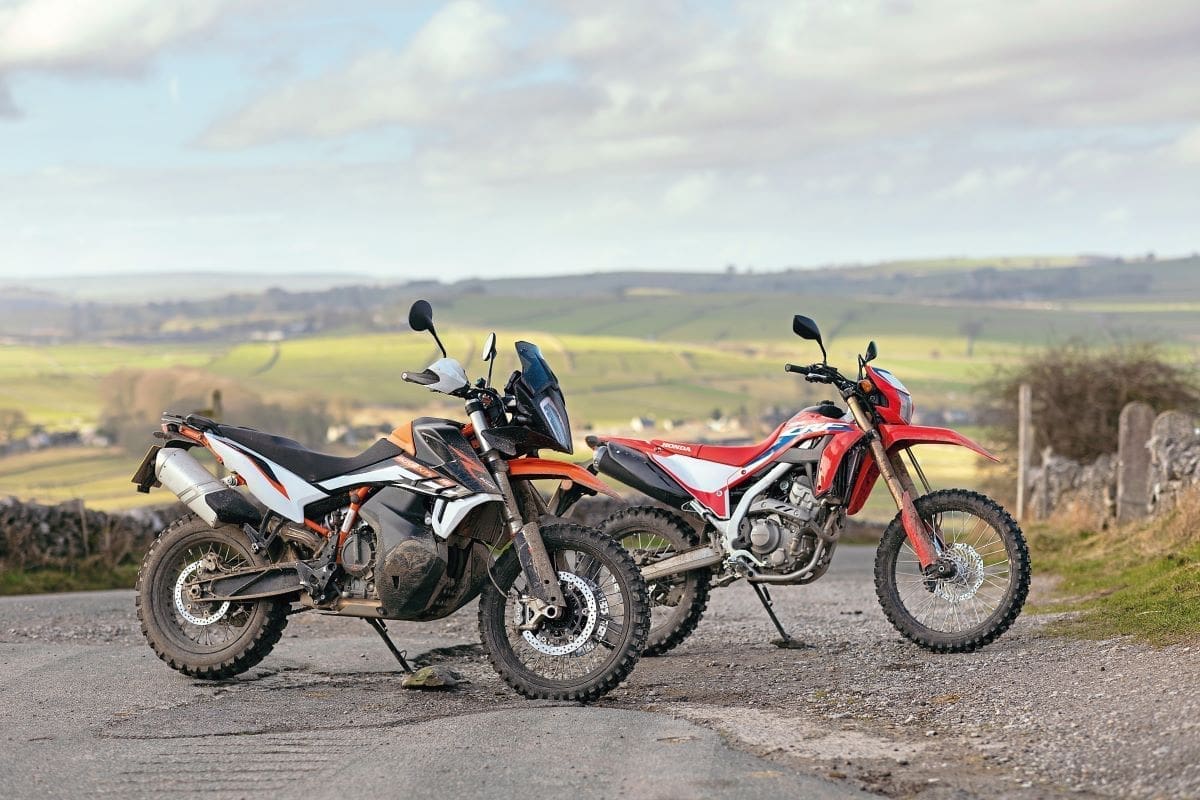 WORDS: Chris Moss PHOTOGRAPHY: Gary Chapman
Regular MSL readers will recall the account of last summer's highly rewarding off-road biking adventure, when Mikko and I explored the scenic beauty and riding challenges of the Peak District's wonderful byways.
Article continues below…
Advert
---
Enjoy everything MSL by reading the monthly magazine, Subscribe here.
---
Expertly guided by knowledgeable local Steve Hague, we rode a couple of very different adventure machines along narrow, twisting and undulating routes, constantly testing our mettle on the muddy and rocky terrain. The efforts were well worthwhile though, giving us the opportunity to see some of the more peaceful and remote parts of the spectacular region that you can't access on a road bike. The memorable outing, on a Honda CRF300L and KTM 890 Adventure R, was great fun, letting us learn plenty of new techniques to improve our bike handling while we were at it.
The story focused on our experiences away from the road, also serving as a basic how-to guide for anyone who fancies having a go at tackling rides on the rough stuff on their adventure bikes. This time round though, we're going to examine what the Honda and KTM are like to live with day to day in the environment where the vast majority of owners are likely to use them – on public roads.
KTM 890 Adventure R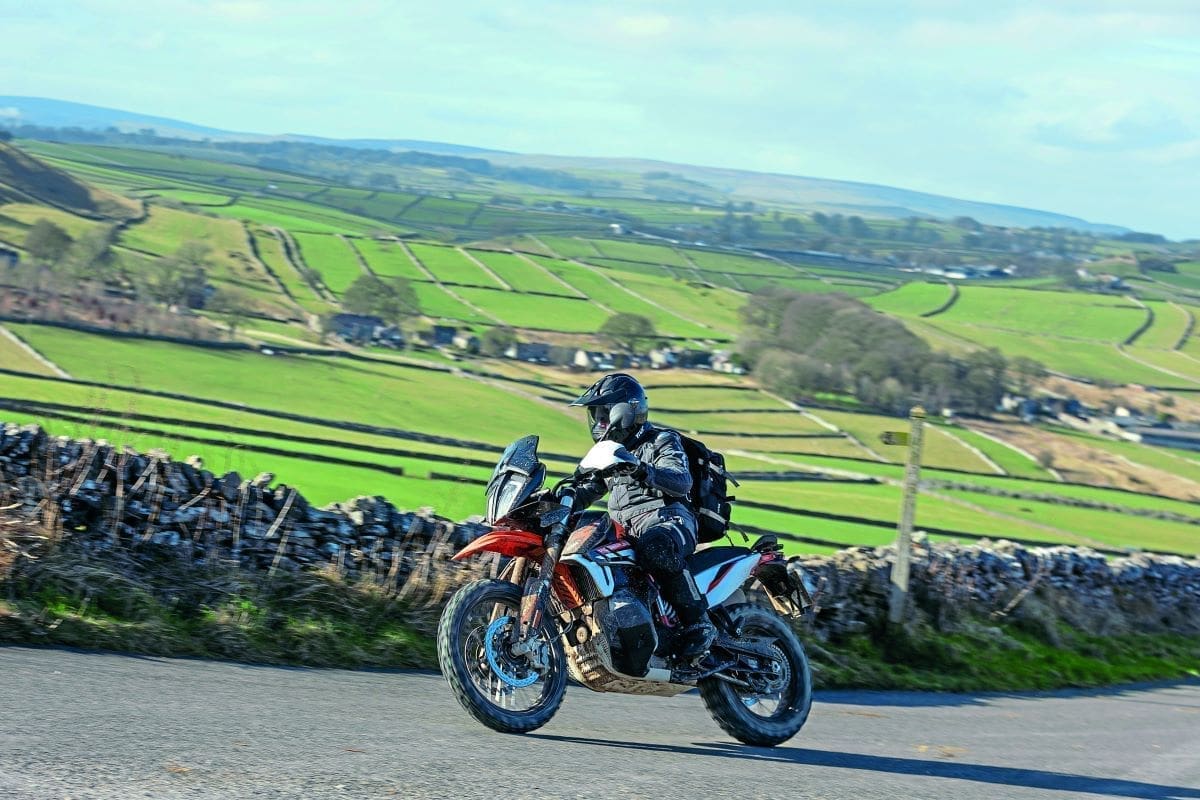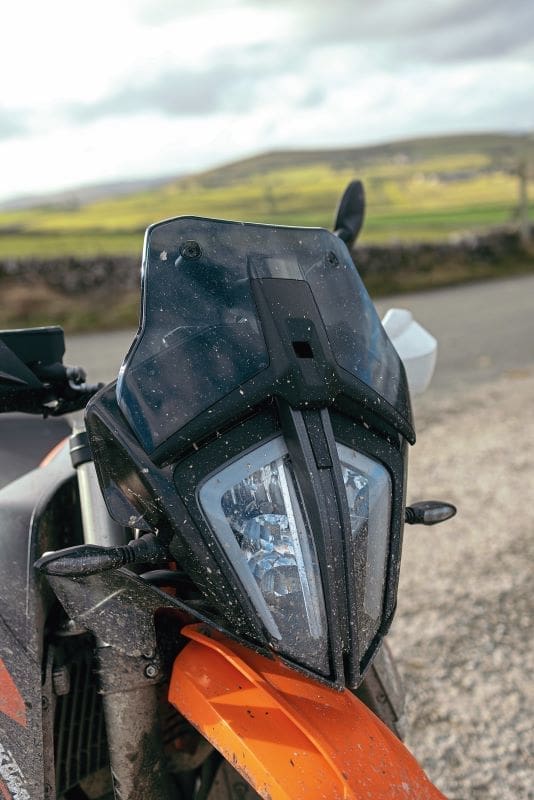 I was looking forward to my 140-mile run up to the Peaks on the more off-road focused 890 Adventure-R. Having done several thousand very enjoyable miles on a variety of this model's derivatives, including road tours of Scotland and Austria on the more road-based, yet still dirt capable 790 and 890 Adventure versions, and some mixed riding on a standard 790 and 790 Adventure-R in Wales, there were plenty of reasons to be cheerful.
For longer distance runs, these KTM middleweight adventure bikes fit the bill really well, ticking a multitude of useful boxes. All-day comfort, a commendable tank range, punchy, flexible engine, top brakes, and well-controlled suspension are just some of the key features why I've always given them the thumbs up for this sort of riding. However, not having ridden an 890 Adventure-R for a sustained period on the road did make me wonder how some of its differing features might affect my judgement.
The longer travel suspension would no doubt make the roads feel plusher than normal. But I did wonder how much I'd care for how its extra stroke might affect the bike's road handling. Would there be too much dive or squat under heavier braking or keener acceleration for example? And would this model's lower screen give enough wind protection during the likely three-hour, non-stop stint I would be spending in the KTM's one-piece saddle – another obvious difference between the basic Adventure and Adventure-R models? As usual, the answers would be provided by the ride.
The question of the KTM's suitability actually came before I even set off. The suspension's generous 240mm of travel means the seat sits tall, and at 880mm I needed to take care whenever I climbed aboard, and certainly every time I came to a halt. Not being blessed with the longest legs means constantly needing to be wary of my feet not being able to make solid and secure contact should the level of the ground not be favourable. Having ridden a lot of similarly tall off-roaders has let me develop coping techniques, but if you're interested in buying one of these bikes it might be worth trying one in the showroom before considering anything else.
Warm, dry weather during the whole time I had the bike meant the screen's protection was always sufficient for me, though if you were tall and wanted to spend a lot of time on a motorway, you might think of it less favourably. As it was, my less than frantic run up to the Peaks on more interesting A and B roads went very well and I had little to complain about from a comfort point of view.
Sure, there was quite a bit of movement from the suspension if you used the power and brakes much more keenly, but it was nice to be able to ride over even the most battered roads in both comfort and full control.
Aiding the riding satisfaction of the bike all the more is the excellent, very useful, parallel twin engine. The flexible manners and sufficiency of its power make a strong case for arguing that 105bhp is more than enough for road use. In fact, such is its ability to pull bigger gears so cleanly and keenly, negating the need to rev it harder, you rarely need to sample all of that power. Only having to drop gears to stop it chugging a little at very low rpm in town prevents it being labelled as a top gear bike for almost all road-riding situations. And with a slick box, aided by the fitment of an optional quickshifter/blipper on this press bike, the laudable engine can largely be considered as a power unit that you rarely have to adjust with anything other than the throttle once you're above 35 miles an hour. It's an endearing character trait that's especially useful when routes and traffic conditions are less predictable, and definitely makes longer periods aboard feel more relaxing. So, too, does the massive range of up to 250-300 miles provided by the 20-litre tank, allowing you to despatch journeys at a higher average speed thanks to fewer interruptions to progress. The saddle suited my continual three-hour seated stint nicely, too.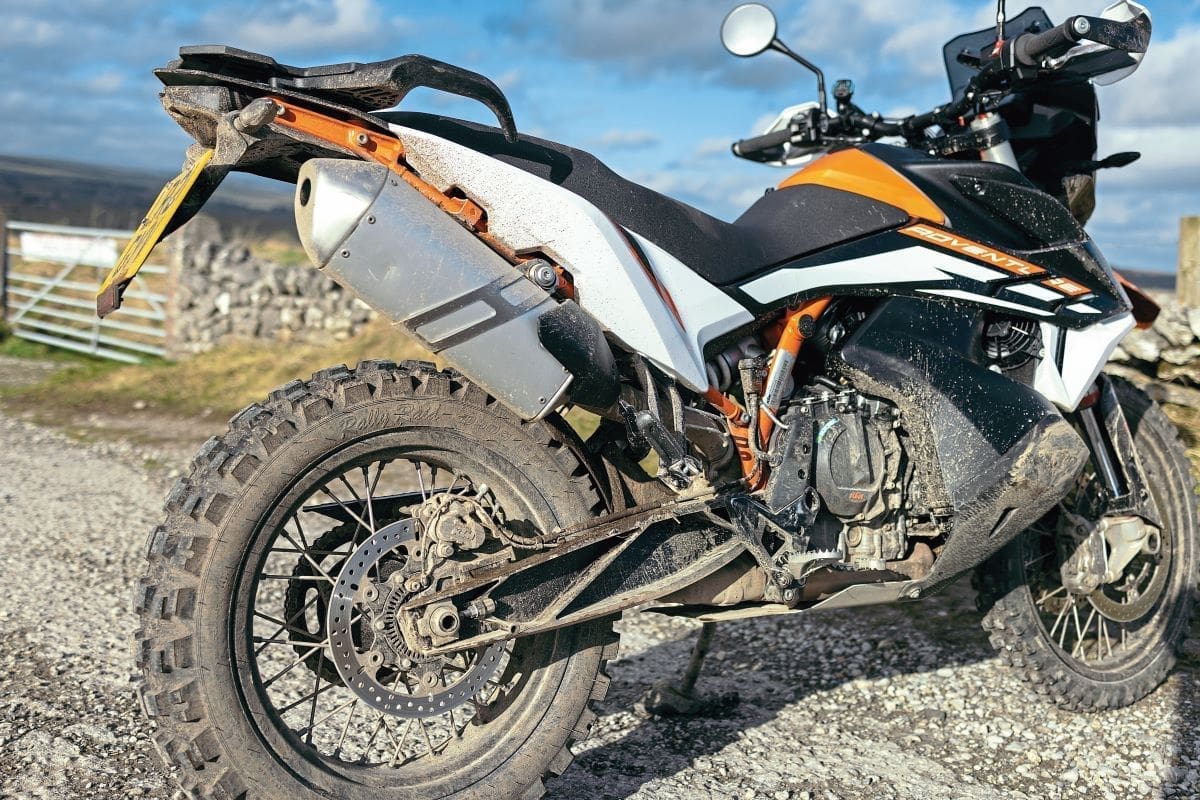 I'm not sure the R model's more comprehensive advanced electronics package is essential for road use. Both featuring IMUs to give lean-sensitive control, the R version has more off-road assistance with its Rally Mode. It does give you a greater range of ABS and tractional control options, if like us you do want to sample life on looser surfaces, offering greater security when grip is reduced. But it has to be said, the standard Adventure model is still highly capable.
This 890 R's overall manageability and balance is notably commendable anyway, letting you explore riding at all speeds with plenty of feel and confidence by constantly making you feel at home on the bike. Only the issue of the tall seat presented a challenge to me, with my rewarding time spent off-road, occasionally over some quite challenging terrain, underlining how easy and super versatile the bike is. In short, it remains one of my most favourite go anywhere, anytime type of bikes.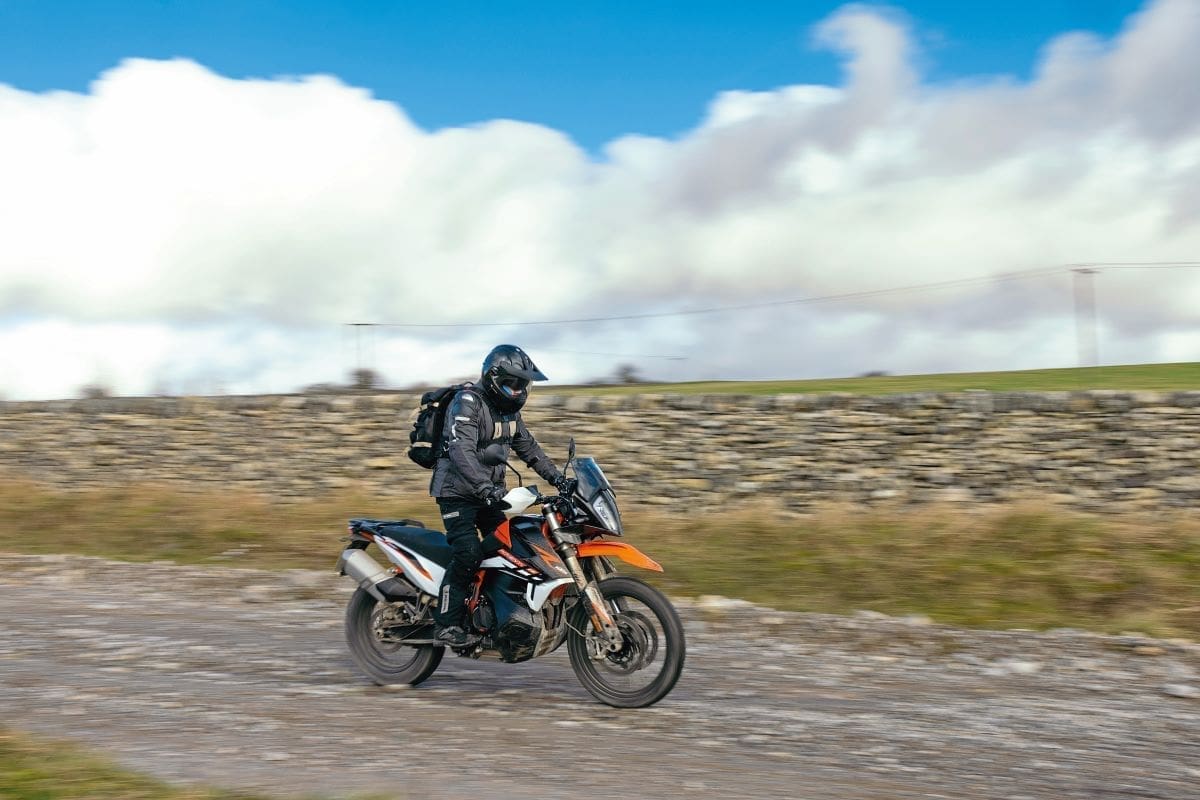 Specification: KTM 890 Adventure R
Price: £12,499
Engine: 889cc, 8v, dohc, l/c, parallel twin
Bore & Stroke: 90.7 x 68.8mm
Compression: 13.5:1
Power: 105bhp @ 8000rpm
Torque: 74lb/ft @ 6500rpm
Transmission: 6-speed, chain
Frame: Steel-tubed trellis
Front suspension: 48mm fully adjustable WP inverted forks
Rear suspension: Fully adjustable WP shock
Front brake: Twin 320mm discs, four-piston ABS radial calipers
Rear brake: Single 260mm disc, twin-piston ABS caliper
Front tyre: 90/90-21
Rear tyre: 150/70-18
Rake: 26°
Trail: 105mm
Wheelbase: 1530mm
Seat height: 880mm
Fuel capacity: 20 litres
Wet weight: 210kg
Warranty: 24 months, unlimited mileage
Contact: www.ktm.com
Honda CRF300L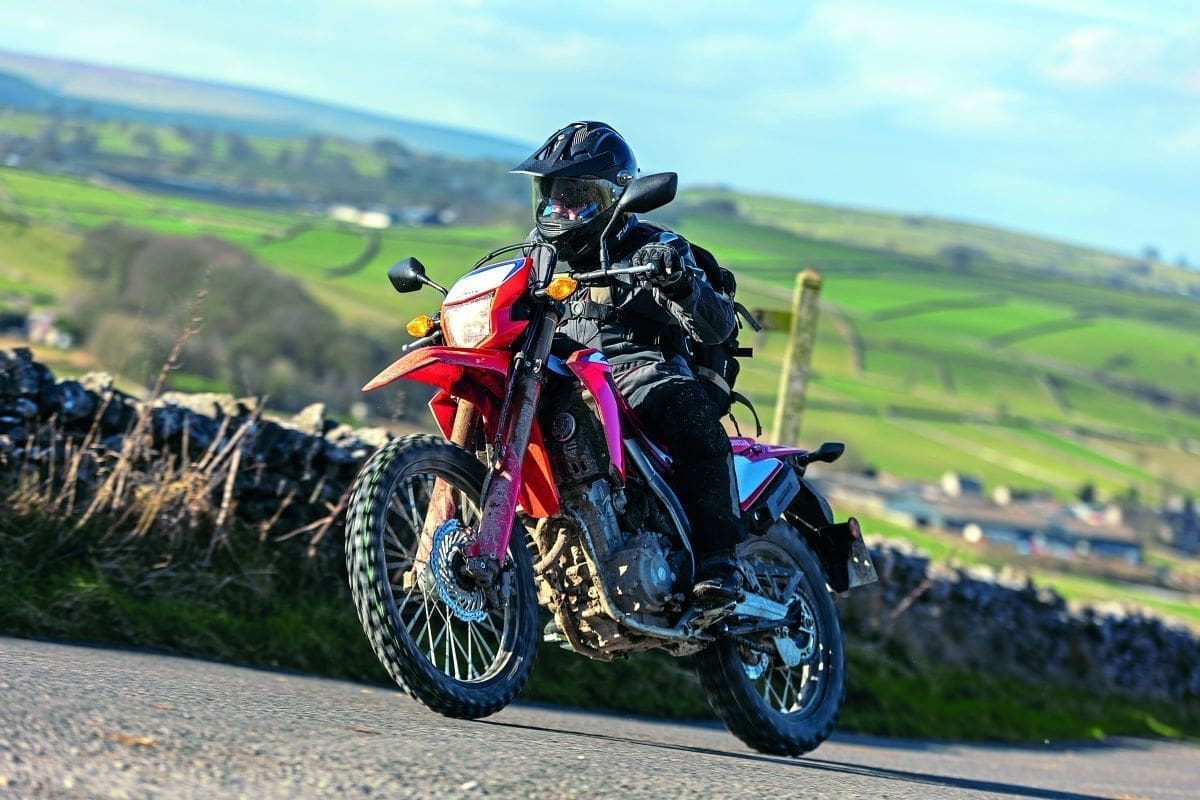 It might have been a new experience to me, but I expected the CRF300L to feel familiar as I've spent quite a lot of time riding its forerunner, the very similar, if slightly smaller and marginally less potent, CRF250L. After multiple rides on and off-road in the UK during a three-month loan of one, and a truly brilliant time on another occasion trail riding in the Spanish Pyrenees, I've really grown to like the modestly mannered Honda.
Okay, you're never going to win any bragging rights on something of such low spec and humble performance. But more discerning riders will undoubtedly rate the CRF's superb usability. Bikes don't get much easier to ride and live with than this quarter-litre trailie. Being very cheap to buy and run – with its average 80mpg fuel consumption and very low wear rate of consumables – only adds to its real-world attraction.
The only real thing I ever consider as any sort of 'shortcoming' is the limited pace of its 23bhp engine, and then again that's only the case on less suitable routes. Choose more open roads used by speedier traffic, and you can find yourself under pressure a little more, sometimes becoming a burden to their progress. With this 300cc version coming with a slightly more powerful 27bhp engine, the extra 37cc capacity courtesy of an increase in bore size of 8mm, I expected the handicap to have been reduced. Though I must admit I naturally didn't anticipate a night and day level of improved performance.
Mikko had the pleasure of riding the Honda to our meeting point in the Peaks and looked cheerful enough on arrival. It was clear his 60-mile trip hadn't thrilled him massively at any point, but he admitted he'd been happy enough with what he described as its 'perky' performance. I was keen to see if I'd feel the same way about it.
Before I started my stint on the pretty looking trailie though, something sparked my interest. A quick bounce on the 300's suspension at both ends revealed springing and damping so soft it gave me the impression I was about to bounce and wallow my way through the Peaks badly enough to make me feel sick after just a few miles! Yet, and admittedly unsurprisingly given Mikko had made no reference to any such handicaps, the Honda coped happily enough with things, feeling sufficiently stable and controlled regardless of road type or terrain covered. Being so soft did give the bonus of effectively creating a lower seat height once I climbed aboard and compressed the springs.
With suspension concerns out of the way came the chance to assess the new engine. It brought a similarly positive verdict. What can still only be described as mild-mannered, the CRF300's motor is nevertheless appreciably more flexible than its smaller forerunner. And though the extra capacity doesn't make a world of difference, it does add enough to give it a stronger throttle response and more definitive overtaking potential. Overall, it gives the impression it can pull a gear higher and is generally more competitive with faster moving traffic as a result. Even so, just like the 250, I wouldn't elect to spend long periods on dual-carriageways and would do my level best to avoid motorways altogether. If you do, you'll be advised to look in your mirrors often to note the regular occurrence of faster moving traffic arriving from behind. In these days of tail-gaiting becoming the norm, witnessing this soon becomes a happiness-tainting worry.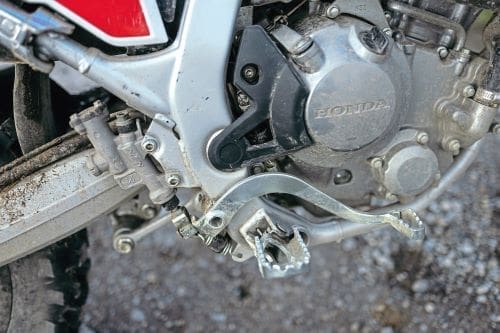 A far better choice are routes like the backroads we used in the Peak District. Not only are they emptier and generally more fun, they show also the CRF in a very good light. Weighing in at just over 140 kilos fully fuelled and ready to go, as you can imagine, the Honda feels very responsive and easy to steer. Almost bicycle-like in terms of weight and agility, it's a perfect starter bike to learn the biking ropes on, and with what seems like tiny dimensions, filtering through congested traffic is made all the more straightforward. With little weight to challenge it, the Honda's free-revving engine provides keen enough acceleration from low speeds to keep you out of trouble, with the friendly and progressive ABS brakes also helping you to stay safe by coping well with errant hazards. Almost perfect fuelling also helps the Honda's predictability and ease of use.
Mind you, until you're used to the reversed position of the horn and indicator switches, you're advised to take things easier for fear of not being able to warn any wayward persons of your presence.
On a more optimistic note, the suspension that earlier felt like it probably wouldn't be able to cope with even a minor ripple without the chassis getting completely flustered, is in fact happy dealing with badly battered and holed surfaces. It gives a remarkably soothing ride over such affected routes, even remaining composed when rushing over rougher off-road routes.
I can't say I was too disappointed to hand the CRF back to Mikko at the end of our Peak District adventure, instead looking forward to the relatively luxurious prospect of returning home on the much speedier KTM. However, I have undertaken such similarly lengthy journeys on the 250 version before and not found them excessively challenging. The fact is, though it's nothing to rave about; the CRF300L is a cheap, cheerful, totally friendly motorcycle that couldn't be much easier to get on with. Sometimes, as we all know, less can be a bit more – as is very much the case with this Honda. It's a lovely little bike.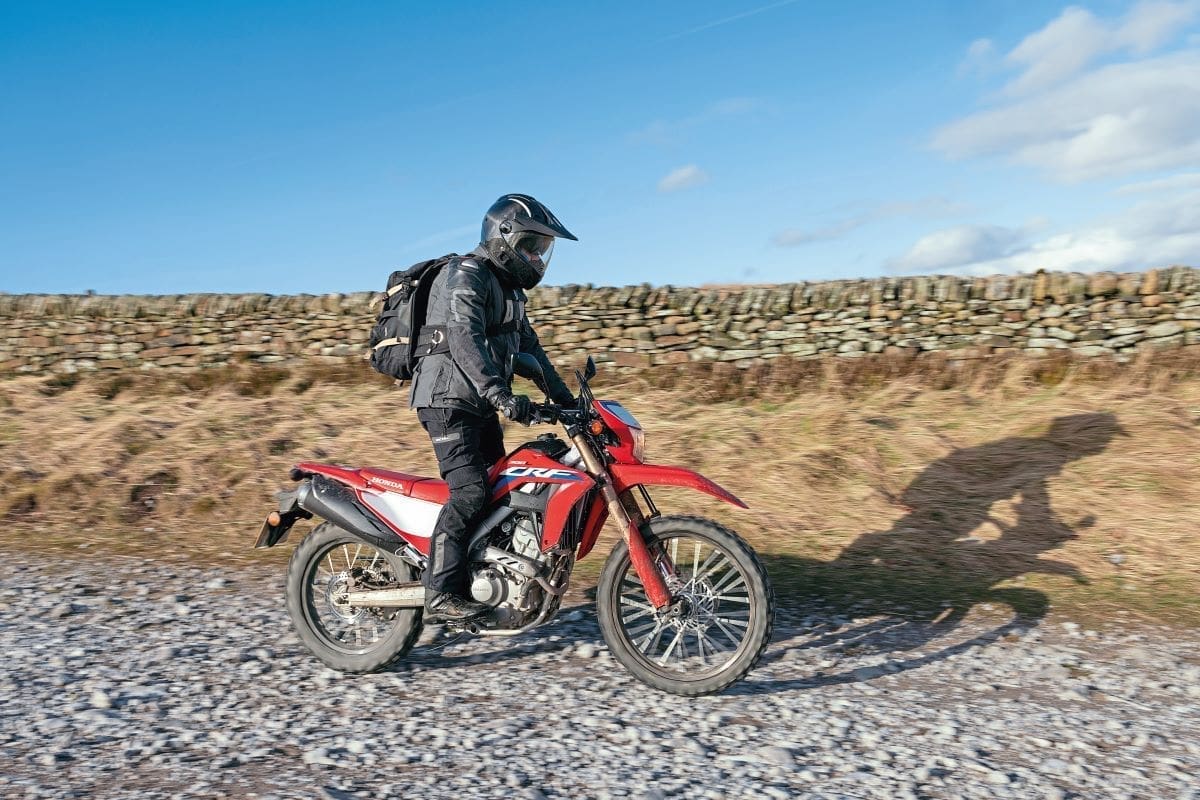 Specification: 2022 Honda CRF300L
Price: £5699
Engine: 286cc, 4v, dohc, l/c, single
Bore & Stroke: 76 x 63mm
Compression: 10.7:1
Power: 27bhp @ 8500rpm
Torque: 19.6lb/ft @ 6500rpm
Transmission: 6-speed, chain
Frame: Steel-tubed semi-double cradle
Front suspension: 43mm fully inverted forks
Rear suspension: Prolink rising-rate shock
Front brake: 256mm disc, twin-piston ABS caliper
Rear brake: 220mm disc, single-piston ABS caliper
Front tyre: 80/100-21
Rear tyre: 120/80-18
Rake: 27.5°
Trail: 109mm
Wheelbase: 1455mm
Seat height: 880mm
Fuel capacity: 7.8 litres
Wet weight: 142kg
Warranty: 24 months, unlimited mileage
Contact: www.honda.co.uk
Verdict
As you'd expect, though these two bikes share the ability to perform capably both on and off-road, they differ enormously in some other areas. Just looking at their price, power outputs and spec immediately gives the game away. Sitting at opposite ends of the adventure bike class, they suit different owners. But each has virtues the other doesn't.
If budget is a big consideration, then the CRF300L is a great place to start. With a price tag of less than half that of the KTM and running costs amounting to just a fraction of the 890's, the Honda is very light on the wallet. It's also light on the muscles and much easier to control, especially off-road, making it a great starter bike whatever type of use you put it to.
Falling off it, as you inevitably will from time to time off-road, won't result in the same costly damage it might if you fall from the 890.
Once you've served your time and earned your stripes on two wheels, turning your attention to the KTM makes lots of sense. Its performance, on both tarmac and dirt, is very impressive. Sure, it needs more experience to handle safely, but such is the 890's versatility, journeys of all types and lengths can be seriously entertained.
Comfort is a strong point, as is its advanced electronics package. Though unless you're going to spend a lot of your time off-road and have the riding ability to take full advantage of it, then the more off-road biased features and extra cost of the Adventure R model might not make sense.
Other bikes to consider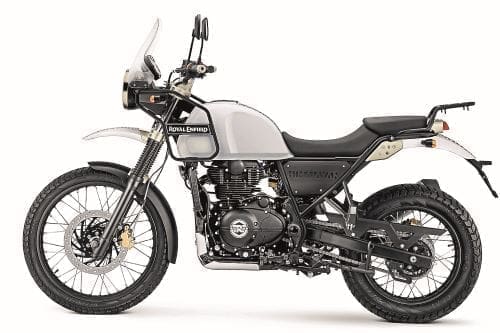 Royal Enfield Himalayan
2018-present, 410cc, single cylinder, 24bhp, 185kg
Like the CRF, the Royal Enfield won't break the bank, and is dead easy to ride. Performance is also modest, but what it lacks in speed it more than makes up for in character. Thoroughly charming on and off-road.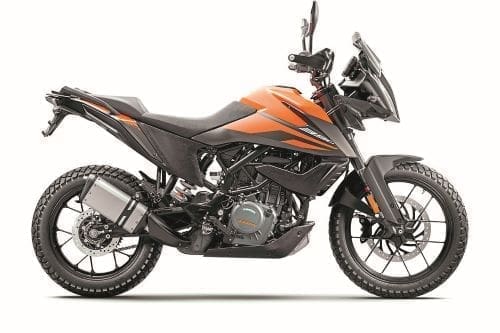 KTM 390 Adventure
2020-present, 373cc, single cylinder, 44bhp, 158kg
Suiting the off-road ambitious newcomer and old hand alike, the stylish 390 can cope with all manner of different terrains. Proven engine provides decent performance, with good suspension controlling the chassis well.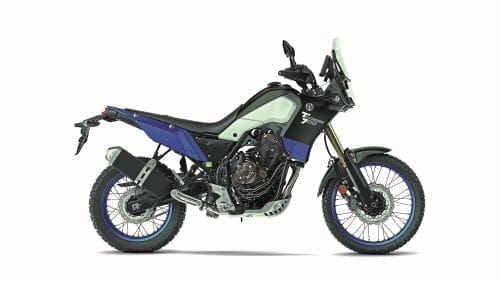 Yamaha Ténéré 700
2019-present, 690cc, parallel twin, 72bhp, 205kg
Super all-rounder, with great off-road potential if you're experienced enough. Cross-plane twin-pot engine gives useful punch, basic electronics package keeps it simple and reliable. Go see the world!