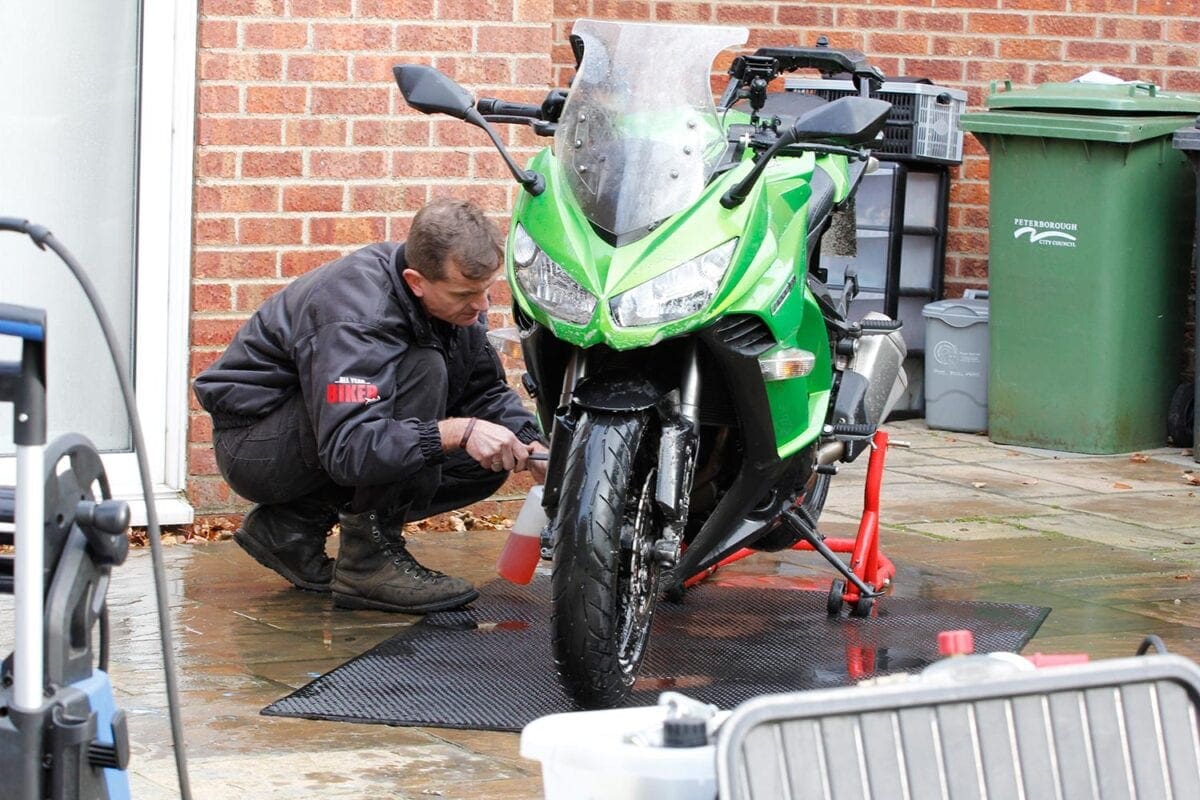 £65-£70 | www.allyearbiker.co.uk | Tested by: John Milbank, Editor Motorcycle Sport & Leisure magazine
Forget the idea that this is a posh wash for your bike. Besides the fact that the standard of clean your bike gets is fantastic, that's only the first part of this service, which typically takes around an hour and a half.
Roy Cross is the boss of All Year Biker, but he has dedicated agents across the UK – all of whom are passionate bikers themselves – set up to visit you at home, at work, or at an organised event, to completely protect your bike from corrosion for up to 12 months. Rust will creep up where you don't notice it, but once it takes hold, it can spread exponentially. If you can see it, it's probably a lot worse elsewhere!
I had my Z1000SX sorted by Trevor Bridgwood , who covers the Lincolnshire area. It was filthy, but Roy assured me that his agents have dealt with far, far worse… First the bike is carefully prewashed to soften up and dirt and grime. From here, a specialist degreaser is applied, and agitated with a soft brush. It looked great, but he'd only just started…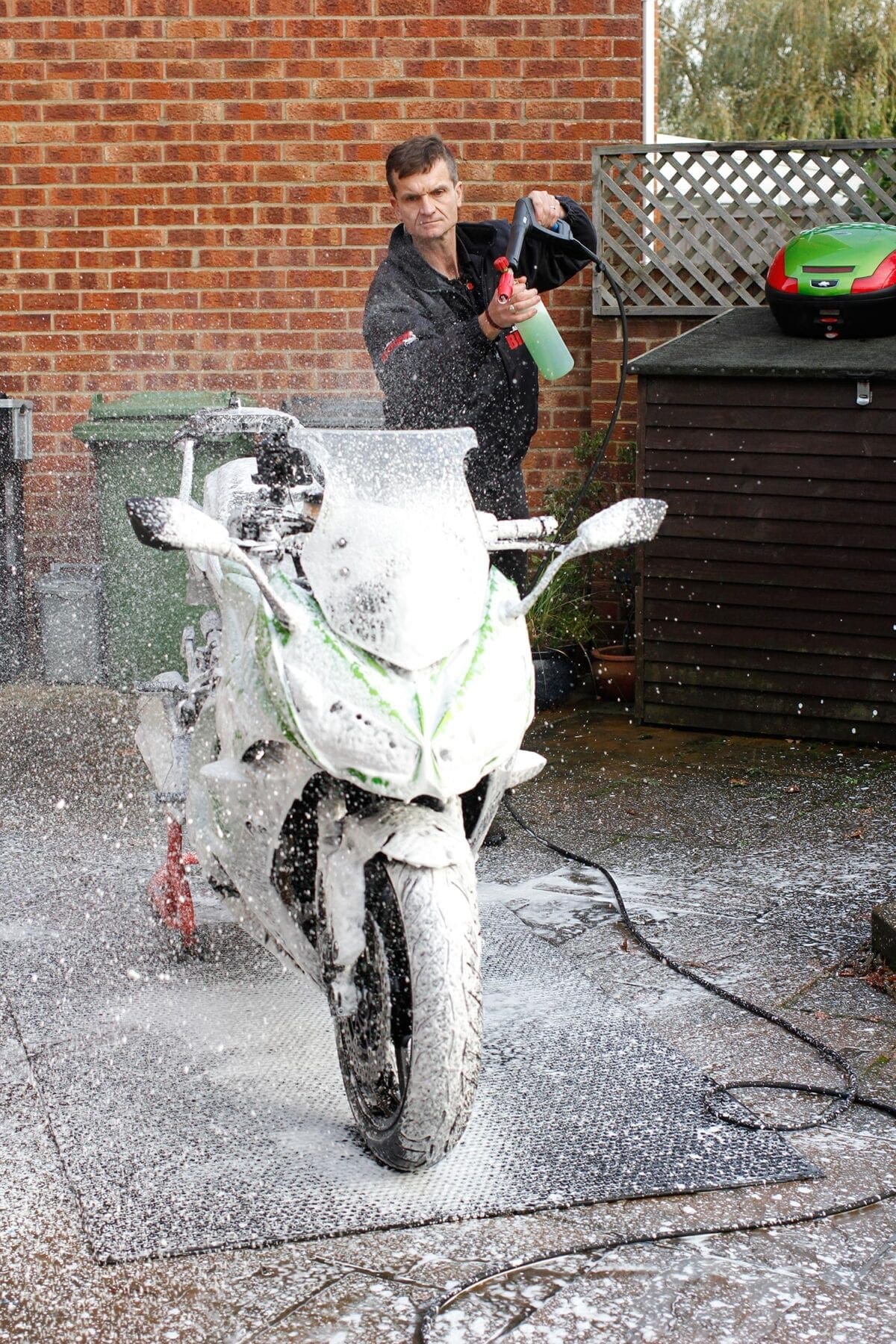 The next step is a shampoo, which again is a specialist product developed by Roy – an engineer for many years – with a chemical company. While much of the work is carried out with a pressure washer, Trevor is careful to keep the nozzle moving, and not bringing it too close to the machine; "Contrary to what some people think, it's okay to use a pressure washer on a bike," Trevor tells me, "as long as you use it properly; like any tool." Roy personally trains every one of his agents over a period of three days – he's passionate that every customer should get the same high level of service.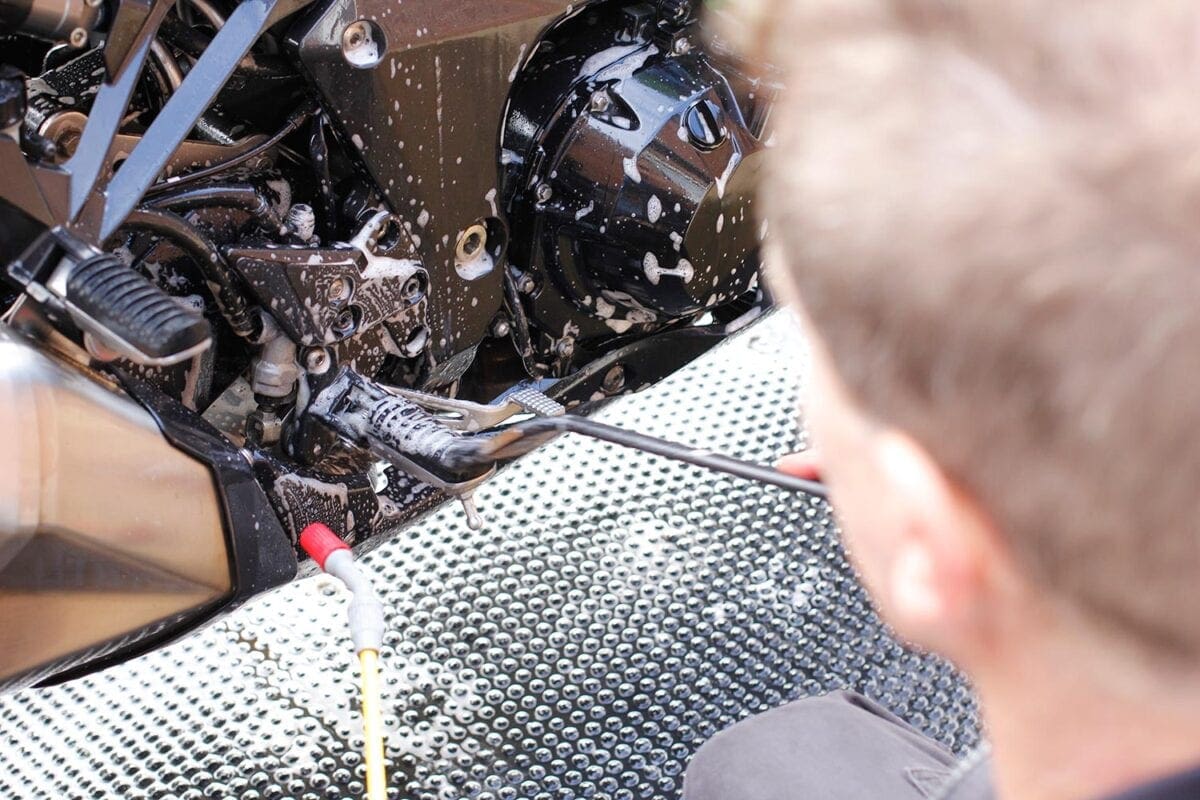 Next is a further application of degreaser – the bike looks clean to me, but Trevor can now see the areas that still have some old chain lube, road grime etc. One of his tips here is that degreaser can quickly get saturated with filth, so spray it on, work it with a soft brush, rinse and repeat – there's no point in just spraying more and more on in one go.
Then it's on to cleaning the brake dust off, and also using a traffic film remover that will rid the bike of any waxes or silicones. When this foam has done its job, the bike is thoroughly rinsed again, including flushing the radiator from its rear, to avoid forcing any flies and other rubbish deeper into the fins.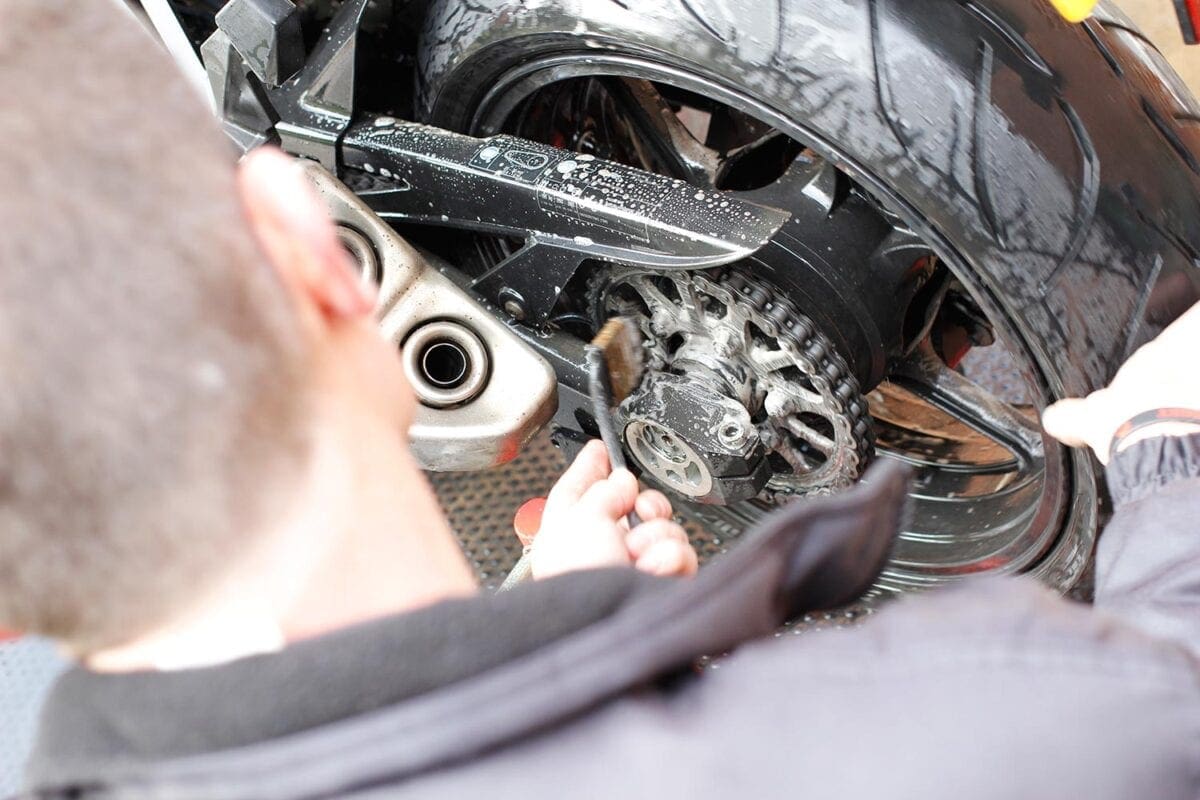 Finally, it's time to dry the bike – Trevor uses a fresh microfibre cloth to get the bulk off, then a highly powerful dryer, which blows the water clear, leaving nothing lying in any nooks or crannies anywhere on the machine. It's a common mistake to just run a bike to dry it, but that turns the water lying in the engine casing's folds to steam, which can then penetrate the electrical parts where it will condense and become trapped.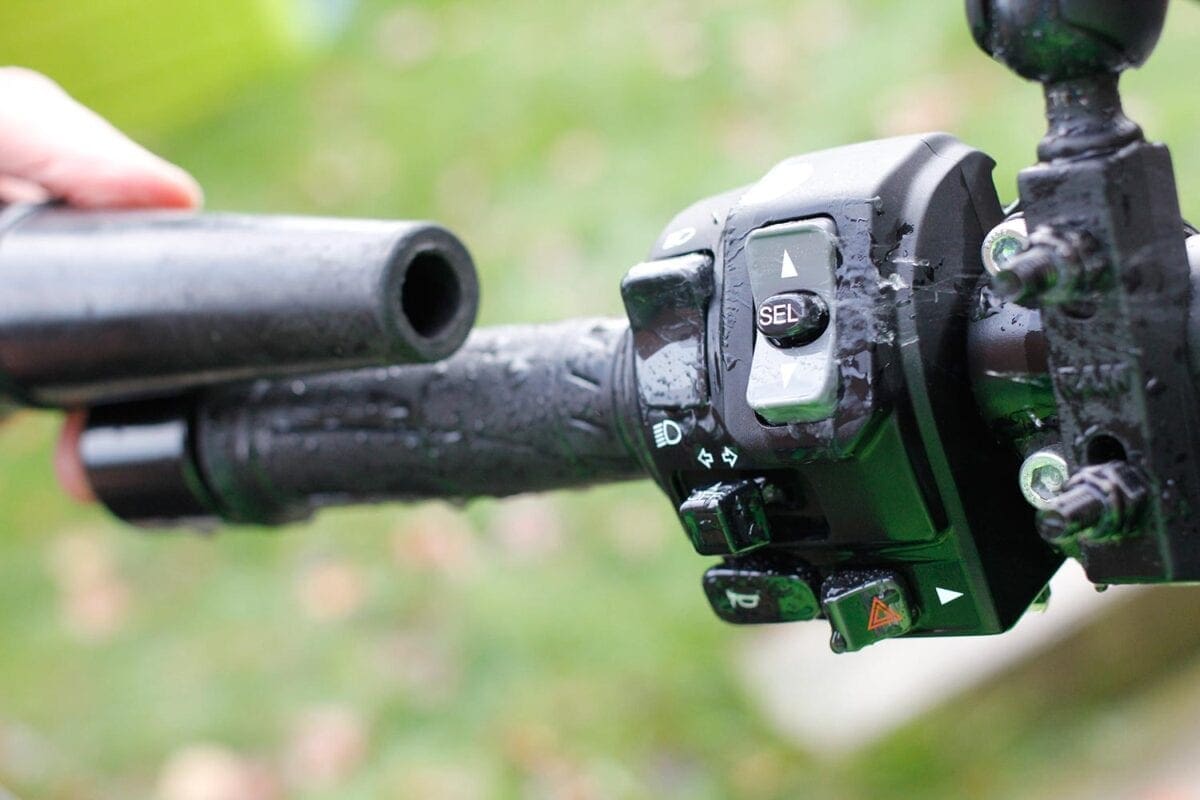 And that's the first step done. Next the wheels and brakes are masked off, and a cloth is laid over the top of the bike. Using a compressor and high-pressure sprayer, ACF-50 is misted all over, and right into the bike. It's applied in such a way as to blow all the way through the machine, covering every part of the engine and chassis, without pooling or looking sticky.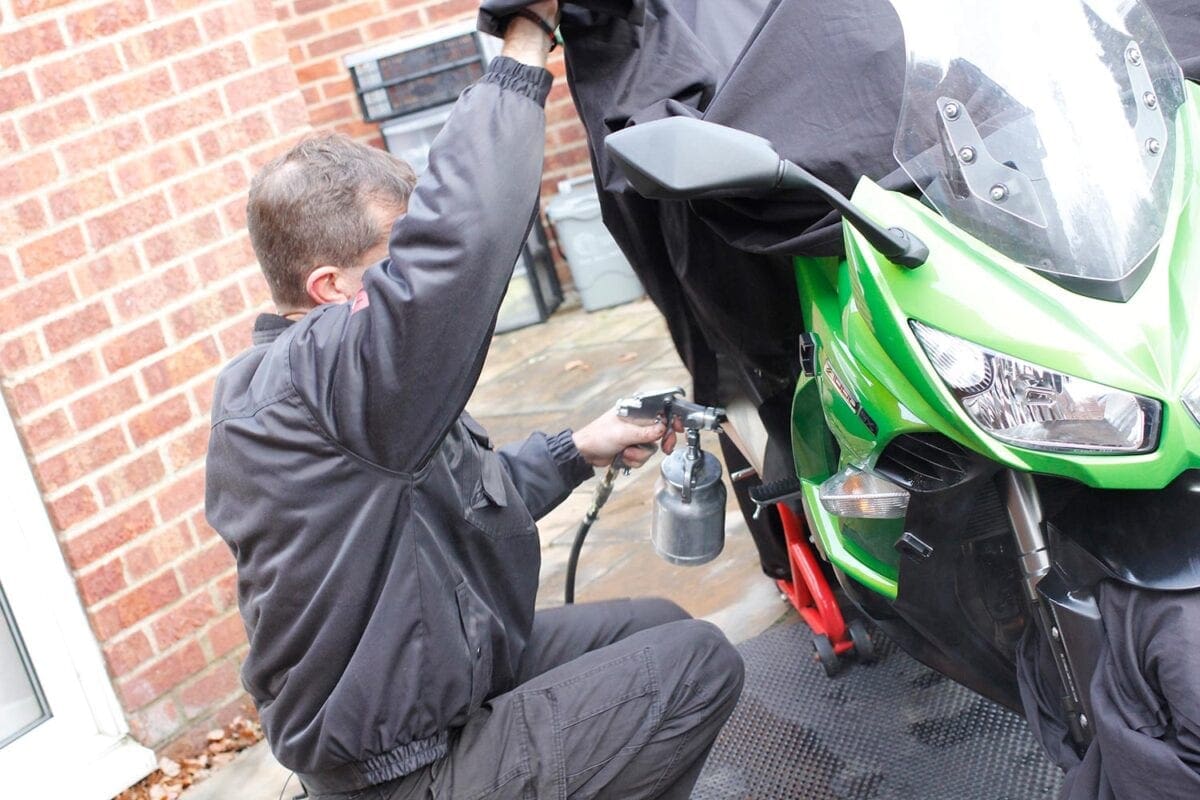 Any excess ACF is wiped from the bike, as it doesn't bond to painted surfaces. From here, a PTFE-based cleaning wax is carefully rubbed over the paintwork before being buffed to a glass-like shine.
I have to admit that I was sceptical when I first heard about this service – while I don't want Roy to think he should slam the prices up, it just seemed too good to be true. Thoroughly clean a bike that's in any state, then prep it for up to a year of rust prevention? Offer a certification scheme that's endorsed by a growing list of motorcycle dealers? Easily add £300-£400 or much more to the value when you trade in a bike that's been treated? Reduce the time it takes to clean your bike after the service? But it is all true, and my bike looked stunning afterwards; I now have no hesitation at all in recommending All Year Biker.
"Cleaning your bike shouldn't be a chore taking hours," said Roy. "It should be something you can do quickly then get out and enjoy doing what you bought it for." And he's right – Trevor taught me the correct way to keep my bikes completely clean, and to do it much quicker. The ACF-50 will protect the deepest crevices of a motorcycle for a long time, but some of the more exposed surfaces need a bit of a wipe over occasionally – this is easy to do yourself with a can of the product. "One tin should be enough to treat a bike for up to three years," Roy told me. People often think that they need to spray loads on, but it really should be a thin coating to avoid it holding on to grit.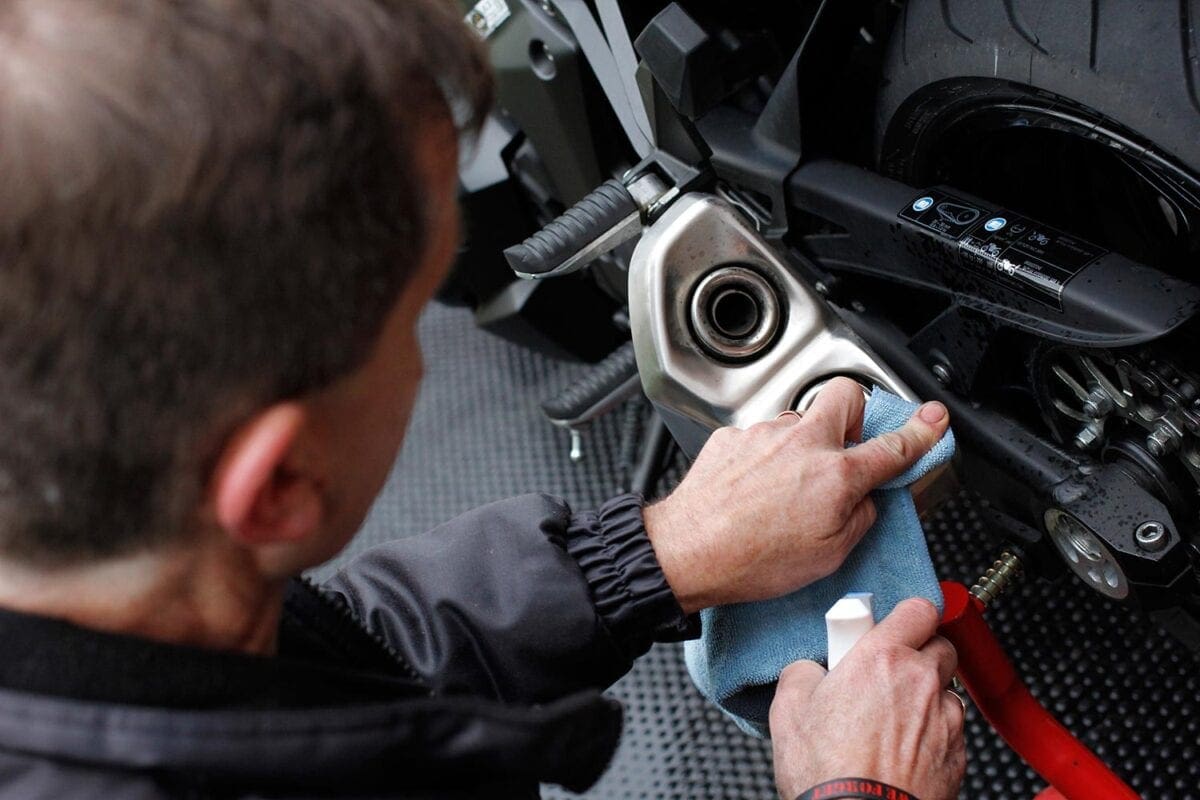 Roy tells me that they've never had to turn away a customer due to a bike being too dirty, but all bikes are thoroughly inspected first – loose paint or chrome will be shown to the customer, as this will be blown away during cleaning. It's the only way to ensure rust doesn't form beneath it, and having seen it on my old Monster's engine, I know that it's the only way to stop things getting worse.
Whether you want your bike to stay in perfect condition right through the year – especially in Spring when the worst of the salt damage can occur – or you're looking to get the best price when you sell or trade-in your bike, All Year Biker is worth every penny.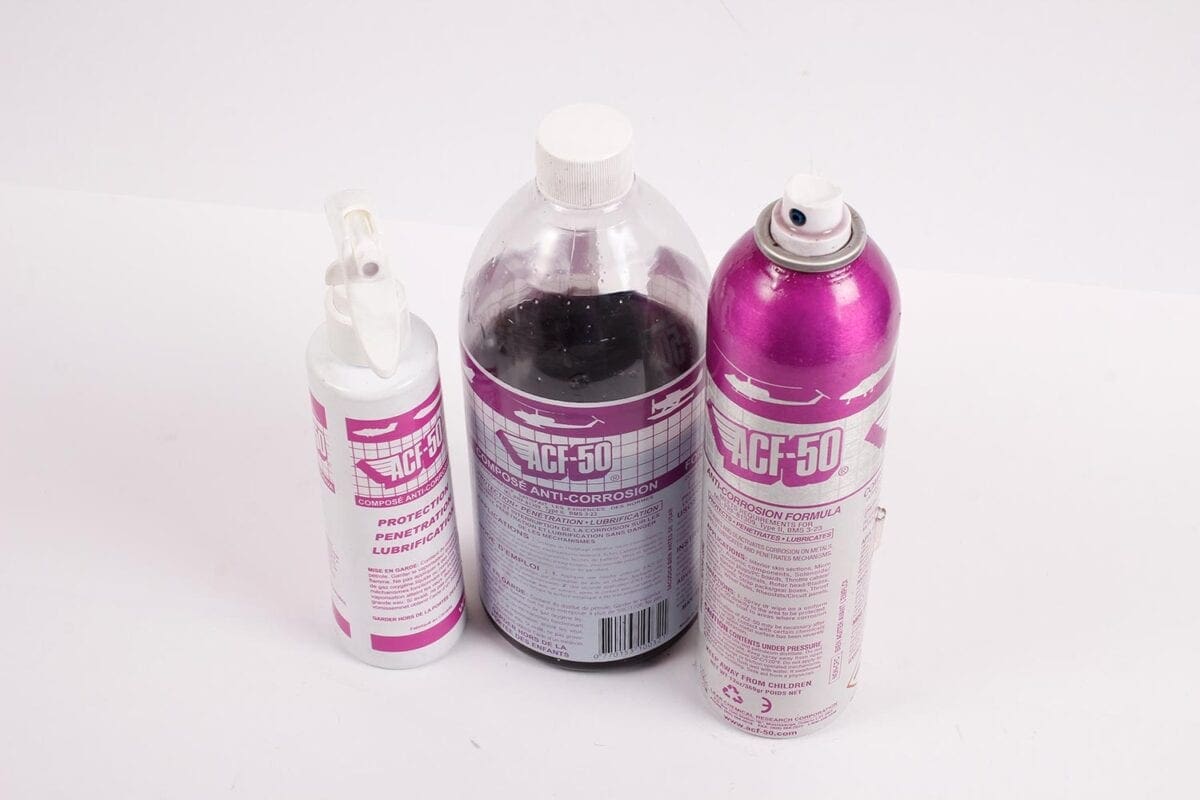 What is ACF-50?
ACF-50 was developed for the military and aviation industry (the main supplier is Adams Aviation in Surrey). It's an active thin film chemistry that penetrates through corrosion deposits to the base of the area, where it emulsifies and encapsulates any moisture, lifting it away from the metal surface. ACF-50 then dispels this electrolyte and provides an atmospheric barrier that prevents any further moisture contact. This compound continues to actively penetrate the tightest of spaces, dissipating the moisture – even salt water – in these corrosion-prone areas. ACF-50 bonds to bare metal, and remains effective for up to 12 months, gradually disappearing as it is chemically consumed.
Incredibly, it's non-toxic, non-flammable and non-staining. It's fine to use around aircraft electrical systems, which means there's no bother using it on bikes either. It even acts as a lubricant, and to top it all it brings unpainted plastic surfaces up beautifully too.
Sure, it sounds like snake-oil, but I've been using it long enough now to know it's one of the best investments you can make for your bike. I've also spoken to enough other bikers – as well as professionals like David Angel at F2 motorcycles – who have been using it for many years and swear by it.
I carried out several tests throughout last winter using sheets of bare steel left in the garden, and strapped to the front of my car. ACF-50 outperformed every product I could compare it with.
It's not a complete miracle worker – if sprayed into the hidden areas of your bike it will undoubtedly offer protection for up to a year, but the more exposed areas that are getting constant abuse from rain and salt will need spraying again – especially the vertical surfaces.
Applied professionally by All Year Biker, ACF-50 will give your bike the very highest levels of protection. Like most jobs, a lot of the work is in the preparation, so getting it put on correctly makes all the difference.
Motorcycle Sport & Leisure magazine is the original and best bike mag. Established in 1962, you can pick up a copy in all good newsagents & supermarkets, or online…
[su_button url="http://www.classicmagazines.co.uk/issue/MSL" target="blank" style="glass"]Buy a digital or print edition[/su_button] [su_button url="http://www.classicmagazines.co.uk/subscription/MSL/motorcycle-sport-leisure" target="blank" style="glass" background="#ef362d"]Subscribe to MSL[/su_button]