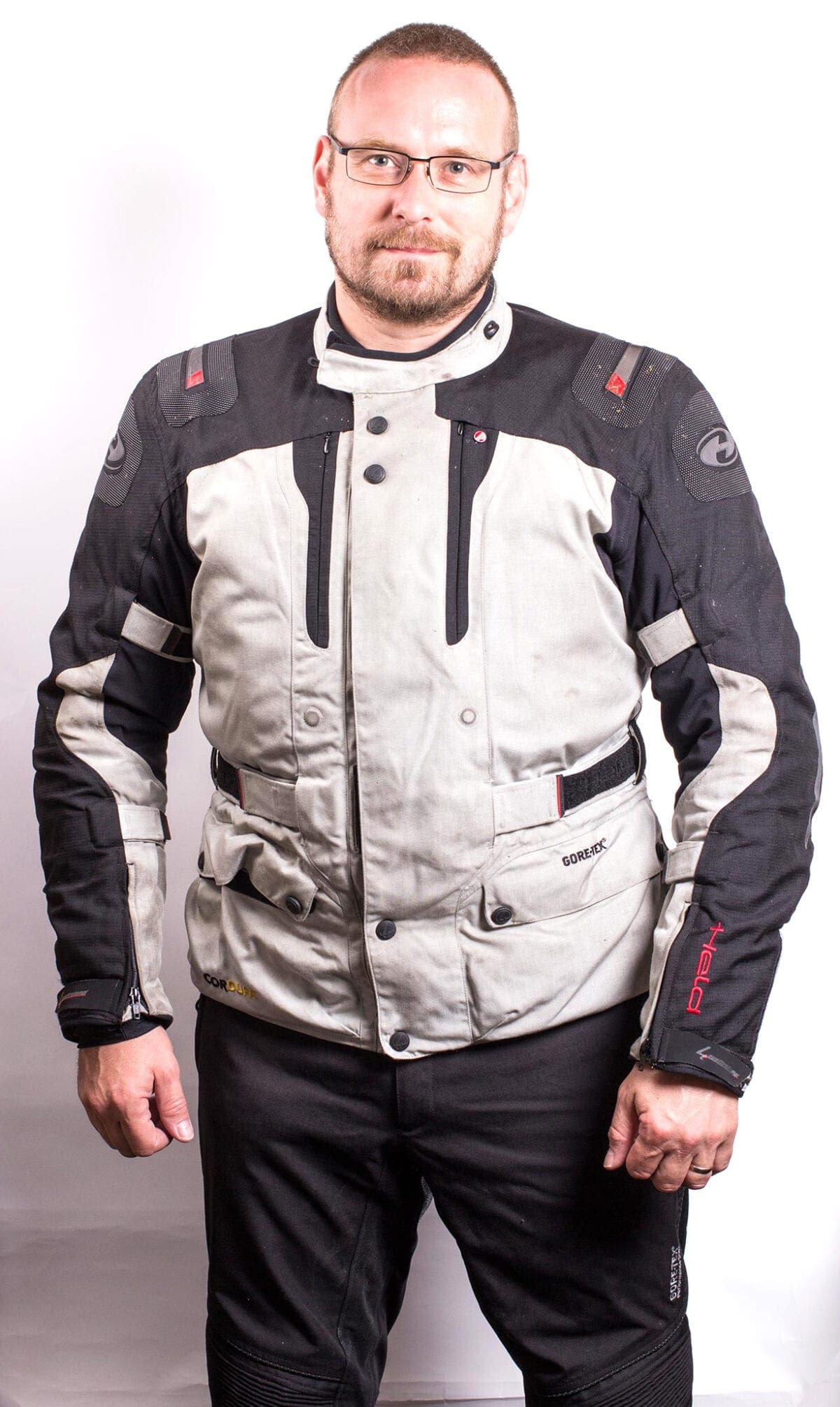 £499.99 & £329.99 | www.held-uk.co.uk | 01423 790121 | Tested by: John Milbank, Editor Motorcycle Sport & Leisure magazine
I've had this Held kit for 18 months now, and while there have been glitches along the way, I'm very impressed with it – more so than any other textile gear I've used in 16 years of bike testing. It's covered me in England, Ireland, Scotland, Isle of Man, France, Belgium, Spain and Luxembourg. But it's not the waterproofing that's made me so happy, it's the fact that it doesn't stick to me when I'm hot.
Last year I went on a touring holiday with my mates to Scotland – surprisingly the first couple of days were really hot. Too hot for textiles. But with the jacket's two pairs of large, zipped vents front and rear I was able to keep the air flowing around my jacket and venting out through the hem, which it does while maintaining the waterproofing as the membrane is deeper inside. I had the buttons undone and the storm flap open, which exposes two full-height vents that also force the air beneath the outer lining. At speed, I ballooned a little, but I didn't care – I was very comfortable. The breathable mesh CoolMax lining stops the arms sticking as you take the jacket off in the heat (something that's driven me wild with poorer quality gear in the past), and the back uses a 3D mesh, which keeps the back-protector (if you fit one, sadly it's not included) away from you, to further help ventilation.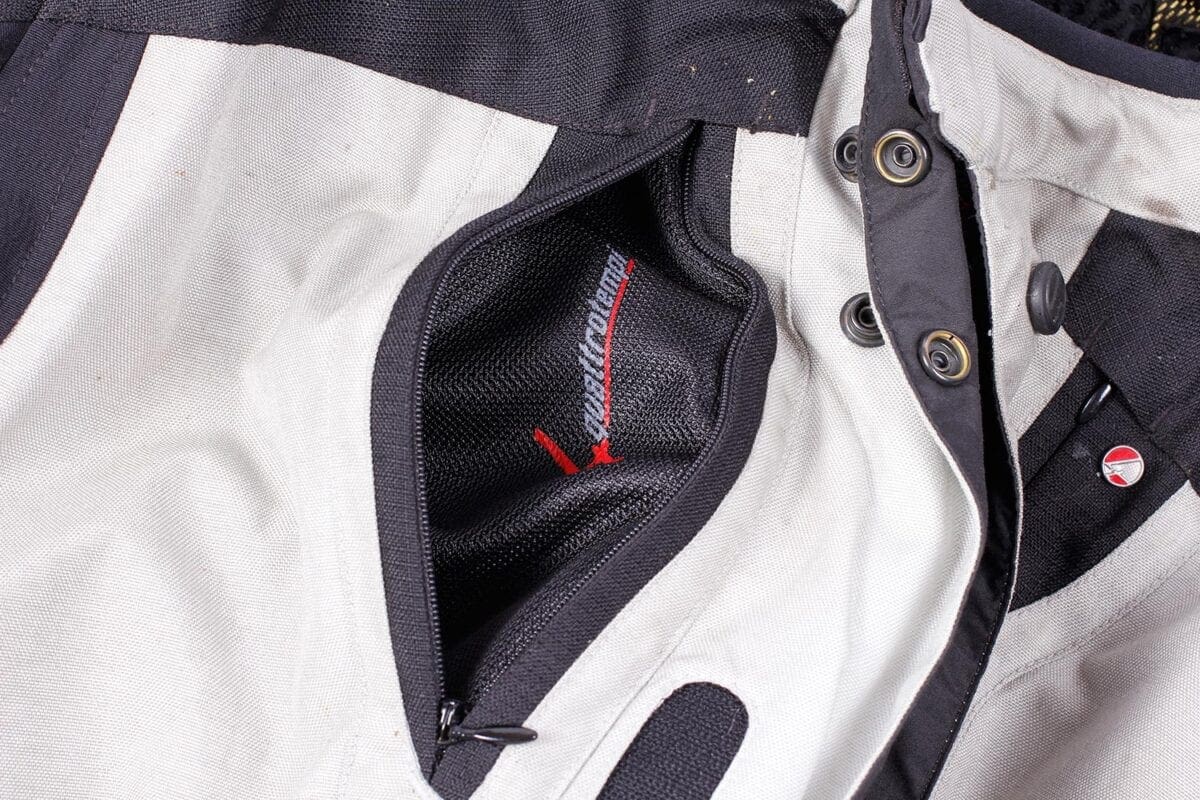 The jacket and trousers come with excellent quality liners, but I've rarely used them; I run quite hot so in the winter tend to just throw an extra fleece on, as I like to be able to remove it easily if I start to cook. That's not a criticism of the Held liners – it's just what I always do. Normal people will no doubt use them more.
In the rain they're also very good, but to say I've never got wet would be a lie. One or two times, I've had a damp belly in severe downpours, but for every time that's happened, there have been several more similar situations during which I've kept dry. I've come to the conclusion that it simply depends how carefully I dress myself. If I take the time to get the two zipped together and settled correctly, as well as ensure the storm flap is properly positioned, then I stay dry.
I don't totally trust the jacket's waterproof outer pockets – I've too often found that water can creep under the flap – but there are three zipped and one elasticated inside, so it's not a big issue. Equally, while I've kept my wallet in the zipped trouser pockets during very severe rainstorms, it has got damp, so it's best tucked away.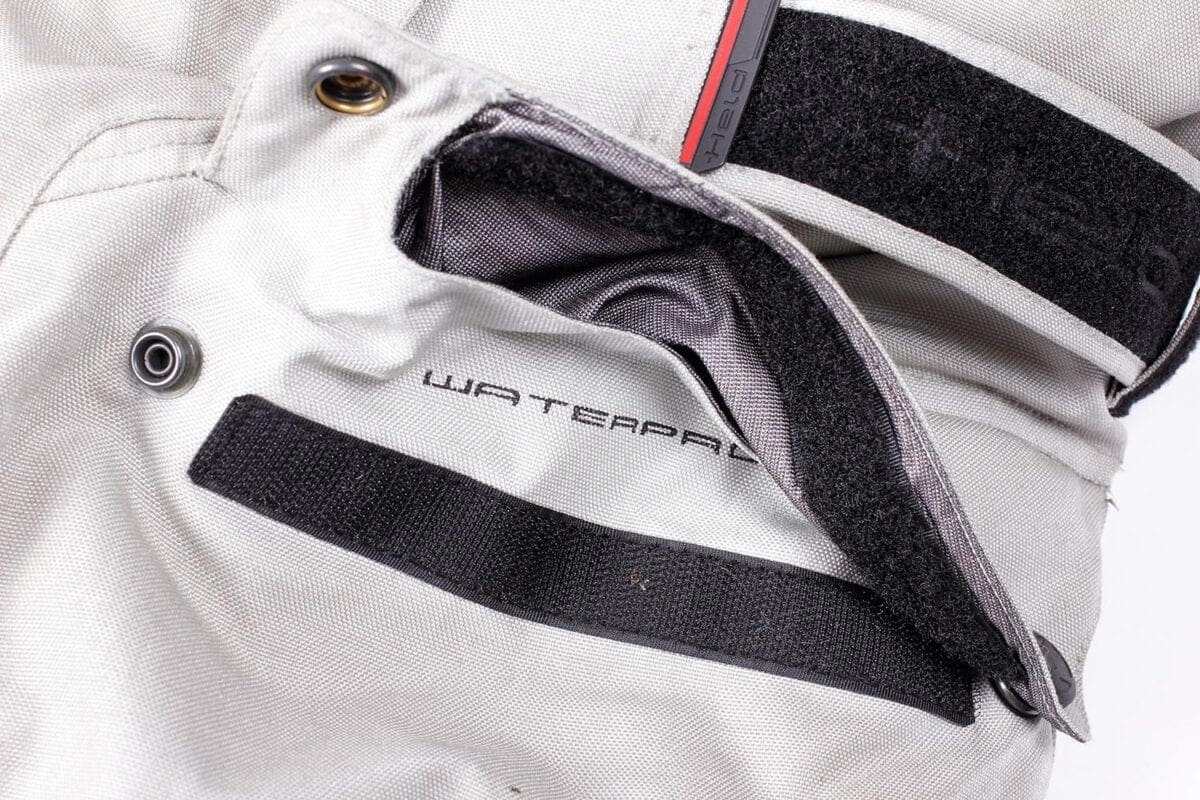 I've had the jacket's main zip toggle break, which was very easy to replace myself. One of the sleeve toggles also snapped, but the jacket had to be returned for the whole zip to be replaced (you'd never know, and keeping it cleaner would have prevented this). Both were covered by the warranty – two years as standard, five years if you fill in the supplied QuattroTempi club card (which also gives other perks like free gifts and invites).
I'm 5'10" with a 36" waist with a 32" leg – this meant XL trousers, but I found that they were just a touch long, leaving my knee armour slightly low. Fortunately the KXL size has a shorter leg, which gives the perfect sizing for me, and along with a Large jacket, means I'm always comfortable and secure, whatever the weather.
It's been washed, it's still waterproof, and it's got many more thousands of miles of use left in it. It's a very significant expense, but with the five year guarantee, and the quality of performance it's given me so far, this Held gear is a very good investment.
Motorcycle Sport & Leisure magazine is the original and best bike mag. Established in 1962, you can pick up a copy in all good newsagents & supermarkets, or online…
[su_button url="http://www.classicmagazines.co.uk/issue/MSL" target="blank" style="glass"]Buy a digital or print edition[/su_button] [su_button url="http://www.classicmagazines.co.uk/subscription/MSL/motorcycle-sport-leisure" target="blank" style="glass" background="#ef362d"]Subscribe to MSL[/su_button]