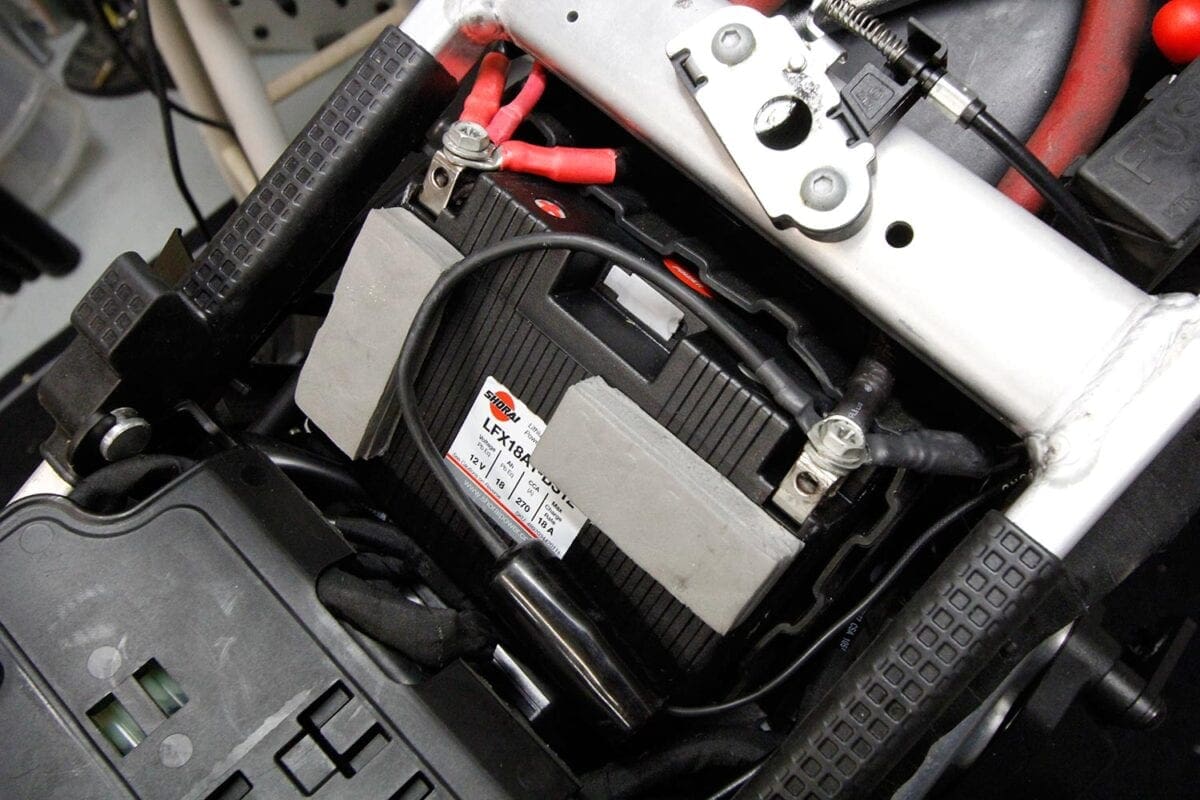 £177 | www.shoraipower.com | 0161 337 4390 | Tested by: John Milbank, Editor Motorcycle Sport & Leisure magazine
I reviewed this Shorai battery nine months ago, and at that point I'd been using it for 18 months. First I had it in my 2000 CBR600, then in my 2008 Ducati Monster S4R, and now in my KTM 1050 Adventure.
It's not cheap, but it weighs 1060g, compared to the 3860g of the OE KTM lead-acid pack – how important that is to you depends on your obsession with mass. What matters is that in the Monster it gave totally reliable starting even when it had been standing for several weeks. If you've ever had an older Monster, you'll know that they really don't like starting on all but a perfect battery.
The standard Yuasa YTZ14S in the KTM costs £80 – less than half that of the Shorai. While the Lithium Iron pack in my own tests gave the same cranking capacity as its equivalent lead-acid on the CBR, lithium cells maintain a more linear output before being empty, so when the battery is getting low, the bike should turn over more strongly. That's not a typo – Lithium Ion is a different chemistry to Lithium Iron Phosphate, which is safer, with a longer life and a greater ability to discharge high currents
27 months into owning this battery, it's had plenty of use, and is still running fine. I'd expect a premium pack like the Yuasa to still be going strong, but I've been impressed with the Shorai's resilience.
Whilst working on my KTM recently, I had the headlights on a lot without the engine running, and did manage to flatten it. I could have jumped it from my original Yuasa pack, but fortunately I had the specific charger. This is great if you're leaving the bike for months and months without being used, or if you manage to flatten it like I did, but it is £79. You could use any Lithium-specific charger, but the advantage of Shorai's own unit is that it balances the individual cells inside the battery.
The Monster only ever went out in good weather, but the KTM is getting much more use, and this is where the disadvantage of Lithium batteries can show itself – they don't like the cold. At 3°C, my KTM wouldn't fire on the first strike; it did the second time, and I should have turned the ignition on and waited a minute or so to allow the Shorai to warm itself up and reduce its internal resistance. Cold weather won't deplete the battery, but it will make it slower to be 'ready' to fire the engine.
The 1050 has a higher capacity lead-acid battery fitted than the Ducati did – while I was told it would be suitable, my LFX18 is getting close to its limit to crank it, which is exacerbated by the cold weather. Shorai recommends its slightly higher capacity LFX19A4-BS12 for KTM's 1190 Adventure, and I'd suggest this, at £9 more, would be a better fit for the 1050 too.
The much-reduced size of these batteries can be a help when wiring in accessories, and while the LFX18 is being pushed hard on my KTM – which has a 13.0:1 compression ratio, compared to the Monster's 11.4:1 – its performance throughout my time with the Honda and Ducati proved it a very solid performer.
Lithium chemistry explained
Lithium makes up just a small part of a battery, but there are a few different types: Lithium Polymer batteries are used in model cars and planes, but require a bit of care in use. Look inside your phone and you'll most likely find a Lithium Ion cell. Shorai Inc use LiFePo4 – Lithium Iron phosphate – in its LFX powersport range of batteries, which is a safer chemistry, with a longer life and a greater ability to dump large amounts of current in one go (ideal for power-hungry starter motors). A 'prismatic' cell shape allows the maximum cell size to be packed into Shorai batteries; some other packs use traditional round cells, which can result in wasted space inside the battery.
Read the original review at https://www.mortonsdirect.co.uk/mslmagazine/tested-shorai-lithium-iron-battery-review/
Motorcycle Sport & Leisure magazine is the original and best bike mag. Established in 1962, you can pick up a copy in all good newsagents & supermarkets, or online…
[su_button url="http://www.classicmagazines.co.uk/issue/MSL" target="blank" style="glass"]Buy a digital or print edition[/su_button] [su_button url="http://www.classicmagazines.co.uk/subscription/MSL/motorcycle-sport-leisure" target="blank" style="glass" background="#ef362d"]Subscribe to MSL[/su_button]