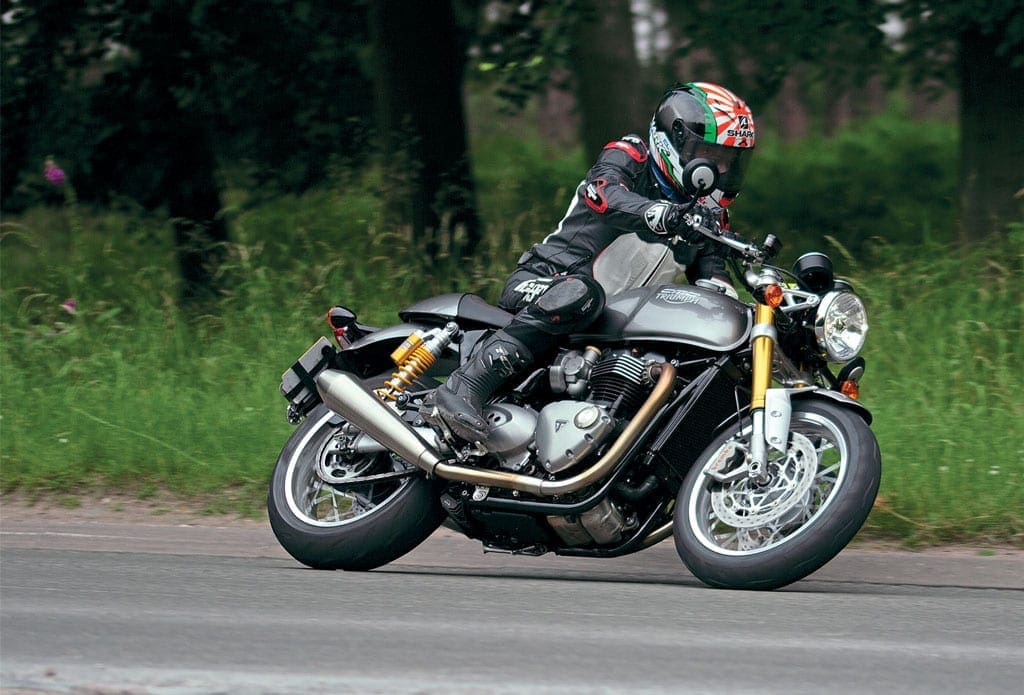 A modern motorcycle manufacturer Triumph may well be, but there's no doubt the British firm draws heavily on its original history for selected models. The Thruxton 1200R is one of them.
When early Triumphs were built in its Meriden factory between 1942 and 1983, the first Thruxton was a specifically designed, hand-built homologation special. Named after the famous Hampshire race circuit, the 'Thruxton Bonneville' model was made from 1965 to compete in the prestigious 500-mile endurance race. In the 1969 race, the Triumph filled the top three places.
When the first Triumph company ceased trading, it was brought back to life by the entrepreneur John Bloor in 1983. His new firm began building machines in Hinckley, Leicestershire, in 1991. The first batch of the second-generation Thruxton 900s started leaving the production line in 2004, the 68bhp air-cooled 360° parallel twins coming in an 865cc capacity.
Article continues below…
Advert
---
Enjoy everything MSL by reading the monthly magazine, Subscribe here.
---
These cafe racers were essentially sportier, more powerful versions of the Bonneville model, featuring rear-sets, analogue clocks, reverse-cone silencers and a flyscreen. Despite the nationality of the company, the Thruxton was made in Thailand.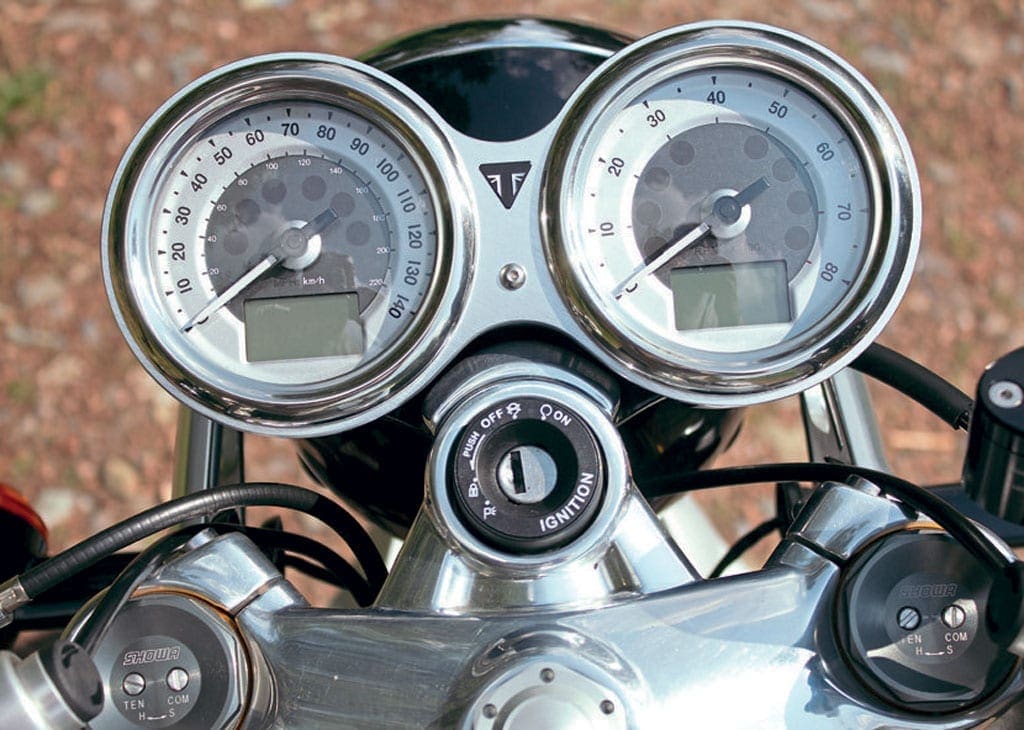 In 2016, the Thruxton 900 was replaced by two 1200cc versions, also built in the Far East. They may have looked similar to the older model, but they featured distinct differences. Following the established trend, the new Thruxtons bore a close relation to the existing T120 Bonneville models.
Each featured 'high power' tuned variants of the now liquid-cooled parallel twin motor, with a 270° firing order. The 96bhp engine produced an extra 17bhp, courtesy of increased compression, and a lighter crankshaft allowing it to rev S00rpm higher.
It also featured an additional Sport mode to join the Tl20's Road and Rain options, which sharpened throttle response still further. It shared the same tubular steel double cradle frame as the 'Bonnie', though ran steeper geometry and a 17″ front wheel instead of the softer bike's 18″ item.
The R version of the Thruxton, which we've tested here, has a higher spec chassis. It's suspended by Showa big piston BPF forks, and Ohlins remote reservoir twin rear shocks rather than the standard Thruxton's Kayaba equipment.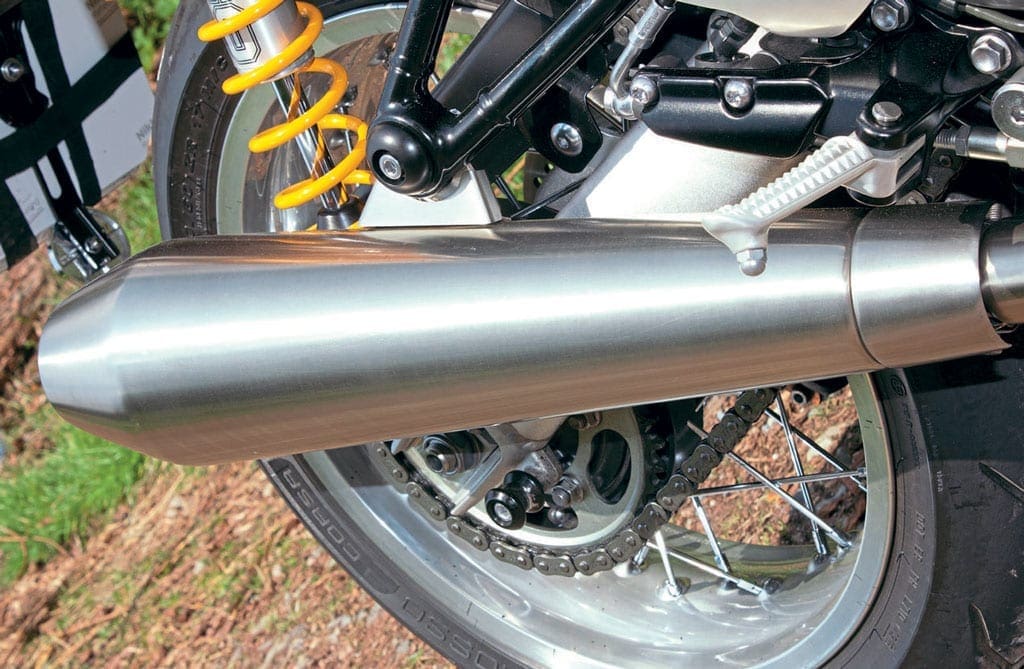 Superior braking power is provided by Brembo four-piston Monobloc calipers, with additional grip coming from softer Pirelli Diablo Rosso Corsa tyres. The standard Thruxton was priced at £10,800-10,950 depending on colour, with the R version costing £12,200.
The Track Racer and Cafe Racer models, featuring lower bars, Vince and Hines cans, tail tidys and a fairing or flyscreen respectively were added to the range later. The lighter and more powerful limited-edition TFC came to market this year.
What's it like to ride
Never mind any theories about how successful the original Triumph company could have been. Instead, let's celebrate the fact that the current British firm IS flourishing and prosperous. It might have taken a while for it to become as highly respected in the market as it used to be, but the fact that Triumph can compete with the best once again is something to be very proud of.
When you ride bikes like its superb Thruxton 1200R it's easy to see why things are so rosy these days. A little more difficult, is to see just where to begin the praise, as there are so many aspects to rate so highly.
Let's start with something appreciable from the moment you first set eyes on the cafe racer – its classy, classic style. The Thruxton really is a great looking bike, likely to turn heads wherever it goes. Very well built and finished, the Triumph deliberately mimics the basic appearance of machines produced in the firm's original heyday.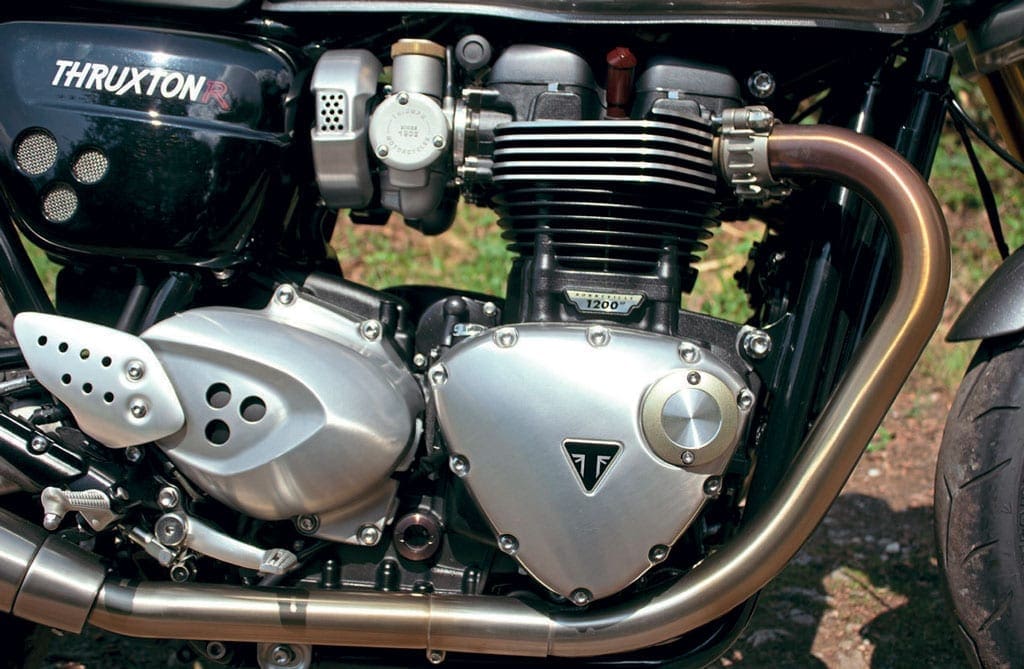 Move in closer, and the effort to reflect that halcyon era in more detail is all the more evident. Quite apart from obvious retro-aping components like spoked wheels, analogue clocks and reverse cone silencers, there's things like the clever crafting of the throttle bodies to fool you into thinking they're good old-fashioned carbs.
The layout of the engine cases suggests a bygone era too, the motor looking like a pre-unit version – a term given to designs of days gone by when the engine and gearbox were mounted separately. In essence, the Thruxton 1200R boasts all the visual appeal of a former iconic period, but is actually a completely bang up-to-date machine.
Contemporary in feel and sound, the 1200R is a lovely bike to ride. Support from its quality Ohlins suspension suggests an effort's been made to give the Thruxton an ability to cope with higher speeds. Both ends of the bike definitely have a firm feel to them which, though it doesn't seem too harsh, does make more sense when they're loaded more by swifter riding.
You're unlikely to complain about a lack of wheel control on this Triumph. Together with its light, agile feel (even though it's actually quite weighty at 203kg dry), lovely steering, and very impressive radial brakes, the control the 1200R provides offers a very satisfying and secure ride, and one from which much pleasure can be derived.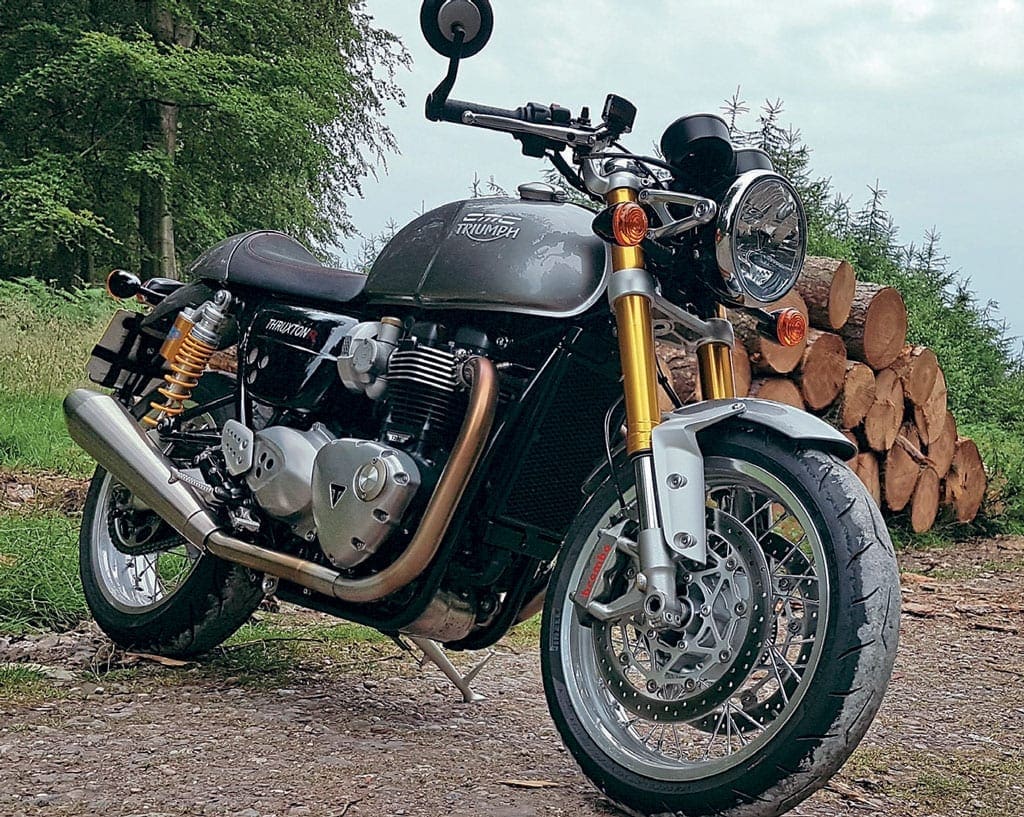 This model's sticky Pirelli Diablo Rosso Corsa tyres only add to the precise and confidence-inspiring nature of the bike's handling, regardless of how hard you want to push it.
But it's not just the chassis that brings warmth to the heart. Just as deserving of compliment is the excellent engine. Its twin cylinder layout delivers its impressive pulling power in a prompt, linear, and very usable fashion. Better still, its well-mannered nature never slips, so even when you're getting a bit keener with the throttle, you're unlikely to sample any unexpected scares.
It's not just really pleasant to use, it's very safe and friendly too, with the added bonus of having lots of character. There's ample evidence of the Thruxton being a product of the current era, with its flawless fuel-injection system, switchable traction control and ABS, three power modes, and slipper clutch all helping the level of rider control to meet today's expectations.
I didn't get to spend too much time in the saddle of the Triumph, though I got the impression longer days spent on board might need to be punctuated with a few stops for recuperation. The riding position, though slightly sporty in the way it cants you forward, is fine for higher mile runs, but the seat itself seems a little too thin and firm to be described as touring friendly.
Being a single seater rules out passengers, unless you fit a twin seat and pillion footrests. In saying that, the Triumph is definitely a versatile machine, and should you fit some of the official accessories from the 160 available, like a comfort seat, taller screen and luggage, then jaunts round Europe could be readily entertained.
For the full feature, pick up the February 2020 issue of Motorcycle Sport & Leisure. For more information on how to get your hands on a copy, click HERE.