Looking for adventure in their own back yard, 27 strangers ride from Land's End to John o'Groats.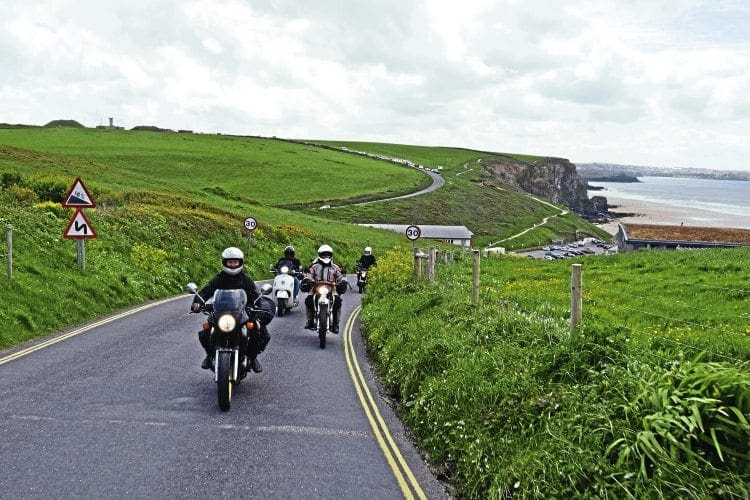 It started as an open invitation to anyone interested in riding from Land's End to John o'Groats. I was going to do it the slow way on the same 105cc Honda CT110 that I'd ridden from Sydney to London and then from New York to Alaska.
Now married with bills to pay, I didn't have the time and money to go off and do another big trip, nor, if I'm honest, did I have the appetite for another global adventure. They take a lot out of you and by the end of it I suppose all that you've really done is ride a motorcycle a long way.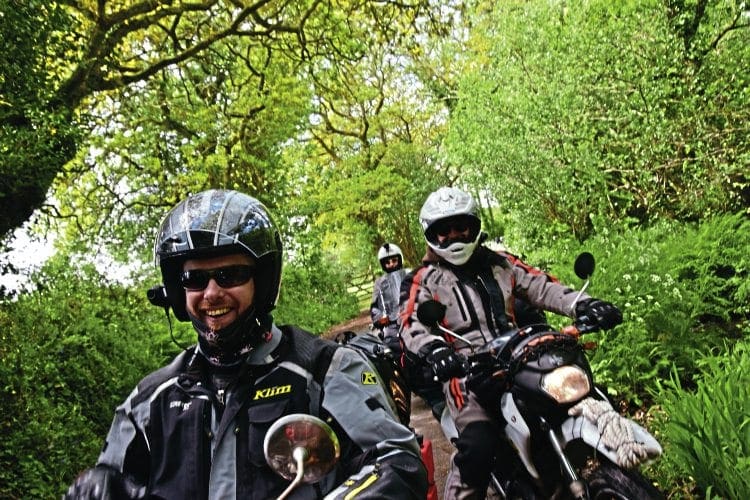 But Land's End to John o'Groats; I could do it in a week or two, it wouldn't cost the earth and it would be a good excuse for exploring new landscapes a little closer to home. The problem is, like many people, I kept making excuses and putting it off. Throughout 2016 I said I was going to jump on the bike and do it, but never did.
Things had to be different for 2017; the trip had to be done. So tricking my own mind I set a time and date of Saturday, May 13, 9am, Land's End Visitor Centre, and posted it up on social media and told people about it at bike shows and other events. I didn't have a clue how many were going to turn up, but knew that by putting out the invite I would need to be there that morning, whether I wanted to or not!
THE PEOPLE
Twenty-seven people turned up that morning. Some were on small bikes such as Honda C90s, and one lad – Jay – on a Yamaha Townmate 80cc two-stroke that he'd bought especially for the trip. Others arrived on more modern Honda MS125s or Yamaha TW200s they already owned. There were bigger bikes as well; a Suzuki V-Strom 650 and 1000, a Suzuki GSZ1250FA ridden by James and Minn who were on their honeymoon. Australian Paul had flown over from Oz especially for the trip and was riding a Suzuki Bandit 600 he'd picked up cheap upon arrival.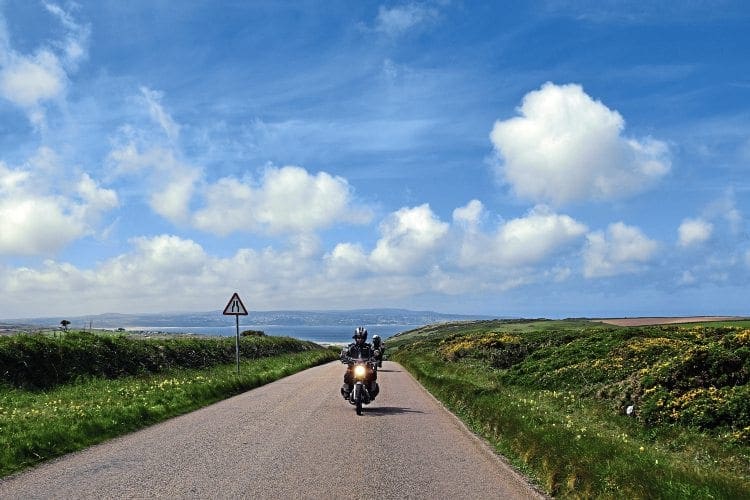 Nich Brown, one of the few people I knew from before the trip, turned up on his Royal Enfield Bullet 500, while John Goode had borrowed his wife's three-wheeled 125cc Yamaha Tricity. Will Munsey had borrowed a Vespa 125 from his sister. There were Yamaha MT03s, battered examples of both BMW F650s and Honda CB200s, and a clean looking Honda CRF230, ridden by two sisters, Be and Chilie. They were splitting the ride between them, one shadowing behind in a camper van and changing over at midday as Chilie was being treated for ovarian cancer and had Land's End to John o'Groats down on her bucket list.
The event had been labelled the Garbage Run because that seemed to sum up the ethos of it all. It would be a trip without any pretence or expectation. It was to be something of the complete unknown; a group of strangers meeting at the same point, on a diverse range of machinery, to ride from the very bottom of the UK to the top. There was so much to go wrong. But also so much to go right.
THE PLAN
The plan was loose. It was to be no guided tour. The hope was for it to evolve into its own form, reacting almost to the mood and the mindset of the people taking part in it. I was nervous at the start as I felt a large degree of responsibility for the enjoyment and wellbeing of these people who I'd never met before, and I guess, to a certain degree, they had expectations of me.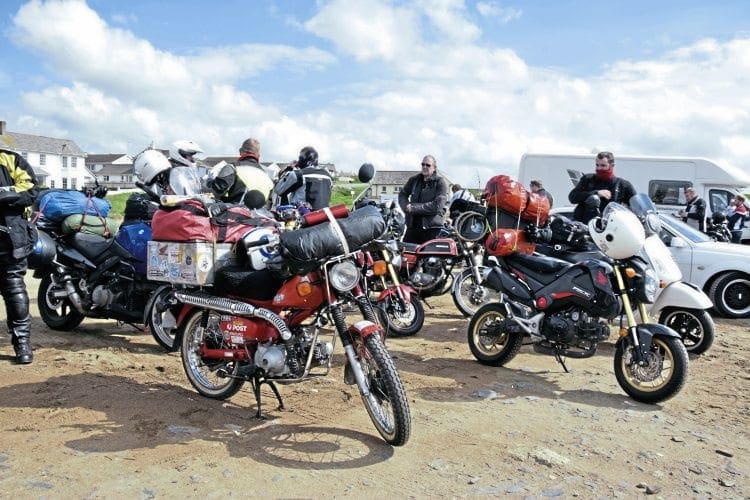 I had planned the route as much as I could, riding some of it on a recce ride the week before, and using past experience for other parts. To give the trip some structure, camping spots had been plotted and pre-arranged for each night, giving people a destination to head towards should they get lost, wish to take their own route or ride at their own pace.
I also tried to think of suitable mid-way points where people could regroup if need be. Average daily mileage was to be around 180 miles and the intention was to ride only minor A and B roads. This was all new to me. I usually ride solo.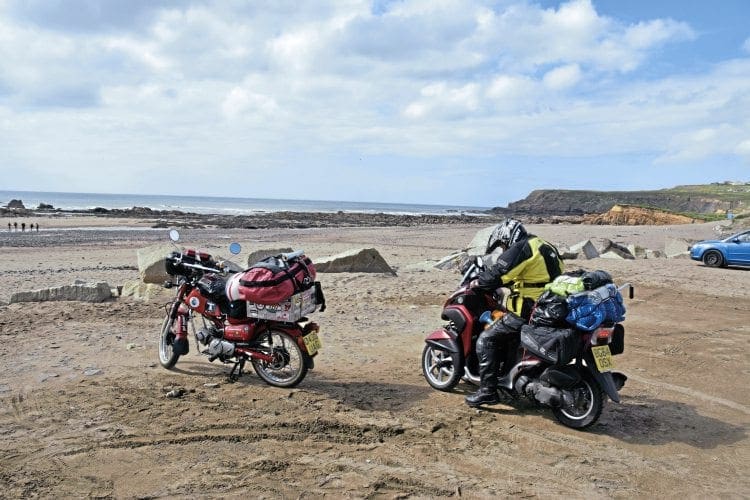 It was asked at the beginning if we were going to do the 'dropped man' system. This is where the lead rider points to a corner when a turn is made and the rider behind stays on the corner until everyone has gone past and then joins onto the back. It seemed overly formal for the nature of this trip. If people wanted to go off on their own, form smaller groups or have a lie in one morning and catch us up later then that was up to them. The real goal of it all was to give people the confidence to go off and do their own trips and discover how easy motorcycle travel really is, and for that end goal, the less formality the better.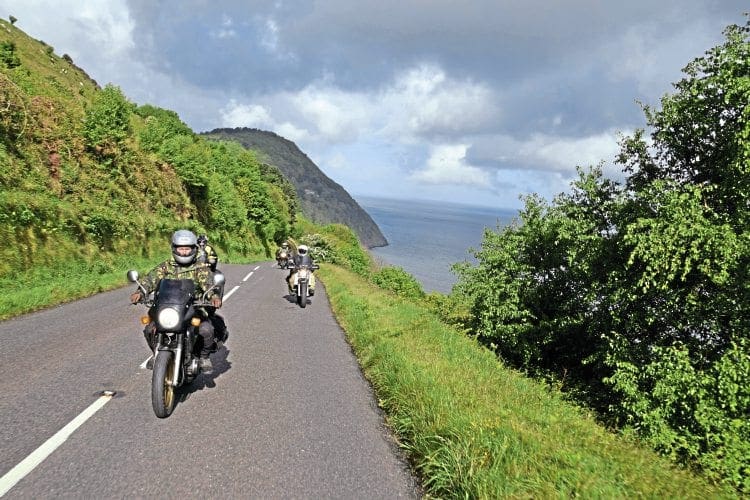 The weather was the only stumbling block. Black clouds dominated the forecaster's map for pretty much the whole route and duration of the trip. Many of the riders had got soaked through on the ride down to Land's End on the Friday. Thankfully, the sun gods couldn't have been paying attention to the forecast, for that Saturday, as we all made our introductions, the sun couldn't have been brighter and the sky couldn't have been bluer. It would stay that way until Matlock, at which point it would pour it down for two days straight.
DEPARTURE
The run up along the Cornish and Devon coast was a perfect start to the trip, avoiding the A30 and hugging the coast wherever possible; first to St Ives, then St Agnes and Perranporth. Newquay onto Padstow and then the A39 to Widemouth Bay and Bude. Within the first 10 miles we managed to lose five riders, which all seemed part of the learning curve. I won't deny there was challenge in all this; trying to strike that balance between looking out for everyone and equally not worrying if people went astray as they all had smart phones and sat-nays, and all knew where we were heading that day.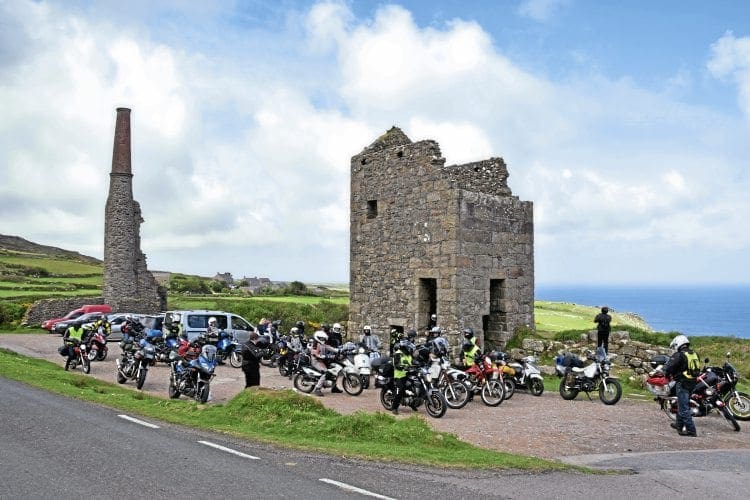 For the first night's rest we stopped on the farm owned by CRF230 rider Be, just outside the Devonshire town of Combe Martin. Because of the rain that evening, her husband Richard had set up bales of hay to act as beds, sharing the barn with a herd of inquisitive cattle. It was a good time for everyone to get to know each other. Be and Richard had cooked up pans of different stews and provided a selection of cereals for breakfast. After that we rode the stunning route along the North Devonshire coastline, into Lynmouth, over the coastal moors and down into Porlock having tested our brakes on the steep hill that overlooks it.
[googlemaps https://www.google.com/maps/d/embed?mid=1Uz89NyJOOs5FdZlK2zgKy7nryC0&w=640&h=480]
The smell was what I remember the most. Be it from the sea below or from the wet forests and hedgerows that gave off such a distinctive spring-time smell. That and the sight of twenty-odd bikers, some of them hammering their little machines, up and down the coastal roads of North Devon. It was something of a motorised moving carnival.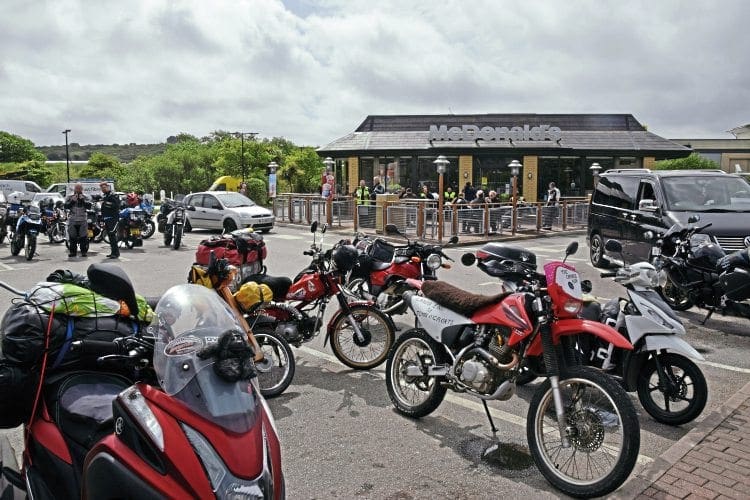 From Bridgewater to Cheddar Gorge, around the back lanes and briefly on the M5 to take us over the old Severn Bridge, to Chepstow to pick up the wonderful road north to Monmouth. We passed the ruins of Tintern Abbey and on towards Hereford and Leominster, where we stayed the night at the oasis-like Dom's Bike Stop; a unique place for being tucked away behind a derelict garden centre but offering a perfect retreat from a long day on the road. By this point people were starting to find their own rhythm, a smaller group of the slower bikes going off an hour early the next morning, making their own way towards the Peak District that day.
[googlemaps https://www.google.com/maps/d/embed?mid=1GJiYJfxC1S3WuOybe7P3CQxXNGM&w=640&h=480]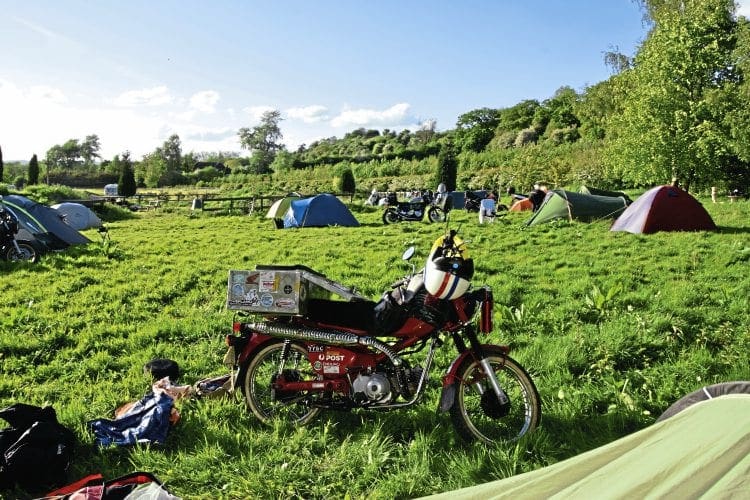 Picking a route through the centre was probably the hardest part. You're trying to avoid the biggest towns and cities, while also trying to make the route interesting, and, at the same time, cover a decent distance. Aiming for Hebden Bridge, just north of the parallel line between Manchester and Leeds, the fear was that this would be the worst day of the eight. But it worked out nicely, despite the rain. From Leominster to Ironbridge, around Telford, then onto Stone and Cheadle, before taking a scenic arc from Bottomhouse to Matlock. On that run Chilie was right behind me on the CRF230. A lady in the grips of cancer, not strong enough to do the full day's ride, but as fast and as fearless as anyone on a bike that day. Her consultant had even advised her against coming on the trip, but there she was, right at the front.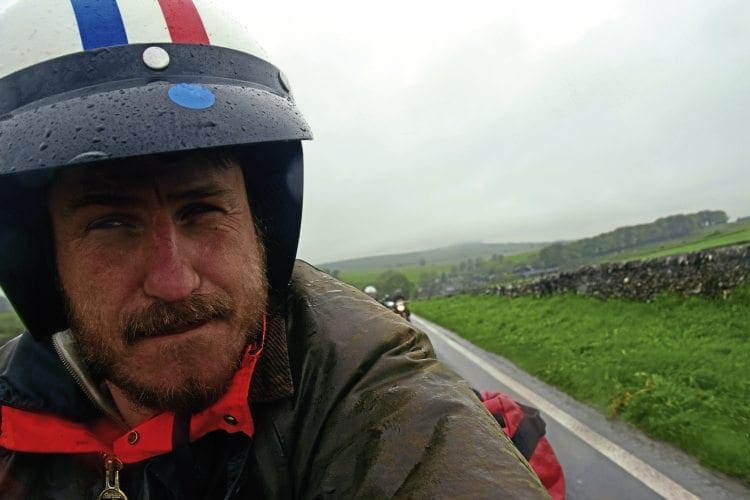 From Matlock, local resident Dave Robinson led us a great route through the Peak District, taking in the Winnats Pass, which few of us had ever ridden before. The rain was merciless. Everyone was soaked. We made it to Hebden Bridge, staying that night on farmland owned by overland legend Ian Coates (13 years around the world by Africa Twin).
[googlemaps https://www.google.com/maps/d/embed?mid=13zW6xe8Xp-bAtQQ31MHIjDwVMX4&w=640&h=480]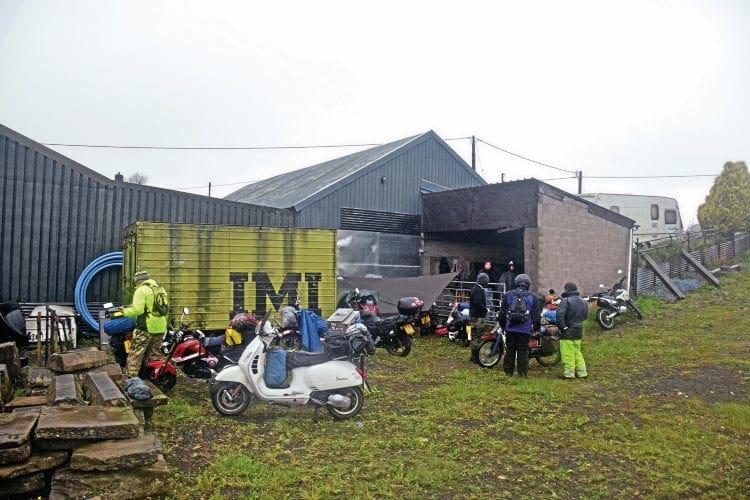 The farm sat high on the hilltops, and that night it was something akin to hell, such was the weather. We huddled in a three-sided outbuilding, cooking pasta on a stove. Tents were almost blown away. Rob Archibald joined us that night on a CG125 he'd ridden from Bristol on, with a headlight that didn't work, so was using one from a pushbike. He set up his hammock and tired, wet and weary, we all slept.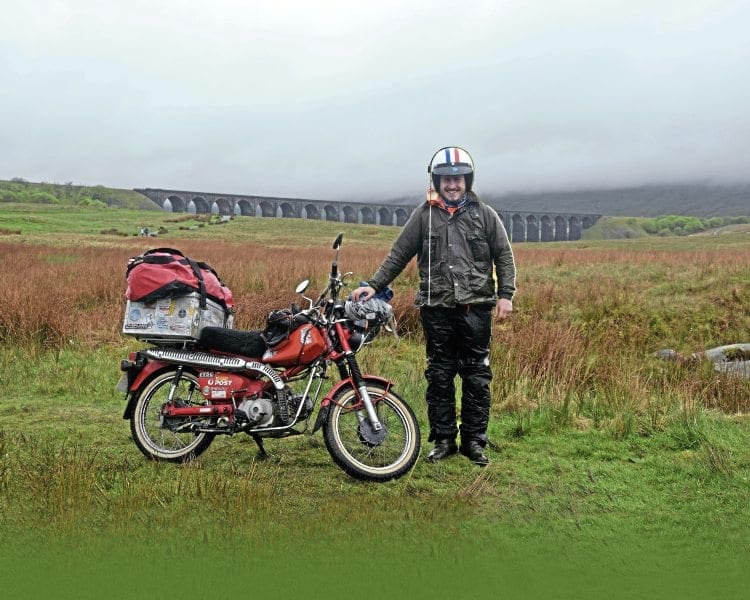 Respite was granted the next night, staying at Hagg's Bank Bunkhouse just outside Alston in Cumbria. Danny who runs it is a passionate biker and the facilities he offers first class. We all arrived soaked after another day in the rain. Ribblehead Viaduct had been our waypoint, then on to Hawes and up through the Derbyshire Dales as the country really began to empty out as we left the congestion of the middle bit behind. The most surprising part was that all bikes were running fine. We'd had no breakdowns, no crashes. We'd had no tantrums or personality clashes either. Everyone worked together, looked out for one another; it wasn't so much a gang of bikers as a family, which sounds trite, but there was definitely something unique about this coming together of strangers; motorcycling being the bond.
[googlemaps https://www.google.com/maps/d/embed?mid=1Bp59WXbjHc1p8rgJbzbG2Ubuo1g&w=640&h=480]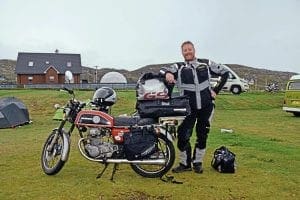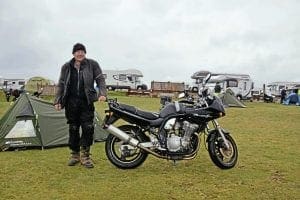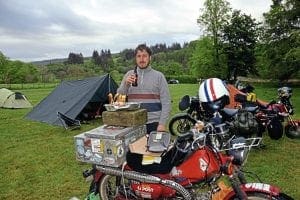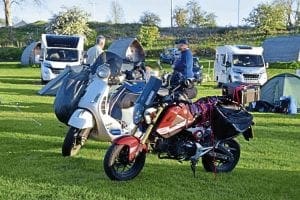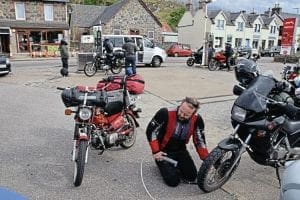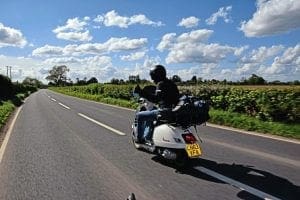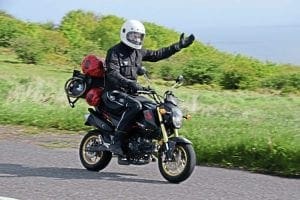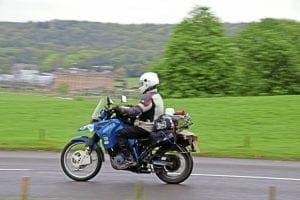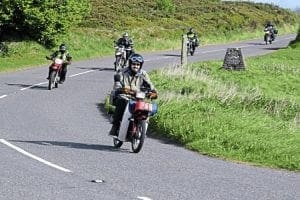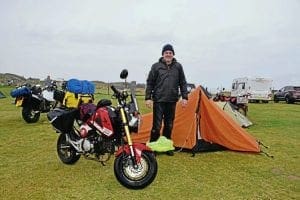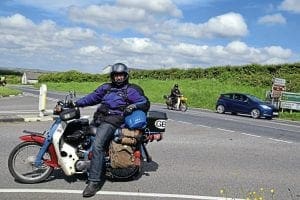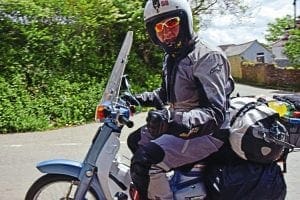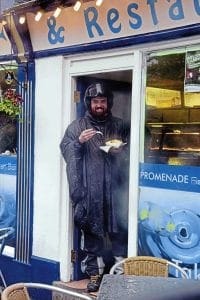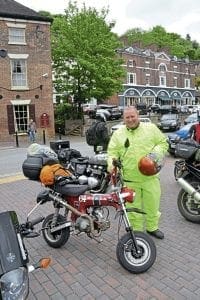 INTO SCOTLAND
With dry clothes thanks to Haggs Bank's hot radiators, we made our push now towards the Scottish border. It was day five, half way through, though it felt like we'd been on the road much longer. From Alston we took the A689 towards Gretna Green and Dumfries, before aiming for the Firth of Clyde coastline that would take us all the way up to the port of Gourock.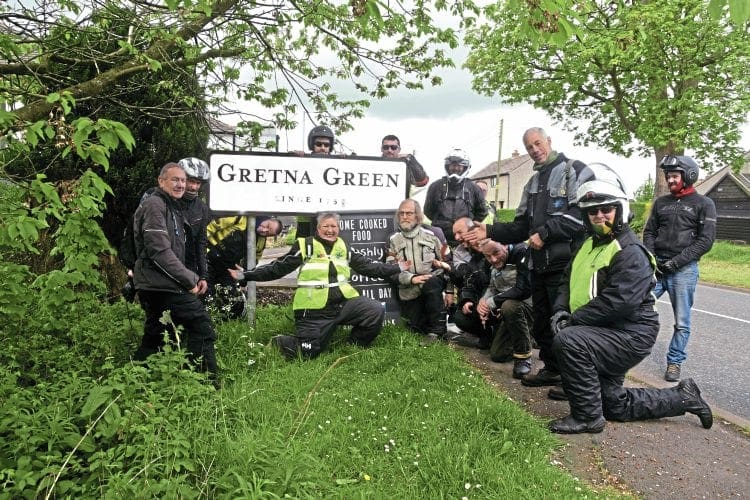 A ferry here would take us to Dunoon, meaning we would skip the passage through the congested corridor between Edinburgh and Glasgow completely. Ferries often feel like they're transporting you to another world, and this one was no different, despite only being about 25 minutes long and the ticket officer doing us a group discount; £5 per person, rather than £9.
[googlemaps https://www.google.com/maps/d/embed?mid=1Gm6H_gp2WYLBCa6CANudBp4Vwgo&w=640&h=480]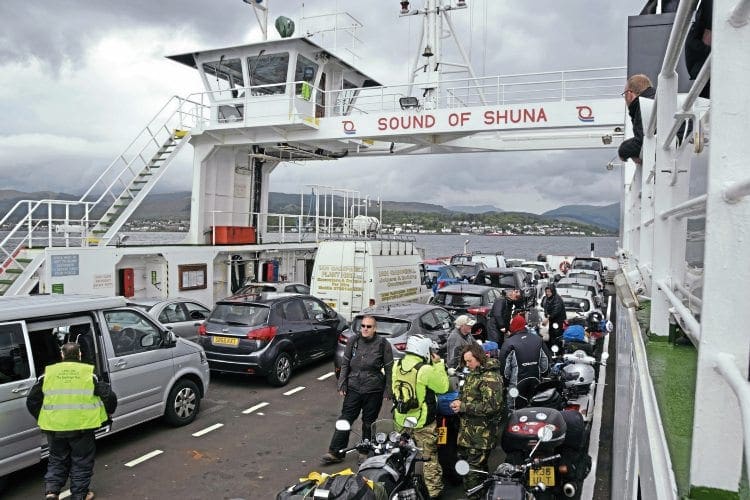 After a night at the remote Glendaruel campsite, complete with rampant midges, we continued north, day six to eight taking us along the west coast that formed part of the North Coast 500; a tourist industry idea to get more people to visit the Highlands. It's clearly working, with plenty of tourists up that way on bikes, in cars and in motorhomes, though not to the point of congestion. We rode and we rode. We had good weather now. The Pass of the Cattle into Applecross was made even more spectacular by blue, almost cloudless sides. The views just got better and better. The bikes were all hanging on in there. Some coaxed gently. Some thrashed. But all still making progress.
[googlemaps https://www.google.com/maps/d/embed?mid=1Y3UpqGgUUasvVjcdk8PCgfZ5uLo&w=640&h=480]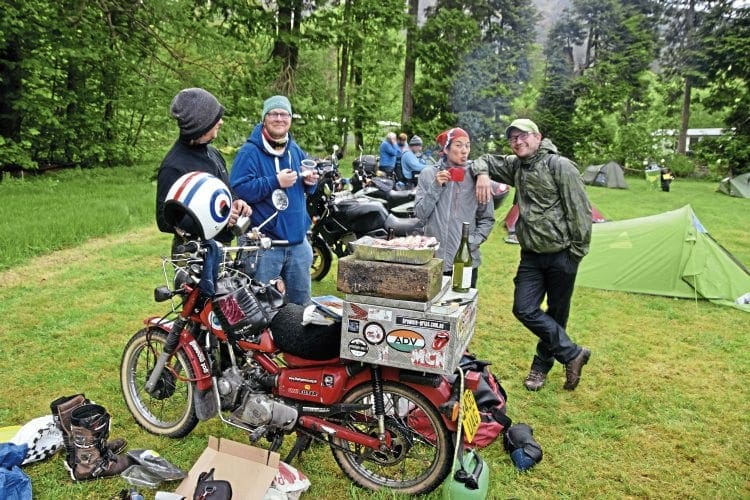 We took lunch in Gairloch before stocking up on supplies at the Tesco in Ullapool. We were dirty and dishevelled, most of us tired. It had been a long seven days to this point, riding roughly 180 miles a day, which at any speed, on these tight roads, is plenty. B&Bs would have resuscitated us, but there was something fitting about the sufferance of camping that made it ideal for this budget endeavour. I'd aimed to spend £200 for the whole thing. It might have been a touch more by the end, but still not more than £300. Some rode machines so frugal they'd spent more on beer than they had on petrol. Others with bigger bikes and appetites did spend a fair bit more.
[googlemaps https://www.google.com/maps/d/embed?mid=1Bz3Yw03GSMNmOGAE-dEwdjg-ZuM&w=640&h=480]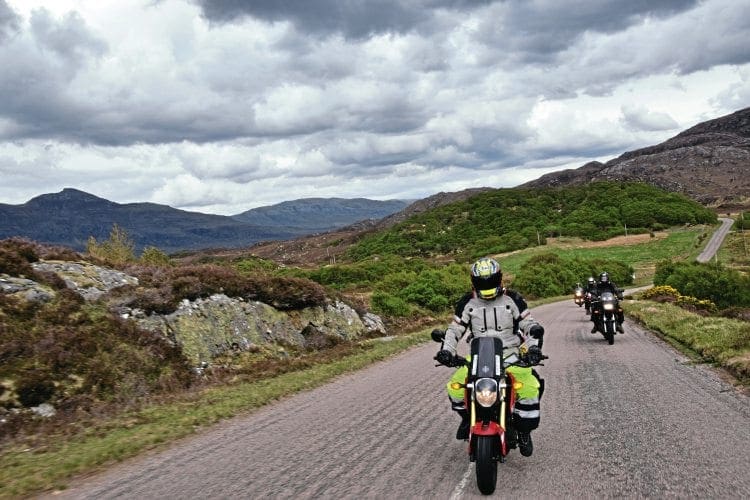 The last day across the tops to John o'Groats was horrendous. The weather had set in; landing a deep fog and mist, complete with heavy rain and blustery side winds all the way along. A bit of sunshine for this last push would have been lovely, but it wasn't to be. People still perversely enjoyed it though, such as you do when you're shivering cold and wet. Mikey Sunter from Thurso had met us in Applecross and invited us all back to the house he shares with his girlfriend, making us all tea, 20 miles from our final destination. It was just what we needed and a reminder that there are good people everywhere.
THE END
Riding into John o'Groats was a satisfying feeling. Chilie and Be both climbed on their 230cc machine for the final ride in. It seemed so fitting. I was chuffed to bits that they'd decided to come in the first place, and just as chuffed again that they'd made it. I was chuffed that everyone had made it; all bar one — Martyn — who sadly succumbed to clutch problems on his Suzuki DR750 not far from the end.
[googlemaps https://www.google.com/maps/d/embed?mid=14ySlg7VODgmZlXbXgfPq8BF0IeE&w=640&h=480]
Just eight days earlier these 27 strangers had met at the foot of the country not sure what they were getting into or what was going to happen. That took blind faith that did, not to mention some guts and conviction to get the time off work and time away from their families. One participant had used it as respite from being at his father's side who was slowly slipping away from cancer. Talking to people, they all had their reasons for being there; be it a short break from some of the troubles of home, to making a fresh start, or giving themselves breathing space for the decisions that lay ahead.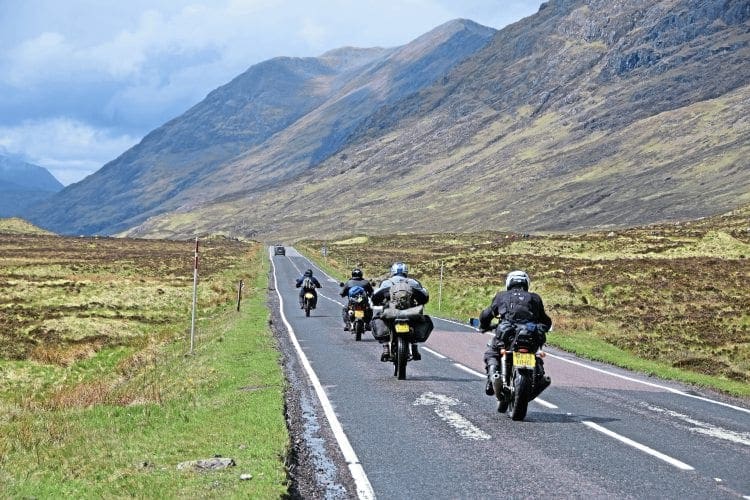 Garbage Run 2017 was certainly a unique experience. There was something absurd about it even. And Dorothy, my motorcycle, had risen to the challenge once again. First Sydney to London (23,000 miles), then New York to Alaska (10,000 miles), now Land's End to John o'Groats (about 2200 miles by the time we'd all ridden from and back to home). She was still running the original engine, bar a new piston fitted in Seattle. Not bad for a bike with 98,000km on the clock There was just one moment on the trip when her plug cap failed, requiring an ingenious bodge by Chris Francis on the CB500, who uncoiled a keyring hoop, stuck it in the plug lead and wrapped the other end around the head of the spark plug. It lasted like that through the wind and the rain for the next 1000 miles.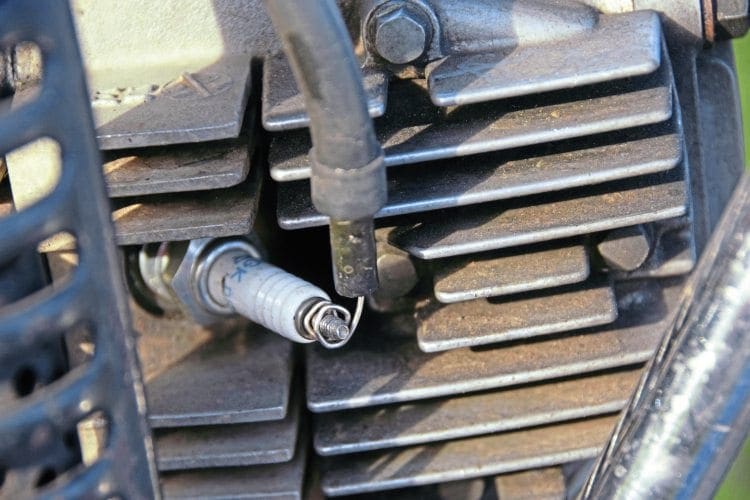 The real star of the show however was the UK. From the coastal roads of Devon and Cornwall, to the stone-walled lanes of the Derbyshire Dales and Cumbria, all the way up to the Highlands of Scotland and the magnificent Applecross peninsula, some of the scenery on our doorstep is as good as anywhere in the world. And if you plot your route carefully there's no reason you can't avoid all the worst of urban life and explore only the best bits. Some people do Land's End to John o'Groats in a day, taking wow/ the most direct route.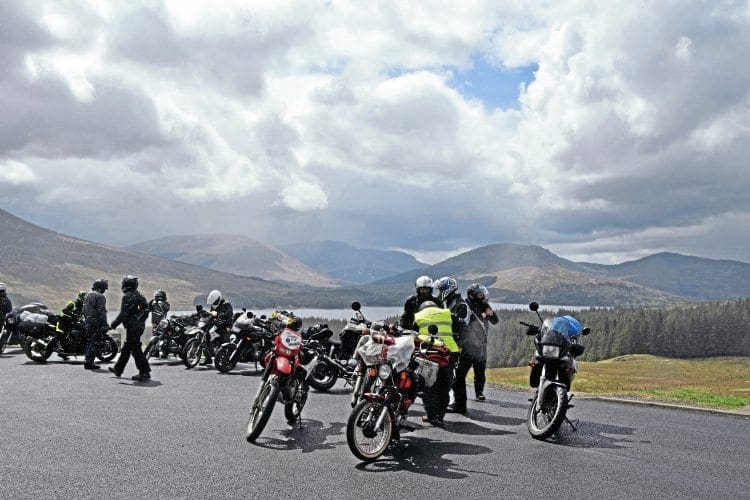 But I would say take longer, break it down into parts you can do on a weekend and use the two points at the opposite end of the UK maps as an excuse to explore the land in between. You don't have to go around the world. You don't have to go away for months on end. This trip was as tough as any I'd done, but it was the people on the trip that by far made it the best one.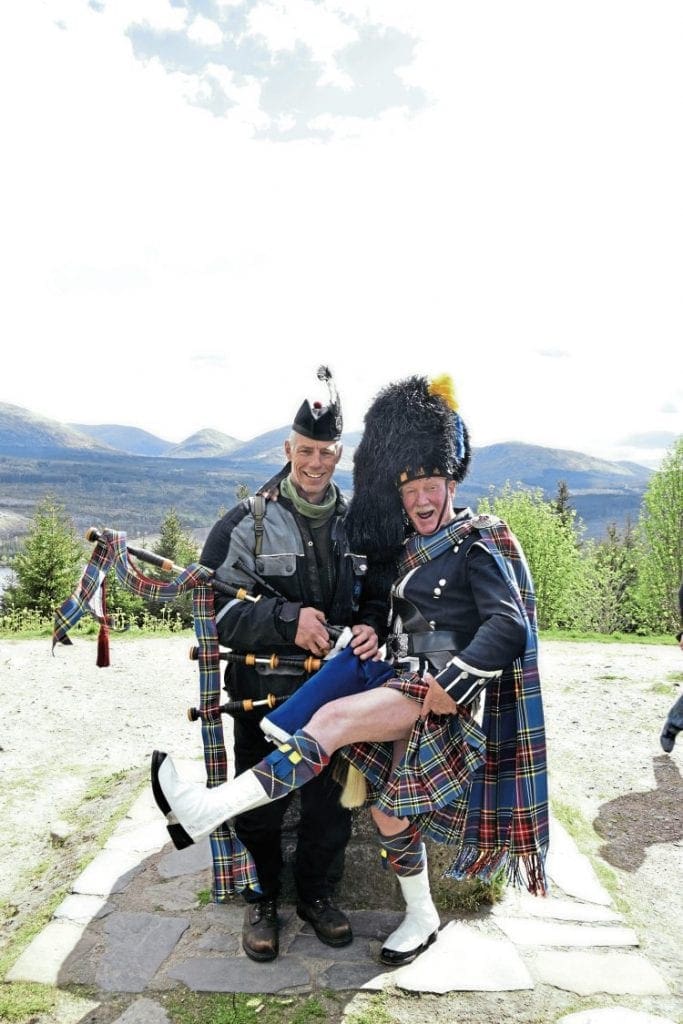 Want to join Nathan on a Garbage Run? For more information visit www.nathanmillward.com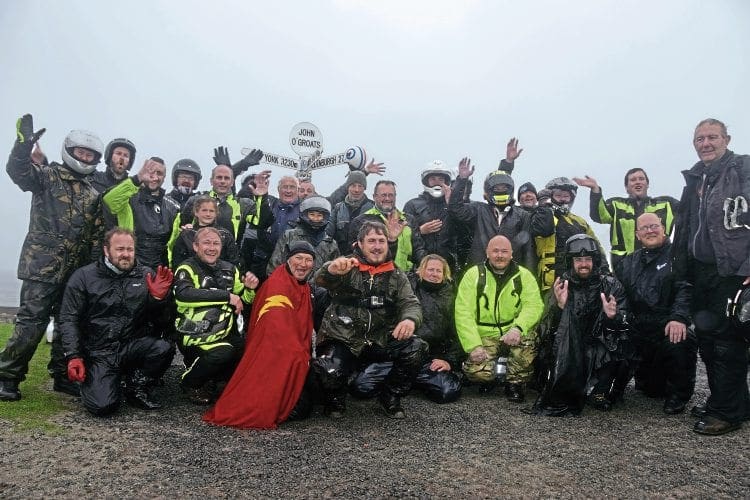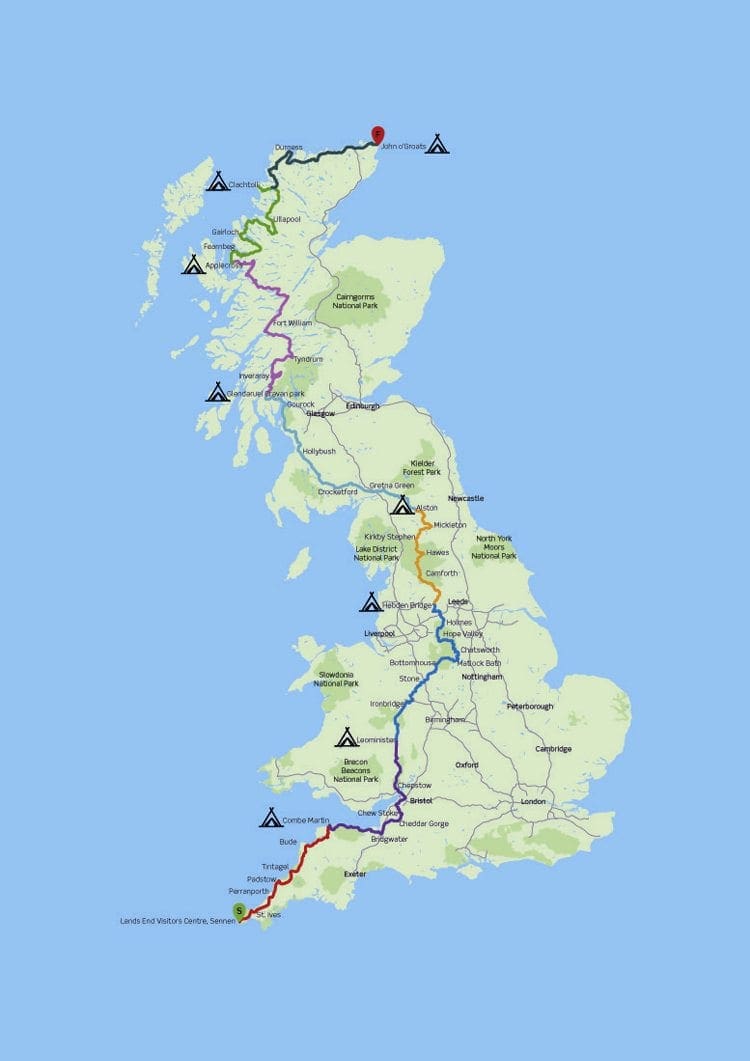 Words & photography: Nathan Millward