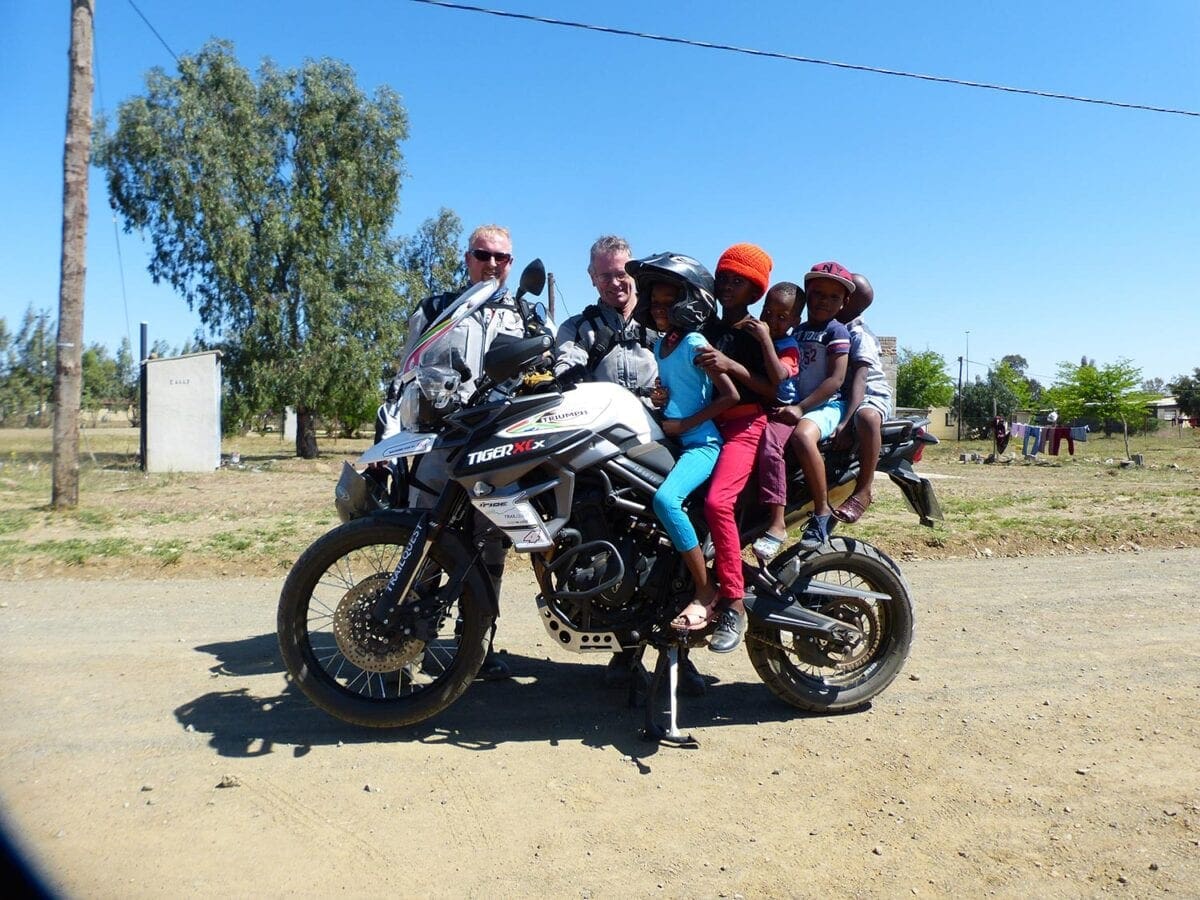 MSL's deputy editor Bruce Wilson has joined Trailquest and 11 other adventurers who'll be crossing South Africa on Triumph's Tiger 800. Each day we'll follow their story as they make their way 2000 miles from Johannesburg to Cape Town, ticking off some of the best routes and trails the nation has to offer.  
Our morning's first ride took us back down the dirt roads we'd ridden the night before. The trail didn't seem half as daunting in the daylight, which is probably why I got a bit cocky and gassed the bike into a 70mph tank slapper. I felt the fear in my gut as the Tiger 800 shook its head wildly, leaving me clinging on hopelessly for survival. I got lucky that time, but took note of the warning. Although we had 500 kilometres to travel, we weren't in a manic rush so there was no need to ride crazily.
Article continues below…
Advert
---
Enjoy everything MSL by reading the monthly magazine, Subscribe here.
---
Today's journey would see us continue our ride south towards a town called Colesberg, but we had quite a few interesting stops lined up. The first was to a nearby township; a community that's often akin to a shanty town. We'd seen plenty of these predominantly wood and corrugated steel settlements from the road side, but the scene got even more sobering when we rode into the centre of one and digested first-hand the stark reality of the situation. It was beyond humbling, especially so because of the joy and excitement of the deprived inhabitants who were so eager to come out and meet us. I'd packed a load of sweets, so began handing them out and was amazed at the joy they brought to these amazing people. That moment made me reflect on how fortunate I was in my life.
I did a lot of reflecting as we headed towards Blomfontein, which turned out to be the biggest place we'd come across since leaving Johannesburg. After riding for so long in the middle of nowhere it seemed surreal to see the kind of shops and facilities that you'd find in any European city. We didn't hang around to explore the place too much, instead taking a road which led us once more into rolling hills. By now I'd had chance to see the vastness of this country, but the endless miles of fields still blew my mind, almost as much as the countless termite mounds.
To get to our lunch stop meant taking our second off-road ride of the day. By now the whole team was becoming much more proficient and the route was relatively effortless for all. It was a good sign as we'd been told the days ahead would have some seriously challenging trails lined up for us, so we needed to better our game.
Article continues below…
Advert
The third stint of trail came as we made our way to a concentration camp. The site had been used by the British to imprison Boers at the turn of the 20th century, and this particular camp had seen the deaths of nearly 2000 of its prisoners; mostly women and children. Some of the graves of the perished had been recently reinterned owing to a rising water level caused by the nearby Gariep dam. That's where we headed next, being treated to a stunning sunset over the vast mass of water which was roundly embraced by mountains.
The plan was to go on from there and ride the largest bridge in the southern hemisphere, but the incoming darkness made us rethink our plans and head straight to Colesburg where we were to stop for the night. It suited me; I was exhausted.
Motorcycle Sport & Leisure magazine is the original and best bike mag. Established in 1962, you can pick up a copy in all good newsagents & supermarkets, or online…
[su_button url="http://www.classicmagazines.co.uk/issue/MSL" target="blank" style="glass"]Buy a digital or print edition[/su_button] [su_button url="http://www.classicmagazines.co.uk/subscription/MSL/motorcycle-sport-leisure" target="blank" style="glass" background="#ef362d"]Subscribe to MSL[/su_button]
Article continues below…
Advert