MSL's deputy editor Bruce Wilson has joined Trailquest and 11 other adventurers who'll be crossing South Africa on Triumph's Tiger 800. Each day we'll follow their story as they make their way 2000 miles from Johannesburg to Cape Town, ticking off some of the best routes and trails the nation has to offer.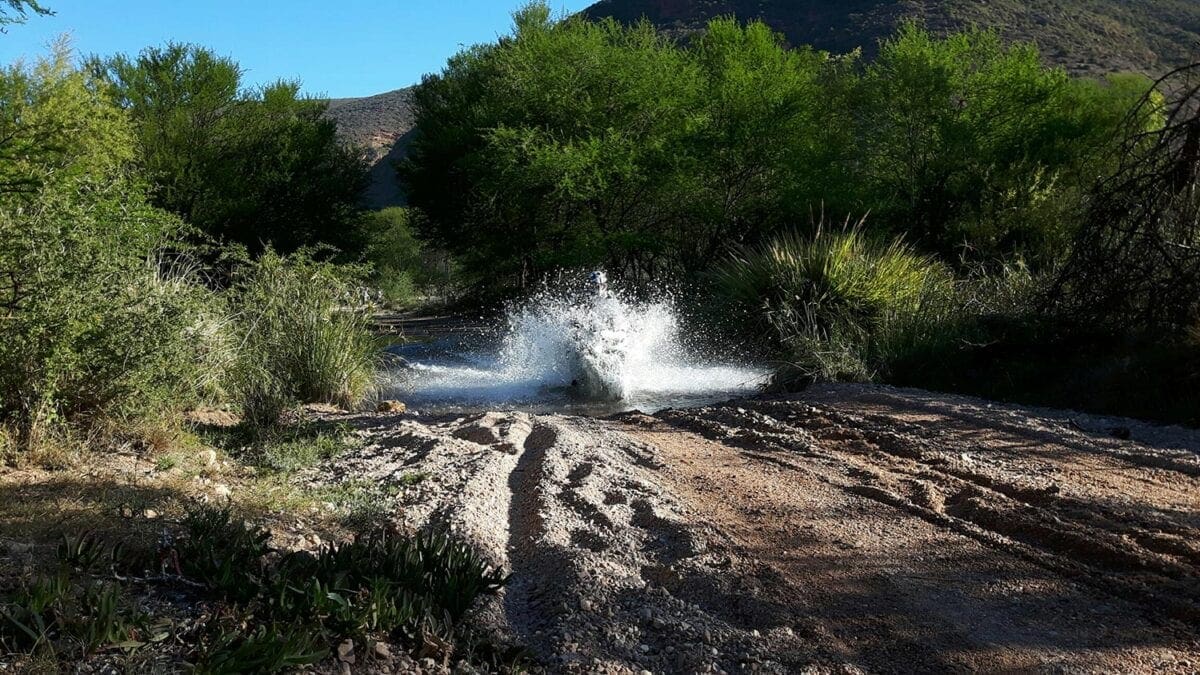 The level of concentration was painful, but it would have been a whole lot more painful to have made a mistake. The sheer sided drops spanned several thousand feet, and the relentless boulders and voids in the rugged trail's surface were doing their best to draw my Tiger's wheels over the edge. This was the toughest riding we'd known so far, miles from anyone or anywhere high up on the Baviaankloof.
Article continues below…
Advert
---
Enjoy everything MSL by reading the monthly magazine, Subscribe here.
---
Getting to this stage hadn't been easy. Our group of twelve had already shrunk to eleven after just a few kilometres of the 60km ride; a victim of the notorious pass' deep sand. That treacherous type of terrain, along with cobble fields, river crossings and leaping baboons, had made the initial part of the journey pretty edgy. And the climb to the top of the highest point on the mountain was equally as challenging for both the rider and machine. But it was a ride worth making. This route was the predominant reason for our trip out to South Africa, and however hard the ride felt, every inch of it proved simultaneously rewarding.
The day had kicked off near Willowsmore. That was the last outpost of civilisation, where we'd left tarmac and people behind as we headed towards the mountains on an unbelievably stunning trail. The going was simple enough, but not without its dramas. The group's second puncture of the trip took place just after riding through a rock canyon which looked straight out of a film set. Twenty minutes later and the convoy was rolling once more, headed for our night's accommodation on a mountainous farm. It blows my mind how people can live in such remote places, so far from shops, assistance and general services, but they do – as our hosts proved.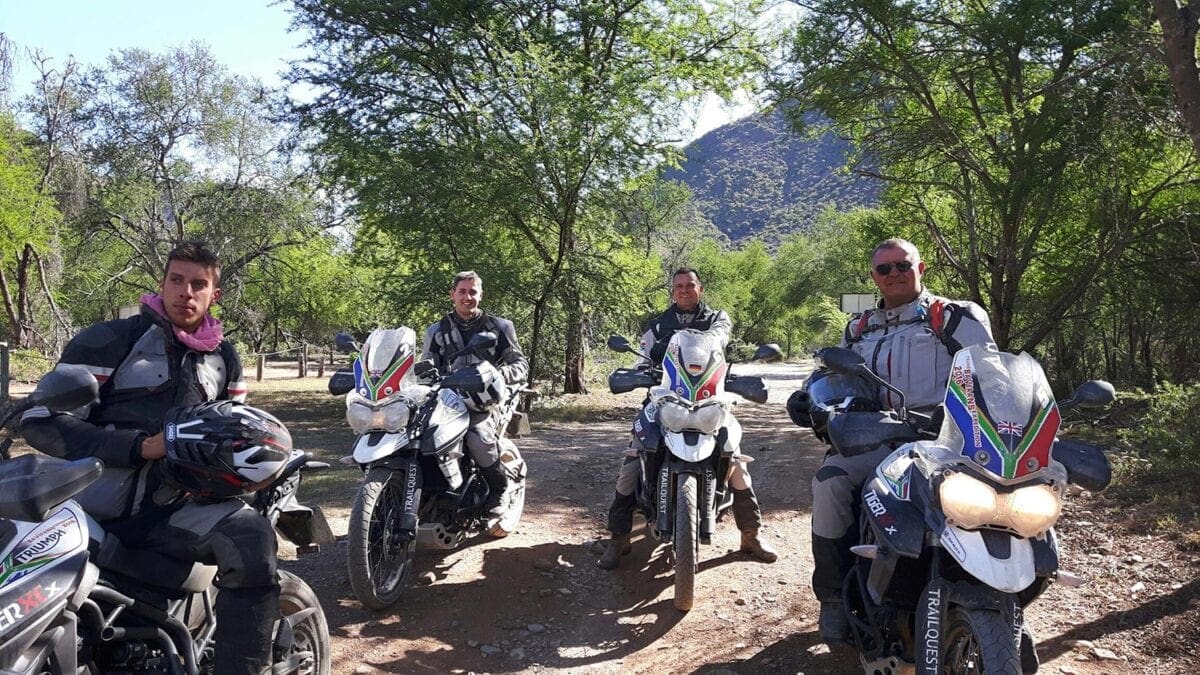 Article continues below…
Advert
We hung around just long enough to put our bags in our rooms before riding out further to the Baviaanskloof nature reserve, where 20rand (£1.25) gained us access to the world heritage site trail. Form the get go, the riding was tough, as proved by the crash I've already mentioned. It caught us all out, not at least to mention the poor guy who launched himself at the ground. At this point I joined two other experienced riders and decided to head out on the route alone. They were great company and our pace meant we manged to negotiate the route to Smitskraal river crossing in just under 90 minutes.
Exhausted and weary, the challenge then arose to try and cross the 100 metre wide river. It was deep, rocky and bloody hard work, but we all made it to the other side, slipping and sliding our Triumph's on the unpredictable loose stone bed beneath our wheels. That's the point at which we decided to take a swim in the icy mountain water. It proved the perfect cool down before making our return trip back along the path we'd come in on, slightly more confident, but relentlessly aware of the potential perils. There was no help here, let alone a phone signal to get assistance. But that danger is probably what made the ride so enjoyable. It was a roll of the dice which had paid off for our small group, which felt on top of the world over dinner that night back at our accommodation. It might have been day five, but it was more honestly day one of our real adventure riding.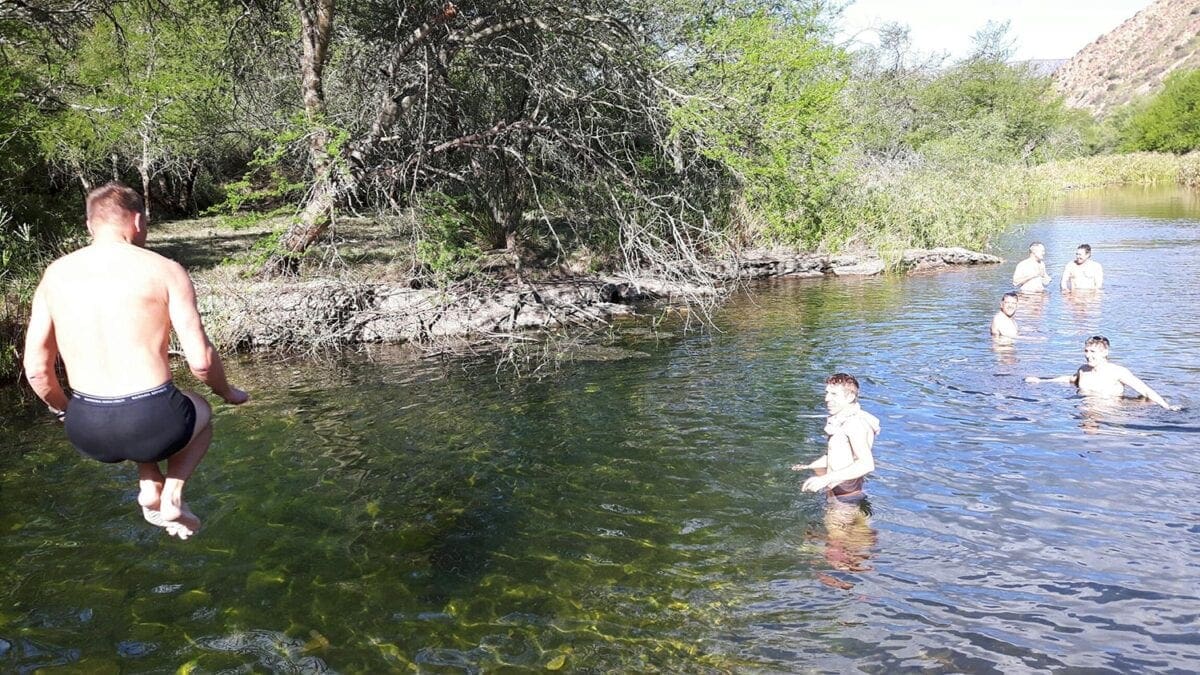 Article continues below…
Advert
Motorcycle Sport & Leisure magazine is the original and best bike mag. Established in 1962, you can pick up a copy in all good newsagents & supermarkets, or online…
[su_button url="http://www.classicmagazines.co.uk/issue/MSL" target="blank" style="glass"]Buy a digital or print edition[/su_button] [su_button url="http://www.classicmagazines.co.uk/subscription/MSL/motorcycle-sport-leisure" target="blank" style="glass" background="#ef362d"]Subscribe to MSL[/su_button]