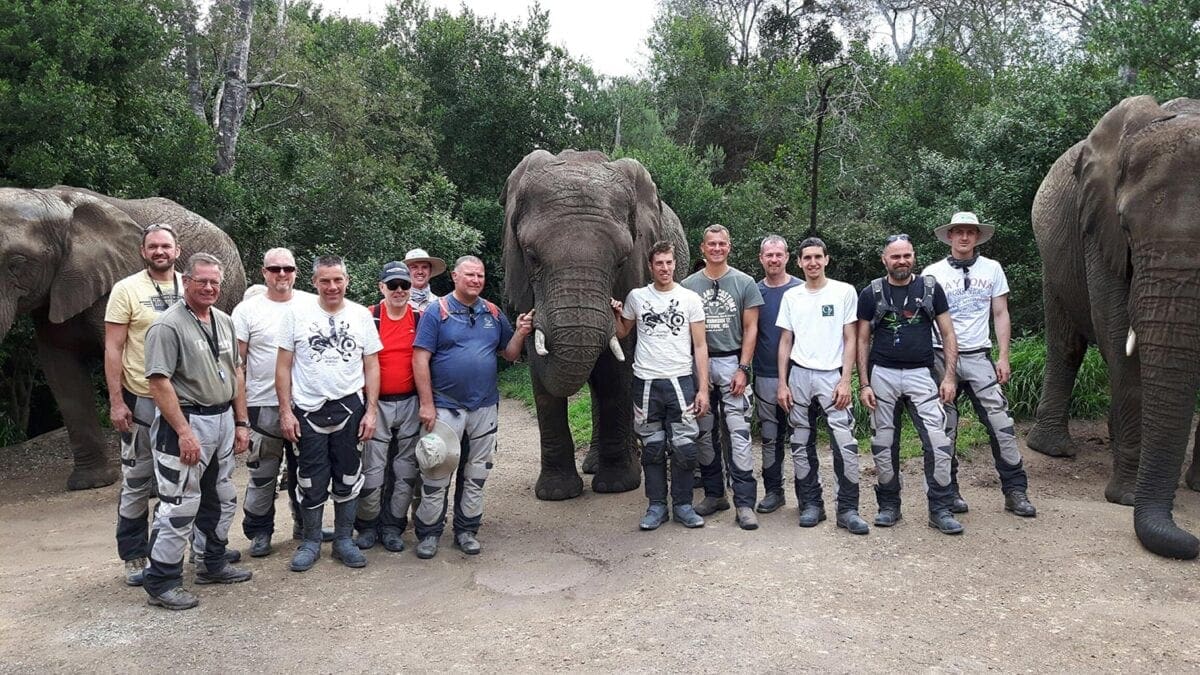 MSL's deputy editor Bruce Wilson has joined Trailquest and 11 other adventurers who'll be crossing South Africa on Triumph's Tiger 800. Each day we'll follow their story as they make their way 2000 miles from Johannesburg to Cape Town, ticking off some of the best routes and trails the nation has to offer.  
When there's only one way in, there can only be one way out. That meant we were treated to a return ride back across the awesome trail which had lead us into the Baviaans the day before. Around an hour in we came across the trail's first junction, which branched off to a town called Uniondale. To get there meant even more dirt roads, with these particular ones being the smoothest and best conditioned of the whole trip. Just like us riders, the Triumphs were in their element as we blasted along at crazy speeds, sending dense dust clouds straight into the faces of the riders behind. I've been that trailing rider too many times on this trip, and I've learned to try and stay at the front whenever the opportunity allows; that or hold back as far as possible to limited the grit from hitting the back of my throat.
Article continues below…
Advert
---
Enjoy everything MSL by reading the monthly magazine, Subscribe here.
---
Uniondale was an interesting place. We fuelled up in the small town and were thanked by the assistant who explained no one ever comes out their way. That's the same story for a lot of these secluded places we've been visiting, including a biker café called 'Angie's G-Spot' that was nestled high up in the Prince Alfred Pass. It was one of 29 such passes built by Scottish migrant Thomas Bain, who named this particular route after Queen Victoria's second eldest son. Stretching 68km, it's said to be the Scot's finest work which is quite a claim in a nation so full of amazing mountain trails.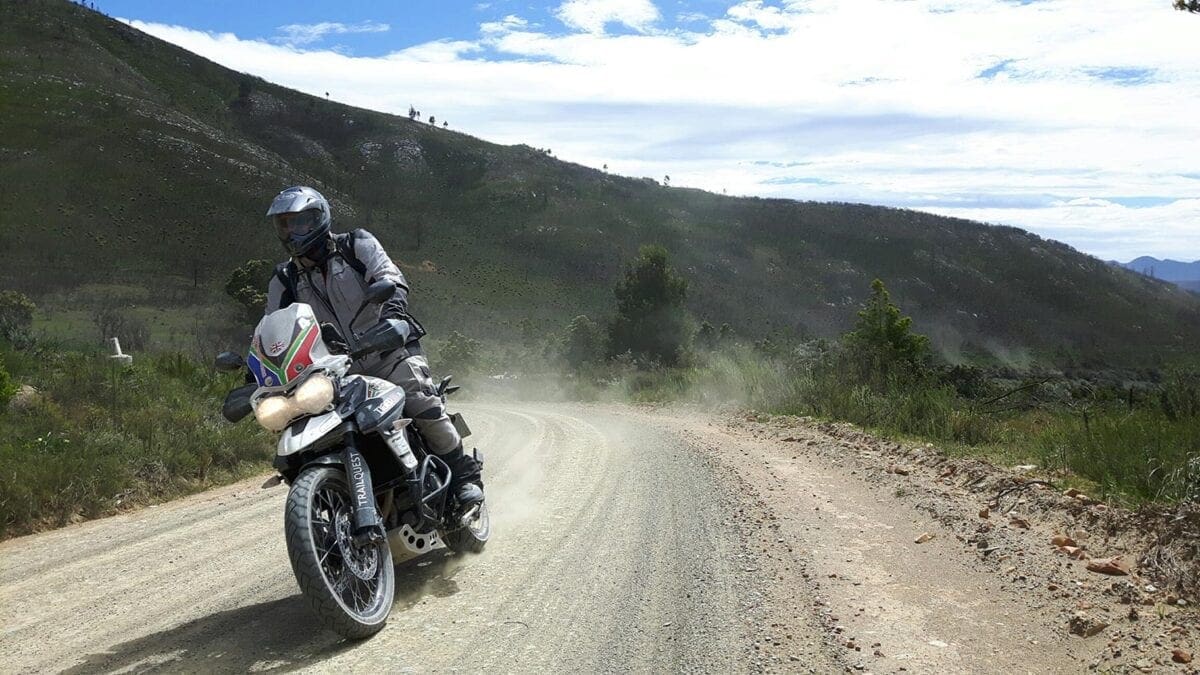 Having climbed high on a succession of flowing bends, the view from the top of the first mountain was ridiculously stunning and the ride seemed to get better with every metre travelled. I found myself stopping far too often to take pics of the ever changing terrain, which failed to stop climbing and dropping with every mountain it clung to. Most of the ride was sheer sided and one of our guys was beyond lucky to have escaped dropping over the edge when his bike's rear end came round on him and flung him down the road. Thankfully, he was alright and after munching lunch at Angie's the whole group was in high spirits.
Article continues below…
Advert
The rest of the trail was as varied and mesmerising as the first part of the route, with the end eventually coming as we neared Plettenberg. It felt strange to be back on tarmac again, which went to show how acclimatised we were becoming to the rough stuff. Thankfully, their wasn't much road work left to do, with the afternoon being consumed by a visit to an elephant park near Knysna. The experience was fantastic, with the opportunity being there to not only feed, but lead an elephant by its trunk on a short walk. Just like the day's ride, that's going to be a memory that will live with me for a long time.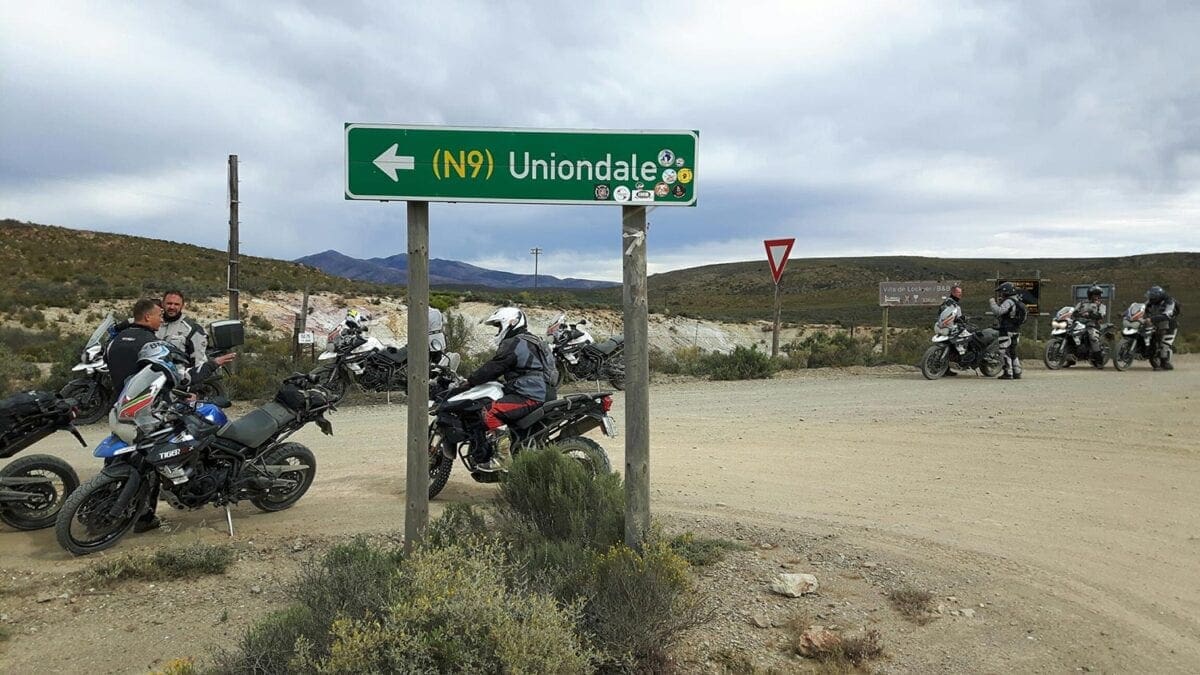 Motorcycle Sport & Leisure magazine is the original and best bike mag. Established in 1962, you can pick up a copy in all good newsagents & supermarkets, or online…
[su_button url="http://www.classicmagazines.co.uk/issue/MSL" target="blank" style="glass"]Buy a digital or print edition[/su_button] [su_button url="http://www.classicmagazines.co.uk/subscription/MSL/motorcycle-sport-leisure" target="blank" style="glass" background="#ef362d"]Subscribe to MSL[/su_button]
Article continues below…
Advert