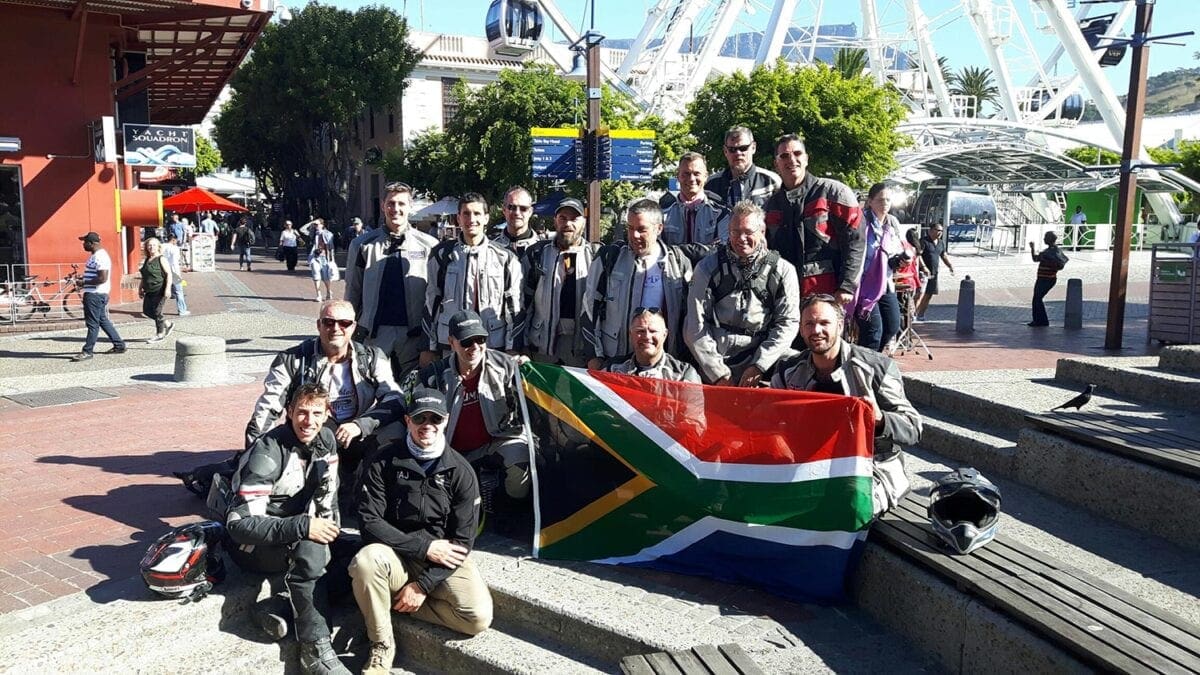 MSL's deputy editor Bruce Wilson has joined Trailquest and 11 other adventurers who'll be crossing South Africa on Triumph's Tiger 800. Each day we'll follow their story as they make their way 2000 miles from Johannesburg to Cape Town, ticking off some of the best routes and trails the nation has to offer.  
Today was our last day. Somehow or other we'd reached the end point of our adventure, with the final ride being a straightforward 300 kilometres into Cape Town. There was no more dirt, no more wilderness, no more 'where the hell' are we moments. For the first time in nine days, life bore a resemblance to convention as we straddled our bikes and took the coastal road towards Hermanus.
The land surrounding us looked European, with lush green pastures being farmed much the same as they are back home. Villages were plentiful and the roads we travelled were smooth and well maintained. I think we all had a desire to go 'off-piste' and ride the dirt trails we could see in the distance, but we had a schedule to stick to.
Hermanus is well known for its whale watching, as the enormous mammals migrate to the area's turquoise waters annually to give birth. Unfortunately, we didn't get to see any of the majestic animals, but took pleasure in watching the crashing waves brake against the rocky shore. Having spent so many days in arid, forgotten territory, the rich colours of the sea and the scent of the coast seemed mesmerising. We could have stayed all day, but there was riding to be done.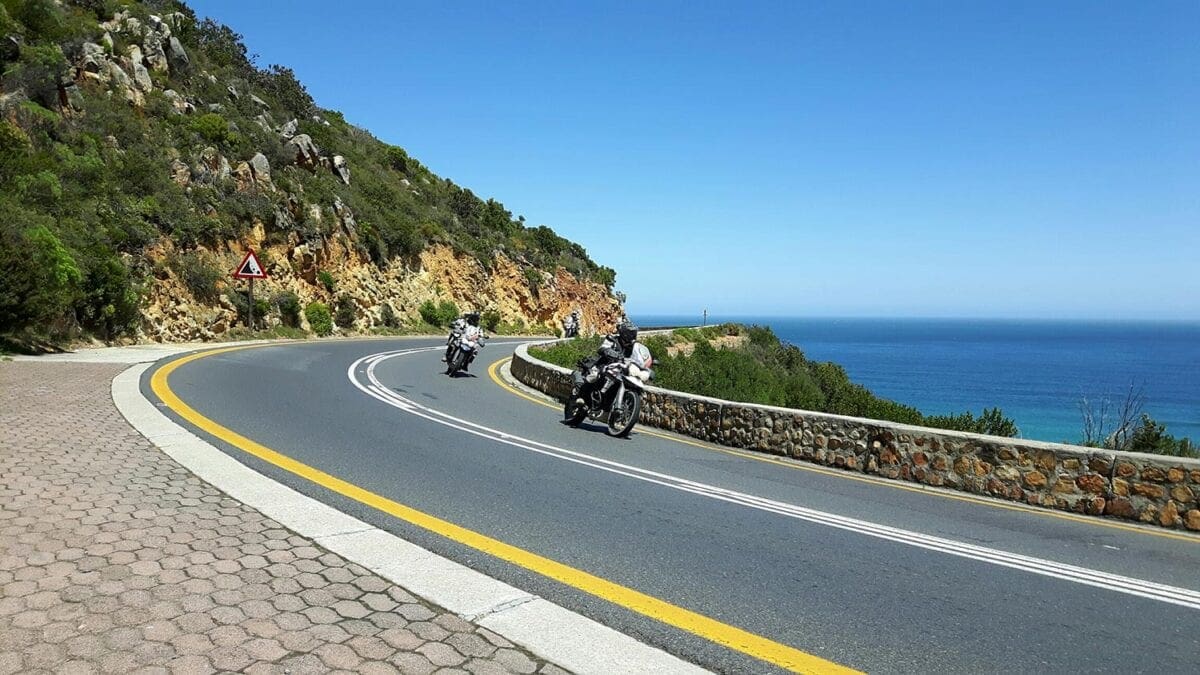 We hugged the coastline as much as possible, but mountains soon crossed our paths once more. We climbed up high before descending into Rooi-Els and picked up the stunning Clarence Drive route. The road proved as intoxicating to ride as it was to watch the ocean from. We eventually arrived in Gordons Bay for a quick lunch, before cracking on once more towards Cape Town.
Our bikes needed to be dropped off at the local Triumph dealership, but not until we'd headed over to the V&A Waterfront for a celebratory photo. Like any major city, Cape Town's roads were congested and confusing, but they were worth the effort to reach our end point. There were happy faces and handshakes all round as reality hit home to our group of adventurers that we'd 'made it'. The journey had been momentous, but so relentless that there'd often not been time to stop and reflect on all that we'd done, the places we'd been and the people we'd met.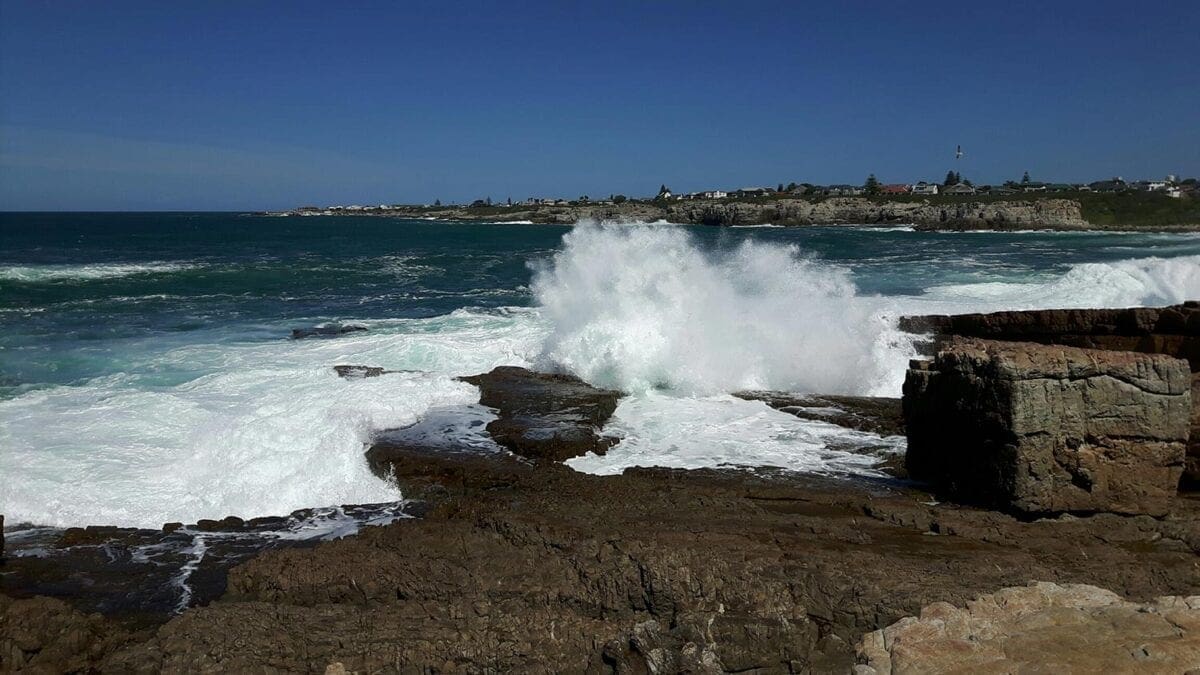 Those realisations now came flooding in, forcing a mixture of emotions into our group. The elation of reaching the finish line was numbed by the devastation of there being no more riding left. Well, apart from the small trip across town to drop our bikes off. Those last few miles were precious and vanished all too soon. For me, this had been an adventure of a lifetime. A chance to see a part of this world I didn't know had existed. A chance to face new challenges. A chance to make new friends and memories that will undoubtedly live on forever. Just like all those who'd been through the experience with me, I'd lived my dream and loved every moment of it.
Motorcycle Sport & Leisure magazine is the original and best bike mag. Established in 1962, you can pick up a copy in all good newsagents & supermarkets, or online…
Buy a digital or print edition  Subscribe to MSL

Enjoy more MSL reading in the monthly magazine.
Click here
to subscribe.