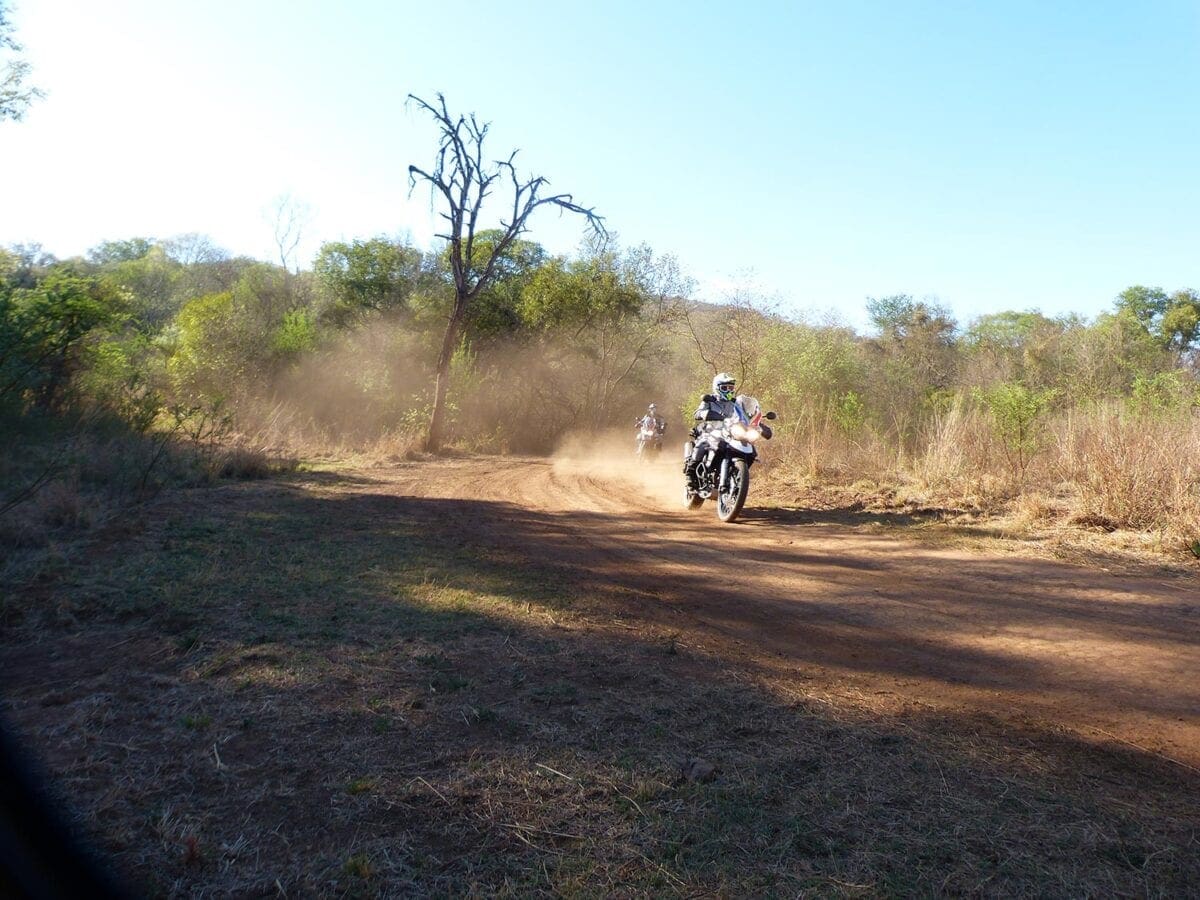 MSL's deputy editor Bruce Wilson has joined Trailquest and 11 other adventurers who'll be crossing South Africa on Triumph's Tiger 800. Each day we'll follow their story as they make their way 2000 miles from Johannesburg to Cape Town, ticking off some of the best routes and trails the nation has to offer.  
No one could have predicted our guide rider was going to crash and break his ankle, just like no one would have guessed a wild ostrich would jump out of nowhere and tag on mid-pack in our chain of bikes for two miles. I guess that's the reality of adventure bike riding, which has proven fantastically unimaginable so far on this trip.
Article continues below…
Advert
---
Enjoy everything MSL by reading the monthly magazine, Subscribe here.
---
Day two kicked off where things left off the night before; each of us nestled in our tented accommodation, shivering away in the freezing night air. For the majority of us, that much-desired sleep was hard to find, and a chorus of exotic sounding wild life from 4am onwards meant we were all a little flagging by the time our 6am alarms started ringing.
Today was set to be a huge day, with no less than 600 kilometres of road and trail waiting for us to tick off. We hit the road for 7am, and headed due south on a vast carriageway which was surrounded by huge expanses of grassland. This region was called Gauteng and it was best known for its gold mining and subsequent claim to bringing in around 40% of South Africa's wealth.
We passed quite a few mines on the road, along with quite a few exotic animals, like eland and kudu. As if that wasn't enough, we also got our first sight of baboons which sat lazily at the edge of the smooth surfaced road. As straight and boring as the route was, there was plenty to look at along the way.
Article continues below…
Advert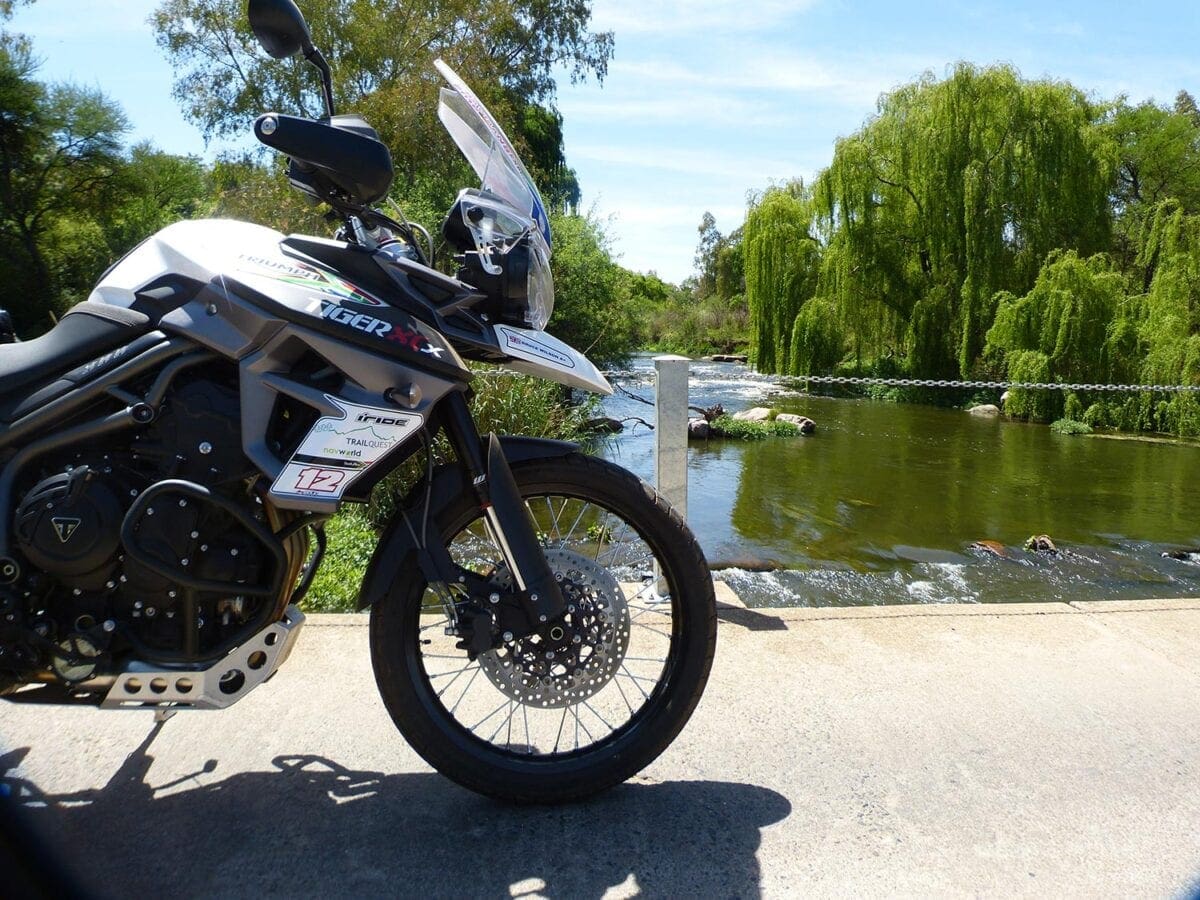 Eventually we reached a town called Parys, which had two major claims to fame; the sight of a 32km wide crater from a meteorite, and the Vaal river which marked the border of the Free State. It was here that we picked up our first dirt road. I've ridden a few before over the years, but this one was a particular beast, with several inches of deep sand littering the best part of the track's width. This is where we lost our guide, who got carted off to hospital and was told he'd broken his ankle, a metatarsal and picked up a dislocated collarbone. It hit the group as a stark reminder of the nature of our gig, which was proving really great fun, but pretty challenging for the group; especially the lesser experienced guys.
Having travelled on dirt for well over an hour, it felt like survival by the time we reached a tarmac road once more. It was a baptism of fire, which also cost us precious time as one of the bikes picked up a puncture that had to be fixed at a nearby garage. We were now behind schedule, so a tweaked route was initiated with Heilbron being our target for lunch. But to get there meant surviving the craziest of side winds, which caused us all to ride at an angle to head straight. As if this wasn't challenging enough, dust from the farmed fields was robbing us of visibility. And then there were the tornadoes. In every direction you could see huge plumes of soil reaching over one hundred metres into the sky and moving rapidly in all kinds of directions. These twisters were as common as pennies, but we were still pretty shocked when one cut straight across the road in front of us and carrying on in the field opposite.
Article continues below…
Advert
The afternoon saw the wind die down and the rolling plains morph gradually to a more rocky consistency. We were headed towards Lesotho – the mountain kingdom – and it quickly became obviously why it had picked up its name. The views were stunning and things only got better as the sun began to set over the rich brown towers of rock. As stunning as the sunset was, it also proved a nightmare for the majority of our group who were riding in dark visors. Fast forward another ten minutes and the night had kicked in properly, meaning we had to complete the last 15km of dirt trail using just the Tiger's headlights. It was an unnerving affair, but there was reason for celebration when we made it to our secluded game lodge where we were to spend the night. It had been every bit the long and tough day it'd been promised to be, which is also why it had been so enjoyable. The challenge had begun in earnest.
Motorcycle Sport & Leisure magazine is the original and best bike mag. Established in 1962, you can pick up a copy in all good newsagents & supermarkets, or online…
[su_button url="http://www.classicmagazines.co.uk/issue/MSL" target="blank" style="glass"]Buy a digital or print edition[/su_button] [su_button url="http://www.classicmagazines.co.uk/subscription/MSL/motorcycle-sport-leisure" target="blank" style="glass" background="#ef362d"]Subscribe to MSL[/su_button]