I've been using these lights for almost two and a half years now, and they're probably one of the best additions I have ever fitted to a motorcycle.
While new technology is bringing superb cornering headlight systems to many bikes, having more lamps certainly makes you more visible – friends have commented how much more noticeable the bike is with these fitted, and it's obvious when I see them reflected in vehicles ahead of me.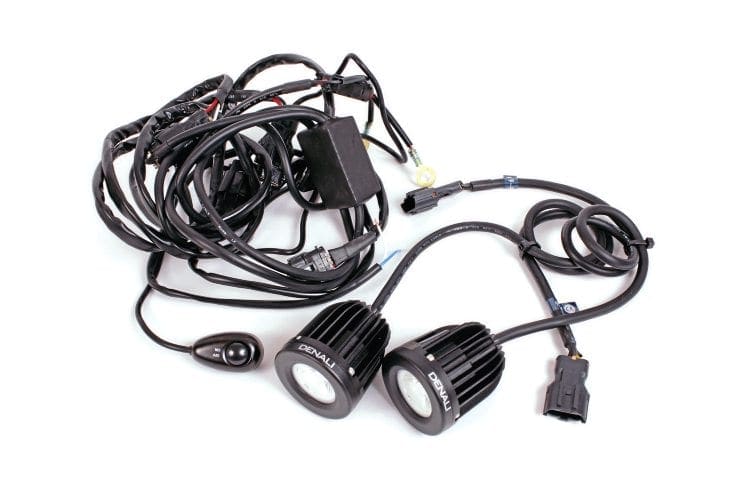 They're not cheap, but they're the top-of-the-range lights from Denali, and have proved to be extremely well made and reliable in all weathers. Single-intensity lamps start at £209.99, but on the Kawasaki Versys 650 I first used them on, I was thoroughly impressed with the way these would switch to full brightness as soon as I flicked to the bike's main beam. By tapping into the headlight wiring harness, the lights automatically switch to maximum intensity, adding an impressive spread of illumination.
It would of course be possible to have these at full brightness while the bike's running dipped beam, but this proved to be too much for drivers coming the other way. The reduced brightness not only draws extra attention to the bike, it fills many of the missed areas of the bike's beam, particularly between its brightest spot, and the front of the bike.
When I bought my KTM, I stripped these off the Kawasaki, before fitting to my new machine. I took power from my Rowe PDM60, tucking the Denali control box between the frame rails under the fuel tank. There are plenty of options for mounting, including many brackets, but I machined two small spaces that allowed the lights to tuck neatly under the front fairing for a factory-style finish.
I then tapped into the main-beam wire of the headlight to activate maximum intensity; it worked a treat. Until the bike was running…
As I rode the KTM, I noticed that when on main beam, the D2's would flicker slightly. I got in touch with the supplier, R&G, who immediately replaced the kit, but after stripping the bike and fitting the new parts, it was the same problem. The customer service couldn't have been better, but after talking to KTM, we realised what the problem was.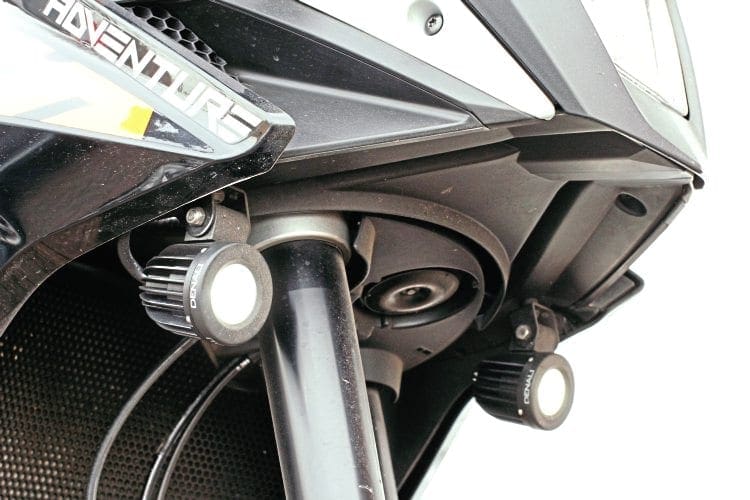 Controller Area Network, or CAN bus, is the bane of any home mechanic's life. It's found on many modern vehicles, allowing components to communicate with each other. Not only has it reduced the amount of wire needed in a loom, it's allowed the computer systems to add safety features, such as back-up lighting if a bulb fails, or recognising if a vital system has a problem.
KTM adventure bikes, the Superduke and the GT all transmit a signal from the cams, through the headlight's wiring loom. It was this data that was causing the electronic 'noise' in the Denali's switching circuit, though R&G tells me that they haven't experienced the flickering issue on the models they've tested, but have heard of another instance, so the problem seems inconsistent and rare. R&G has since worked closely with Denali to find a solution, and there's the possibility of a smoothing circuit coming soon, should it be needed. But there is another option; a three-position switch costing £34.99 includes the wiring parts to convert the D2s to an off, low and high-beam manual control. This is ideal for me, as I'm quite nervous of CAN bus. While I'm confident in working on vehicle wiring, I find CAN bus more frustrating than trying to diagnose a bad earth on a Mk1 Ford Escort. And if I got it wrong, it could be bad news for one of the bike's many ECUs.
Switching them manually isn't a problem, and if pointed down more, they don't tend to dazzle oncoming drivers, so there may be times want them on full with the bike on dip. It's likely an automatic solution will come very soon for installations that need it, but as mine was the first to flag an issue, it doesn't appear too common.
These Denalis are superb, and were a breeze to fit to the Versys 650. Things got tricky on my KTM, and while a single-intensity lamp wouldn't have been an issue, I still really like the two power levels of the D2s.

Enjoy more MSL reading in the monthly magazine.
Click here
to subscribe.