Tested by: John Milbank¦£835.32¦www.ktm.com/gb
Tested on my own 1050, this can is a direct replacement suitable for the 1050, 1090 and 1290 adventure bikes, made of stainless steel, with a titanium outer skin and carbon-fibre end-cap, as well as a carbon heel guard. It's beautifully made, and looks fantastic on the bike… as it should, at £835. But I'm not here to judge its price, which is subjective for anyone looking to personalise the individual style of their machine.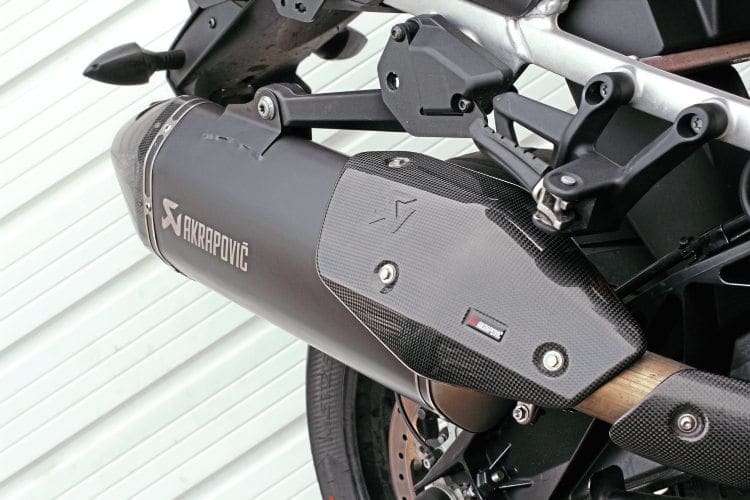 These days, with fuelling systems so efficient, not to mention homologation issues, exhaust tweaks mostly come down to style. This straight-through can saves 2.52kg over standard, but doesn't really add to the sound by any significance. It doesn't require any changes to the engine mapping, however.
Article continues below…
Advert
---
Enjoy everything MSL by reading the monthly magazine, Subscribe here.
---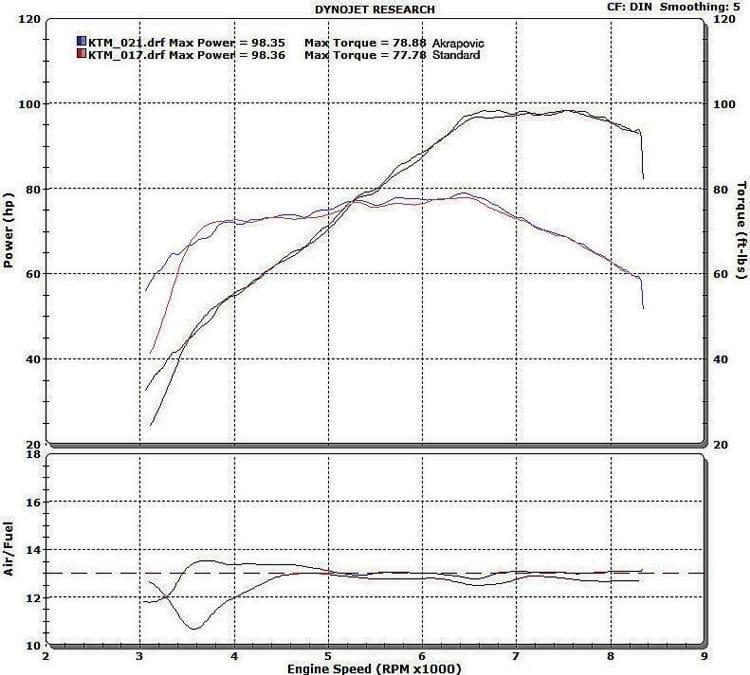 I recently tested an after-market exhaust for the KTM, which was cheaper, and weighed less, but actually lost a little power and torque. As you can see from the graph, this pipe matches the standard part so closely that the figures are irrelevant – Standard is 98.36bhp/77.78lb-ft and the Akrapovic (which is only available from KTM dealers) makes 98.35bhp/78.88lb-ft. Those initial figures are slightly down on the previous dyno test, but the atmospheric pressure was lower during this run. This can runs fractionally leaner than the standard (but don't expect to notice better economy!), putting it right on the money – a ratio of 13:1. It's easy to fit, though it's a shame it doesn't use the standard KTM Torx fasteners.
Ultimately, the pipe has to be viewed as nothing more than a cosmetic upgrade (though the standard part looks great anyway). Whether it's something you can afford is very personal, but it does look good…
Article continues below…
Advert