Avon says its new hypersport and touring tyre is good for up to 10,000 miles on a single set. But what's it like to ride on? We went to Portugal to find out…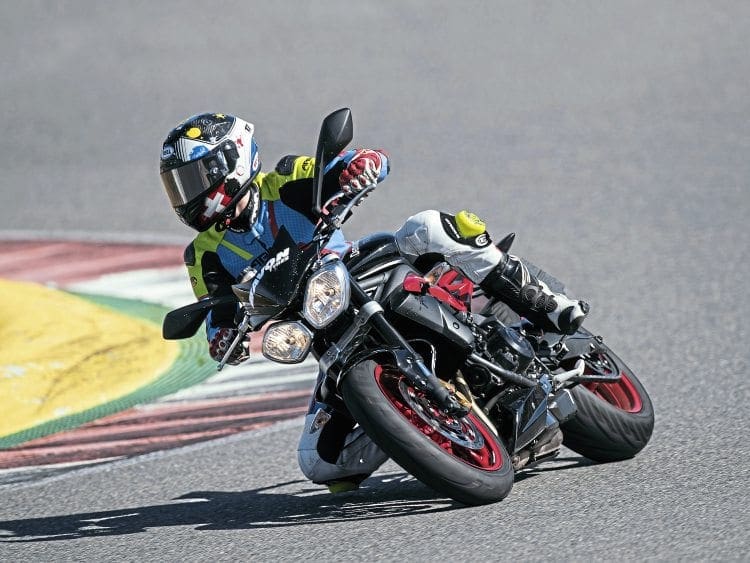 The new rubber is full of tech: the Advanced Tread Arc Combination, Enhanced Stability system and Lifetime Profile Engineering on the tyre work collectively to create consistent stability with stress distributed evenly throughout the carcass. This means that the varied tread profile can work to its full potential while keeping the tyre temperature down to give the maximum mileage possible. New 3D sipes offer a quick warm up time, and wet grip has been improved with a combination of Super Rich Silica and a clever tread pattern.
SO HOW DOES THE NEW TECH HOLD UP?
First up was testing the Spirit ST's wet weather braking performance – an aspect of the tyre which improved massively from the previous Storm 3D X-M. With a tread pattern looking like almost a solid wet weather tyre it was incredibly exciting to fire down the sprinkler-covered tarmac patch; cranking up to about 35mph on a big old Suzuki Bandit before jumping on the front brake as hard as possible with absolutely no trouble at all.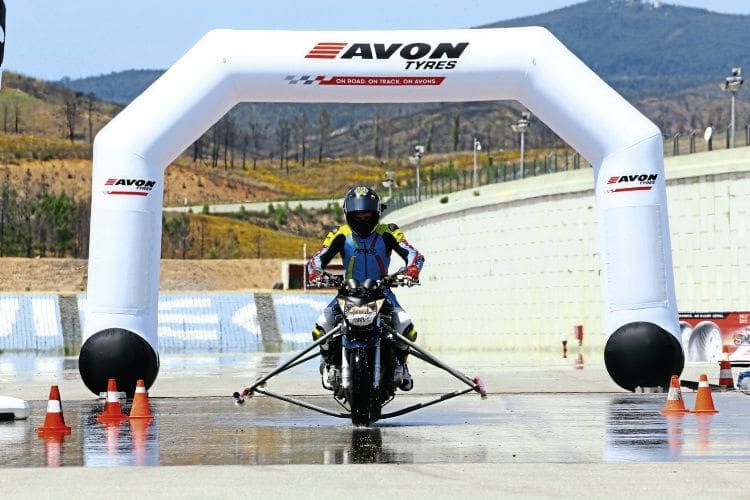 Those inverted grooves on the front tyre really do displace the water incredibly well, and no matter how hard you hit the brakes (even with an ancient ABS system), the Spirit STs give an incredible amount of confidence and grip – perhaps the best in their class. So in the little wet weather test they excel, but how do they hold up when ridden on in the dry?
After the wet test, it was time for road riding, starting with a Kawasaki Z1000SX. The tyres gain heat incredibly quickly thanks to the 3D sipes, but even after a while they aren't running too hot, which means that limited flex in the grooves really is doing an impeccable job as the temperatures climb up in the mid-20s. They also offer some pretty impressive stability both front and back as the Kawasaki eats up the massive bumps and challenging surfaces, with the Advanced Variable Belt Density truly delivering an impressively stable tyre footprint. This is incredibly impressive considering the longevity the Spirit STs offer. Even jumping on the Yamaha XSR900, the same predictability is matched with an impressive level of grip and no drama whatsoever on the brakes, mid corner and through corner exit.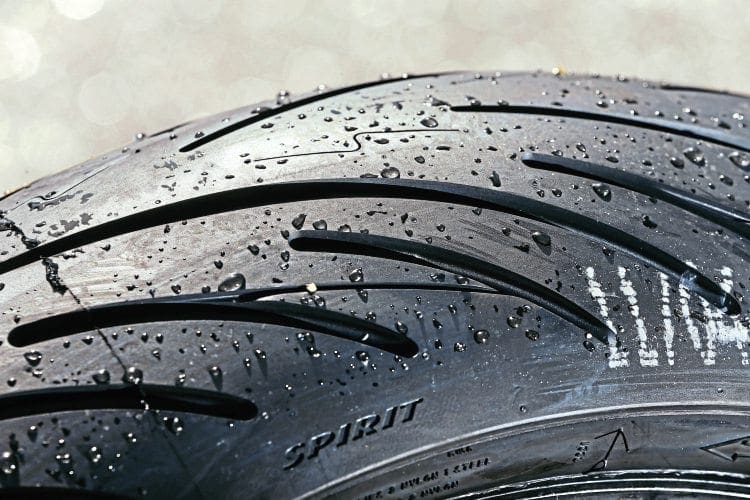 With the route now etched deep in my mind it was time to take things up a notch, which meant a quick buzz on the KTM 1290 Super Duke to see how well the Sprit STs could deal with some real hypersport. In all honestly they weren't too shabby in the slightest; this is where the Reactive Footprint really does earn its stripes, as you can feel the enlarged contact patch squirm under the KTM's monstrous amounts of torque. As you start to pull the pin the Spirit STs deal adequately under a moderately fast road pace, which is a real necessity for the market they're aimed at. But what happens when you open up the taps that little bit more?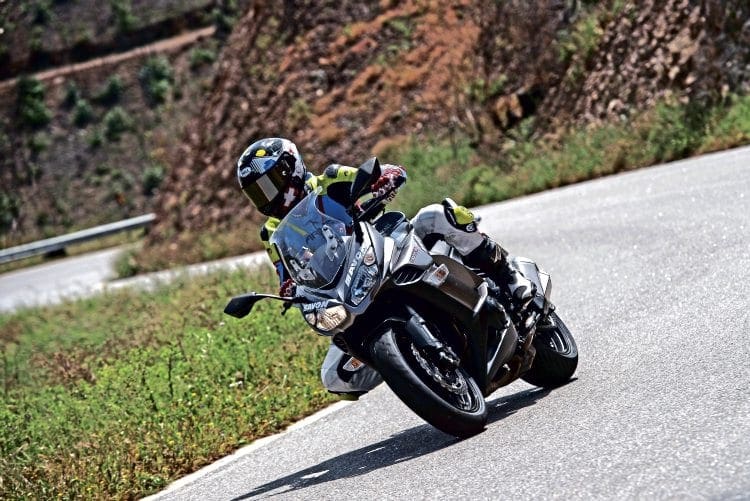 For that, we had the World Superbike spec track of Portimao to play on. Given basically an open pitlane and three hours of tyre shredding antics it was going to be a real test of longevity and character – especially as the air temperature was hot enough to leave me with a bright red skin tone. Easing into proceedings it was Triumph's Street Triple that gave me my first taste of the Spirit STs' capabilities while learning the incredibly technical circuit and its undulations. Even when the track temperature is hot the tyres radiate heat quickly, meaning you really can start pushing on rather rapidly, and they handle the Street Triple with ease. As confidence spiralled it was time to give the Spirit STs some welly, and it really didn't take long to find their limits; especially on the bigger bikes like the Super Duke and Z1000SX. With the traction control disabled (it's only fair on a tyre launch!) you really do get a feel for the rear, which does tend to break traction fairly easily when ploughed with heaps of power, while the front does seem to feel quite stiff when you have some good brakes pumping on the pressure.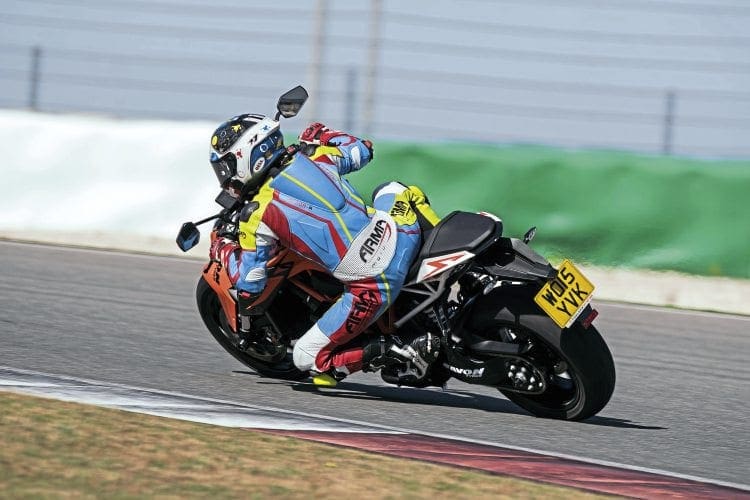 Even with the softer compounds on the edge the Spirit STs don't offer monumental amounts of feedback, but when you take into account the fact that they're a touring tyre they do a pretty good job nonetheless. Think of them as a tyre you could ride to a trackday and have a trait in the intermediate group with, but on a proper high performance bike it might be a bit of a stretch on a quick track ride.
It's not fair to completely judge the Spirit ST so harshly on track though, and as the range of bikes suggests it isn't a tyre aimed for track use – but it's capable of running some solid speed, for a bucket load of miles in every condition. For that the Spirit ST does an incredible job; for wet feel, longevity and value for money (they should come in under £270 a set) they are a solid option for sporty touring.
Sizes available
FRONT:
110/70ZR17
100/90ZR18
110/80ZR18
110/80R19
120/60ZR17
120/70ZR17
120/70ZR18
120/70ZR19
REAR:
150/70ZR17
150/80ZR16
160/60ZR17
160/60ZR17
160/70ZR17
170/60ZR17
180/55ZR17
190/50ZR17
190/55ZR17
200/50ZR17
200/55ZR17
Contact: avon-tyres.co.uk
Words: Carl Stevens
Photography: Avon