How to survive riding the roads of Vietnam… on a Honda Blade.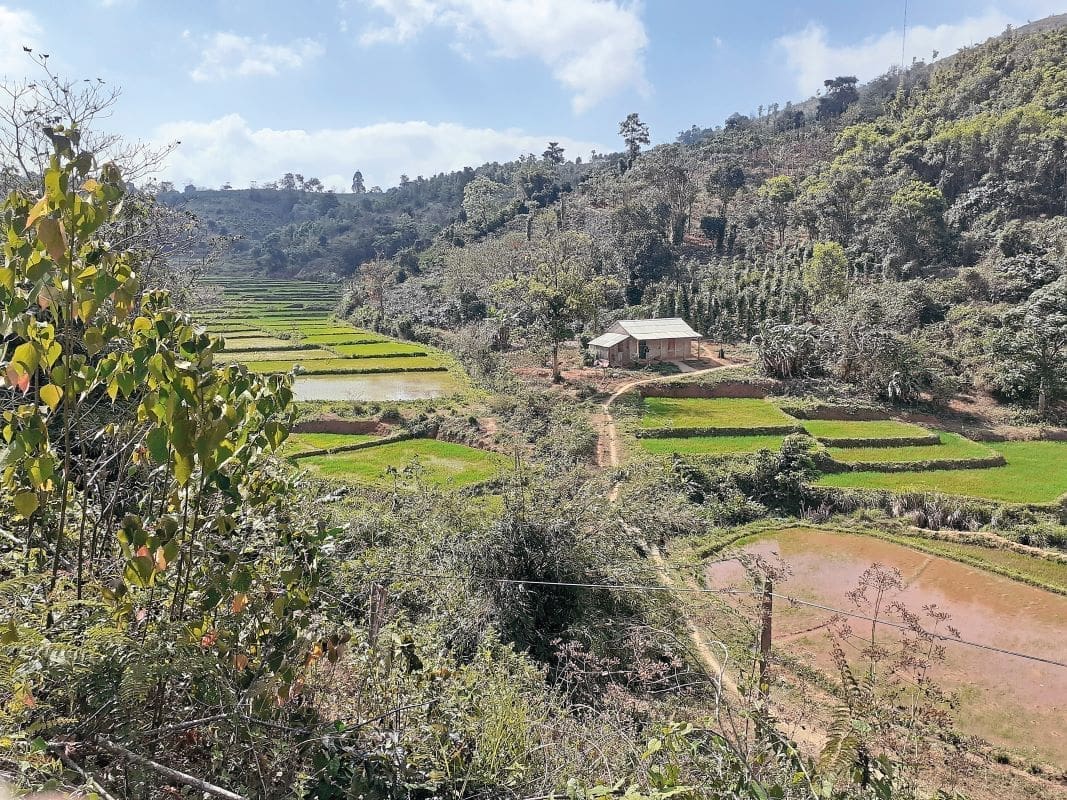 WORDS & PHOTOGRAPHY: Phil Wilkins
Some time ago, Dave Little, a friend of mine and fellow member of the Cornwall Sports Car Club, went to live in Vietnam with his Vietnamese girlfriend, Hang. Not long afterwards they invited me to visit them for a holiday of a lifetime, which turned out to be something of an understatement. I decided to go at the end of January when there's least rainfall and lower temperatures, but it would still be in the mid-30s. This hit home when I arrived at 6.15am after a 12-hour direct flight – now I know what it's like for a turkey on Christmas morning going into the oven!
Dave and Hang live in the coastal town of Vung Tau, about 60 miles south of Ho Chi Minh City.
Hang has two bikes, and she kindly lent me her 'Honda Blade' for the trip which Dave and I would make northwards through the country. Now this wasn't a Fireblade, but what my daughters call a chicken chaser. It was a 110cc semi-automatic scooter, but don't be fooled by the paper spec because it's a plucky little bike, and no wonder there are so many millions of the type registered there. All these Vietnamese scooters carry unbelievable loads and I saw as many as five people on one machine. You can hire bikes from firms like Figgit, which is based in Ho Chi Minh City, and Hanoi, with prices to suit all pockets. The company offers pick-up and drop-off, which is handy if you are tight on time.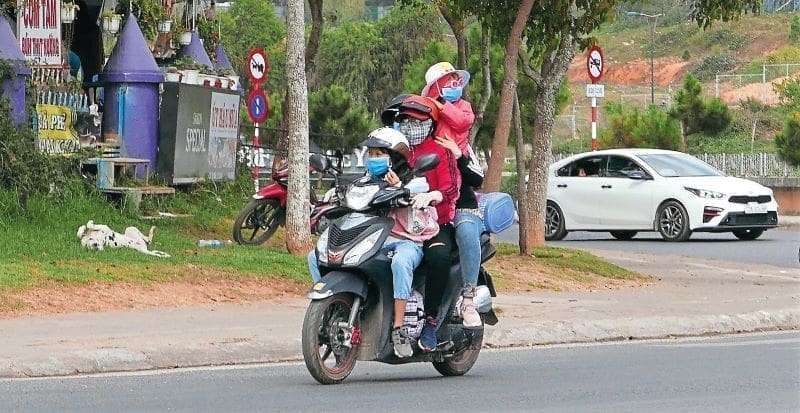 Free For All
There's one rule on the roads of Vietnam – there are no rules! Traffic is manic; those coming from the right have right of way so in theory you don't even need to look when joining a road. Two-wheelers come at you from the opposite direction, even on dual-carriageways, They will undertake you, cross in front and cut you up without any thought, yet amazingly it all seems to work! You'll often find livestock on the roads, including water buffalo, and as if that wasn't enough there can be landslides too.
There is the incessant sound of horns. Lorries, coaches and other bikes let you know of their intentions this way. It's not aggressively aimed at you, and I have to say it proved invaluable on a couple occasions. Solid white lines down the middle of the road count for nothing, and overtaking on blind bends is common, although all apparently acceptable as the Vietnamese way.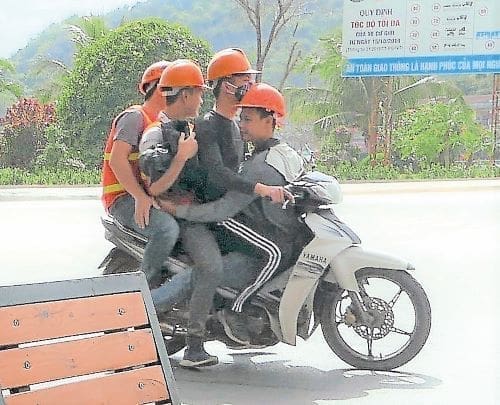 The result of all this is that after riding for a few hours you are shattered. It comes from concentrating all of the time, watching all angles. The funny thing was, I loved every minute, even riding in cities like Hanoi and Da Lat.
Mind you, traffic is hellishly heavy in the urban areas. Dave and I rode through Haiphong to Cat Ba, which took seven hours rather than the expected four, because of city traffic. Despite all of this, not once did I see anyone giving rude hand gestures, swear or sound a horn aggressively. If you are thinking of riding in Vietnam, do not be put off, as you very soon get used to the manic traffic.
One of my main problems was finding myself looking for the clutch lever on the Blade, but of course there is no such thing because it's a semi-auto with a centrifugal clutch! I got used to it though, only to find that I kept stalling my Honda CB500X once back home – forgot about the clutch…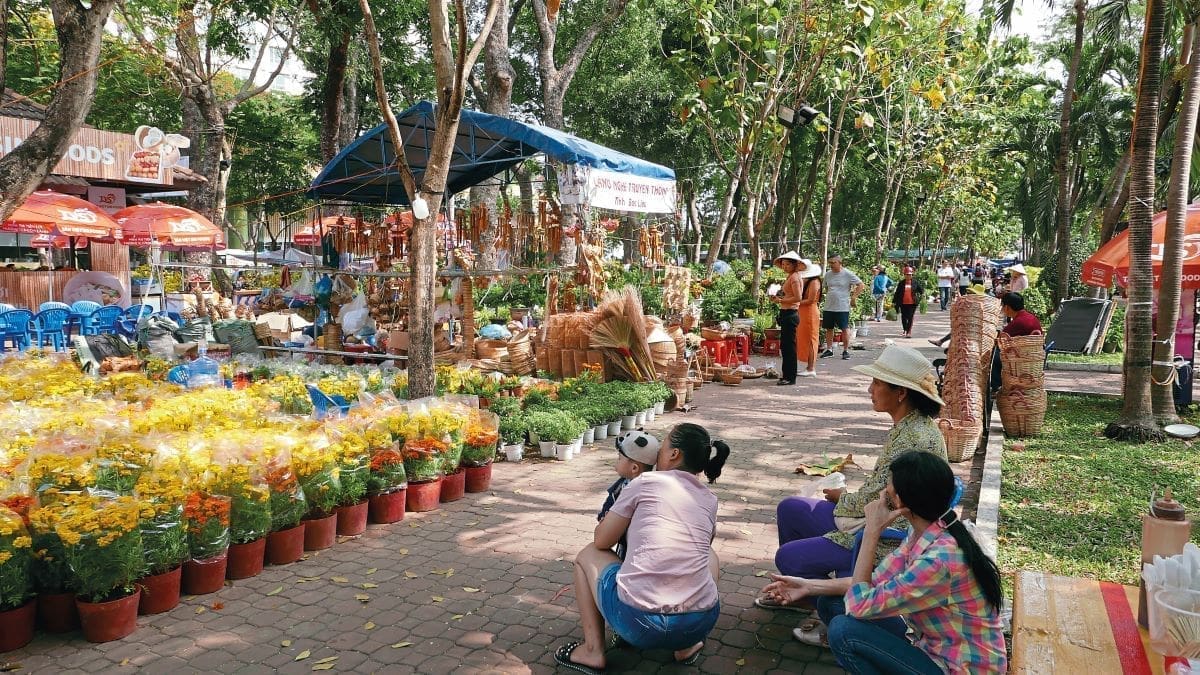 Roadside Wildlife
We chose to ride minor roads like the QL55, staying off main routes as much as possible. You get to see more of the real Vietnam this way, and besides that, the national speed limit for bikes is just 60km/h (about 36mph), and they're not allowed on the equivalent of our motorways, so it's not worth seeking big roads for more speed.
Happily, the minor roads are sublime, with ribbons of the black stuff passing through villages, beautiful coastal areas, offering seamless bends winding around spectacular mountains and valleys guaranteeing awesome scenery – photographs do not do justice to this amazing country.
It's not always that idyllic of course, as there are some potholes and rough bits. Meanwhile, the frequent twisties can be a challenge. Some of the bends have white lines as a warning, more severe twists have mirrors to show oncoming traffic, and the really serious black spots have an flashing amber light, so take heed. Dave told me that on one piece of road Hang was praying: "No want die." Nor can I forget the prophetic sign at a restaurant in Cat Ba: 'Life begins at the end of your comfort zone.'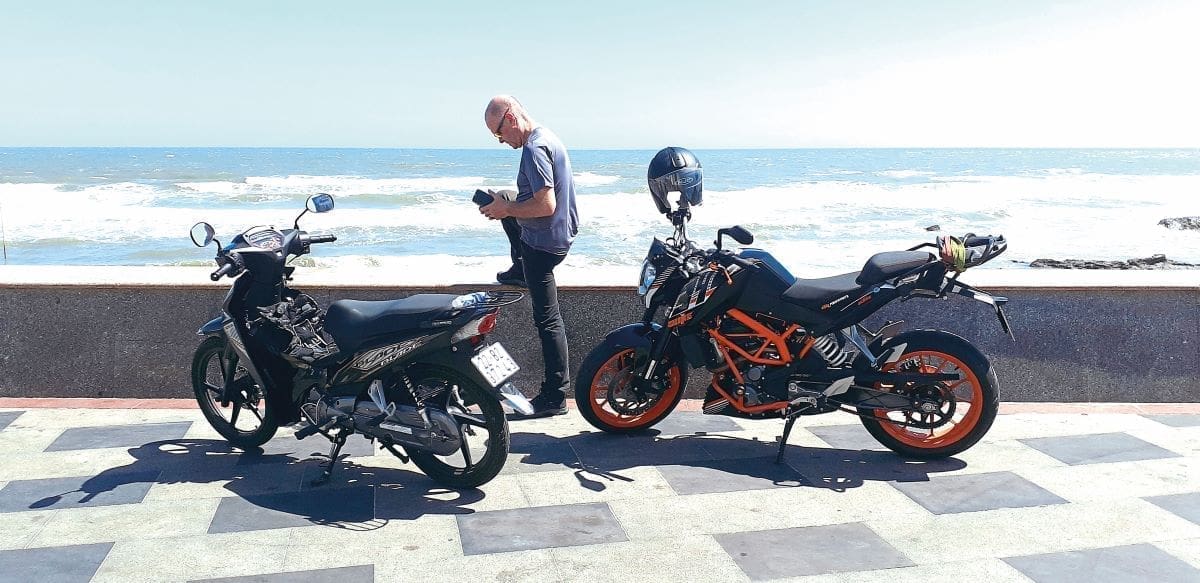 We rode during daylight hours, which are roughly 6am to 6pm and don't vary more than by 20 minutes throughout the year. Some of the countryside is still jungle or dense forest, and we once saw a group of Red Shanked Douc Langur monkeys, not behind fences but climbing freely beside the road. As we headed north (which we did for six weeks of my nine-week stay) it got steadily chillier, to the extent that I needed a fleece. The good news was that fuel still cost about half as much as in the UK, and there are plenty of filling stations. The only exception is on the Ho Chi Minh Trail, when tackling that I filled a two-litre water bottle with fuel, just in case. Otherwise, the Blade's fuel tank has a range of 80 miles, which is plenty.
The little used HCMinh Trail was one of my favourite roads in Vietnam, along with the Hai Van Pass and the roads around Sa Pa to the north, which feature the highest road in Vietnam, QL4D over Tram Ton Pass at 1995m, about 120 miles south of the Chinese border.
Some shops, cafes and businesses stretch right up to the road edge, sometimes with rice, sweetcorn, coffee beans or other produce drying on the Tarmac. With temperatures in the mid 30s, the piping hot Tarmac is perfect for the purpose, so why wouldn't you! The other thing to be aware of is that coaches are liable to pick up and drop off passengers and parcels at the oddest places without warning – if heading out into the countryside, be aware of that.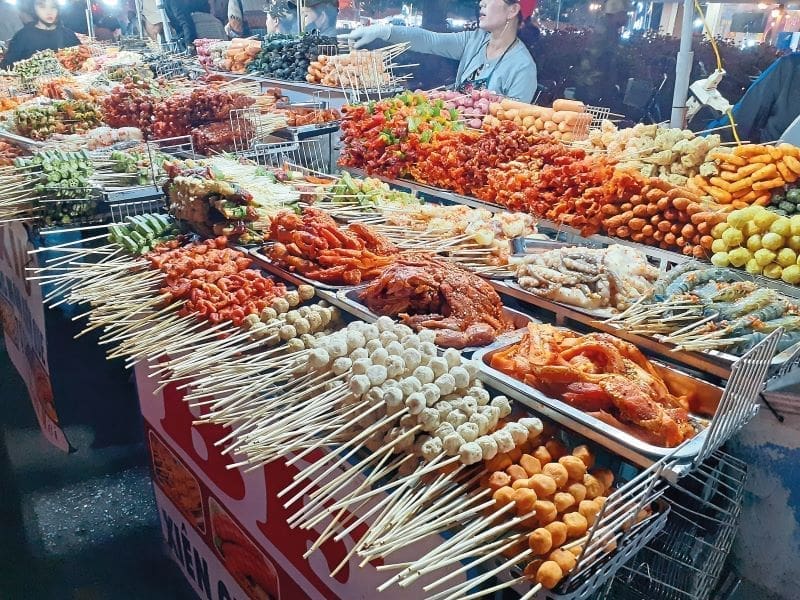 Small & Tough
Vietnam has plenty of 'must sees' as well as the HCMinh Trail. The Vietnamese New Year and its manic traffic have to be seen to be believed. There is Ho Chi Minh's mausoleum and war museum in Hanoi; the Cidatel at Hue; Hoi An and its lanterns; the massive Paradise Cave at Dong Thien Duong; and the war tunnels at Vinh Moc. Travel to Cat Ba Island or into Ha Long and Lan Ha Bay by boat. And the terraced paddy fields in the Sa Pa area are just stunning.
As for the people, they are fantastic, happy with their lot, though poor. Their wages are pitiful – teachers earn about £300 per month – and there are no social services so no work, no pay, no eat, period! But they share whatever little they have, and the staff in shops, cafes and hotels are only too happy to provide good service.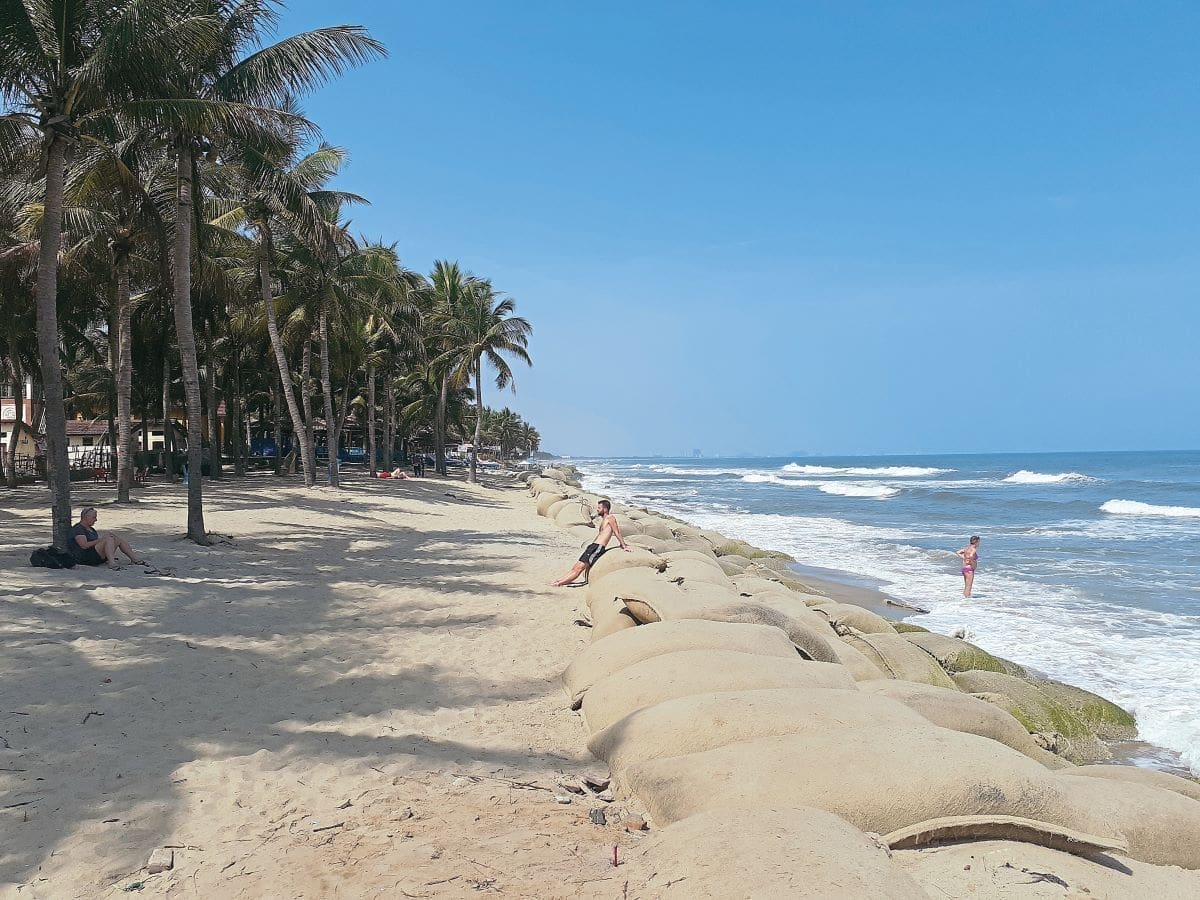 The women are the real workers, while the men enjoying chatting, smoking and playing cards with their mates. I saw women turning up at building sites at 7am to start mixing concrete, by hand in many cases. They work all daylight hours on the land, especially in the rice paddies.They are beautiful and petite, and I don't believe the word obesity exists in the Vietnamese language. But don't be fooled, I saw one woman in her mid-40s, about five-foot tall, walking two huge water buffalo to new pasture, carrying a machete. She cut some bamboo, made a stake, banged it into the ground and tethered the beasts. Hang used to ride buffalo on the family rice farm when ploughing as a young girl.
You soon learn that bamboo, that versatile plant, is central to Vietnamese life. They use it for scaffolding; weave it into beautiful baskets for transporting livestock and fruit; for fishing rods; a building material; and tooth picks. I even saw a couple of young lads walking on homemade bamboo stilts.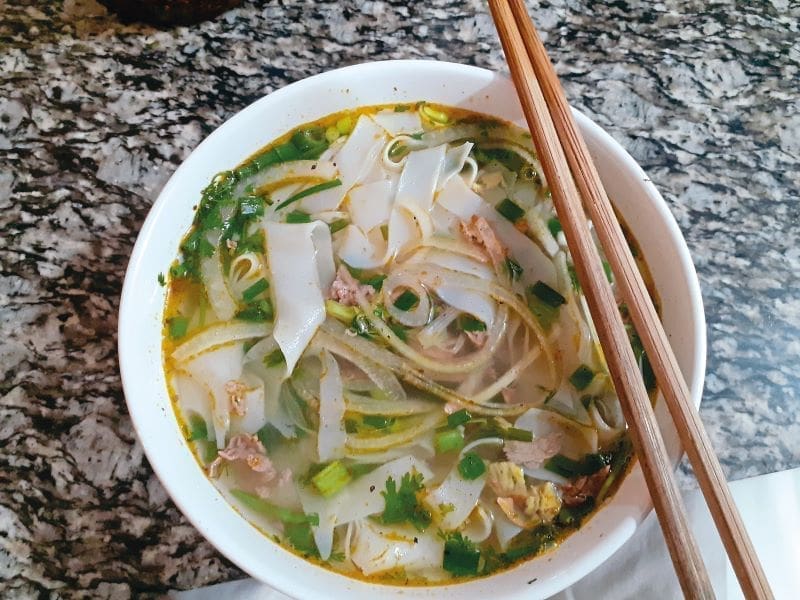 The amazing climate is certainly conducive to plant life, and they can grow virtually anything here. Banana and coconut trees are everywhere and consequently the fruit is very cheap – a carrier bag full of bananas costs about 30p. There are oranges and grapefruit with green skins, pineapples, papaya, dragon fruit, melons and all manner of vegetables. Plus coffee, tea and rubber plants. A lot of the produce can be bought from roadside stalls, picked that morning only yards from the stall and consequently very juicy and better tasting than at home. The peanuts are fantastic, with a milky taste to them.
The Vietnamese diet can spring some surprises though. The people will eat anything with legs (except a table) and anything with wings (except an aeroplane) so be warned if looking at market and roadside stalls! Meals are cheap, and the three of us would eat out in the evening for about £25, including drinks. Hotels are excellent value too, with a four-star costing around £30 for a room, while the 15-minute taxi ride from our hotel to Hoi An's waterfront was £1.50, but use a reputable firm.
So yes, visiting Vietnam was the trip of a lifetime, taking in a ride of over 2300 miles on Hang's faithful Honda Blade. Huge thanks go to her and to Dave for being my hosts. If you're planning to visit the country, do it sooner rather than later, as there's a lot of redevelopment going on, especially by the coast. But hey, Vietnam has had a wretched recent history and this is its chance to cash in on the tourism boom. Travelling – it leaves you speechless, then turns you into a storyteller.