Man takes faithful Bulldog to the west coast of Ireland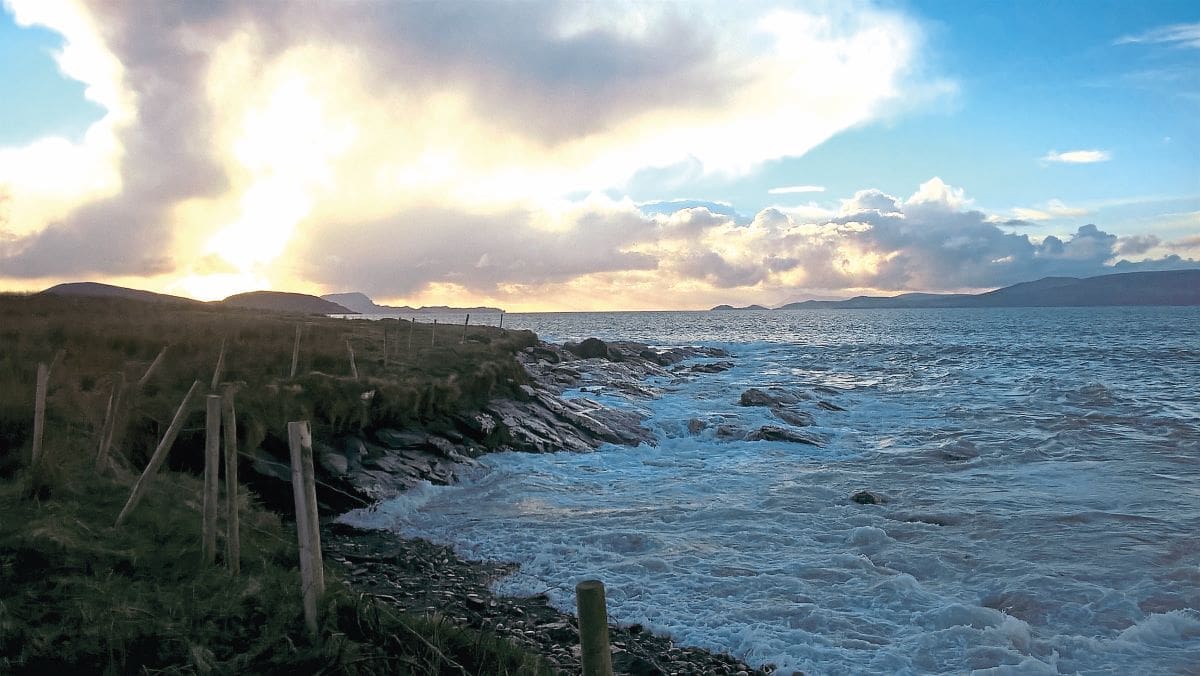 WORDS & PHOTOGRAPHY: Eddy Smyth
It was a cold, crisp morning early April as I set off for the Holyhead ferry at first light. The bike pulled away like a puppy (well, it is a Bulldog) heading excitedly for its morning walk. The roads were clear and I stopped an hour later in Llangollen to stretch my legs. Less than 10 minutes on I was back in the saddle and zipping along the A5 through villages that were just waking up on this Saturday morning. Eventually snow-covered Snowden came into view.
Weaving left, right, up and down, like Postman Pat on his rounds, I ghosted through villages and passed lakes and streams until the A5 became the A55. Then I had the icy crosswind blast that happens every day of the year when traversing Anglesey. At least here you can open the throttle for longer periods and by 9:45am I was parking the bike against a Holyhead kerb, right outside a greasy spoon.
Several older chaps nodded a welcome and then carried on speaking amongst themselves in Welsh. I was already on foreign soil. Then it was on to the ferry for a millpond crossing to Dublin.
Leaving port on the other side of the Irish Sea I rode directly into sunlight, my satnav telling me I had 300km to go to my final destination of the day. Dublin has more traffic lights than pubs and more traffic than tarmac – I could not get out of there quick enough.
Once away from the city the journey reverted to type. I was back on empty roads and through long-forgotten villages as I headed towards the west coast. And I loved every mile, despite the fact that for the rest of the afternoon the weather went through its full portfolio of adverse conditions in random spats. Hailstorms, snow, high winds, driving rain and blinding sunshine all mingled with freezing conditions. I questioned my sanity several times in attempting to enjoy Ireland so early in the year. It's not that I don't know about unpredictable weather in April – I lived in Scotland for 20 years, so no excuses.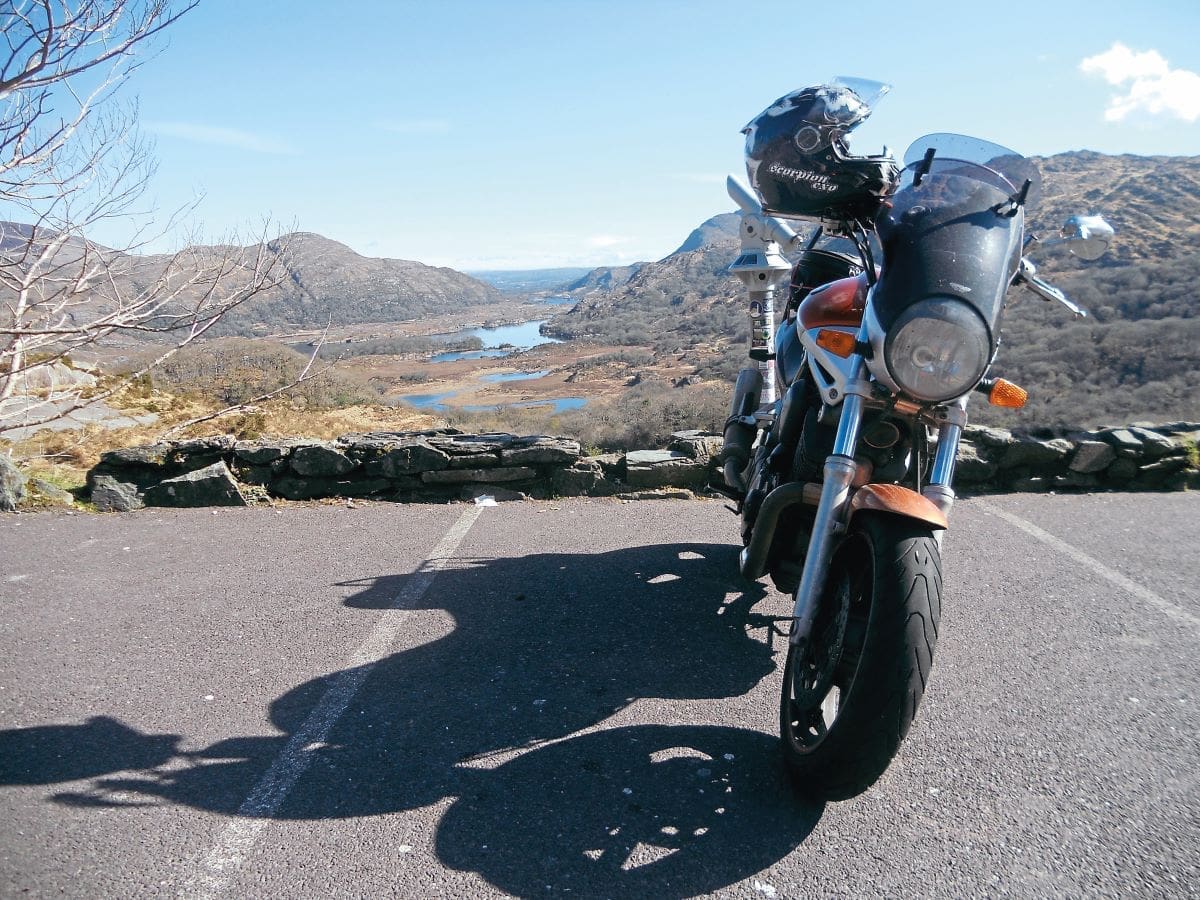 Coast Hugging
I stopped at Termonbarry for coffee and to scrape the hailstones off my visor before a clear run all the way to Westport and beyond. Westport is a bustling, back-in-time town with a petrol station in the high street where the pumps sit on the kerbside, pedestrians threading either side of the pumps as the cars filled up.
Leaving Westport, I dropped down into the Quayside road which took me along the water's edge towards Murrisk and then Kilsallagh, my target for the first night. The B&B was just perfect. Home-made scones and a choice of teas awaited me in the sitting room while the foaming sea was but a short walk across the meadow. I had a well-earned Guinness (which does taste better in Ireland) in a bar in Murrisk while a couple of musicians rattled off a few diddly dee numbers for the pleasure of patrons. All in all, a great way to end the day.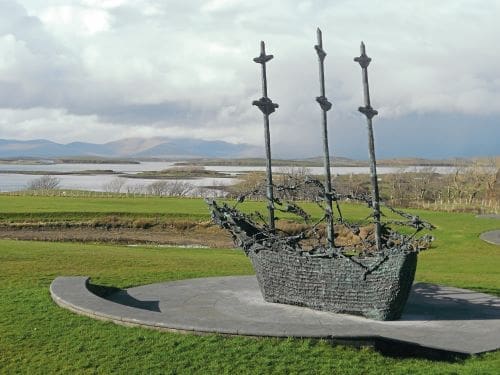 Next day, I had a choice of routes south. The weather was a bit unpredictable again so I avoided the coast-hugging option and instead elected to cut across the hills to Leenaun and Maam Cross to Galway and then around the bay to Ballyvaughan in County Claire. It's about 90 miles, including distractions, and there are plenty of those to slow you down. This is a fabulous route of lonely roads that weave between barren hills, rivers, loughs and waterfalls, with several attractive villages to stop off for coffee and snacks. One came up just as the heavens opened, and its open fire and cosy bar were tempting enough to stay until mid-summer. Traffic was being diverted from Maum due to high winds terrorising the mountain route I had hoped to cross, but it was no less fun to ride on this new route to Cong and then down the R334 to Galway, a great road for bikers.
Ignoring signs directing me to the centre of Galway and its famed narrow streets, I decided to carry on to the overnight stop in case the rain persisted. Wouldn't you know it, the heavens closed again as soon as I reached Kilcolgen and turned right on to the N67. Still, once you pass Dunguaire Castle in Kinvarra the road becomes biker's heaven – dry stone walls you can see over, a couple of hairpin bends to keep your concentration sharp and as many bends as your brakes can handle. Elated, I rode into Ballyvaughan, another great place to stop, not least for the ice cream parlour, whiskey bar and fish restaurant… not to mention the coastal ambience and the fact that it's very beautiful.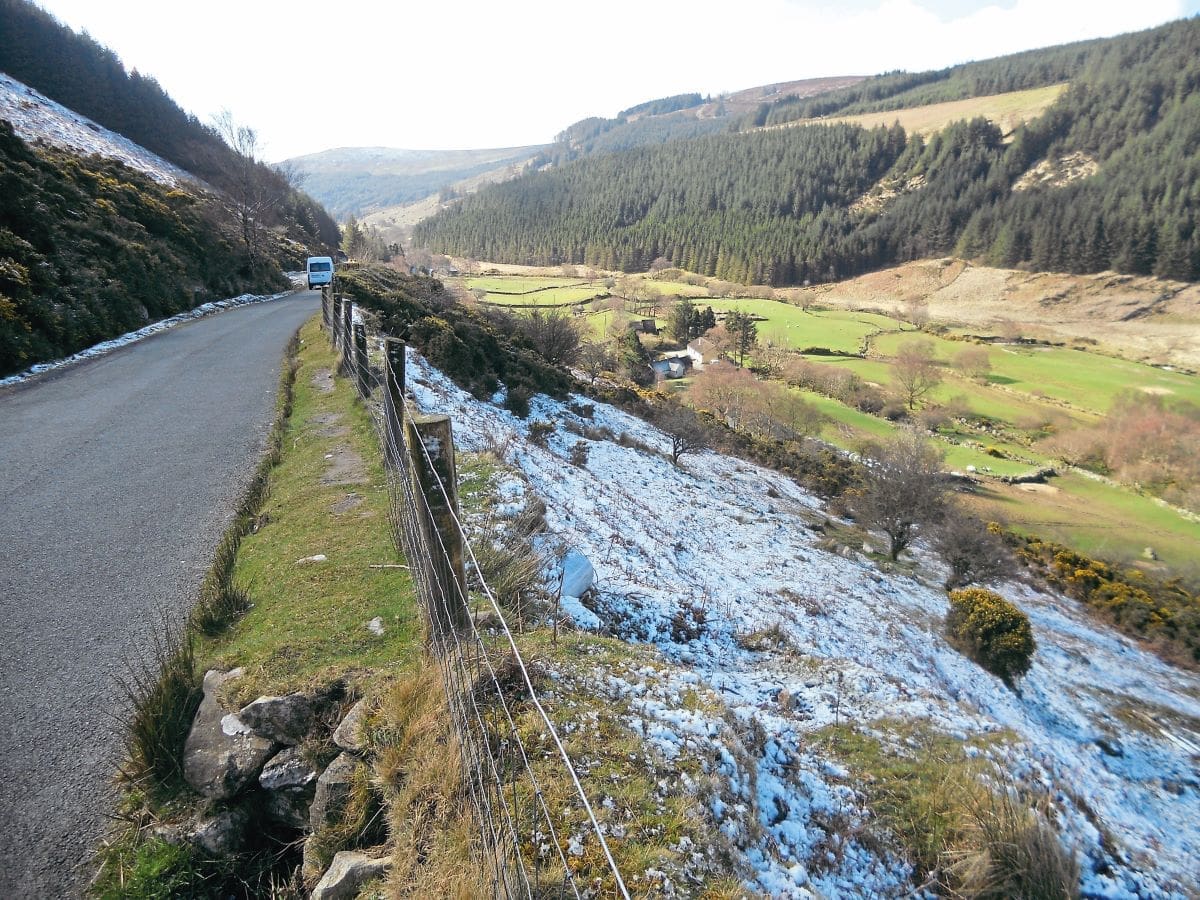 It was raining again as I set off late the next morning for Lisdoonvarna, taking the coastal route to Killimer and the ferry that crosses the Shannon to Tarbert and onwards to Killarney. The rain stopped shortly after I left Ballyvaughan and from there on I had a perfect day. The roads were devoid of traffic for the most part, the towns were lovely, while the Atlantic Ocean twinkled brightly in the sporadic sunshine. The ferry crossing takes 40 minutes and once back on dry land the bike sped off for Killarney.
I stayed here a few days with Denis, a friend who runs a motorcycle hire business and a website full of touring information (www.roadtrooper.com). We spent the time riding the roads around and across the numerous peninsulas in what is indisputably the most beautiful and remote part of Ireland's coast.
One of our best days was the Beara Peninsula. We rode out in mild sunshine, skirting Lough Leane, through Muck Ross and up towards the crest of Moll's Gap and our first stop. The road up to this spot is an Italian Alpine pass in miniature, and I can't wait to try it going down. We rode on to Kenmare and over the bridge on the N71 to Glengarriff. The road was quiet, mildly twisty and narrow, but still had a few passing places to allow smoother progress.
About halfway along this 20-mile stretch we took a left along one of those narrow, unmarked roads that can't decide whether it counts as a farm track or off-roading, with grass and gravel strewn down the middle. Blind bends, pot holes the size of golf course bunkers (lift your bottom out of the seat sharpish) and humps in proportion.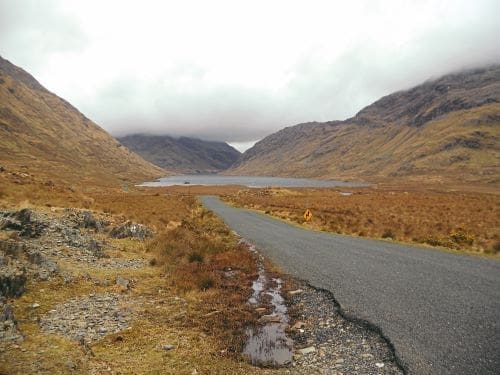 We crunched along, standing on the pegs at times and even grass-tracked a little into a wide valley surrounded by hills, with no signs of habitation unless you really looked hard. Then we stopped, parked up and took a walk up a sheep track to a circle of standing stones with a depression in the middle – Neolithic foot spa? In the far distance a waterfall tumbled down the mountainside, but it was too far to walk there in bike boots.
We had covered barely 40 miles that morning, so pushed on, back to the N71 and Cork territory to Adrigole, which meant taking the R572. We turned right at this point, cleaving our path across the Caha Mountains with nothing but hairpins and scenery all around us until we reached Lauragh and left towards Collorus. Somewhere around Travara Bridge we took a break to soak up the stunning coastal views. The sun was blazing and the sky and sea could not have been more blue if they had been photoshopped.
This was part of the Wild Atlantic Way, all high cliffs, craggy edges and short, nippy straights to keep us entertained, smiling and focused. Back around the bottom end of the Beara Peninsula and back up the R572 to Castltownbere, then inland, over the Caha Mountains and back to Moll's Gap.
Final Dram
A couple of days later it was time to head back towards Dublin, a journey eased by good roads, light traffic and kinder weather. After coffee at The Thyme and Thatch café in Kildorerry (could have been in Cornwall, not County Cork) it was a pleasure all the way to Glenmacnass. I rejigged my route at Carlow on the M9 to cut across country to Tullow on the N80 and then a winding country road north east. It was a good choice as the road was clear and the scenery and undulations more entertaining than blasting for another 20-odd miles up a motorway. On the junction of the N81 at Hollywood I turned right on to the R758 across the moorland to Glendalough.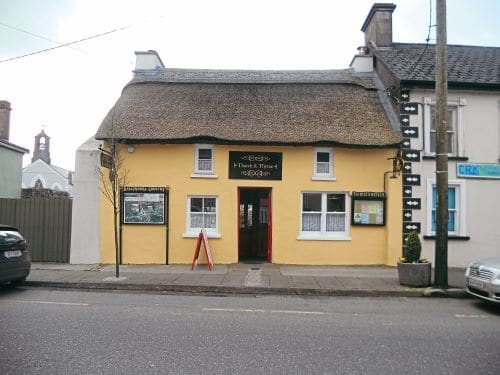 From there it was a short hop up the road to The Mountain View guest house at Glenmacnass, followed by supper in the pub back down in Glendalough and my final whiskey of the trip.
I departed the guest house with firm handshakes from proprietor Shay and his smashing hospitality (he's a lapsed biker). It was a great end to the week, and after checking out the Glenmacnass falls, further up the hill on this military road, I carried onward to Dublin and the ferry home.
There was a sting in the tale. The military road was exposed and rugged though the surface was a shocker – the pot holes had been filled but now resembled speed bumps. However, with an edge of challenge to go with the views it was characteristic of my whole trip around Ireland. So much more fun than can be bundled into a few hundred words.