Bob Southcoat covers 420 miles from Grimsby to the Lake District and back in a day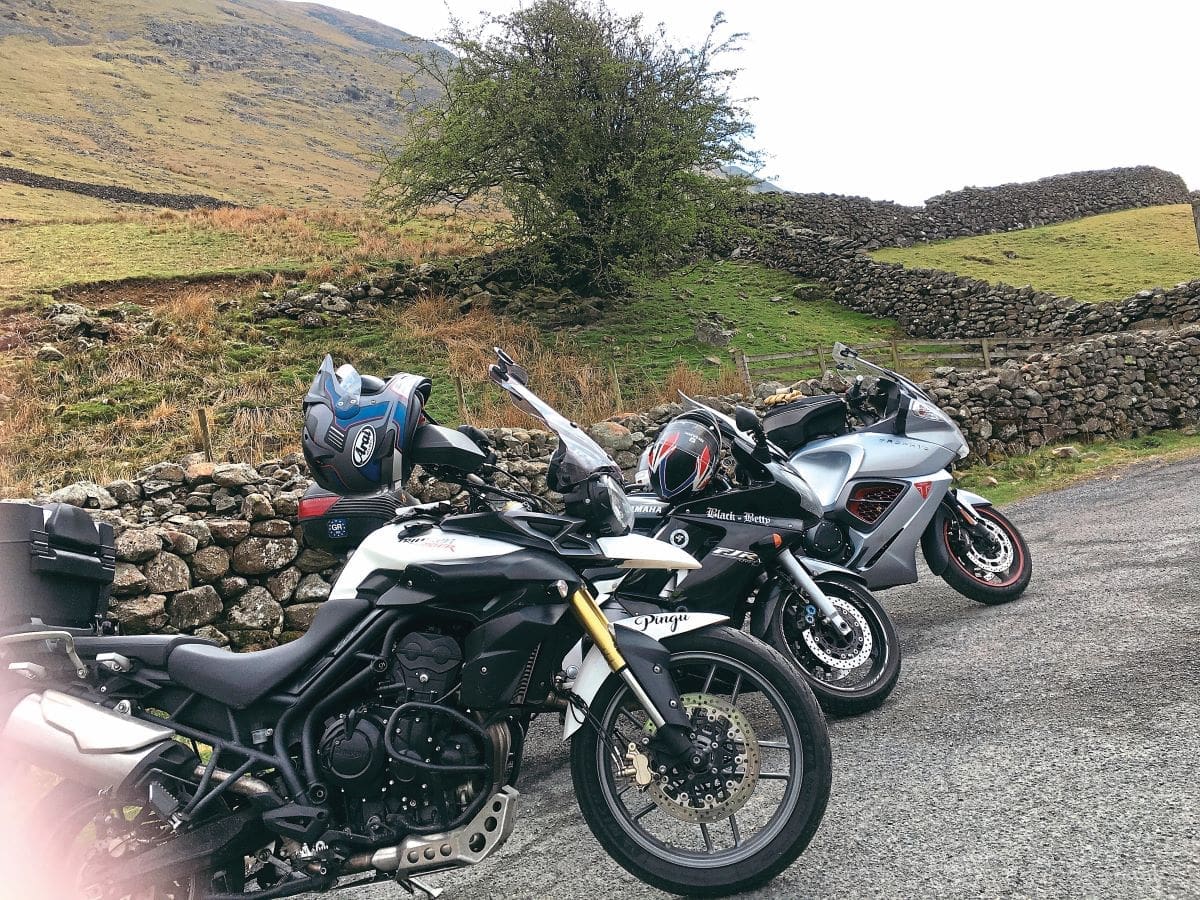 Words/photography by Bob Southcoat
There are many good excuses to justify going for a ride, but recceing for a caravan holiday probably isn't in the top ten. Still, having been given the go ahead by Boris, my wife and I had booked a week by wobble box in the Lake District. Naturally, I had to recce the Lakes by bike first – Martyn (FJ1200) and Philip (Tiger 800) came along. Phil's wife Antonia was 39 weeks into her first pregnancy so how he pulled that one off I don't know. Still, she had a week to go and it was only one day out…
We left Grimsby at 6.45am, meeting Phil at the Willerby (North Humberside) Maccy D's for breakfast. Fortunately, bikes don't pay to cross the Humber Bridge so we sailed through, avoiding the 'pay by card only' tailbacks. Fed and watered, we made tracks for Ullswater, over 150 miles away.
The route had been decided (if not necessarily agreed). Heading north on the A164, we met up with the Beverley (historic town) to York road and took the A1079 towards Market Weighton, which gave panoramic views as we descended down the bypass towards York.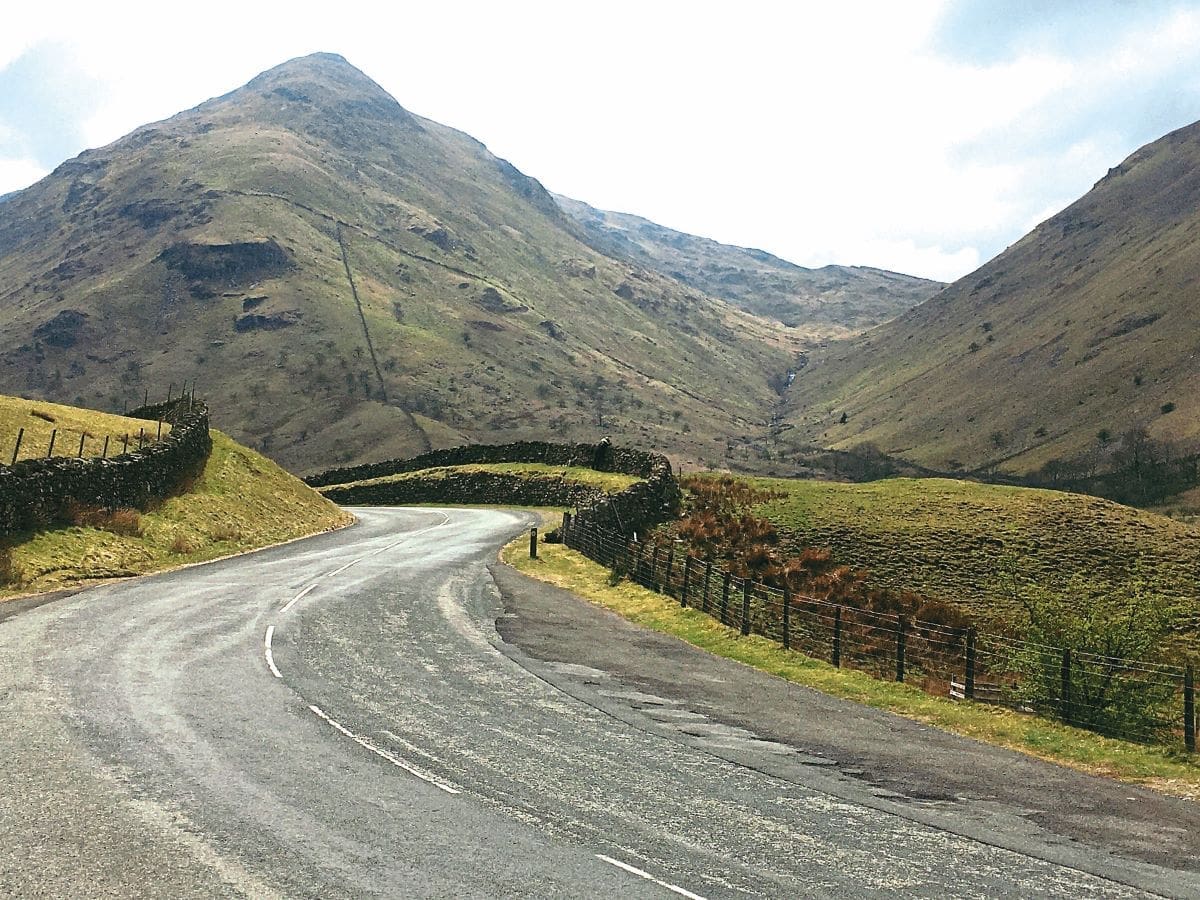 Contraflow road works with a standing two-mile tailback looked like bad news, but with some carefully orchestrated overtaking when the oncoming traffic was halted by the lights we were through in a matter of minutes, to be rewarded with open (albeit 50mph) roads, and the ride was on again.
After the A64 south of York we were soon riding north on the A1 towards Scotch Corner, joining the A66 before heading west after a quick truck stop coffee and butty. The A66 is one of my favourite roads for making pace, with plenty of views of the countryside llamas (you read that right), cattle and some sheep grazing on a grassed rooftop! With plenty of dual carriageways we were keeping to the speed limit as usual (cough, cough) which was fortunate as we were soon accompanied in the wing mirrors by a blue and yellow 4×4. They drew alongside and had a hard look at our greying beards, hi-viz attire, riding style and bikes… and left us be.
At the Penrith end of the A66 we peeled off on to the A592. Phil needed fuel, and at the service station I decided I needed a wee. As it was cold I kept my helmet on as I wandered through the shop towards the toilets. At two metres tall (6ft6in in old money) I decided to remove my helmet and duly placed it upside down in the handwash basin whilst I fiddled with multiple layers of clothing (note to self: do not wear extra-long T-shirts with button flies on a long ride). After redressing I picked up my helmet, only to find that it was filled with water! The taps were those automated non-contact types, the ones which can't tell the difference between a motorcycle helmet and a pair of hands. Martyn was so amused he nearly fell off his bike as I relayed the mistake while water dripped on to my nose and glasses.
He was still laughing when we stopped five miles further on for a coffee, and my hair was still dripping when I took my helmet off. Most unpleasant for the rest of the day as the temperature didn't rise above 10 degrees. We continued along the twisty A592 on the north shore of Ullswater Lake. The views were outstanding and we were blessed with a day of little traffic, the road meandering through the vistas, dappled in changing sunlight and shade.
The route back was via Hawes and Aysgarth Falls, but decided by satnav which took us down the M6 to junction 38, on to the A685 and then a single track lane named 'Tommy Road'. What a jewel! I thought I knew what the Yorkshire Dales had to offer, but wow. The road turned and twisted, rose and fell, ran alongside a railway line and river; technically not fast, but why would you with those views?
At the end of Tommy Road we turned left at the Moorcock Inn (sniggers). We were hoping for another coffee and maybe something to eat but sadly the Theakstons pub was closed. It was now 3.15pm so we headed into Hawes for a much-needed coffee. After stopping at Aysgarth Falls we set course for home towards the A1 via Leyburn on the A684. The traffic had been light most of the day until the Leeds/York turnoff at Junction 44 and A64 east past Tadcaster when, inevitably, it began to build.
Phil needed more fuel so we pulled up at a petrol station and I stretched my legs. My head was still wet but the dripping had ceased at least. The sun had made a welcome appearance and the temperature picked up to, ooh, 10 degrees.
The final leg took us back down the A1079, across the Humber Bridge past yet another traffic calming van with a camera (fourth of the day), down the A15 on to the A18 past Humberside Airport and me back home for a waiting Chinese takeaway and a hot bath – after 420 miles I needed both…