£249.99 / www.oxfordproducts.com / Simon Meyer
I've done a couple of thousand miles in HJC's i100 flip front in the last 8 months or so. It's actually my first experience of a 'flip lid'… and I think I'm a convert. It's become my go-to choice – despite having a significantly more expensive full face option in my collection. That says a lot, I think.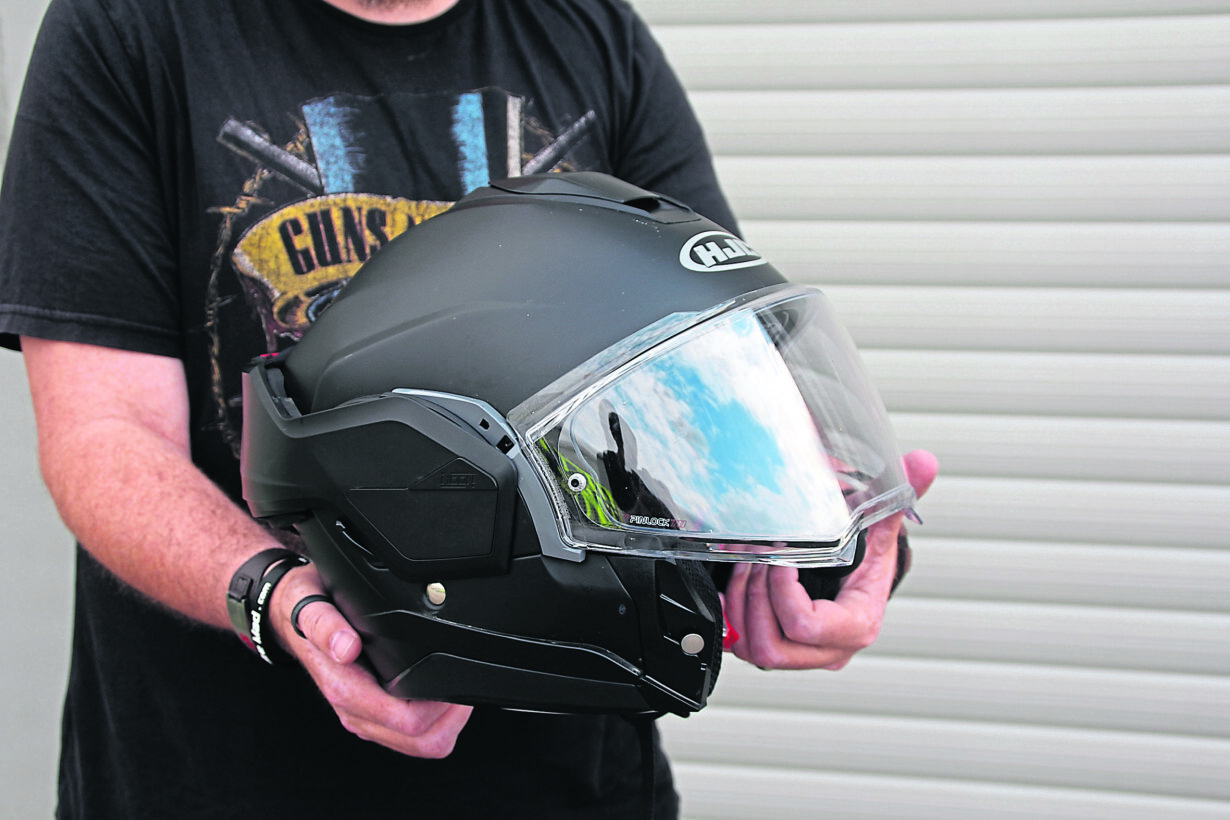 I've always struggled to find a lid that fits just right. No such issues with the HJC. Part of the beauty of a modular is that you can open it up to put it on – rather than forcing it down over your ears. This one's quite interesting in that it can actually be worn with the flip front open, and the chin bar tucked over the top. That's not the case for a lot of these kind of lids on the market. What that means is that I've essentially got two helmets for the price of one; a standard full face lid, and a jet style lid too.
Article continues below…
Advert
---
Enjoy everything MSL by reading the monthly magazine, Subscribe here.
---
Ventilation's a simple affair – with a vent on the chin and a vent on the top keeping me cool in the heat and the visor clear when it's a bit nippy (aided by an anti-fog insert). The helmet lining is removable and machine washable, which is useful on those hot days. That also make it easy to fit a communications system. HJC's got their own, with a recess towards the back ready to accommodate – though I've been using my preferred Sena system. It works well, with the unit clipped on the side and the speakers tucked neatly into the moulded recesses on either side.
Other features? Well, there's a pretty decent internal sun visor too. I've always preferred to just wear sunglasses, but the HJC system is so seamless and easy to operate (even with winter-gloved hands) that I've no need to bring them along anymore. There's a lot to like about HJC's flip front. It's a little heavier than some of the competition, but that's the price you pay for versatility, I suppose. Personally, I reckon it's a great choice – and it won't break the bank either.
#flipup #motorcyclehelmet #morebikesyoulike #motorcycles #readersrides #motorcycle #ukbikers #bikelife #bikers #motorcyclists #morebikes #morenews #motorcyclenews #motorcyclegear
Article continues below…
Advert