Bob Pickett tells us how it is…
£539.99 / www.bikerheadz.co.uk / Bob Pickett
The C5 is new from the ground up, sharing no parts with its predecessor. Homologated to the new ECE 22:06 standard, it is P/J rated (use with the front up or down).
Article continues below…
Advert
---
Enjoy everything MSL by reading the monthly magazine, Subscribe here.
---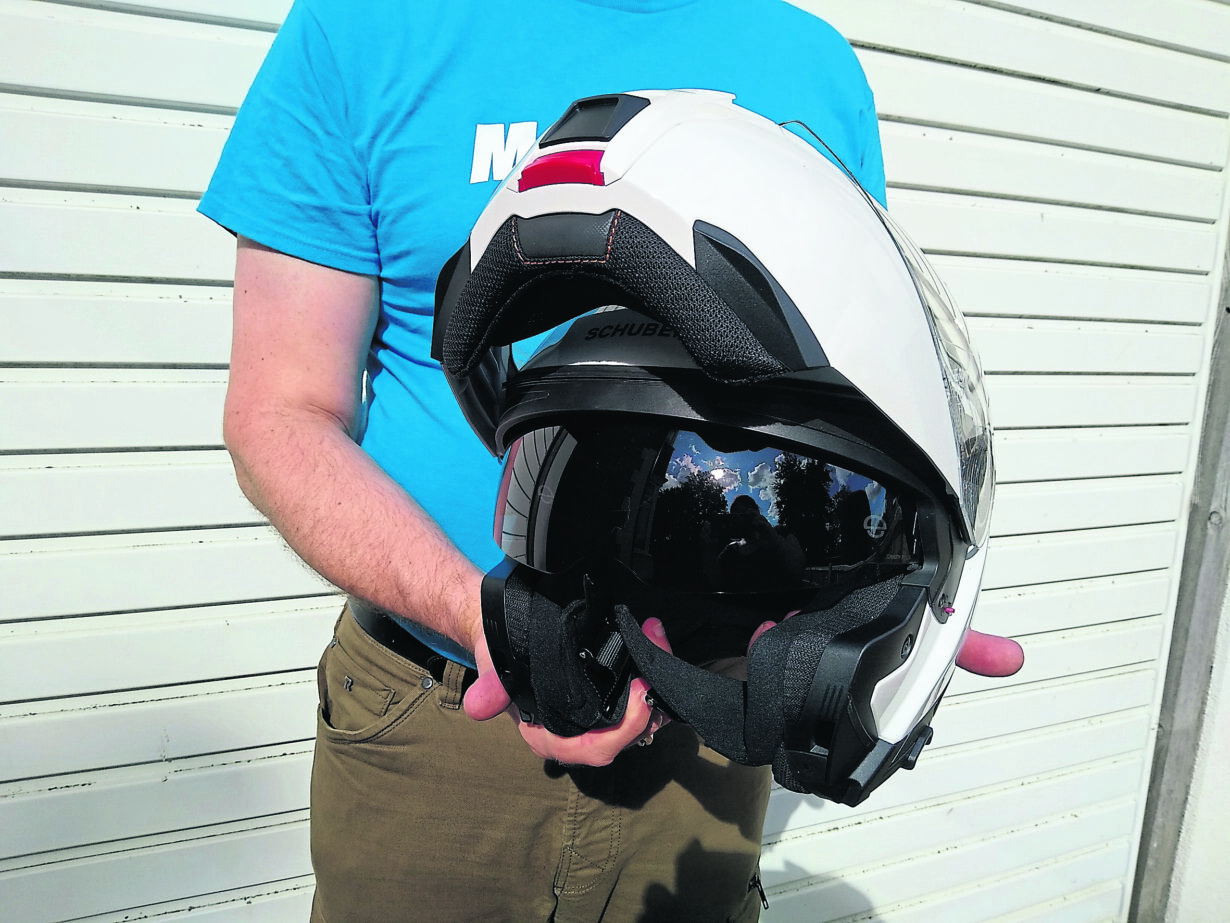 The C5 is festooned with smart features. The flip-front can be locked in place via a (tiny) switch on the side. The visor has a 'memory'; flip open and the visor pulls back, drop down, the visor returns to the same position before flipping. Sticking with visors, there is a tiny lever by the sun visor control; for those of you with more Roman noses, push across and it reduces how far the visor lowers. The C6 comes with pre-installed speakers, cable harness and radio antenna for Schuberth's plug and play communication systems, developed with SENA (not tested).
Schuberth helmets are on the small side. When I first slipped it on, there was a moment of discomfort then it felt… right. I can feel the lining press against my forehead more than my other helmets but riding in it for extended (2 hour) intervals it was fine. Definitely try before you buy (Schuberth recommends wearing at home for a time (labels on), if it isn't right the dealer will be able to exchange it for another size or adjust with the custom headsets available separately). The plush lining is designed for glasses wearers, mine slid in easily.
The chin lock is simple to operate; push to release. It can be closed one handed, locking with a firm click. The micro ratchet chin strap is placed forward (so doesn't rub against the neck), but intelligent design with Schuberth Anti-Roll-Off-System (A.R.O.S.) to ensure helmet is kept in place in case of accident means it holds the C5 in place as firmly as any other helmet. It does mean the strap is much closer to the (removable) chin curtain.
Article continues below…
Advert
Ventilation is outstanding. Two front vents (chin/visor) and top vent lets in jets of cold air; this is a cool place even on hot days. Keeping with visors the C5 has an excellent field of vision, with Class 1 optics there is no distortion. The Visor comes pre-fitted with a Pinlock 120 (my large boy hands thank you) so I didn't test the release but it's a simple lever mechanism. The sun visor slider is well placed, coming easily to hand to open (oddly I don't find it as intuitive to close). The visor itself is a light tint but enough to filter out sufficient UV.
That wind-tunnel testing has paid off. It's quiet even up to motorway speeds (Schuberth state 85dB at 60kmph. I found scientific tests recording 98dB at 130kph/80mph – one of the 10 quietest overall, let alone flip-fronts), and so stable, not a hint of turbulence at speed even with an over the shoulder glance. It's beautifully balanced, feeling even lighter than it weighs (just 1,650g – around the same as a full-face).
#schuberth #flipup #motorcyclehelmet #morebikesyoulike #motorcycles #readersrides #motorcycle #ukbikers #bikelife #bikers #motorcyclists #morebikes #morenews #motorcyclenews #motorcyclegear
Article continues below…
Advert