Katie Hand, 16, made sporting history when she became the first female rider to claim Thundersport GB's coveted Superteens championship. She spoke to Maja about how she started racing and what her plans are for the future.
WORDS: Maja Kenney, PHOTOGRAPHY: Courtesy of Katie Hand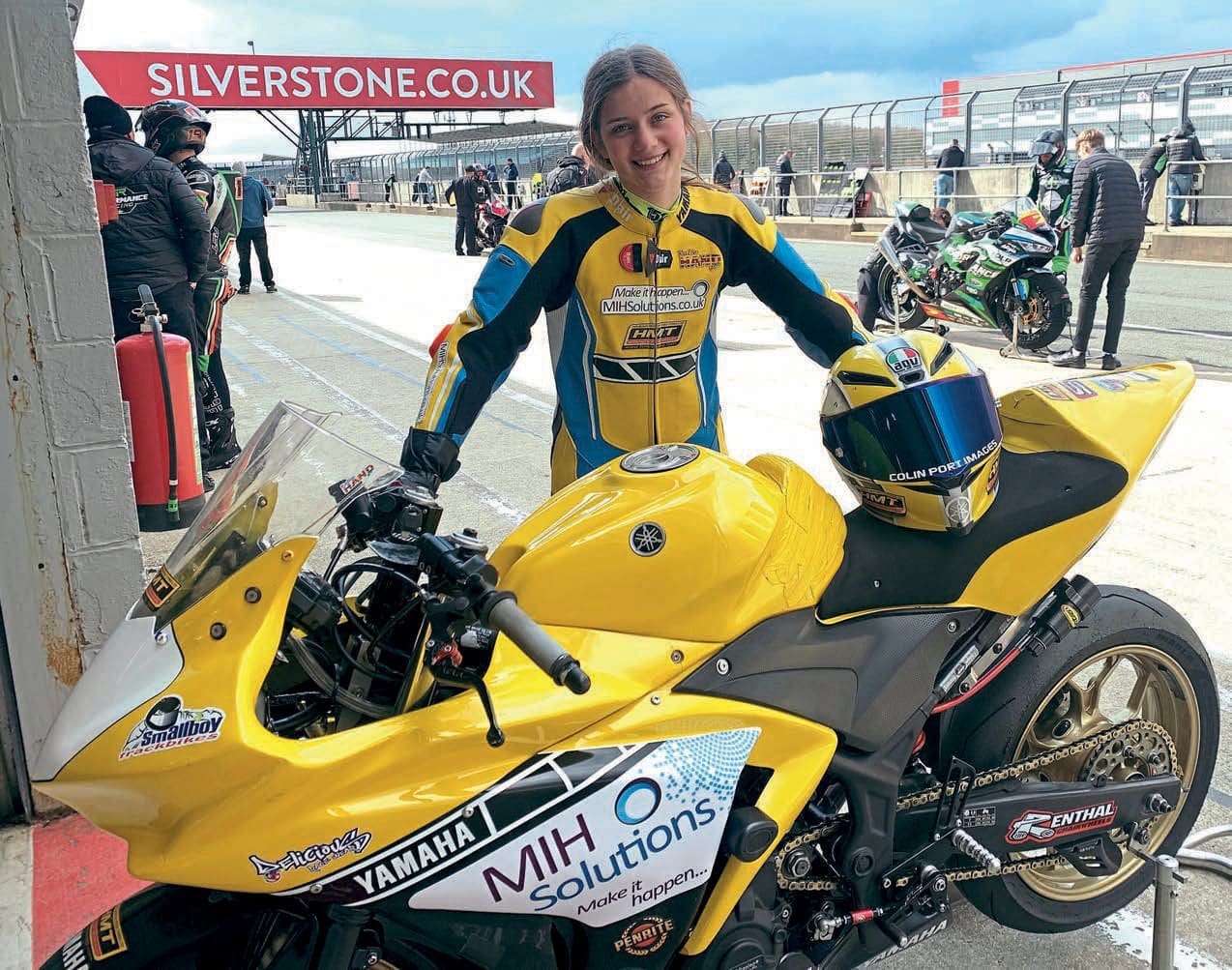 Katie grew up attending race meetings with her dad and is no stranger to the behind-the-scenes life of a motorcycle racer. Perhaps then it is not a big surprise that when she decided to participate in her first race, she was overtaking seasoned racers from the start.
Maja: Having been surrounded by bikes and racing all your life, was there a defining moment when you decided that you wanted to race?
Katie: I remember dad taking me to a trials event at the age of 13 and I thought it was really cool. I had ridden a bike before, only riding in the fields, and I had been put off riding because of falling off the bike. I had a CR100 at the time and after the trials event I just knew that I wanted to race. Racing had always been an interest of mine, I just didn't think it would be something I'd end up doing until then. I've always been to the Isle of Man with my dad and to every race meeting he's been to.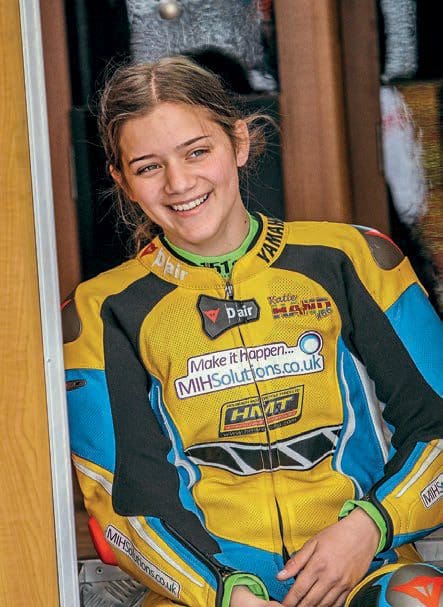 Maja: What was your first experience riding on a track?
Katie: My first time on a track was Darley Moor in 2019. It was my second time riding the bike and the first time on an actual track. Honestly, I progressed a lot quicker than I thought I would. On the test day I was wobbling around and going really quite slow. I guess I must have eaten Weetabix for breakfast on the Saturday morning because I ended up beating people that had been riding for a couple of years.
Maja: What does a day in the life of Katie look like during the race season?
Katie: If I was to go to a race meeting next weekend, for example, I'd go to college Monday, Tuesday and Wednesday. On Thursday morning we would prepare and check everything, pack the truck, pack our clothes and set off to arrive at the race meeting by the end of the day. Friday is a test day where I'd get a few sessions in, then race on Saturday. Sunday is a day of packing up and travelling back home. Monday morning I'm back in college. It can get quite hectic during the season.
Maja: Do you get some time off in the winter?
Katie: Not really. At the moment I go to college four days a week, I train every day, I make sure to look after my diet to maintain good nutrition, and I work as much as I can to save money for my first car. I take every opportunity to work when I can because during the racing season there is no time to work at all.
Maja: How do you balance your school life with racing during the race season?
Katie: My racing is very much prioritised, school is not my focus. I am not very academic and am quite fidgety. I much prefer to be doing something and am not very good at sitting down for long periods of time and studying. I am very lucky that the school was supportive and let me have the time off that I needed. It worked for both of us. The school was able to showcase its support to a female motorcycle rider which helped raise their profile, too.
Article continues below...
---
---
Of course, my life is different from most teenage girls. I get invited to parties at the weekends but there is never a question about what I choose. It's always racing. The world of racing is so connected, we are all one big family. We spend time together on the track and in the evenings. It's a win-win for me. Racing is all I know, and I wouldn't change it.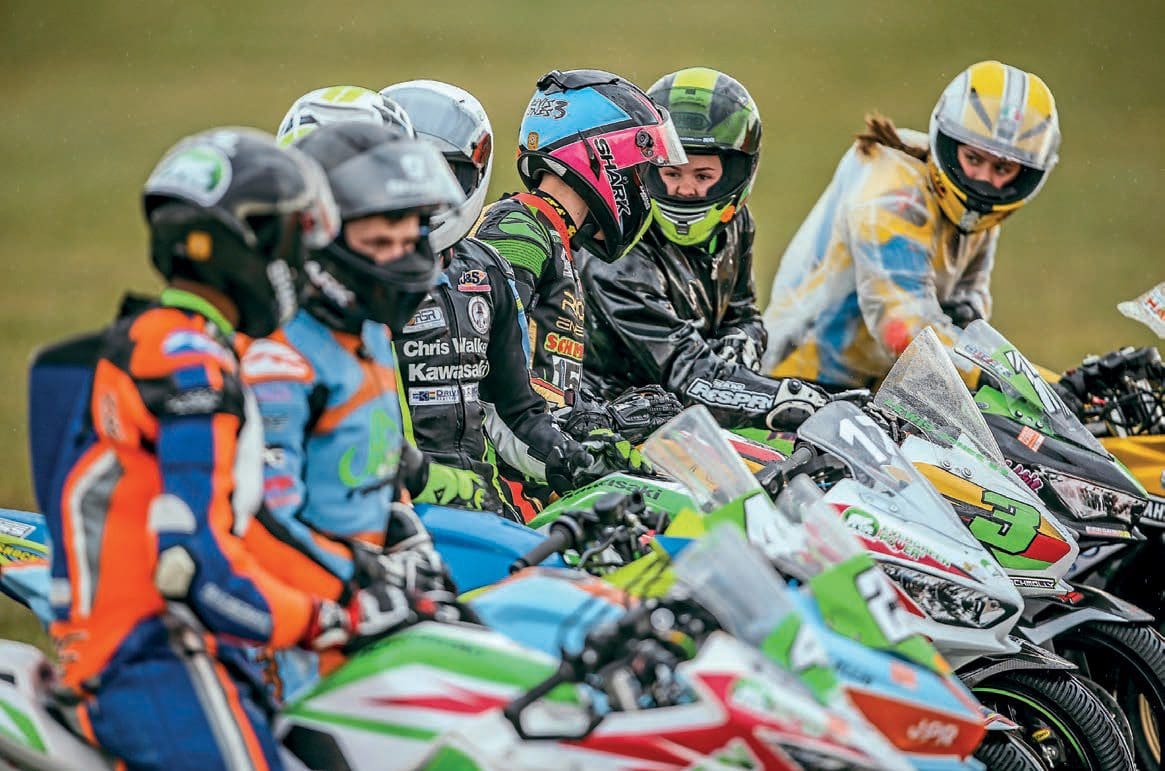 Maja: Are there many other girls in the racing circle?
Katie: There are more and more girls coming through in the juniors; I think there are nearly 10 that I know of, which is quite a lot. Juniors class ends when you are 23 but you have to be 16 to ride a 600cc bike. I think I'll be in the juniors for another two years, then I'll move on to the 600cc class.
Maja: How much of the bike maintenance do you do yourself?
Katie: Not very much. My dad won't let me! He likes to do things himself because he knows he will get everything done and the bike will be how he wants it to be and know I will be safe out on the track. I do enjoy the mechanical side of motorcycling, but I'm happy for dad to look after the bike on race days.
Maja: Are you keen to do road riding?
Katie: No, not at the moment. I will get a road bike when I can have a full licence and ride a bigger-engined bike (Katie is 16 years old). I guess because racing is my life, I don't have that rush to get on the road. I am excited to have a new bike for the 2022 season, though. It's an upgrade from my old (2018) Yamaha R3. I'll be riding the new R3 that is more powerful with 10 per cent more horsepower, upside-down forks, and a few other bits.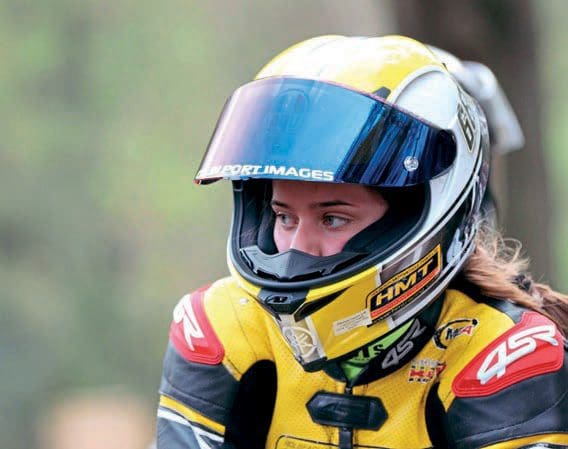 Maja: How do you fund your racing?
Katie: My family is very supportive, of course. Dad is very passionate towards racing for me and is with me at all of the races. Mum is also part of the team and she's the one that brings all the money to the table. She doesn't like to come to the races because she gets very nervous. I'm lucky to have amazing sponsors, the main one being MIH (Make It Happen) Solutions that have backed me throughout 2020 but stepped up as title sponsor for 2021. They have been great not only in supporting me financially but also in mentoring and coaching.
Maja: What would you say to other 16-yearolds wanting to get into racing?
Katie: To want to race means it will take over your life. In some cases it can build relationships with your parents, but it can also be a bit strained sometimes as you grow and know better what direction you want to go in.
For me, the best thing about racing is the speed. There is nothing else out there for me that can completely take my mind off things. When you get out there you are totally focused on the ride, and you can't think of anything else. Your whole being is only focused on the ride and the track in front of you. It's an amazing feeling. And when you fall off, it's genuinely not going to hurt you as much as you think.
If you have a real passion for it, you'll just get right back on the bike because it's what you want to do. It's easy for me to say 'Just get on the bike, it's not that scary', but when I was younger I went through a patch where I didn't want to ride because I had my confidence knocked after a fall.
Who is Maja? In 2016 Maja passed her motorcycle test, bought her first motorcycle, and plenty of miles in the UK and further afield followed. She also joined Blood Bikes Wales and became their first female rider in Wrexham. More recently, Maja set up her motorcycle tour business, offering guided tours in Wales.
Contact: www.majasmotorcycleadventures.co.uk

Enjoy more MSL reading in the monthly magazine.
Click here
to subscribe.