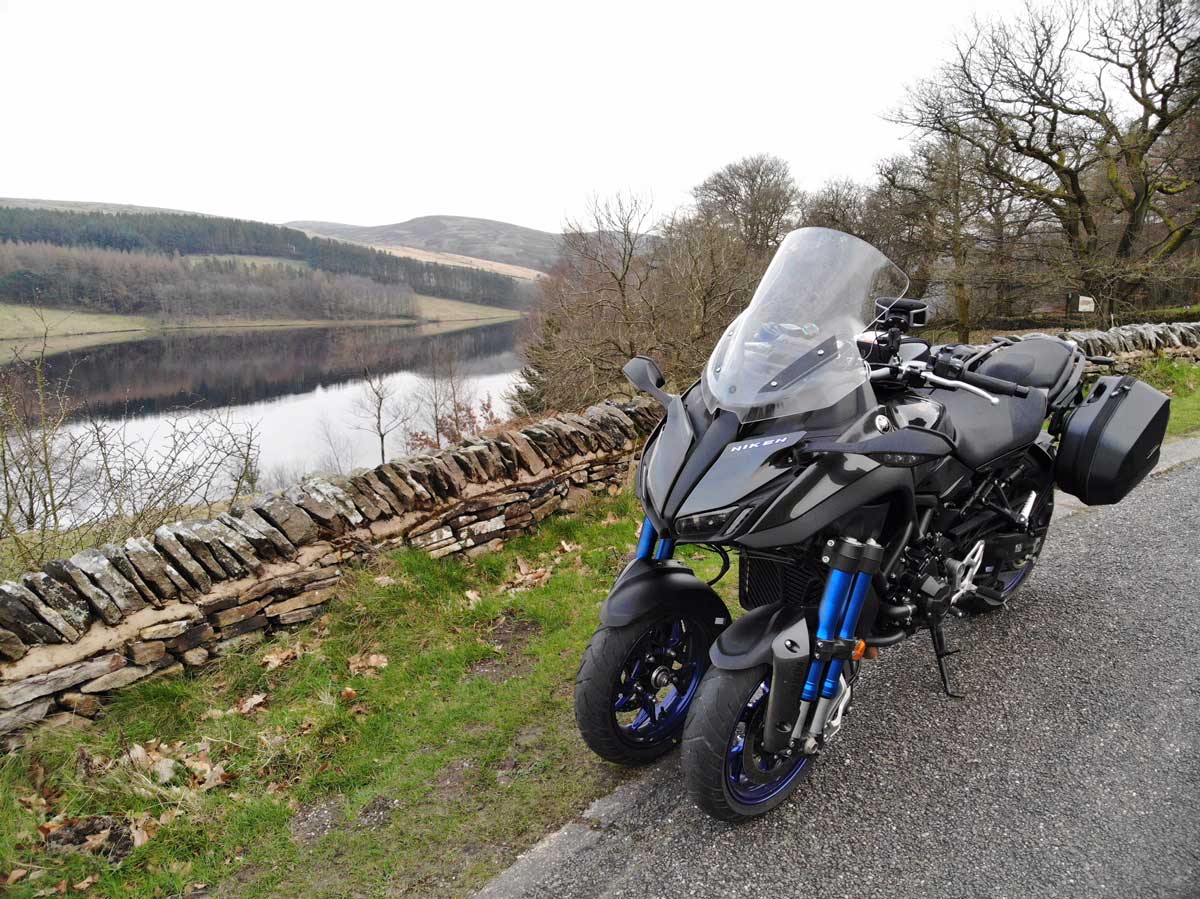 Mossy is still enjoying the Niken. But seeing it as others do has tainted his love.
If there's one thing a bike must do to win my affections over a longer term, it's serve me well as a mode of transport. OK, it's got to offer a means of getting me to where I want to go in a class appreciably higher than 'standard'.
Related articles on MoreBikes
But unless I can head off to a relatively distant destination at short notice, able to rely on all journeys being reasonably speedy, comfortable, stress-free, and enjoyable, then I'm not going to find a machine too endearing.
I might well love the thrills of riding bikes such as the incredible new Ducati Panigale V4. Yet as any real admiration for them can only occur when and if everything fits into place, a bond with them over a longer term just isn't likely. The Niken on the other hand, is a bike I'm approving of more and more often for everyday duties.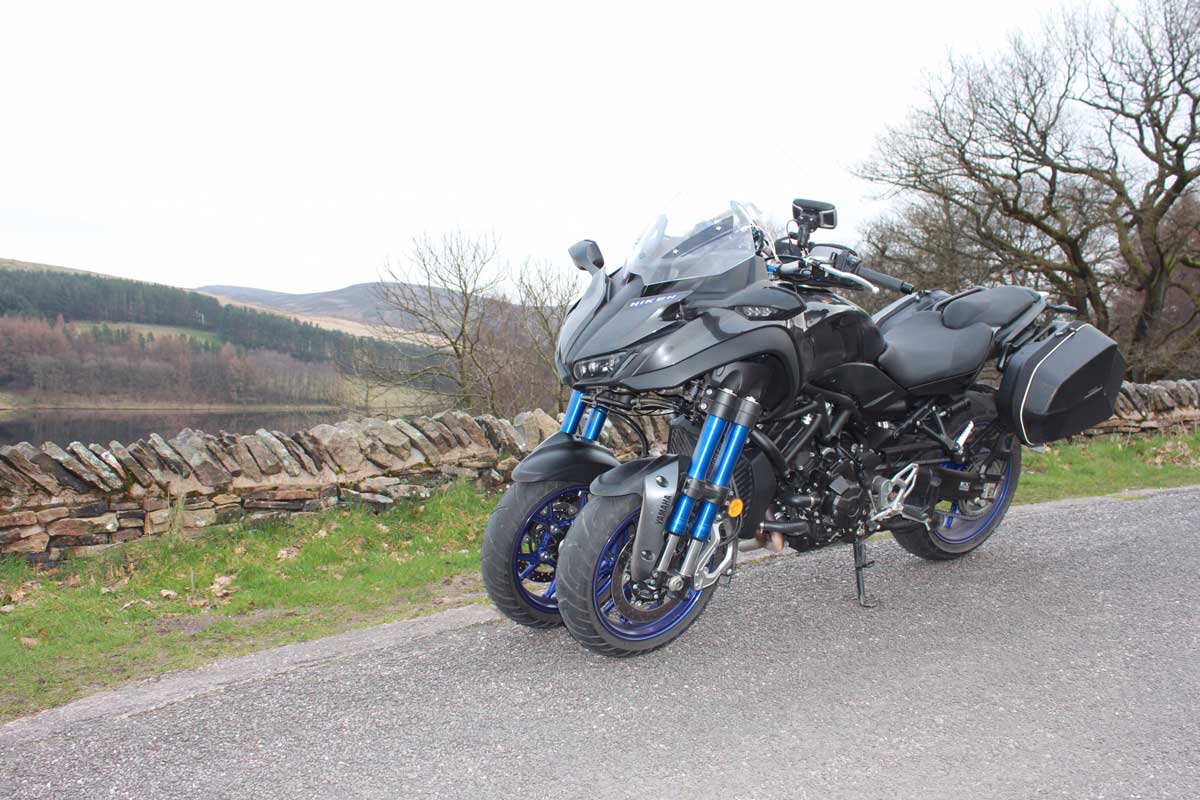 Head off without much thought
This was underlined when I recently arranged attending to some business over the course of three days and rides totalling 580 miles.
The fact I knew I could depend on the Yamaha to fulfil the role said everything I needed to know about it. Once the phone was put down, my only real considerations were organising the journeys themselves. As soon as the route, choice of clothing, and other non bike-related issues were sorted, I was good to go.
The Niken has proven to be so ready, willing and able to do the job, I knew I didn't need to give it a second thought. Now that's something I really approve of. OK, so I had to lube the chain, check tyre pressures, and fill the tank before setting off.
But knowing it would then cover ground well whatever the weather, carry all I needed, and satisfy pretty much all my other key demands, really put me at ease. The faith underlines just how well it suits the role of being my long-term test bike.
It does have some shortcomings of course, and I know other bikes might be better in certain circumstances. All in all though, the Yamaha's excellent mile-eating ability regularly makes me a very happy chappie.
Its chief virtue of being able to be taken for granted was evident during the first 190-mile day return trip from Cirencester to Cannock which, as expected, was despatched with total ease.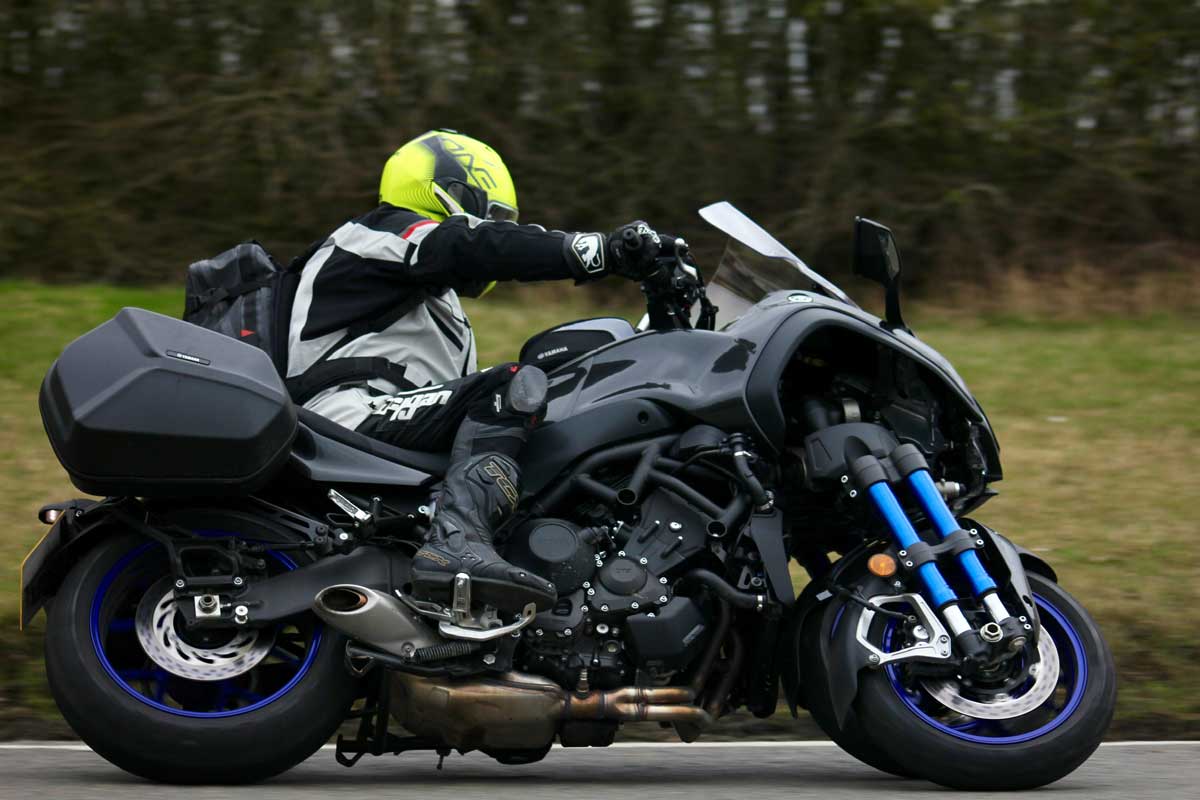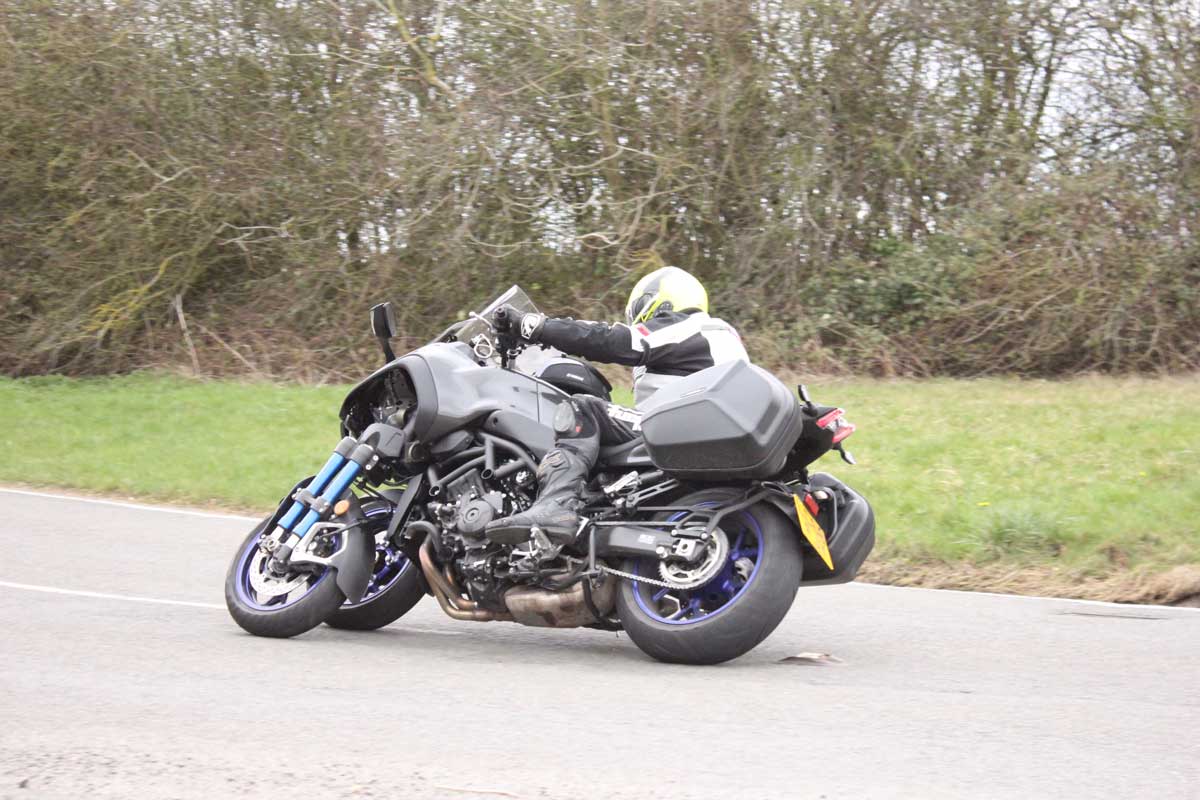 Seeing things in a very different light
My next 'just do it' style trip a couple of days later involved another north-bound journey, though the first leg of it wasn't quite to my liking.
Article continues below...
---
---
The two-hour stint to the Midlands had me see the Niken in a new and much less favourable light. And that's without me riding it for a single minute of the 100-mile outing. A test of another machine saw me travel alongside the Niken ridden by a mate.
After viewing the Niken in action from close range, I wasn't happy with what I saw. I've only ever seen people riding it in photographs, never live at the controls. But witnessing my mate running alongside me on the Niken underlined just how totally different it appears.
Trouble is, in my opinion the Yamaha looks more like a big mobility scooter! It's a very unsexy, unstylish machine, and though I'm really happy with it from a purely dynamic perspective, from an aesthetic angle it scores pretty poorly.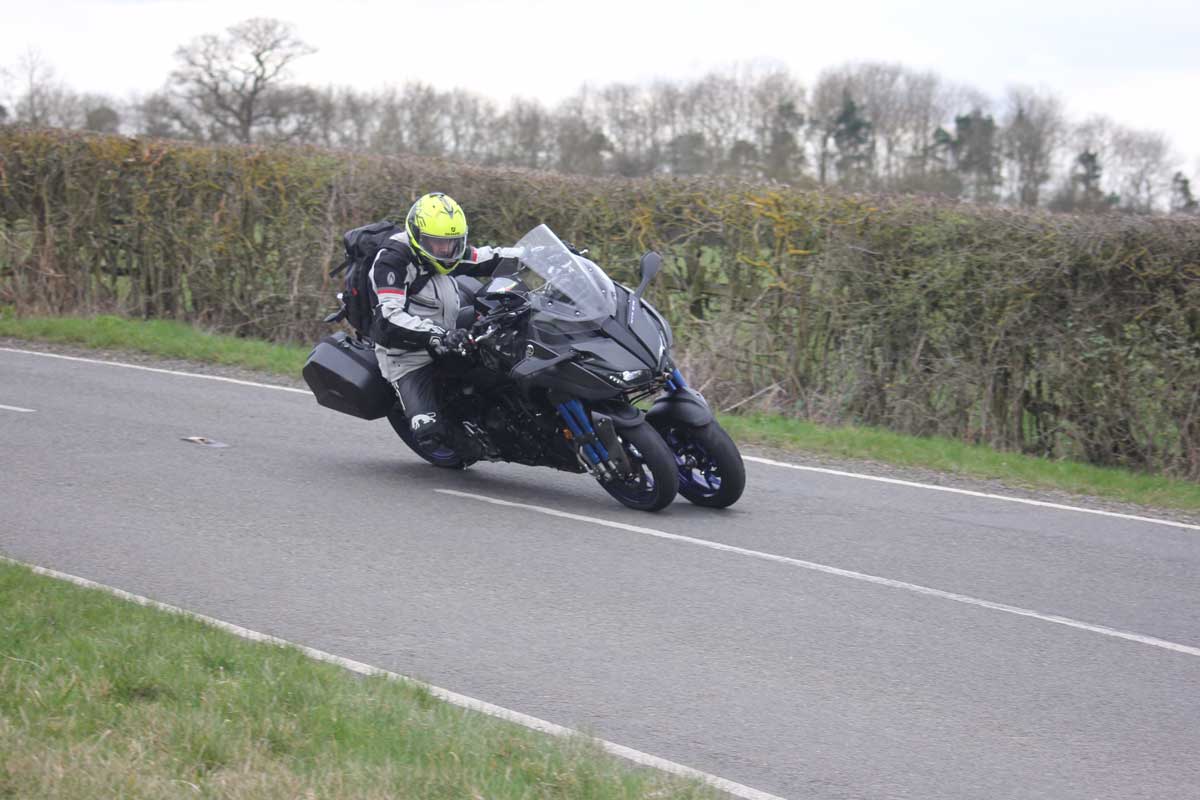 Tainted love dismissed
By the time I'd got to the end of the two-day journey to Manchester that night and back home the long way the following day though, I'd been more than compensated by the Niken's abilities to let those negative views bother me.
Some of the better aspects were highlighted when I ran over the famous Cat and Fiddle road. Deemed by some as beautiful, but lethal, the Niken felt as safe as houses running through its series of deceptive twists and turns. It very much underlines the capabilities of the Yamaha's front end, allowing me to feel really safe, secure, and totally relaxed thanks to the immovable trust generated by its similarly immovable adhesion.
Regardless of issues like the condition of the road, its camber, and grip levels, the Niken feels so planted, it's almost hard to believe. I don't think I've felt quite as much at ease on the three-wheeler as I have on any other bike along the challenging route.
We all know reading the road is a crucial part of riding bikes, but knowing the Niken can reduce the intensity of that analysis is a really welcome virtue. It's like having a safety net.
Another positive, is the flexibility of the MT-09 three-cylinder engine. Not having to rev it hard, means less gear changing's needed, making the progress appreciably less taxing. I sometimes hang onto gears more than I need to thanks to the lovely drone of the exhaust note, but it's nice knowing that decision's voluntary rather than compulsory.
I also like the fact the amount of available power is almost always enough, and rarely ever too much. I'm happy to have fullest power mode selected, and triggering the traction control system is very infrequent. Usable is very much the word to describe this excellent, well-mannered engine.
With the stimulating Peak District area despatched, but plenty of miles to still cover, I diverted to the swifter, though tediously straight A50 and M1 routes to get me further south sooner.
Then it was back on the more varied and rewarding Fosse Way to get me home. Traffic build up in some of the towns along the route was dealt with more readily than I remember in the early days of ownership.
There's no doubt the Niken's width restricts progress here and there, but with more experience and greater planning, I now seem to get through congestion reasonably well.
And whenever I can't, I just accept it as a price worth paying for the benefits the twin-wheel front end brings. As they say, you can't have everything. Though in the case of the Niken I'm finding you almost can!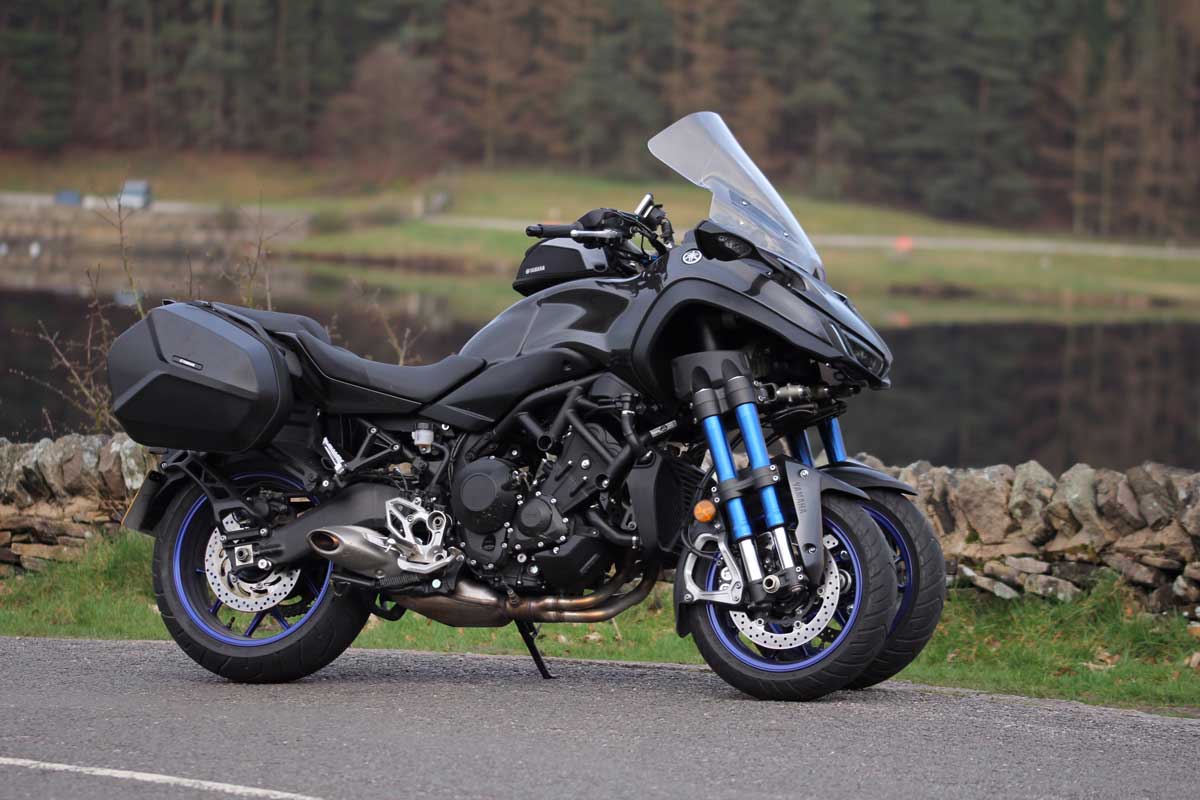 Yamaha Niken: This month
Rider: Chris Moss
Cost new: £13,499
Engine: 847cc, liquid-cooled, inline triple
Spec: 114bhp/65lb-ft
Kerb weight: 263kg
Tank: 18 litres
Seat: 820mm
Miles this month: 580
Miles on clock: 2095
Average mpg: 47
Current tyres: Bridgestone A41s
Modifications: Tall screen £189.82, panniers and frames £610.13, tank bag and mounting £177.31, centre stand £233.24, heated grips £151.10
Total value of mods: £1361.16

Enjoy more MSL reading in the monthly magazine.
Click here
to subscribe.