Last month Steve and Julie flew into Las Vegas, picked up a couple of  Harleys and set off through the desert to the Californian mountains,  Yosemite and San Francisco. This time we trace their route back down  Highway One, through more deserts and back to Las Vegas…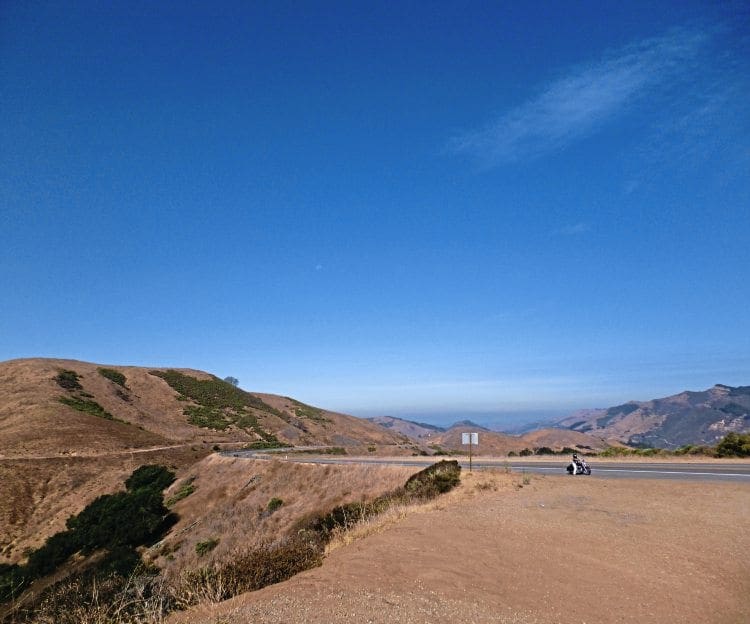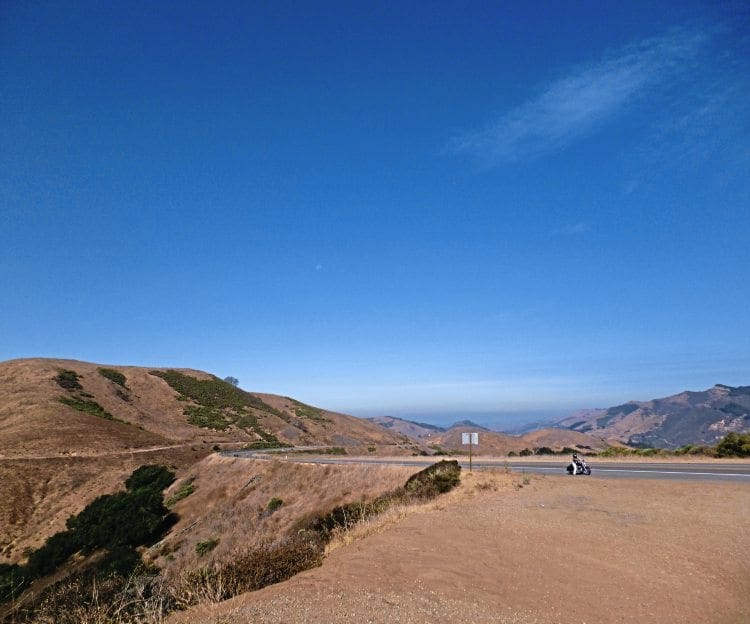 San Francisco on Sunday, and Union Square is like Regent Street in London; posh shops, tourists and a better class of homeless person. It's 9am and the queue for the cable car is already an hour long. I don't understand the technology, more especially how it doesn't plummet down the crazy descents, but the steepness of the inclines both up and then, very suddenly down make it well worth the sunstroke waiting in line. Nob Hill and Tender Nob St bring out the teenagers in us. Fnarr.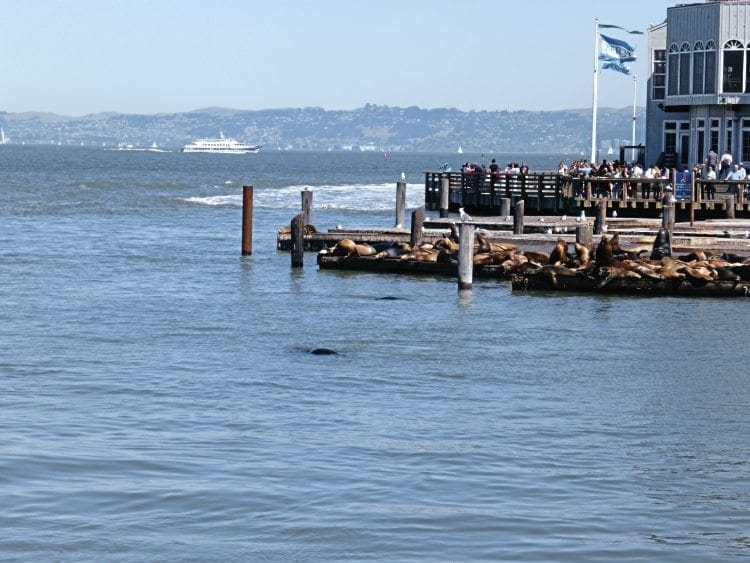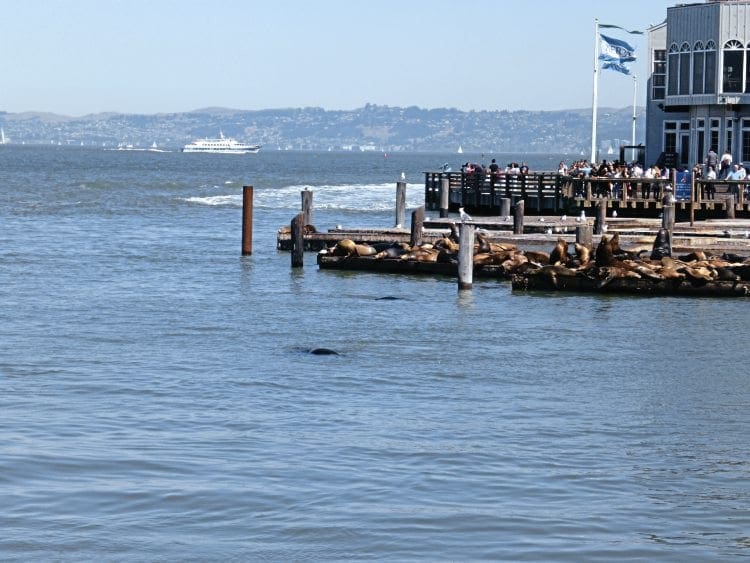 Fisherman's Wharf is cheesy, but still great. American seaside means food, more food and then pudding. Pier 39 is the famous bit; hundreds of enormous sea lions bask and play on pontoons alongside, while tourists seek out food, drink and more food. San Francisco feels comfortable and friendly, and the view across the bay to Alcatraz is beautiful. There are trips to the prison, but I can't get excited. Why would you visit a prison? What next, day trips to the dentist?
SAN FRANCISCO TO SAN SIMEON
I've ridden Highway One before. It was supposed to be the highlight of the trip, but was cold, foggy, packed with slow-moving traffic and miserable. Today it's warm, sunny and dear. Our hotel's well-chosen location (thank you Orange and Black) means getting out of San Fran in Monday morning rush hour is three simple turns, 10 miles of quiet freeway and 'Hello Pacifica' — our gateway to 211 miles on the Pacific Coast Highway. It starts slowly, rising and falling, occasional teasing glances of the ocean. And thenbang: big waves, striking cliffs, dudes surfing and bright blue water stretching all the way to Japan.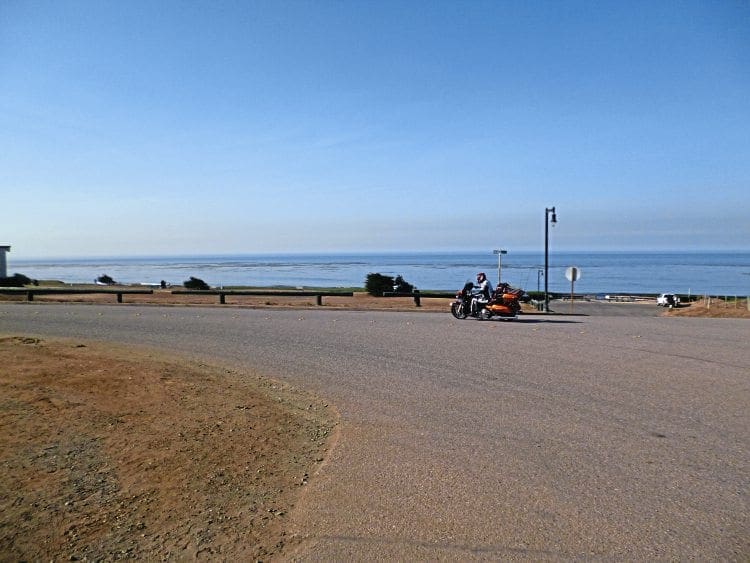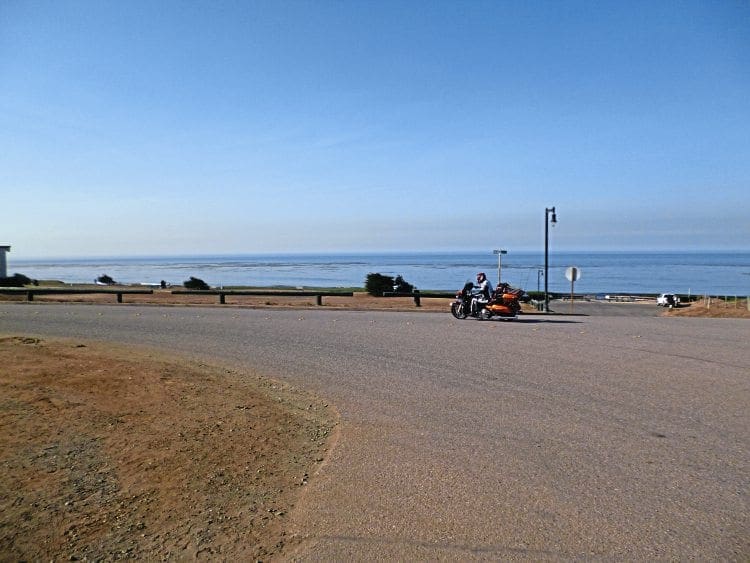 The first stage to Santa Cruz isn't the legendary bit, but is preferable to the alternative 100 miles of freeway, even if it adds a couple of hours to the day. The 211 miles covered today doesn't seem far, but this is a slow road and you stop a lot to stare, slack-jawed at the views and the wildlife. Right now though, the traffic is slight and what there is moves quickly, so we find a rhythm and settle in.
The first proper stop is at the Whale City Bakery, Davenport, just north of Santa Cruz. Great views of the ocean, tasty pastries (the full breakfast looks pretty good too, but it's already getting close to noon) and a relaxed, but lively vibe from a crowd of friendly, smiling people. It's a meeting point. Half a dozen other bikes turn up and we get chatting. They're part way through a regular rideout and recommend a whole load of great, local roads should we ever be passing through again.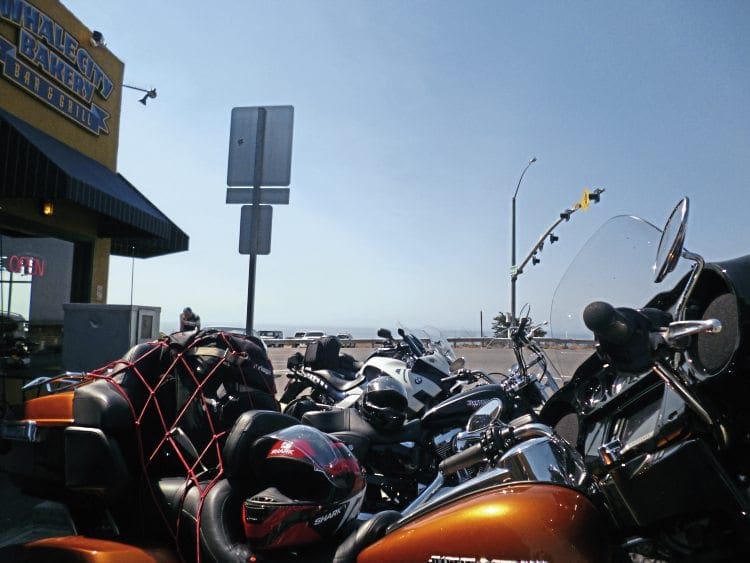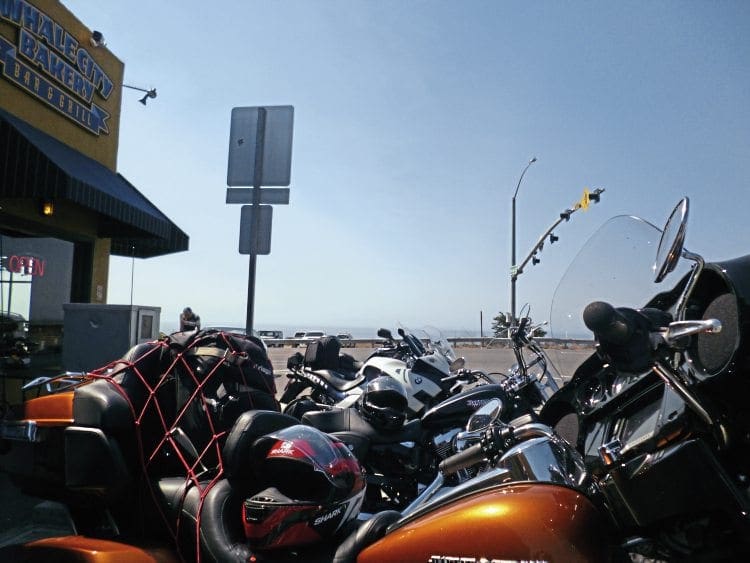 We skip Monterey and Carmel – beautiful, but we've been there before and a stopover will turn an eight hour day into a 10 hour one. Likewise, Laguna Seca raceway – we saw this last time and on a quiet day you can just rock up and mooch about.
After Carmel there's a sign saying 'twisties for 74 miles'. And they aren't kidding. This is Big Sur, this is what you come to Highway 1 for and, while the fog is starting to roll in over the water, the road is clear and we're still warm.
Big Sur is 76 miles of coast where the Santa Lucia Mountains rise right from the ocean. Warm water vapour rising from the sea can't get over the mountains and is rolled back over the surface looking like clouds below you. It's slow riding and busier than this morning. Much more scenic, with huge, twisting tree-lined back-rods bringing a change to the light, like turning up the colour and the brightness.
We stop for a late lunch at the Country River Inn, which looks a little 'Dukes-of-Hazzard' from the outside, but turns out to be healthy food in woodland surroundings that feel like some kind of idealised TV commercial for teh American outdoor dream.
Late afternoon and the traffic is busier than you'd think. A quick photo on the famous Bixby Creek bridge and back on the road. One particular dawdler seems to be taking California's weed laws too seriously. Judging from the 15mph pace, he's probably had a little too much already. You'd think he'd make an easy overtake, but this place is so twisty, so busy and the corners mostly blind so it takes about five miles before we get a chance to slip by.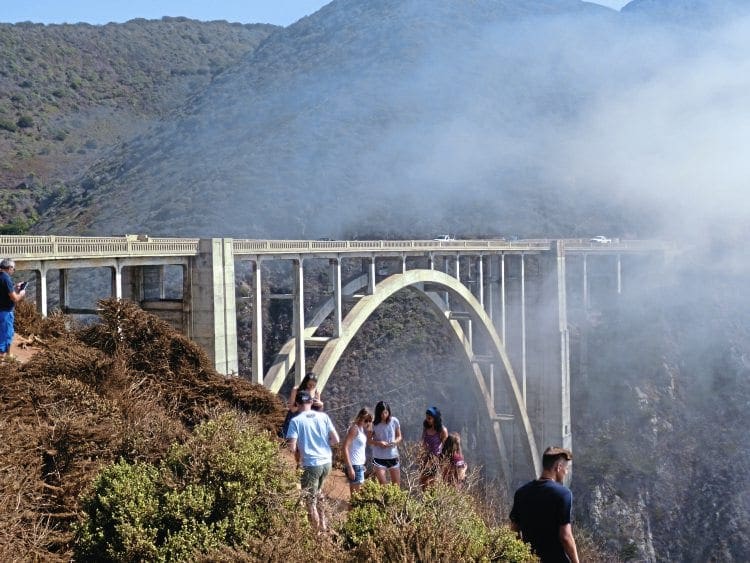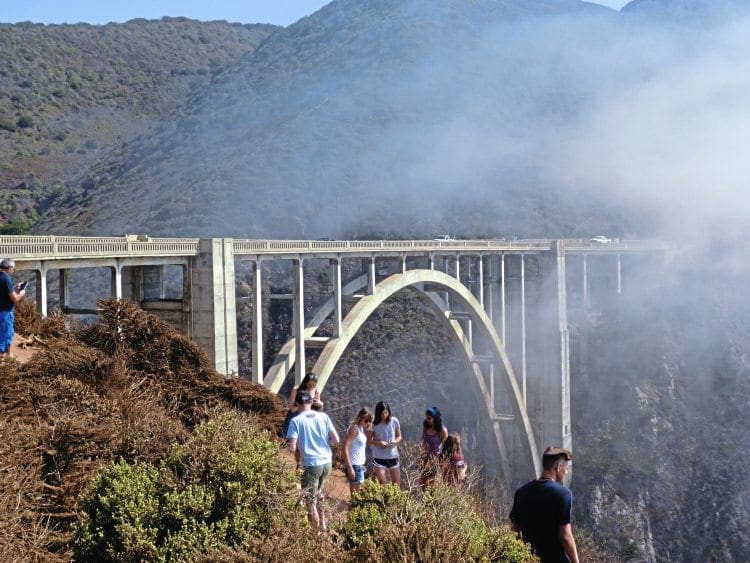 By the end of the day we are twistied-out. Ten miles too many. Knackered and with eyes of stalks, we roll in San Simeon, a two-horse town known mostly as the home of the Hearst Castle – a fake European-style 'masterpiece' built by the founder of the Hearst publishing empire. I'm sure it's lovely, but right now, not as appealing as a shower, a beer and a bucket full of French fries, drowning in ketchup. Our hotel is right on the Pacific, the views are stunning, but we're knackered…again. So it's just a soppy wander on the beach, a quick drink (and chips) in a bar apparently designed by the people who make those fluorescent purple bug-zappers, and another early night.
SAN SIMEON TO LONE PINE
Today is the great American road trip. In theory it's 320 miles, but by the time we've done the diversions, detours and gone all kinds of wrong, it'll be more like 350.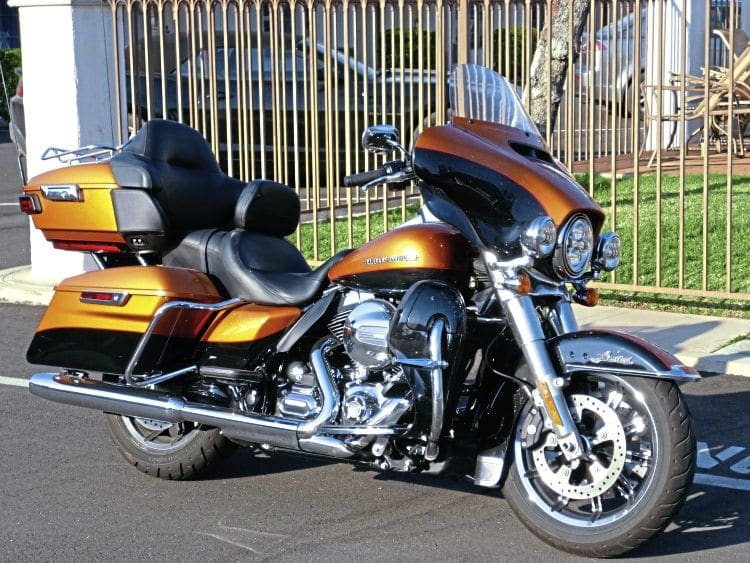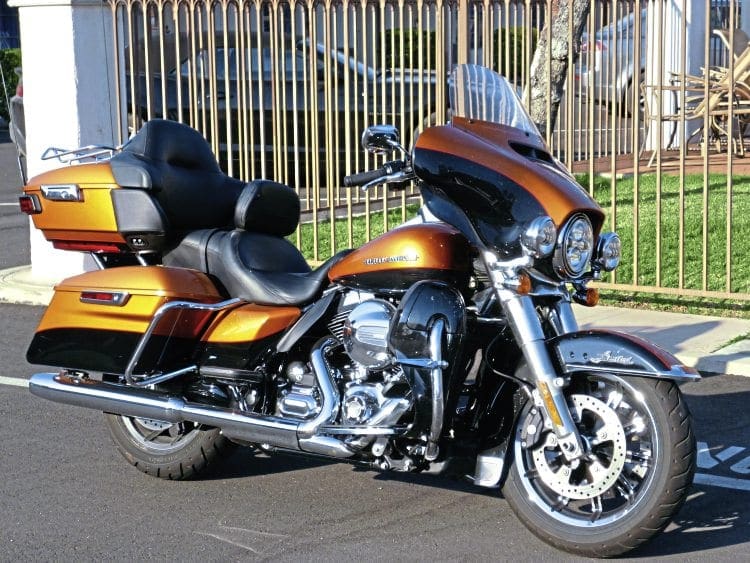 It's Steinbeck's Grapes of Wrath in reverse, heading east across the plains of California. Mountains, deserts, valleys, passes and an awful lot of very straight, stereotypical American riding. There were twists and turns, but big ones; long, gentle curves rather than the 'million-corners-every-minute' we were riding yesterday.
The first stretch is beautiful. The Paso Robles Highway for 25 miles of gentle, scenic rambling through wine country. The vineyards go on forever and it's clear that there's more money in grapes than the cornfields we passed on the way to San Francisco. It's hard to describe just how visual all this is. Photos don't do it justice, you need full widescreen and a kind of high-def that hasn't been invented yet to even begin to appreciate it.
There was an option today to do some more entertaining riding, but that would have made it a very long trek. So we embrace the straights, through California's enormous farmlands and look for a different entertainment.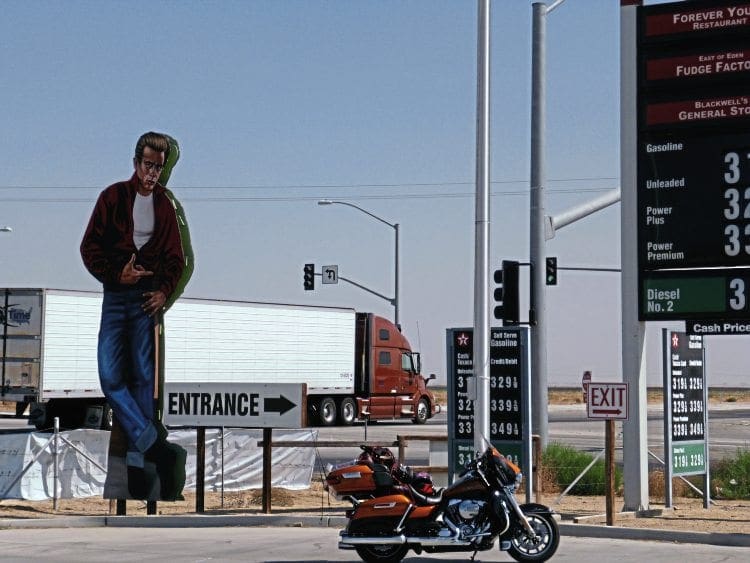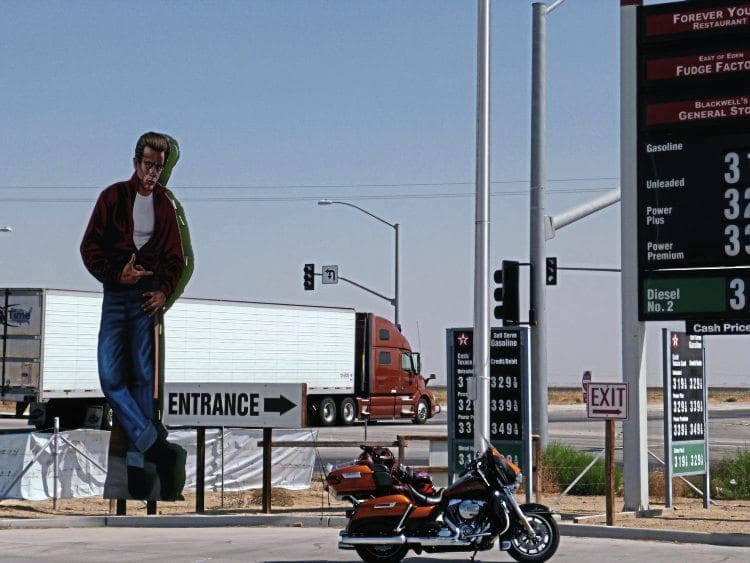 The scale is impressive. Mile after mile of almond farms, pistachios, more corn and more grapes. We pass the 'James Dean Memorial Junction' where Highway 41 and 46 intersect without really thinking about it. A welcome break from the 100 degree heat at Blackwells Corner service station proves educational. It's a small fuel station with an enormous shop and diner inside and a huge picture of James Dean outside. This was the last place he stopped to fill up his Porsche Spyder before the fatal collision with 23-year-old student Donald Turnupseed on September 30, 1955, at the junction we just passed. I might have just peed in the self-same pot that Jimmy D used.
Shortly afterward, for five solid miles the agriculture makes way for thousands (literally) of old fashioned nodding-donkey oil wells. Never seen one before, they move so slowly, in a mesmerising, kind of way. Not surprisingly the next major crossroads has eight different petrol stations – the fuel is probably still warm.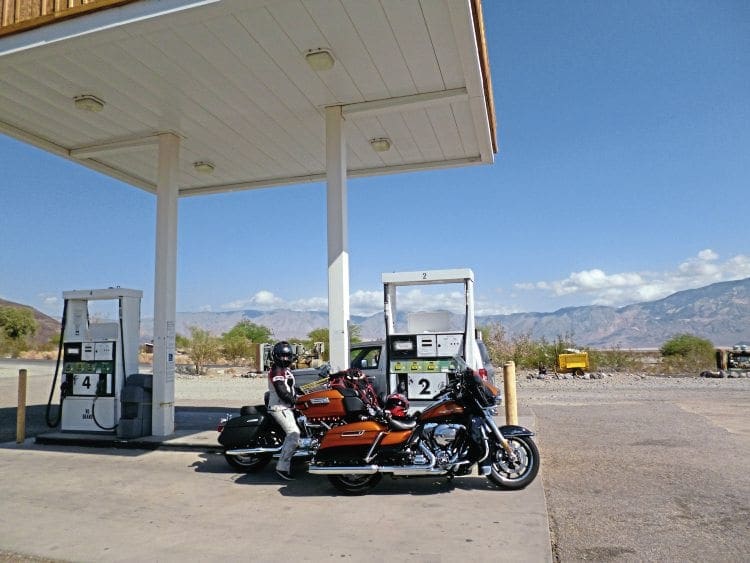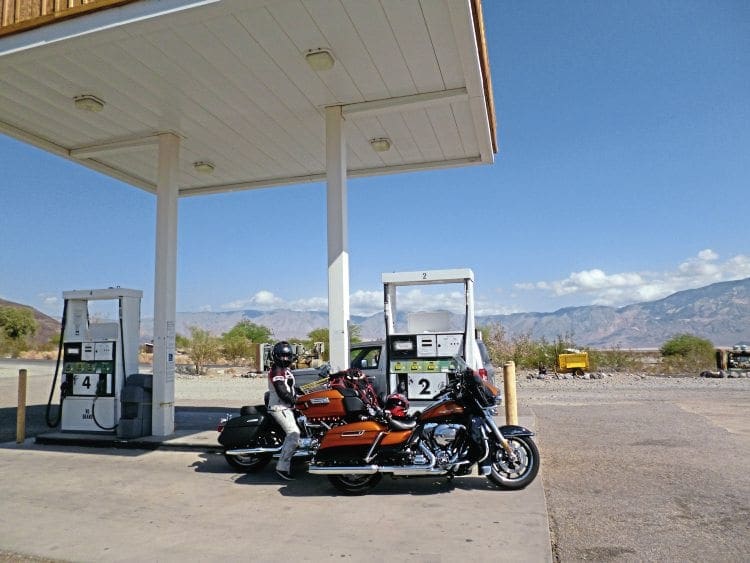 Lunchtime, and we're passing through Bakersfield. Unfortunately, the sat-nav doesn't have an algorithm that separates 'bohemian vegetarian eatery' from 'boarded-up pistol-packing downtown' and directs us to the latter, so after only a small row, we saddle up and get back on the road.
The actual lunch stop is equally entertaining. Tehachapi is a small city known mostly for it use in movies (The Grapes of Wrath, Star Trek: Generations and The Hangover Part III, to name but three). The sat-nav promises choice, but only actually delivers a Burger King. For the next 35 minutes we eat fast food… fast, wondering which of the 11 other colourful customers is about to commit an assault rifle atrocity.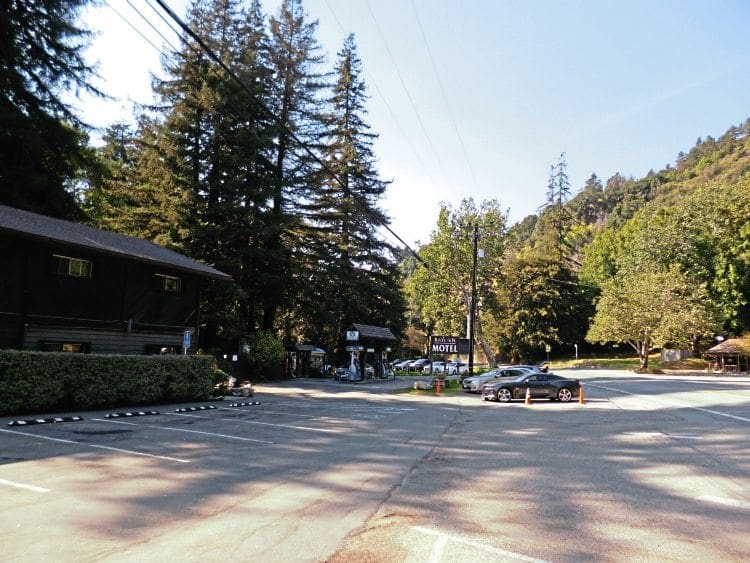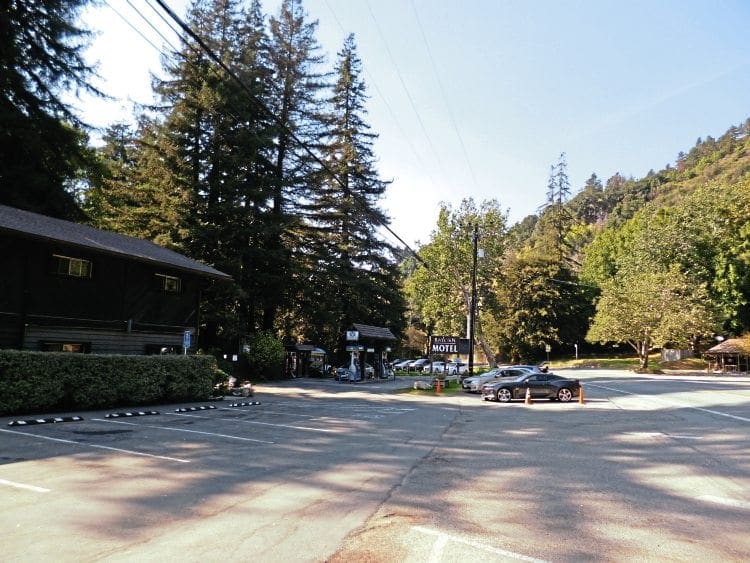 The remaining 150 miles today are split between easy, arcing curves through the mountains and, long, 'this-is-America' straights. One last break to cool down at an isolated truck stop, zip code 'middle-of-nowhere'. I can't remember the last time a sugar-laden artificial ice cream tasted so good. It's 97 degrees outside. We are running parallel with Death Valley, just over the next mountain range. It's almost as hot, but apparently, not as deadly. Man-flu valley, maybe. The last 50 miles into Lone Pine is made more interesting by the optimistic real-estate for sale at the roadside. Deserted, art-deco diners and former motels look beautiful in the sunshine, while the ramshackle trailer park would make a great base for a religious cult or a lair for Dr Evil. There's a sign for 'world's biggest snowboard shop'. We are roasting at 35 degrees in the desert. Funny, but for six months of the year, this area is a ski resort. Only in America.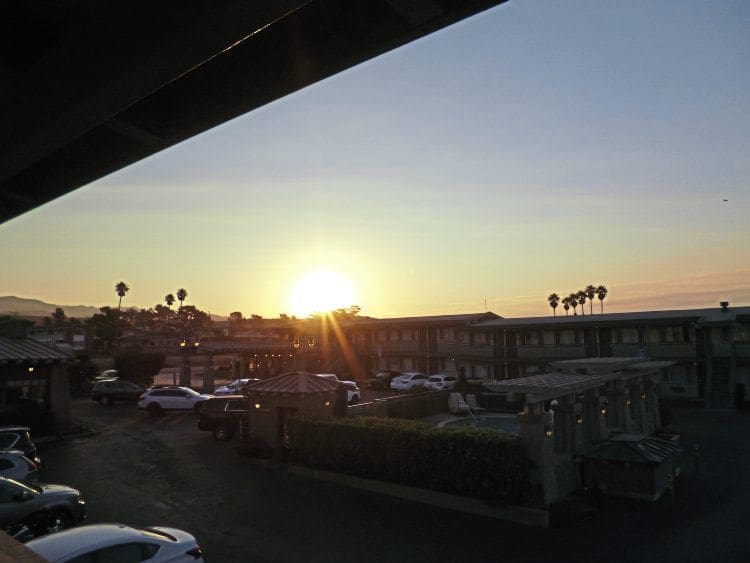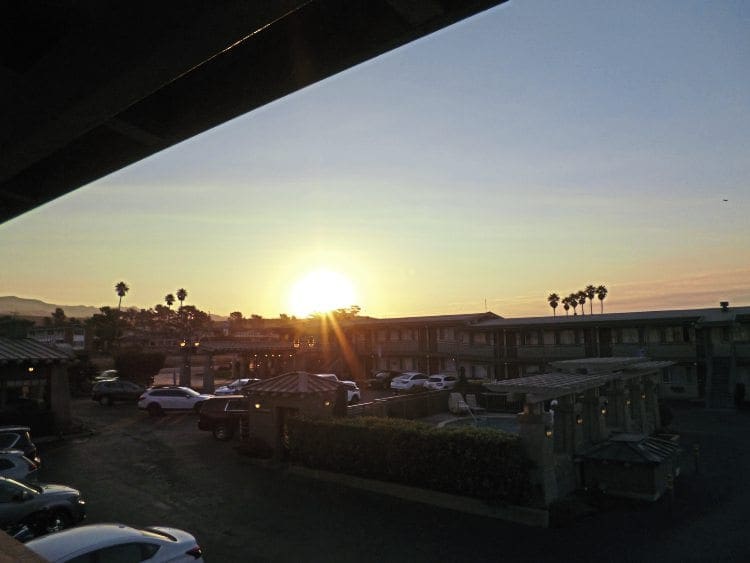 Lone Pine definitely has more than one tree, but only one sociable bat and we watch it for half an hour, mesmerised as we unwind with a beer (in a proper American saloon with proper swing doors). Our last night on the road.
LONE PINE TO LAS VEGAS
The run back to Vegas means a return trip through Death Valley, but this time we do the whole lot. We leave early to get some cool riding. Sounds silly, but coming back the other way makes it look completely different. The light on the mountains is stunning and the 11 mile twisty descent into Panamint Springs is even more enjoyable than it was going up seven days ago, because this time we can see where the road goes.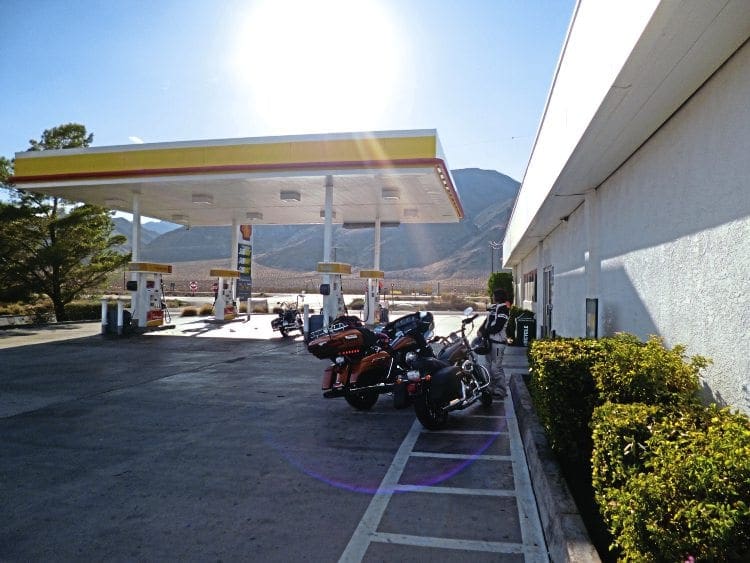 Being British we stop for tea and croissants at the cafe in Panamint and take the chance to re-soak the cool vests. The next stint is only 25 miles to Stovepipe Wells, but as we drop down into the valley it gets very hot, very fast.
I've never seen a wolf before and I always assumed it would be bigger and more impressive. But the one that crosses our path looks tiny, skinny and, as he stops for a moment to size us up, it dawns on us just how wily (maybe it was a coyote) you have to be to eke out an existence around here.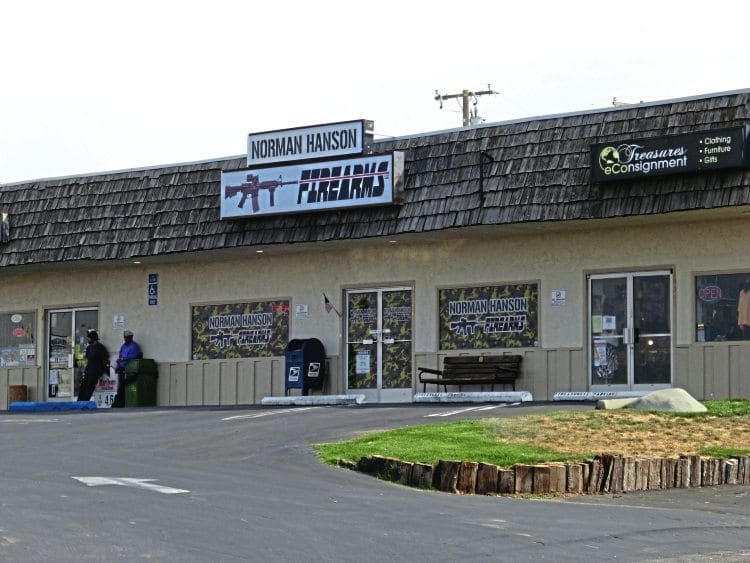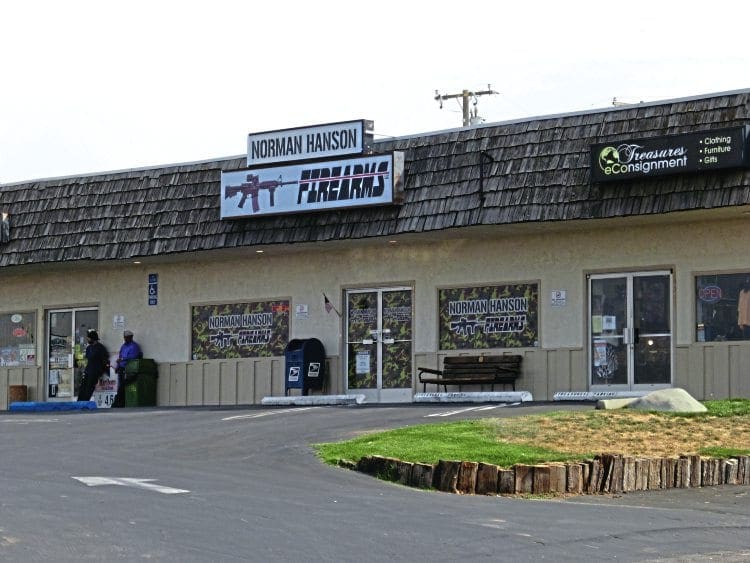 By Stovepipe the vests are dry. We wave with sympathy at the fellow travellers two-up on a BMW GS wearing what looks like full winter textile kit and wonder what drives the group of pedal cyclists to want to come through this place on those things. That's hardcore.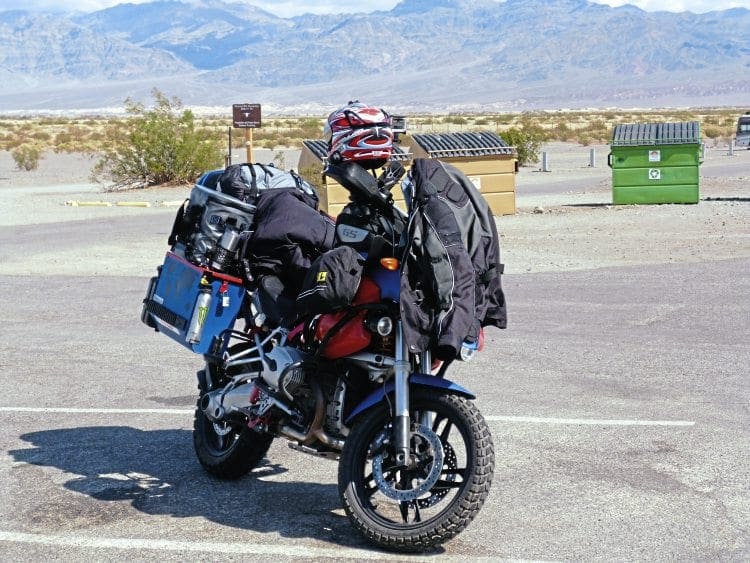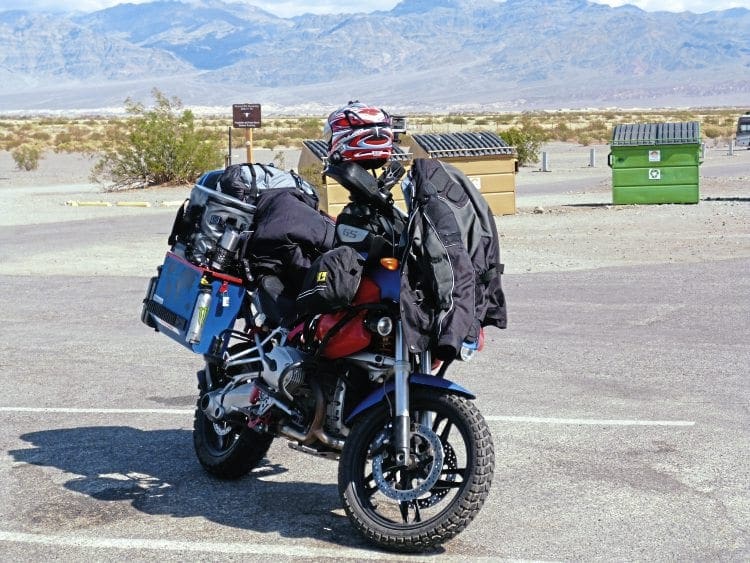 Another 25 miles and we're at Furnace Creek. More drink, more water poured over heads and a picnic of salad and dips from the general store eaten on a veranda sprayed by a mist of water vapour.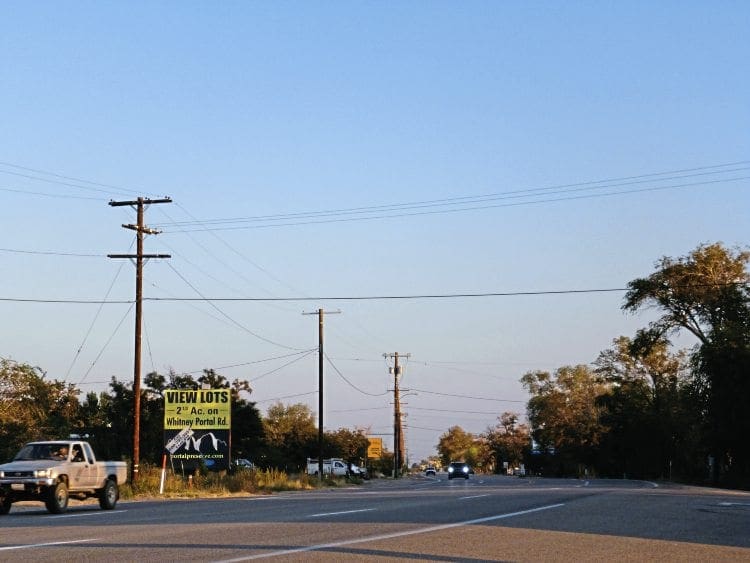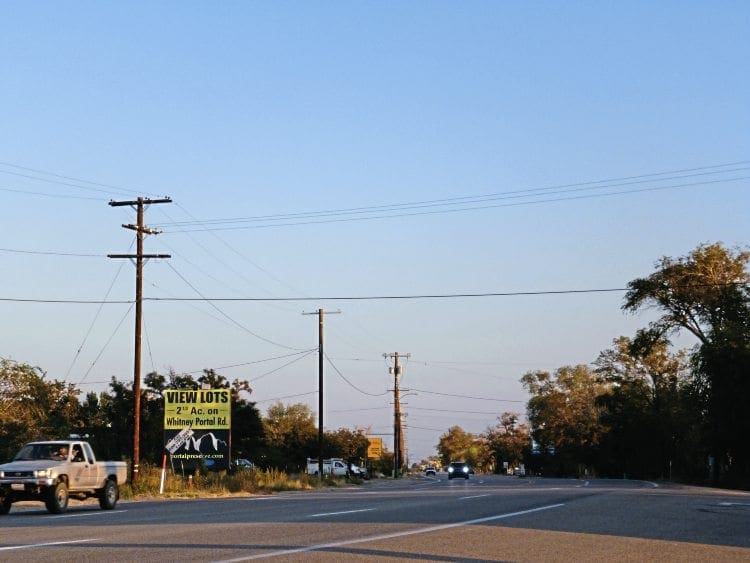 Truth is, the Death Valley Highway would be an amazing road wherever it happened to be and there are probably places in the Middle East where you can ride hotter for longer. But the scenery here is what makes it. The lowest point is 210ft below sea level. In the UK the lowest place is 9ft below. Add in the latitude of Death Valley being 1000 miles closer to the equator and the weird air pressure effects of the mountains (the warm air rises, cools and then pressurizes the air below, causing 'air-friction which makes even more heat) and you can begin to understand why this place is considerably hotter than the Lincolnshire Fens.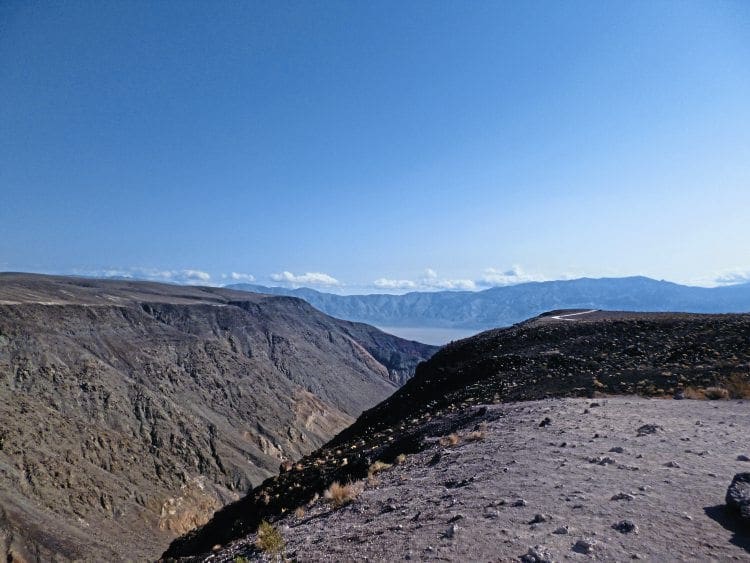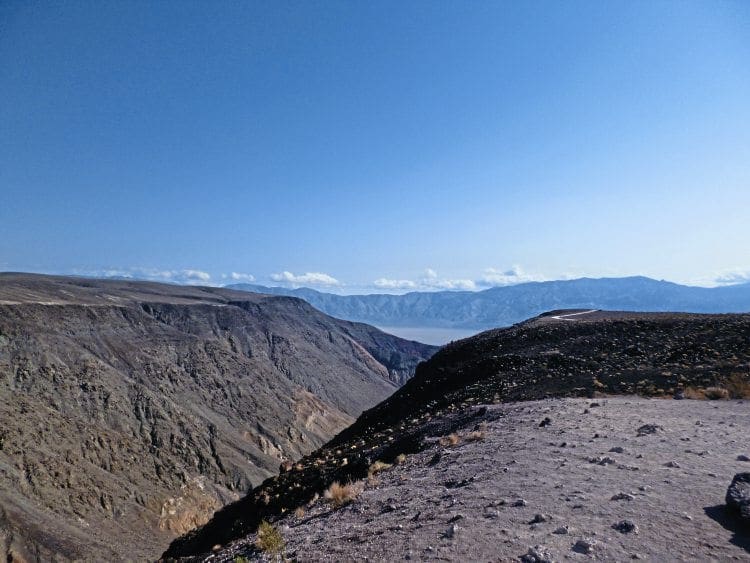 The run into Vegas is slow, busy and, believe it or not, it looks like rain. Dark, fat clouds gather over the mountains and, shortly after our final fill up it starts to spit. Vegas in rush hour is fun. Well-behaved drivers always leave just enough room. We've agreed to drop the bikes off at the Stratosphere hotel where Danny from the hire company has 37 Harleys to clean and prep, ready to go out on a tour tomorrow.
The handover is rushed. We're hot, dusty, tired and ready for a large, colourful drink with an umbrella, so we forget to say 'bye' to the bikes or thank them for not missing a single beat in 1700 miles of hard, hard work.
Our last night in Vegas is downtown at the Golden Nugget, which runs adjacent to Fremont St. We pass TV's Pawn Stars shop on the way in. It looks downbeat and dishevelled in real life. The Golden Nugget is a hotel and a half. Heaving with people and sassy beyond belief. There's a water slide in the pool area that runs through a shark tank. The staff are friendly and the room is amazing. Never has something as simple as a cold shower been so welcome.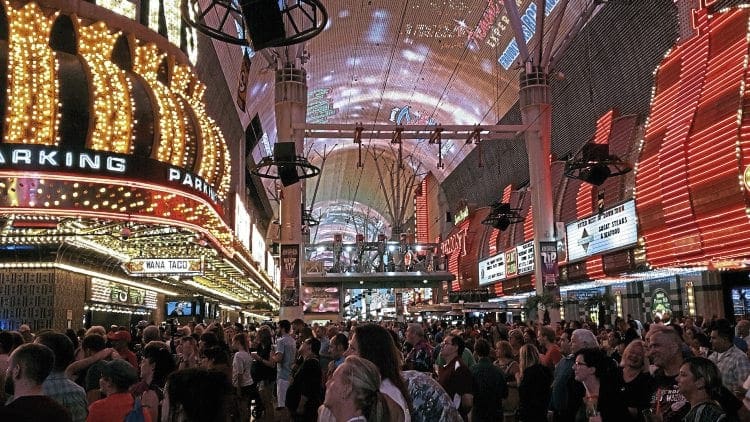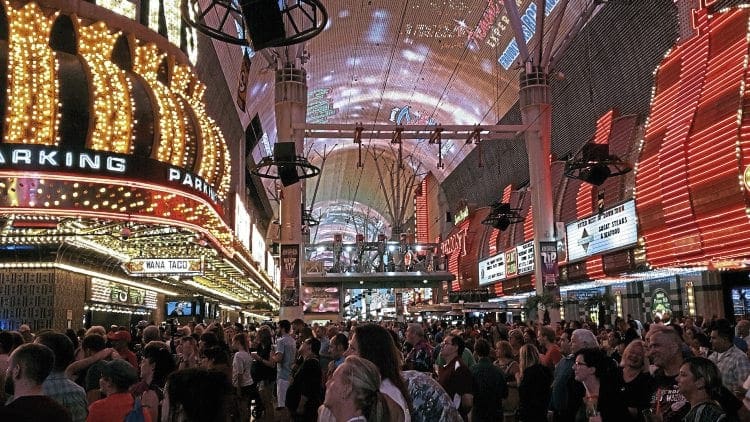 There are no words that can explain Fremont St. If you remember that scene in Who Framed Roger Rabbit where the humans enter Toon Town you might just get it. Neon-zapped technicolour, high definition psychedelic overkill. I've never taken LSD but this is what I imagine it must be like. Everything you thought you knew about Las Vegas in one intense hit as you step through the hotel door. Drink, gambling, girls, dancing, loud music, freaky people and, of course, more gambling. They sell spirits in pint glasses, I count four double measures of JD and a bit more for good luck going into the pint glass. $13 sounds a lot, but there are eight normal drinks in that bucket.
Oh and then there's the roof. The world's largest (everything here is the world's largest) big screen on the ceiling has giant freaky screen savers and music shows on the hour. And then there's the zip wire. Every few minutes you see something in the corner of your eye, look up and see four riders come past on a wire about 100ft up, lying prone, screaming with pleasure for the full length of the street. $45 a ride – the perfect end to a night after 24 Jack Daniels.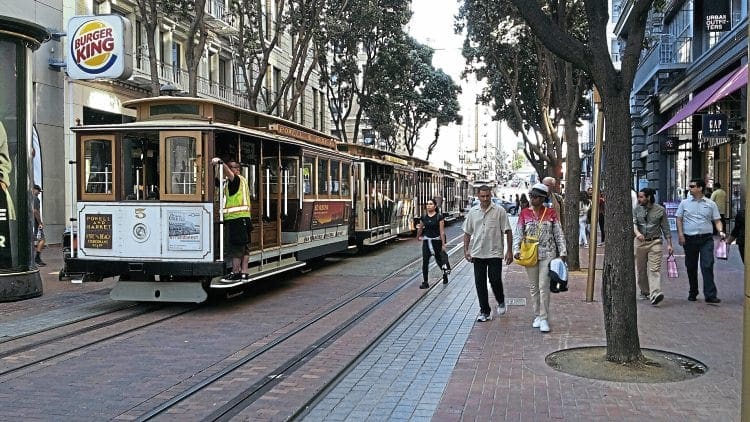 I love this place. Someone, somewhere has worked out what middle-aged, former rebels who don't smoke or gamble (much) want from a once-in-a-lifetime evening and delivered it… and then some. I have no idea how long we stayed there or what time we got to bed, but somewhere along the line we had cute, drunken pics taken in a photo booth and I vaguely remember some Mexican food outdoors.
No need for breakfast the next morning. We leave for the airport at noon and there's just time for another couple of pints of JD before we go. Fremont St in the morning is quiet, reflective and most people are drinking enormous cups of coffee.
That's it, over, time to go home. Thing is, seven weeks after we get back, as I write this, I am still as excited about this trip as when we were there and I can't remember ever feeling that about a holiday before. Riding in America is amazing. Doing it on our own – self-guided – was just great. As a first timer, I'd still go for the group option, but this was just so much more special.
Self-guided touring made simple
Self-guided foreign touring is easy if you book with the right people. Orange and Black make things very easy by only using this year's bikes – properly serviced and prepped and a huge selection to choose from. They book the bikes, book the hotels, recommend a route and supply a detailed route book with maps, instructions and sightseeing suggestions along the way. They will also book flights, excursions and travel insurance too if you need it, and , as the people behind the company have ridden all the routes many times, they can help out, with authority, on just about anything you'll need to know.
Self-guided allows you to enjoy the experience at your own pace, stop for lunch and fuel when you want to, stray off the planned route or spend extra time doing the stuff that no one else would want to if you were in a bigger, guided tour. There is also huge satisfaction in finding your own way around. Self-guided also costs a lot less money meaning that we might be able to afford it more than once every four years.
For more details, please visit www.orange-and-black.co.uk, or call 01256 771770.
Riding in America
I love riding in the States. The drivers are polite, alert (mostly) and don't have the same hang-ups with speed that Europeans do. Getting around is simple and mostly the same as over here with a few exceptions. Obviously, they drive on the right, and they have weird four-way-stop junctions that are essentially a crossroads with no rules – you have to stop, but then it's a staring contest to see who goes first.
At junctions if you are turning right and the red light is flashing, you can go if there's nothing coming. You have to stop behind a school bus if the red lights are flashing and you have to pay for your fuel before you fill up. Oh, and you can overtake on both sides, but are not allowed to filter in most states. Other than that, it's easy.
Navigation
America is surprisingly logical and easy to navigate. Most places are laid out in grids and the main roads are imaginatively named; 1st Street, 2nd Street, 3rd Street etc, with smaller roads labelled as 'just off 3rd St' making it logical and easy to work out where you are.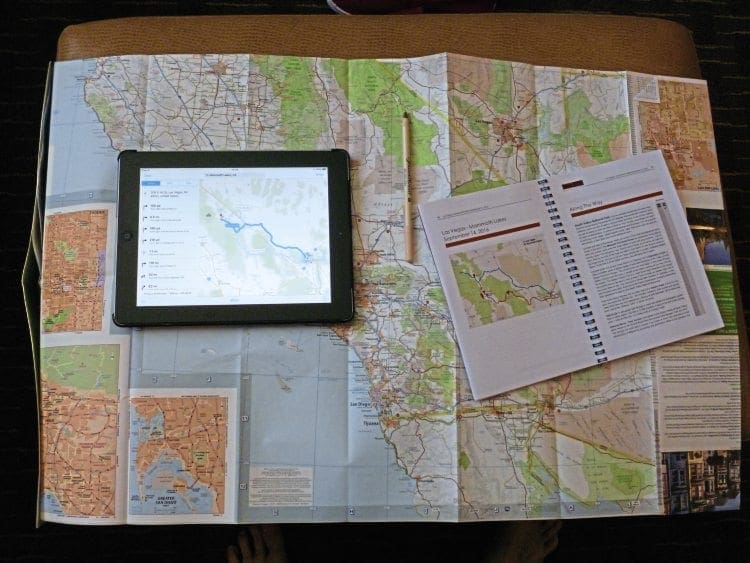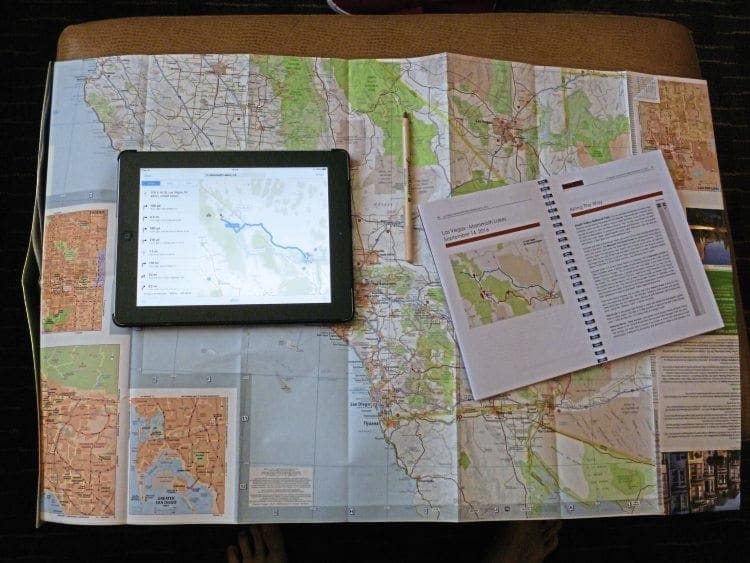 Before we went I spent ages researching routes, building each day on Google maps and then downloading them on (sat-nav readable) GPX files. I even did a back-up via TomTom's My Drive website, where you can also build routes and save as GPX files. I stored them all on a USB drive, checked they'd all downloaded on two separate computers and turned up in Vegas, smugly waving my dongle at the Ultra's sat nav. Except that the bike's infotainment system didn't even recognise the dongle. Blank screen, nothing. It recognised my iPod and was fine with my phone, but the dongle apparently didn't exist.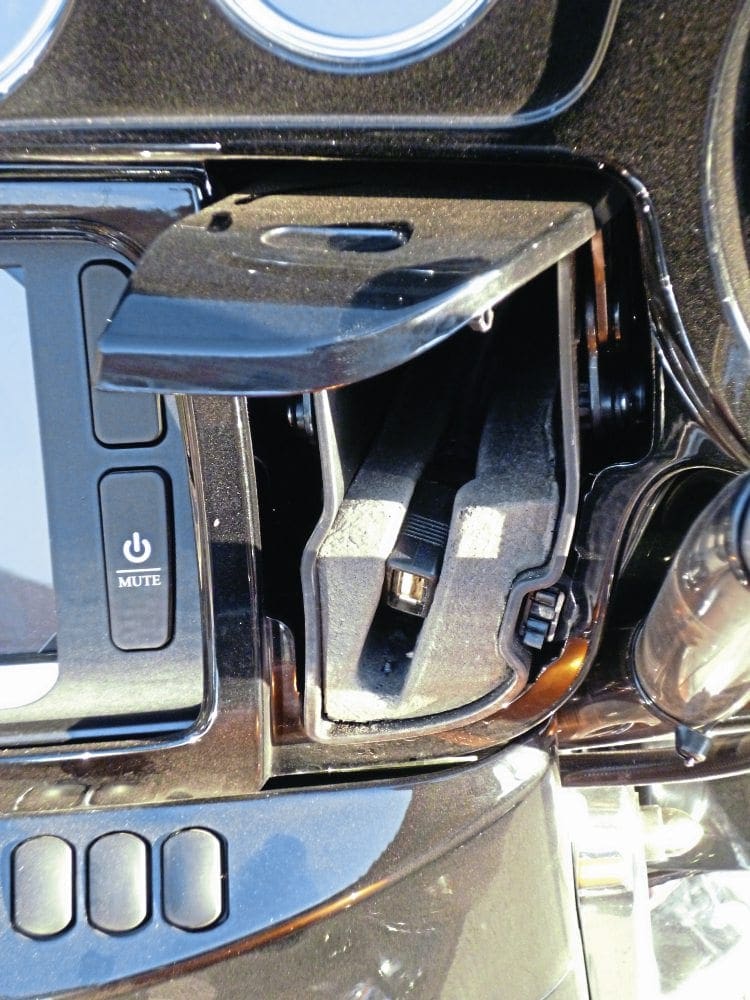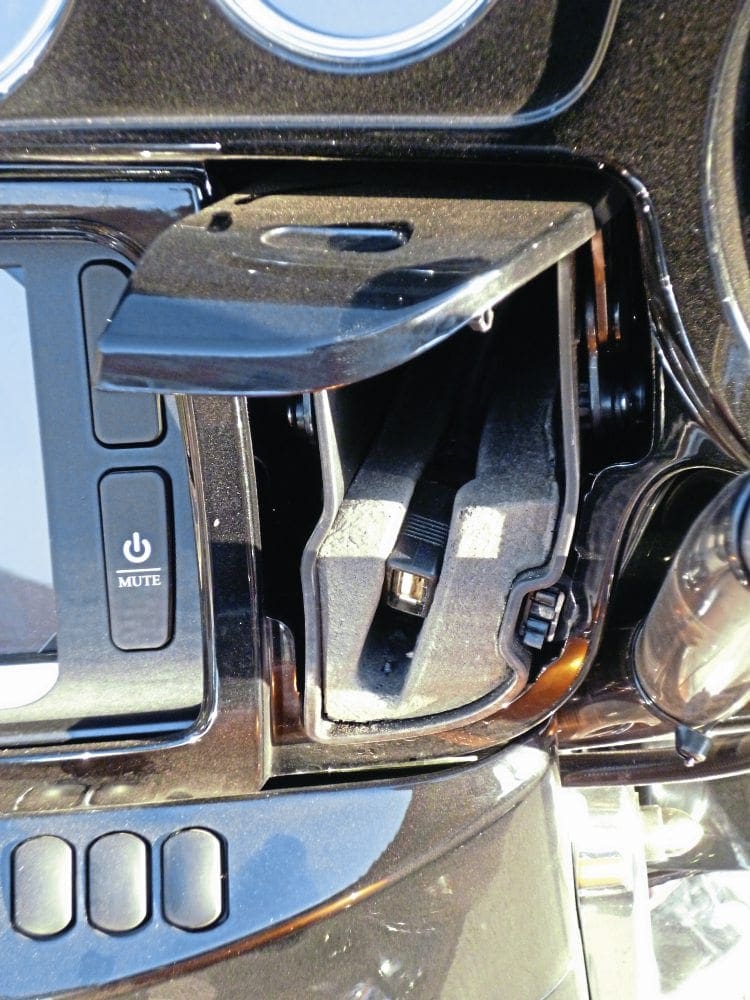 In the end it was easy. We just nav-hopped from waypoint to waypoint entered manually on the Harley's mostly easy-to-use sat-nav.
Packing for self-guided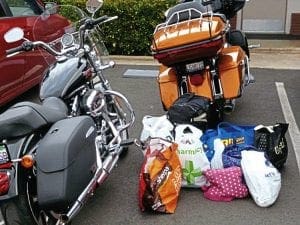 Two weeks' luggage for two people into an Ultra Glide and saddle-bag-equipped Sportster should be simple. Truth is we took far too much. Our kit went in canvas 'bags-for-life', which then went in panniers. Add in a 30 litre rucksack bungeed to the Ultra's seat and all her ladyship's hair straightening tech and our various iPads etc. are taken care of too.
That way we could use the top box as a daily carrier for drinks, cool-vests, bike locks, snacks and whatever else needs to be in and out in a hurry.
Keeping cool
California and Nevada are roughly twice as hot as a typical British summer day. Leathers will have you fainting through heatstroke, most textiles ditto. But T-shirt and jeans is scary and risks sunburn and dehydration.
The best kit we've found is a mesh, textile suit. These have solid panels offering abrasion resistance where it matters, plus armour where you need it. But they also have huge mesh panels in non-impact areas that let air flow through the suit.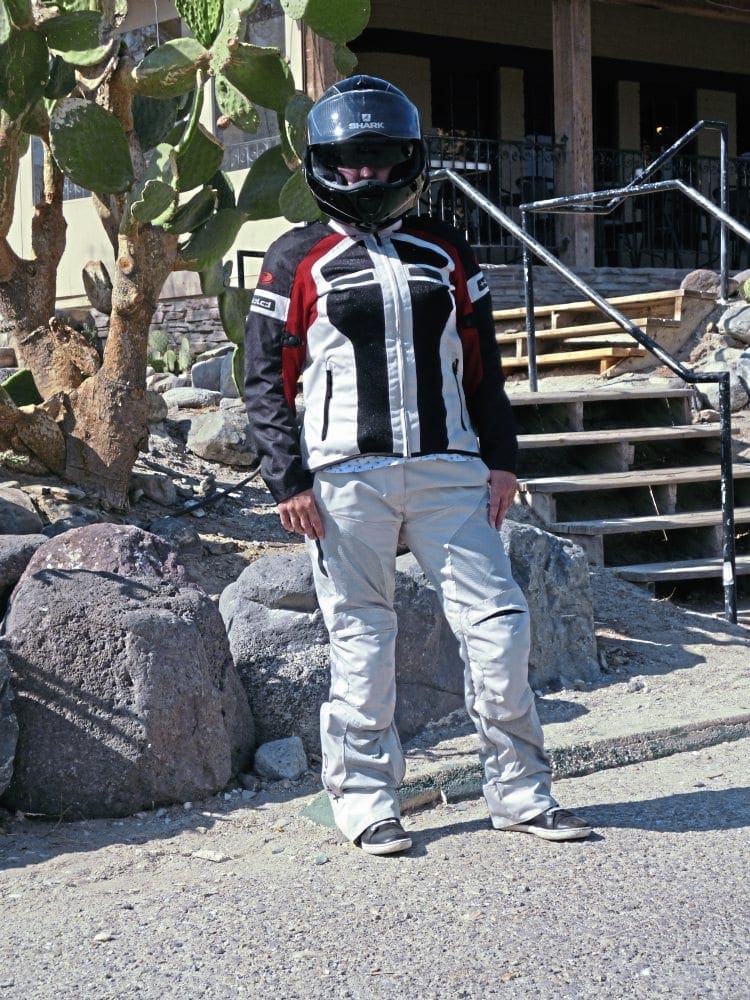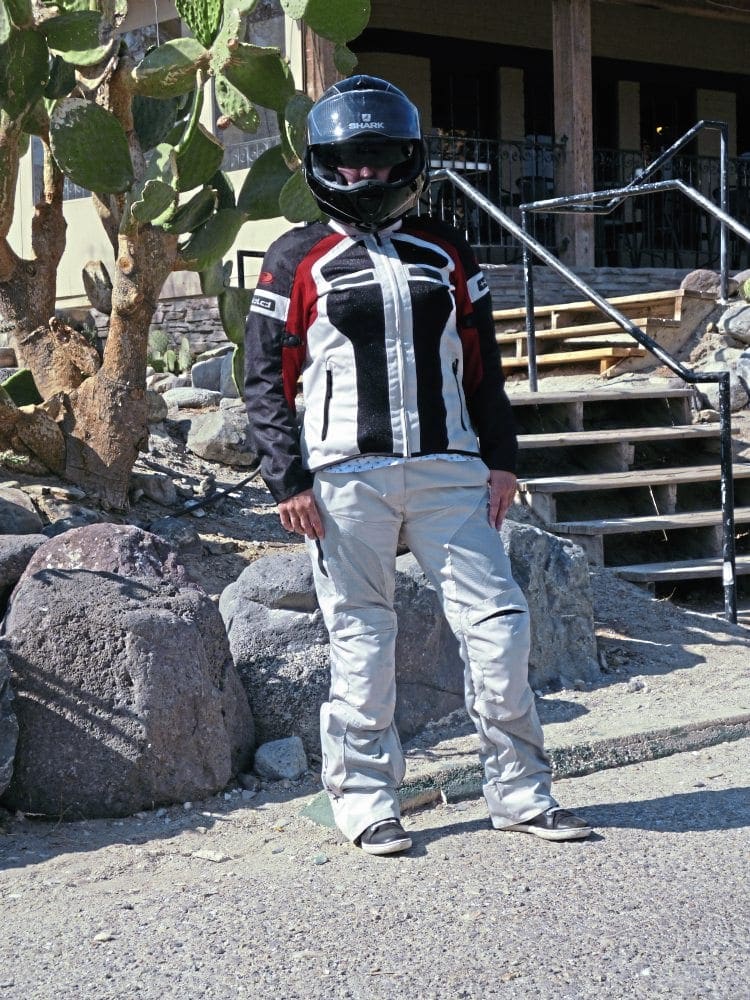 Held's Sonic jacket and Vento trousers fitted well, were beautifully put together and gave a good balance of airflow to keep me cool when it was warm, but not too cold when the temperature dropped.
They zip together for extra protection, come with CE armour (back protector is optional) and have four pockets in the jacket and two in the pants. Well built, a good fit and armour where you need it.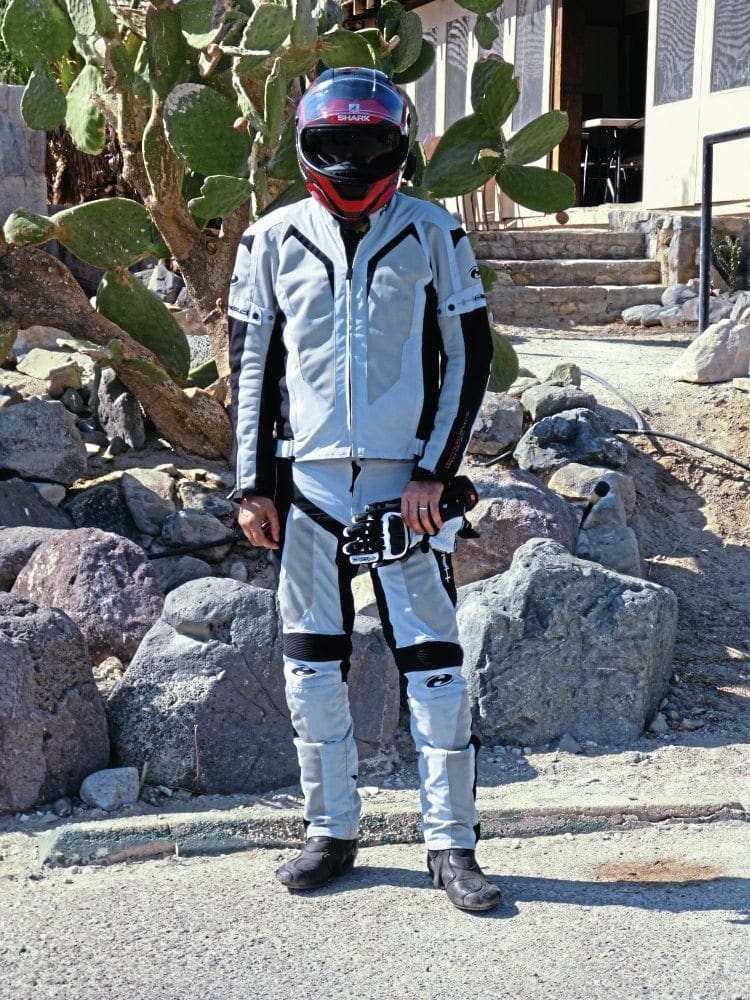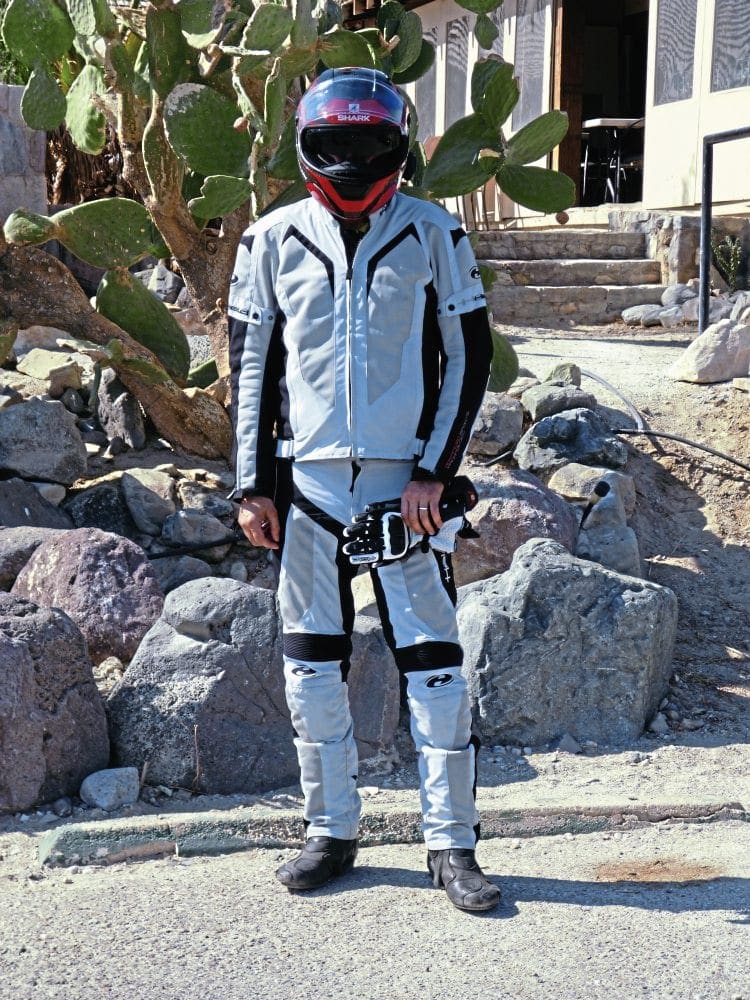 Good value too at £160 for the jacket and £138 for the trousers. Julie had a different combination of Held mesh kit. Her Tropic jacket and Zeffiro pants are slightly cheaper (£130 and £120 respectively), but were equally effective. For almost all the trip we were both comfortable enough to not even think about it. The only time we need the additional cooling vests was in Death Valley. When the air passing through our jackets was already hotter than human body temperature, we needed some extra help.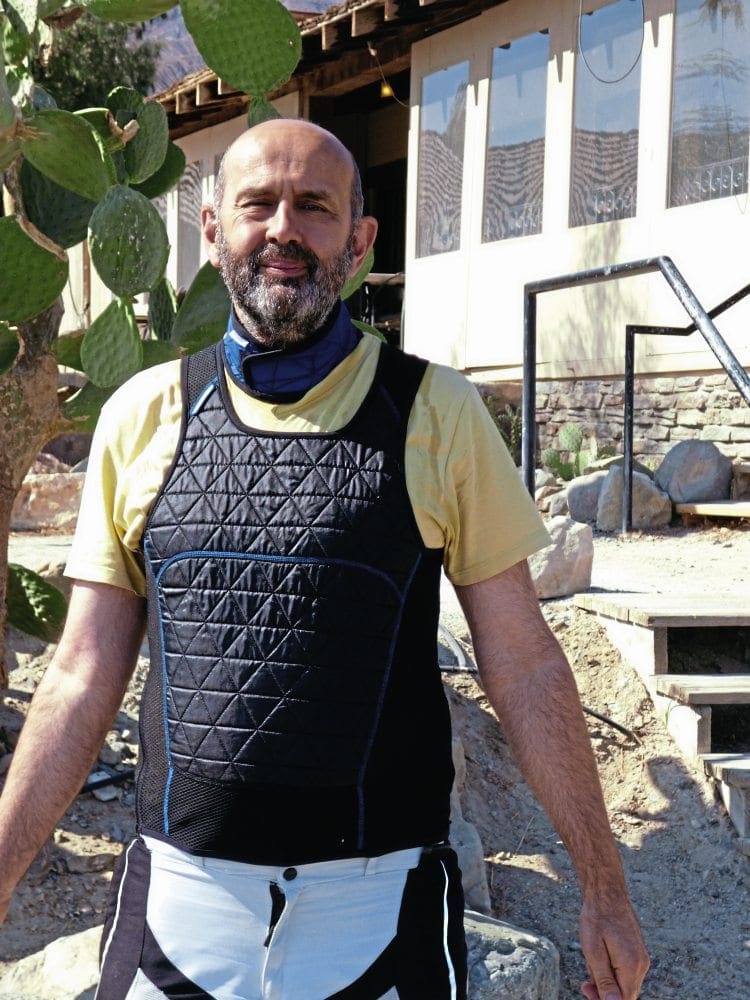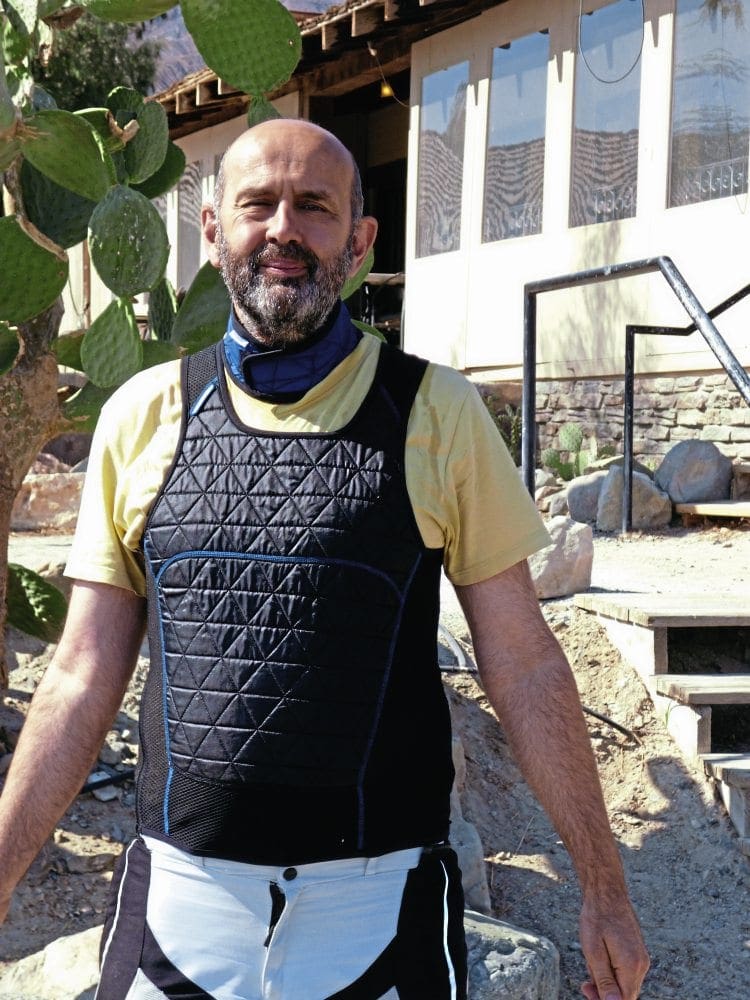 I don't understand how the Rev'it Hyperkewl technology works, but it works bloody well. Soak the vest in cold water, wring out the excess and put the vest on. The cooler the water the better the effect, but even in normal cold tap water you feel chilled on the move, even in the 105 degree heat of Death Valley.
In those temperatures, it only lasts for about 40 minutes before needing recharging, but in less challenging conditions, Rev-it claims up to six hours. The vests are thin but stretchy so they fit snuggle under a jacket. We also had Rev'It cooling neck collars, which in Death Valley were also great… for about 20 minutes.
Communication
In 34 years riding I have never yet woken up and thought 'what I really need is an intercom'. But, for this trip we both agreed it would make a lot of sense. Not only so we could share the experience, but also to make the navigation easier. Asking around, most people I know with experience recommended the Interphone Bluetooth system so that's what we went for.
The claimed range is half a kilometre, battery life is 14 hours' talk time and there are all manner of radio and phone modes that might be interesting if that's your idea of fun. Pairing them together via Bluetooth was easy, but they wouldn't pair with the Ultra's comms system (you have to buy the official Harley intercoms, which seems like a swizz to me).
Reception in town, at tower speeds is excellent. Being able to talk makes a huge difference when only one person has a sat-nay. Not one missed turning or miscommunication over the entire trip shows just how valuable they are. At higher speeds (50mph+) it was almost impossible to work out what was being said though. It wasn't helped much by us both being northern mumblers – maybe Interphone needs some Yorkshire test pilots for the next generation.
Huge thanks to Orange and Black Tours.
http://www.orange-and-black.co.uk
Words: Steve Rose
Photographs: Steve Rose & Julie Brown
To download the maps for this route, click on:
www.mslmagazine.co.uk/self-guided-touring-of-america-part-2-free-route-downloads-2/