TEASER: Testing the Yamaha Ténéré 700, one of the most exciting bikes of this year. Does it live up to the expectations? We went to find out.
This must be roughly the tenth such stop of a long riding day, and like all the others it's not strictly necessary. Our seven-strong group has pulled up in a line at the side of the road, about to take the Ténéré on another detour down a narrow, bumpy gravel track that leads towards some distant woodland. And just as before, the changes required to prepare Yamaha's new adventure bike are… precisely none.
Instead, once the last rider has arrived we simply set off again on another off-road excursion –standing up on the footrests, bouncing off the occasional rock or tree root, rear tyres kicking up dirt and dust as we follow lead rider Jorge though some frequently spectacular and sometimes steep and challenging countryside near Tortosa in northern Spain.
The Ténéré's instrument panel does actually have a button that I've pressed, to disable an ABS system that works pretty well even on loose surfaces, but doesn't allow the rear-wheel skids that can be fun as well as useful for shedding speed. That's about it, though, for electronic assistance. Yamaha's new mid-sized adventure bike is essentially a very simple parallel twin, much like the MT-07 from which it is derived.
Like the naked roadster, testing the Yamaha Ténéré 700 saw a well-balanced blend of 689cc engine and relatively light, agile chassis; augmented in this case with a versatility and ruggedness that make it a genuine dual-purpose machine. The further we ride, on an on- and off-road route that covers about 300 miles over two days, the more it becomes clear that the Ténéré could be set to enliven the mid-sized adventure bike class just as the MT did on its launch back in 2014.
---
---
It seems as though the Ténéré has been in development for much of that time, given that an MT-based dual-purpose prototype was spied being tested even before Yamaha unveiled the T7 concept at EICMA in 2016. The bike's lengthy gestation period included the prototype being ridden across four continents byracers including Stéphane Peterhansel, Adrien van Beveren and Rodney Faggotter, plus long-distance ace Nick Saunders, after which further fine-tuning was required before the production specification was confirmed.
Updated, not re-designed
Yamaha's Italian-based development team considered modifying the MT's engine with a dry sump, to reduce its height, before deciding to leave the DOHC, eight-valve parallel twin untouched.
Modifications to its airbox, injection and exhaust system don't alter the power delivery or maximum output of 72bhp at 9000rpm. The cooling system is uprated and the final gearing shortened, but the key engine-related change is arguably the sturdy aluminium bash plate, and that is bolted to the removable twin downtubes of the new tubular steel frame.
The Ténéré retains the T7 concept's desert-racer look, notably the tall front end with its Perspex screen shielding four LED lights, a high-level instrument panel and useful bar for attaching satnav or other accessories. The whole bike looks tall, lean and purposeful.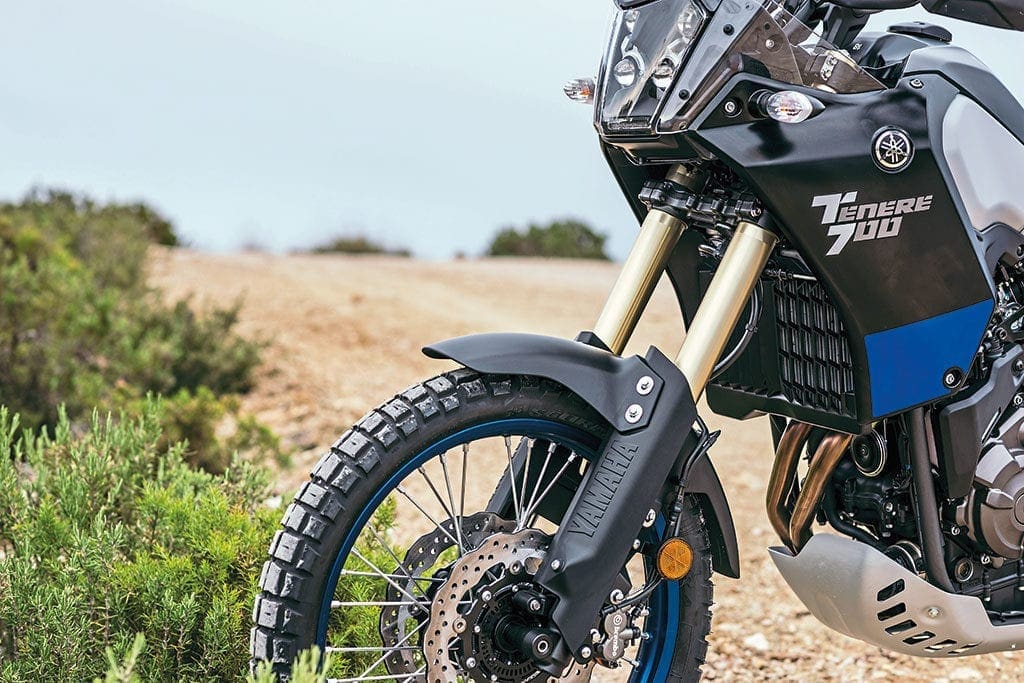 Its KYB suspension gives plenty of travel: 210mm from the 43mm USD forks, which are adjustable for compression and rebound damping; and 200mm for the remote-reservoir shock, which has a remote preload knob and can also be fine-tuned for rebound.
Wheels are wire-spoked and come in dirt-friendly diameters of 21in front, 18in rear. That seat is quite tall, at 875mm (a lower accessory seat and shock linkage can reduce this to 840mm), but sufficiently slim that most riders will be able to get feet on the ground; none of our launch group seemed to struggle.
The engine fired up with a slightly more involving throbbing from the silencer than the MT-07 manages, and performed with all the flexibility, smoothness and free-revving enthusiasm that has long helped make the roadster so popular.
Read the FULL feature in the brand new issue of Motorcycle Sport & Leisure, out on Friday!